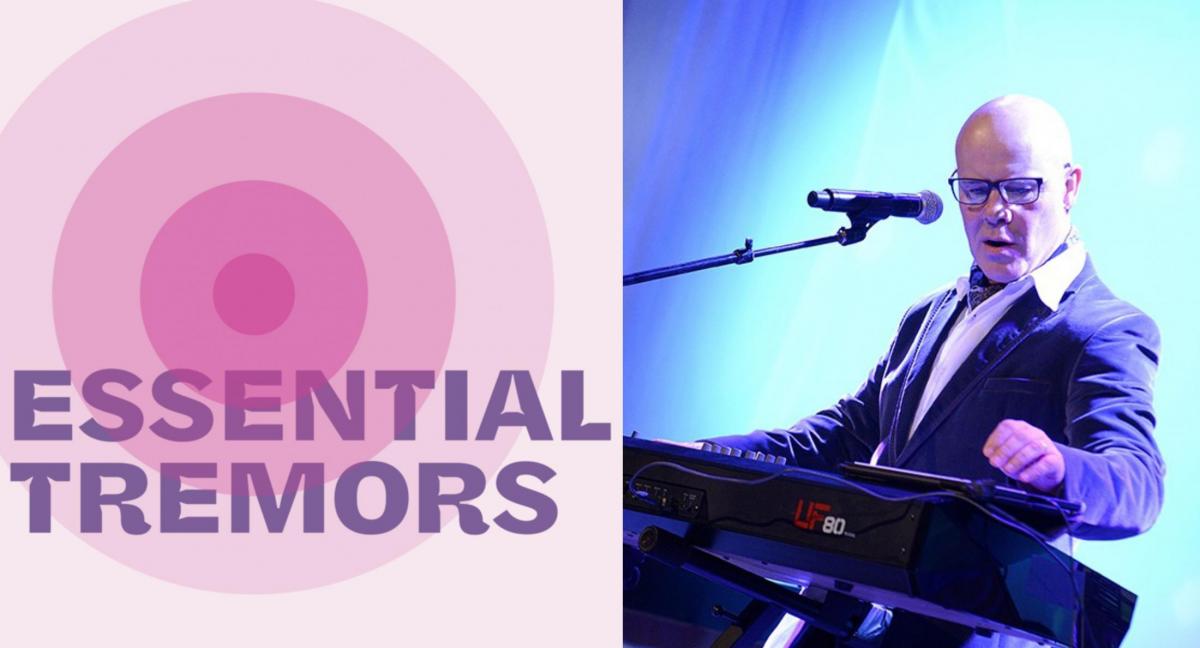 Digital music pioneer-turned-JHU professor Thomas Dolby will be an upcoming guest on the show. ——WYPR/The Peabody Institute
Most of us have favorite songs—the ones that fill our headphones while we're jogging, making dinner, or commuting back and forth. But these are often different from the songs that impacted us from early on—those that colored our still-growing minds and shaped who we'd eventually become.
Since 2018, these poignant tunes have been the driving force behind WYPR's Essential Tremors. Hosted by Matt Byars and Lee Gardner, the series asks musicians and creatives to name three songs that made imprints on the fabric of their lives. To date, guests including homegrown electronic pioneer Dan Deacon and folksy songstress Suzanne Vega have responded to the prompt. And on Jan. 27, Jason Williamson of English beat-punk duo Sleaford Mods will share his most formative picks to mark the show's 50th episode. In honor of the milestone, a live celebration at a later date will feature well-known Baltimore-based pop star-turned-professor Thomas Dolby (famous for smash '80s hit "She Blinded Me With Science").
We sat down with the hosts to learn more about the podcast and the power of song.
To start, tell us a bit about your individual backgrounds.
LG: I'm not a Baltimorean. I'm from Tennessee, but I've lived here for 20-something years. I'm a reporter for The Chronicle of Higher Education in D.C. And I was the editor of City Paper years back when there was such a thing as City Paper. I'm a lifelong music nerd, and several other kinds of nerd. 
MB: I'm in a band in D.C. called The Caribbean, and I'm also involved in some other musical projects. By day, I'm a middle school teacher at St. Paul's school. 
On the show, you ask musicians and creatives to share songs that shaped their lives. What inspired this concept?
LG: We actually met over Twitter, which is a funny thing for two middle-aged guys to do. We were going to do something that would draw a little bit of inspiration from The Signal [hosted by WYPR's Aaron Henkin], and frankly, from what I did at City Paper for a long time, because there was a little bit of a void of that. We were kicking around ideas and it was just sort of like, "Let's ask people to talk about [their most formative songs]." It's proven to work better than we could have imagined.
Something about the prompt really grabs people. The first guest we had was Jana Hunter from the Baltimore band Lower Dens, and from the very first conversation, it was like, "This is totally going to work." There's something about asking people to talk about something that they want to talk about, as opposed to asking them questions they've heard a million times, like "How did your tour go?" "What did you name your album?" We tried to come up with something that people would respond to, and we're fortunate that they've responded to it for three and a half years and counting. 
MB: I would describe [the prompt] as a fancy workaround for the question of "Who are your influences?" which never gets you anywhere. People just blank out. This forces them to look at things a little more closely and limit their answers. Three songs is usually tough to come up with, for musicians in particular, because there's like hundreds. But then it forces them to dig into biography as well, which is where it gets really interesting. Stuff like what was happening to them at the time and why this particular song was important.
What it's shown me is that I've always thought of music—even though it's super important to me—as entertainment. You know, it doesn't really have value. It's just a thing that's fun. But hearing all these people talk about these songs has shown me that music is pretty essential to people, for lack of a better term. It's really important and sort of the lifeblood of a lot of people's experiences. 
LG: As the music editor at City Paper, I interviewed a lot of musicians. A lot of times, they just did not appear to be enjoying it at all. You call musicians, and they've already talked to 15 people that day and, even if they're being nice, they're sort of tired. On the show, we get guests who are not super into it, but a lot of times, people have clearly thought a lot about which songs [shaped them] and they tell us really personal stories. We've had people tear up and get really emotional on the show. I should have been doing this a long time ago. 
"Hearing all these people talk about these songs has shown me that music is pretty essential. It's sort of the lifeblood of a lot of people's experiences."
Sometimes the most impactful songs are not always our favorites, or vice versa. What makes this distinction so important?
MB: I mean, so much of that depends on context and what's happening in your life at that time. I thought about charting out how old people were when the songs that they talked about [impacted their lives,] and if you did a scatterplot, it would cluster around early adolescence—which is when that's probably true for most of us, right? The cement is very wet for people at that point. And that's why it impacted them so greatly.
LG: It's all personal, and that's the idea. It's not just a song that people think is awesome. Jana Hunter talked about some really vulnerable, emotional moments in his early life that were connected to songs, and the first song that he picked, he didn't even know the name of it. We had to figure it out. He could hum it. It was "Music Box Dancer." It's this cheesy, old pop hit from the early '70s. And if you go and look it up, you'll know why we're sort of mocking it a little bit. But he associated it with sort of faking happiness, in the way that people use happy things to cover sad stuff up. And I thought that that was really profound.
Sometimes, people picked songs that reminded them of family members, or things that connected them to a particular moment or a particular person. It's not like that all the time. Sometimes it's like, "I heard this punk rock song and it turned me into a punk rock person and changed the course of my life." And that's a really different thing than the song on your playlist that you want to have ready when you're driving around. It's some deeper connection, and that's what we go for. That's the stuff that makes the best shows.
Throughout the years, the show has seen a stunning range of guests. Other than that first episode with Jana Hunter, which have stuck with you?
MB: Usually, Lee does the interviews and I do the sound design and voice overs, but not always. I did the interview with Alan Sparhawk from Low. Lee talked about people having an emotional reaction. And I remember Alan talked about his second song, which was Roberta Flack's "The First Time Ever I Saw Your Face." I asked him, "Why did [this song] make such a big difference?" He got super emotional about it, and it really felt like a therapy session. He spoke about how he trusted [Flack]. He was like maybe a nine-year-old kid, but he could go back far enough and get to the core of that emotion. That one stood out for me. 
LG: I think part of it is getting to talk to people like Thurston Moore or Richard Thompson or Ellen Fullman—all people whose work I admire a lot—and having really, really good conversations with them. It's finding out interesting things about them as artists and as people, and then getting to share that with the people who listen to our show. I mean, that's a win, win.
What goes into choosing guests?
MB: Lee is so good at keeping his ear to the ground and finding new sources of interesting things. And he's the one who actually thinks of guests who are a little bit more avant garde. I tend to swing for the fences and try to get really huge names, because you just never know. Sometimes it works out.
LG: We try to balance guests that we know that many people would be interested in with guests that we [personally] are interested in. You know, there are people like Chad Clark from the D.C. band Beauty Pill, who is an old friend of Matt's and a more recent acquaintance of mine. He's a really interesting songwriter and more people should know about Beauty Pill. We like them a lot. And they're not famous, but one of these days, when they are, we will look very sage and wise for having had them.
Since starting the show, have you learned anything new about your own musical influences?
MB: I have thought that if we ever had ourselves on as guests at some point, it would be really hard. It's sort of like making playlists that other people are going to hear. Sometimes what I struggle with—and I know a lot of other people struggle with—is the temptation to choose a song that's really cool, rather than the song from a Fisher-Price "Close & Play" toy. I'd like to say my answer would be "Check the Rhyme," by A Tribe Called Quest, but it was actually that.
LG:  I've certainly been exposed to stuff that I wasn't familiar with throughout the show, which has been great. I have a teenage daughter, and we listen to what she wants on the drive to school in the mornings. I'm gratified to know that I'm still capable of the "What's this?" reaction when I hear something new. I'm grateful for not being someone who just listens to what they listened to in high school. And maybe the show has helped with that.
"Sometimes what I struggle with—and I know a lot of other people struggle with—is the temptation to choose a song that's really cool."
This month, Essential Tremors airs its 50th episode on January 27. That's pretty impressive. How does it feel?
LG: It's great. I don't know that I could have imagined that we would end up here. I guess I figured that we would keep going, but 50 is a little tough to imagine, you know?  I'm ready for 50 more. 
MB: Same here. 
We hear that Thomas Dolby will be featured in a live episode later on. That's exciting.
MB: Yes. We're excited about that too.
Was his music influential for you guys?
MB: "She Blinded Me With Science" was a huge single. I don't even know how old I was when it came out, maybe 13 or 14, but it was just ubiquitous. You could not escape it. It was quirky and catchy and all those things. There's that, but then to see what he's gone on to do. Thomas Dolby produced albums by Prefab Sprout, which is one of my favorite bands. And the production is absolutely exquisite. And the fact that he's this fascinating guy who's now a Hopkins professor. People remember him for this little single that he did in the early '80s, but there's more to him than that. 
LG: Yeah, he's an interesting dude. He worked with George Clinton and he's done a bunch of stuff with music tech, so I think it'll be interesting to talk to him. And then whatever he'll pick will steer the conversation in directions that we can't predict.
Who else do you wish you could invite to be a guest on the show, alive or dead?
LG: John Coltrane would be cool if he were able to do it.
MB: We had his wife's nephew on the show (Steven Ellison from Flying Lotus) so that's sort of a connection. 
LG: I would like to have Jimi Hendrix on the show—if he had been alive all this time, not having died the age he did—and find out what his ears have heard throughout the last 50 or 60 years. 
MB: One of mine is Q-Tip. And then any of the guys from De La Soul. They would be huge. But Q-Tip in particular.
LG: We should try Al Green. I did a phoner with him once, a zillion years ago. And I asked him a question, and in the very first answer he gave, he started singing. He's a legend.