Best of Baltimore
Best of Baltimore 2018
Amazing cafes and restaurants, inspiring artists and institutions, service professionals who go the extra mile for their customers, there's a lot of great stuff in this town. This issue is our chance to say, "Thanks, guys."
Written by Lauren Bell, Ron Cassie, Ken Iglehart, Christine Jackson, Lauren LaRocca, Jane Marion, Jess Mayhugh, Kaitlyn Pacheco, and Lydia Woolever with Lauren Cohen, Paige Adams, and Karmen Osei
Photography By Kate Grewal, Frank Hamilton, Mitro Hood, Mike Morgan, Christopher Myers, Matt Roth, Sean Scheidt, Scott Suchman, and Justin Tsucalas.
The news has been a little grim lately, so sometimes it's good to take time out of your day and reflect on the things that make you happy and proud. That's why we hope this issue—a celebration of the best that Baltimore has to offer in food, drink, arts, lifestyle, home, recreation, and media—will be as spirit-lifting to read as it was to write. From amazing cafes and restaurants to inspiring artists and institutions, to service professionals who go the extra mile for their customers, there's a lot of great stuff—and extraordinary people—in this town. This issue is our chance to say, "Thanks, guys."
Best of Baltimore winners share what the honor means to them.
---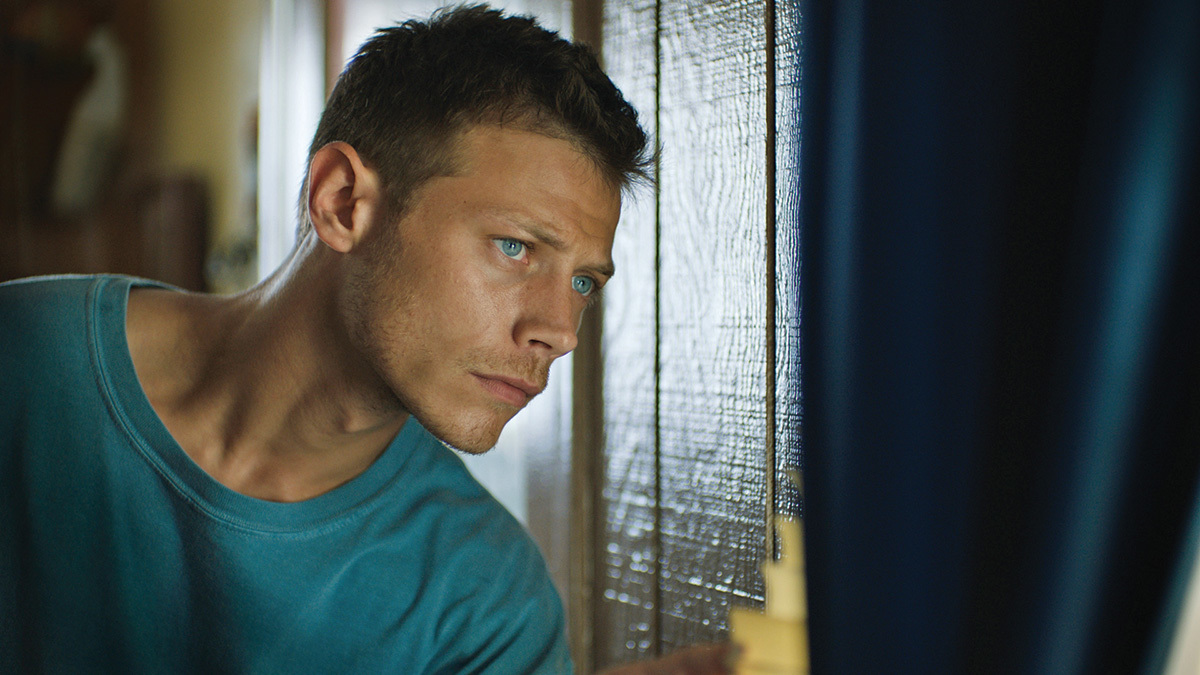 Photo courtesy of Oscilloscope Laboratories.
ACTOR
McCaul Lombardi
At one point, local director Matt Porterfield was trying to get Tom Hardy to play the lead in his latest film, Sollers Point. Scheduling conflicts made that impossible, but Porterfield says it all worked out for the best—and it's hard to argue with him. Instead, he cast Baltimore native McCaul Lombardi as the listless, self-destructive Keith, who's fresh off house arrest and looking to make his way in the world. Porterfield's films always have a deeply felt sense of Baltimore life, and Lombardi follows suit: There's nothing actor-ish about him; he simply lives on screen. He gives Keith the restless energy certain street-smart young men have. It's an electrifying performance and, if there's any justice, it will make Lombardi a star.
BOOK
I Wrote This Book Because I Love You by Tim Kreider
Kreider's genius lies in his ability to marry comedy with tragedy, whether giving his perspective on killing insects or falling in love with a friend. This is the second book of essays by the former Baltimorean, long known for his comic strip "The Pain—When Will It End?," which ran in the City Paper. His wry observations are cut with a surgeon's precision and a poet's eye—and seeing the world through Kreider's eyes is a wonderfully rare and exquisite experience. While examining the inevitable tragedies of life, he manages to simultaneously show the beauty that lies therein, the way these moments, however seemingly ordinary, shine in their singularity.
PLAY
Follow No Strangers to the Fun Places
This play blurs the lines between fact and fiction, audience and actor, and abstraction versus narrative—all without being pretentious. It's a bold new work that unfortunately marks the last directorial collaboration between Acme Corporation founders Stephen Nunns and Lola B. Pierson, a parting of ways that was explored in the show, performed inside St. Mark's Evangelical Lutheran Church on St. Paul Street in May. Using snippets of various productions-in- progress (a puppet show, an opera, a thriller, a Skype-esque conversation on tiny TV sets in the audience), and periods of directorial dialogue heard through headphones, Follow No Strangers depicts the artistic process from the inside out, leaving the audience with the experience of both having seen a play and having not seen a play. It's bizarre, it's brilliant, and it masterfully makes its point—that through abstraction, the human mind attempts to formulate a story, no matter how disparate the pieces.
ALBUM
LUSH
Lindsey Jordan isn't here for your hosannas, but with unpretentious, authentic charm, her band, Snail Mail's, coming-of-age record has solidified the Ellicott City wunderkind as the new cool kid of indie rock. With her guitar on full shred, she makes one thing clear—she's here to stay, and ready to rock.
ARTIST
DDm
This is the year of DDm. We love his hip-hop duo, Bond St. District, but the local showstopper truly slays as a solo act. His new record, Soundtrack To A Shopping Mall, is a savvy meditation on aspirational pop culture, and his release-party ball at the Baltimore Soundstage is sure to be the show of the year.
SONG
"Invocation"
With music by Rise Bmore's Judah Adashi and words by Baltimore Ceasefire's Erricka Bridgeford, this breathtaking ballad is a love letter to our city, using a few pounding simple keys and sincere words to poignantly capture its heartache but, more importantly, its hope.
CONCERT
The Songster Series
In this salon-style Creative Alliance concert series, local soul legend Brooks Long gives listeners a behind-the-scenes look into the minds of Baltimore's most masterful musicians, like Cris Jacobs and Lafayette Gilchrist, with in-depth conversations and intimate performances.
MUSIC VIDEO
Ed Schrader's Music Beat
With ESMB's ambitious and acclaimed spring album came the infectious video for its title track, "Riddles." The post-punk duo is joined by hometown heroes including Dan Deacon and DDm, who cavort along to the anthemic melody in this feel-good mini flick.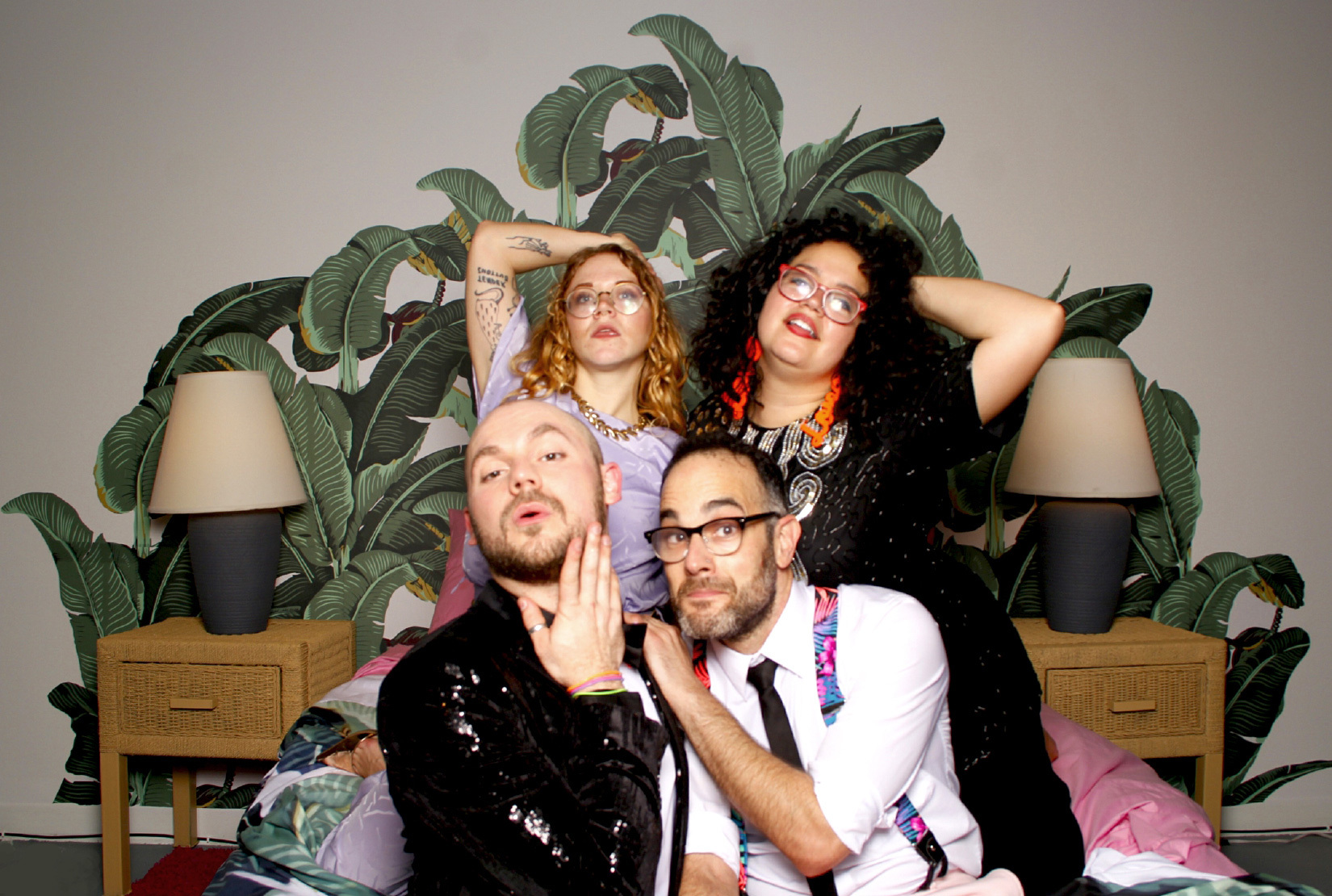 Photo courtesy of Pixilated.
INSTAGRAM INSPIRATION
Miami Is Nice
This past fall, Station North's SpaceCamp gallery (now being used by ICA Baltimore) transformed into 1980s Florida for one of the most fun and feel-good group art exhibits ever. Inspired by the television show The Golden Girls, this installation embraced strength, subversion, and acceptance, highlighting queer performance art and even featuring one joyful gay wedding ceremony while creating a temporary safe space for the city's LGBTQ community. Amid huge lipstick sculptures, Angela Lansbury shrines, and piles of gold glitter, attendees included the who's who of the Baltimore arts scene, often snapping selfies on the tropical bedroom set.
ARTIST
Stephen Towns
To those not paying attention, it might look like Towns is an emerging artist and this is his lucky year, what with a solo exhibit of his work at a major institution (The Baltimore Museum of Art), being named a finalist for the 2018 Janet & Walter Sondheim Artscape Prize, and giving art talks to roaring applause. But Towns has been at it for nearly 20 years, quietly honing his craft and evolving his work from painting to fiber art, creating what some are calling a breakthrough art form—story quilts that are distinctly painterly.
NEW GALLERY
Resort
This new gallery brings the spirit of the city's DIY ethos and warehouse art culture to a more traditional space. The vision of cofounders Alex Ebstein and Seth Adelsberger, who formerly ran Nudashank gallery in the H&H Building, the gallery opened in January at 235 Park Ave. and shows bold contemporary work by Baltimore faves such as Ginevra Shay and others from across the country. Upstairs is Adelsberger's framing company, and the third floor serves as a studio space for both artists.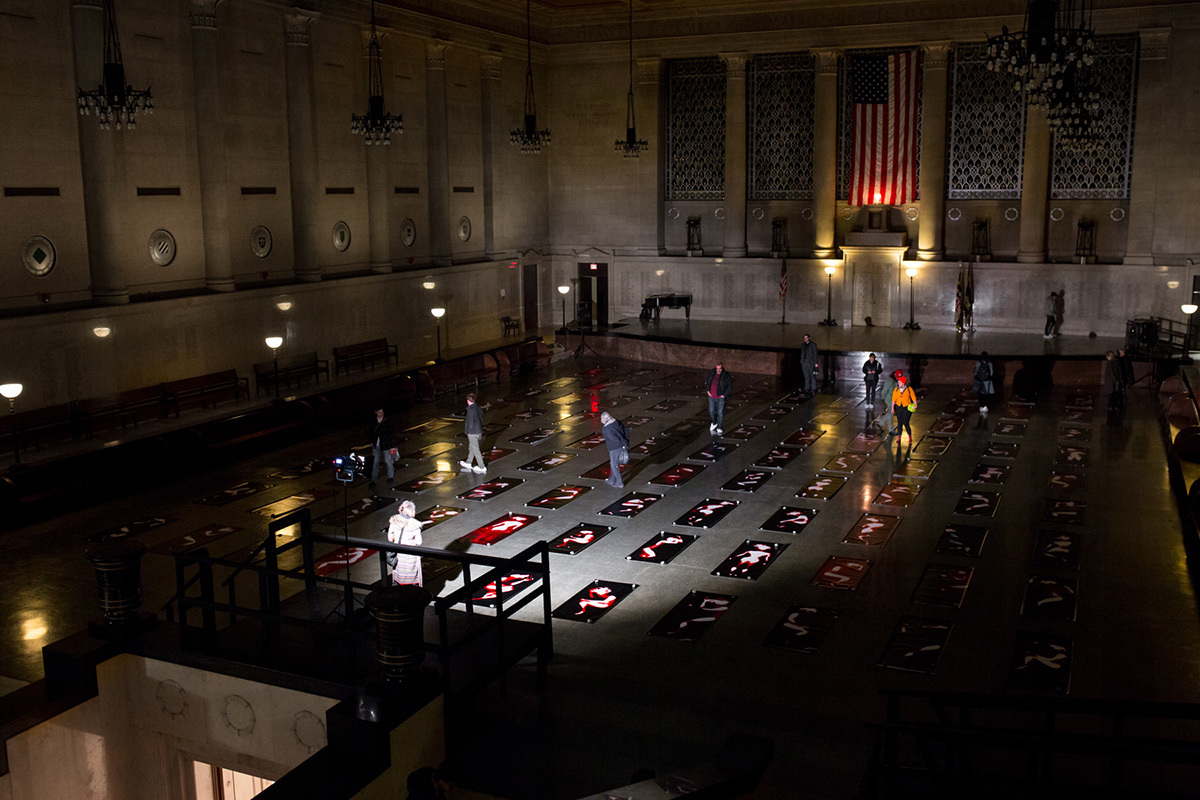 Photo courtesy of Kei Ito.
USE OF SPACE
Afterimage Requiem
A chilling installation inside the Baltimore War Memorial paid homage to victims of the Hiroshima bombing through the family lineages of two MICA alums: Kei Ito (photographer), whose grandfather witnessed the explosion, and Andrew Paul Keiper (sound artist), whose grandfather helped develop the A-bomb. Borne partly out of necessity, because art cannot be hung in the space, 108 life-sized photograms of Ito's body lying in various positions were placed on the floor, evoking a massacre. The show marked the first art exhibit in the space, and one that will not soon be forgotten.
Virtual Public Art
NONUMENT 01
Remember McKeldin Fountain, where people spoke freely about war, racial inequality, and police brutality? The beloved fountain was bulldozed in 2016, but artists Lisa Moren and Jaimes Mayhew found a way to preserve it: Download the augmented reality app NONUMENT 01, stand in what is now McKeldin Square on the corner of Pratt and Light streets, and hold your phone or tablet up in the air to experience the fountain as it once was, complete with the people who once mingled and protested there, bringing it to life.
PHYSICAL Public Art
ALFIE la Quinta Estrella
Sometimes you have to take a step back in order to really see something for what it is—and that's the case, in a very literal sense, when it comes to one of the latest murals by Baltimore street artist Pablo Machioli. The brick-walled Five Star Grocery on the corner of South Highland Avenue and East Baltimore Street may appear to be ablaze with streams of red, yellow, and orange flames, but the mural, when you take in its entirety, shows a woman's face, eyes closed, three stories tall and nearly half a city block long.
Photo courtesy of Baltimore Museum of Art.
EXHIBIT
Odyssey: Jack Whitten Sculpture, 1963-2017
This massive undertaking is unique in its vision, dedicated to Whitten's never-before-exhibited sculptural work. Composed of several rooms of spellbinding pieces, it's worth more than one visit to the BMA. Whitten passed away in January, so the show also serves as a commemoration of his spirit­­­­—with large photographs of his workspace and personal items, such as his painted silver shoes, on view. A selection of enormous abstract Black Monoliths paintings—each of which he created for one of his idols when they died (Maya Angelou and James Baldwin among them)—makes us wish we could see what a Black Monoliths mosaic of Whitten himself might look like.
INSTAGRAM
Kyle Yearwood
@kyle.yearwood
Kyle Yearwood's collage-like photos and mini-videos feel otherworldly while leaning heavily on natural elements—butterflies, mountains, flowers—and celebrating black empowerment. In January, his post reimagining an H&M ad went viral. The controversial original showed a black boy wearing a shirt that read "Coolest Monkey in the Jungle;" Yearwood's video version showed the boy wearing a spinning crown and a shirt proclaiming "Royalty." His feed is ever-changing, so be on the lookout for mind-blowing videos while they're available.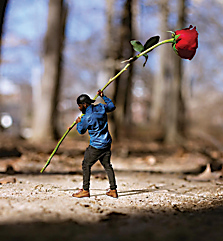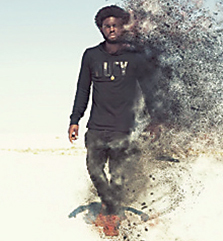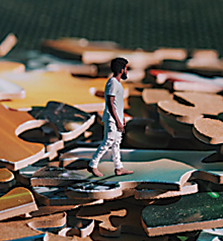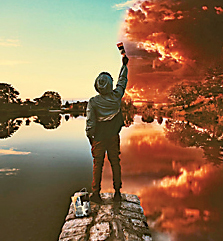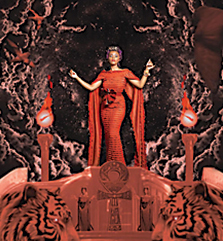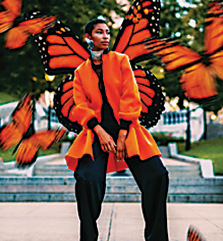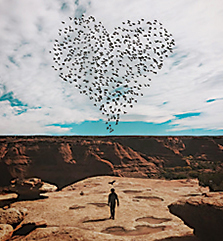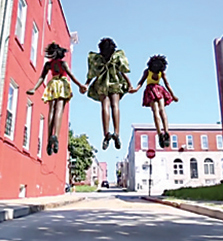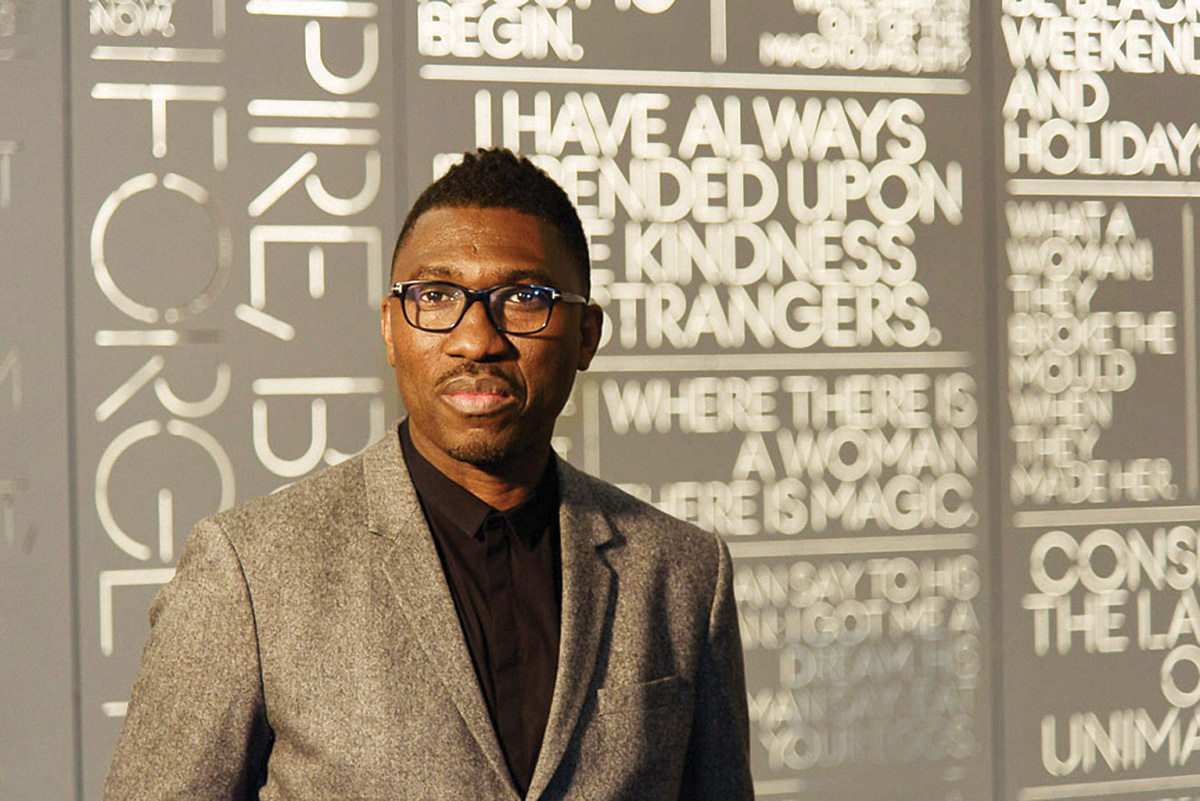 Photo courtesy of Baltimore Center Stage.
LEGACY
Kwame Kwei-Armah
When it was announced last summer that Kwame Kwei-Armah would be leaving his post as artistic director at Baltimore Center Stage after a seven-year run, you could almost hear the city art scene's collective heart break. That was before we knew that the dapper Brit and celebrated thespian would be returning to his native London to head the world-renowned Young Vic. Thoughtful, gracious, and spirited, Kwei-Armah leaves the local theater scene better than he found it, breathing new life into his stage with a major facelift, a newly diversified audience, and fresh, bestselling shows, including his own directorial feats One Love: The Bob Marley Musical and Soul: The Stax Musical. We wish him the best of luck across the pond.
AUDIENCE INTERACTION
H.T. Darling's Incredible Musaeum Presents: The Treasures of New Galapagos, Astonishing Aquisitions from the Perisphere
Submersive Productions' sci-fi play—or rather, theatrical experience—was full of rich moments that transcended the trend of breaking the fourth wall and instead utilized the entire Peale Center as a playground for audience and actors. The choose-your-own-adventure production allowed guests to observe natural history displays from New Galapagos and follow actors throughout big, haunting old rooms spanning three floors of the historic museum. And Dr. Percy Warner (Alex Vernon) was a riot and had his on-the-move crowd in the palm of his hand.
RETROSPECTIVE
Unscripted Moments: The Life & Photography of Joseph Kohl
Perhaps no other photographer was able to so keenly capture the raw spirit of Baltimore's 1980s and '90s as the late photojournalist Joseph Kohl. A retrospective of his work, predominately black-and-white images, was exhibited at the Maryland Historical Society as Unscripted Moments, showcasing his off-kilter, gritty style of documenting the everyday of Baltimore's bars and street scenes, ultimately revealing his love for Charm City.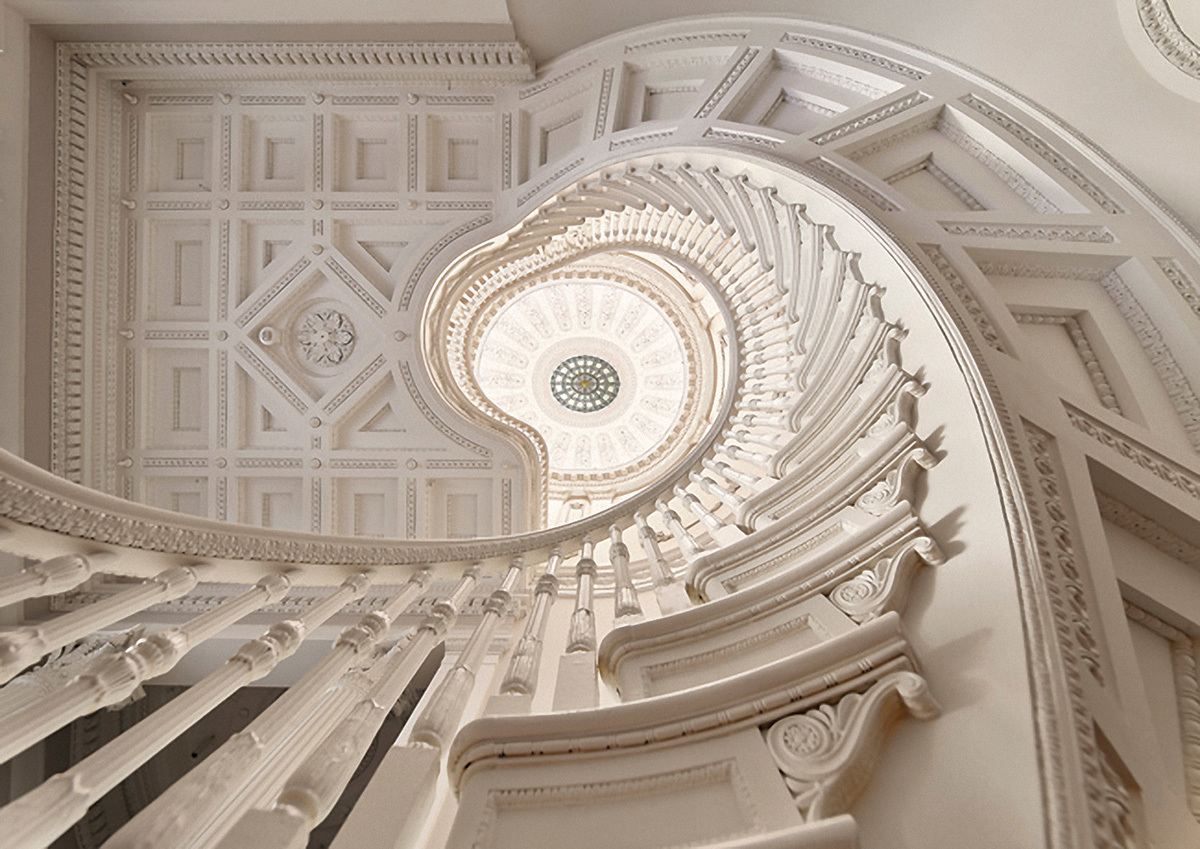 Photo courtesy of The Walters Art Museum.
MUSEUM WITHIN A MUSEUM
1 West Mount Vernon Place
After four years of rethinking Hackerman House—through meticulous cleaning of its chandeliers; unearthing of its decorative treasures, including wood-engraved ceilings; and several fresh coats of paint—the Walters Museum has transformed it into an art object. The newly named 1 West Mount Vernon Place celebrates Baltimore's past and present through painting, sculpture, decorative arts, and interior design. Its sofas (yes, you're allowed to sit on them) are museum chic yet comfy, a makerspace lets guests get hands-on, and contemporary pieces are displayed alongside ancient ones in a thought-provoking juxtaposition. The new space—free to the public—is quite a gift to Baltimore.

Photo courtesy of Scott Suchman.
Cocktail
Mmm That Sounds Good at Minnow
This Riverside restaurant, opened by the Lefenfeld brothers of La Cuchara fame, has quickly become our mecca for innovative cocktails. Working in the food lab at McCormick & Company to perfect cocktail techniques, the Minnow staff incorporates science in many of their drinks, including the aptly named Mmm That Sounds Good, a mix of rye whiskey, dry curaçao, and lemon. This colorful and layered cocktail is topped with a rose-colored strawberry foam dispensed from a nitrous oxide cartridge and garnished with dried rose petals. Thank you to the chemists—and bartenders like the affable Oscar—for making this drink possible.
Restaurant Expansion
Clavel
There's almost no restaurant in Baltimore that we can think of where the line begins at 5 p.m. But at this Remington mezcaleria, everyone knows that the early bird catches the worm, or, in this case, the salt-rimmed Santa Sandia. So we appreciate the expansion, with its adorable wooden tables and 60 additonal seats (plus an eight-seat mezcal tasting bar). But let's face it, even if Clavel knocked down a few city blocks, the place would still be packed. And we'd still be happy to wait.
Chef
Cindy Wolf
We're not sure what the judges at the James Beard Foundation are thinking, but we're pretty sure that their taste buds need some fine-tuning. Charleston's chef Cindy Wolf—a finalist for the James Beard Award for Best Chef: Mid-Atlantic seven times—proves year after year that she's not some flash in the pan, but has what it takes to medal. For 21 years now, her gorgeously composed plates have represented some of the finest examples of French dining anywhere—whether we're talking the Mid-Atlantic or the 11th arrondissement in Paris.
Photo courtesy of Jai Williams.
Bar Food
Bluebird Cocktail Room
We have lauded the literary-themed Bluebird for its delicious cocktails since it opened in 2017, but don't overlook the culinary side of the menu. Chef Pedro Matamoros—who came from Bethesda's critically acclaimed Barrel and Crow—composes small, medium, and large dishes that are the ideal fit for this European-style space. Plates of yellow lentil hummus with harissa oil, lamb meatballs dipped in yogurt sauce, and a locally sourced steak with Parmesan frites will delight.
'Burbs Bar
The Point in Towson
If you live outside the city and crave crab cakes, pan-roasted Brussels, and lobster flatbread, there's no need to fret. This Towson spinoff of the fan-favorite Point in Fells has joined the scene in the county. The new space features reclaimed wood, funky light fixtures, communal high tops, and an open kitchen—a far cry from the space's dingy days as The Crease. We especially appreciate the bar's menu of whiskey cocktails and satisfying crab dip mixed with creamy mozzarella served with buttery, soft pretzel bites. Don't miss the dog-friendly outdoor patio and live music on Friday and Saturday nights.
Breakfast Spot
Sam's Canterbury Café
There are so many things to love about this Tuscany-Canterbury community spot. Sure, the Bananas Foster waffles and DIY breakfast sammies are superb, but diners also stop by to see the cafe's namesake Sam behind the counter. His parents, Michael and Jennifer Myers, opened the cafe last year as an outlet for their son, who is on the autism spectrum, to explore his interest in the hospitality industry. Since then, Sam's has not only established itself as a Hopkins hub but also as a business that provides meaningful employment for other adults living with Autism Spectrum Disorder.
ICE CREAM
BMORE LICKS
From soft-serve to snowballs, this Canton hangout satisfies any sweet tooth. We particularly love the lengthy list of scratch-made scoops in flavors such as red velvet cake, cinnamon bun, and bright blue Cookie Monster.
Macarons
Sacré Sucré
Picture-perfect pastries are the focus of this Fells Point shop, whose name translates to "sacred sugar" in French. The fluffy macarons are worth savoring, whether made with gold dust, passionfruit filling, or Madagascar vanilla bean.
Lemon Squares
Stone Mill Bakery
The gods of tang and tart conspire to make this pucker-upper the best possible showcase of citrus and sweet. The buttery crust provides just the right foundation.
donuts
Full Circle Artisan Palace
Patrons get the royal treatment from the second they set foot in this Hampden bakeshop, which fries up sweet and savory circles such as the classic chocolate glazed and even a soft-shell crab doughnut sandwich.
Cupcakes
Cake by Jason
Jason Hisley's new shop boasts a neon sign encouraging visitors to "celebrate the sweet life," a mantra easy to embrace thanks to strawberries and cream and carrot cream cheese cupcakes.
Charcuterie
The Wine Source
Don't be fooled by the name of this top-flight spirits store. Yes, they have thousands of bottles of vino on offer, but what good is wine without the proper pairing? For a serious spread, don't miss the cured-meat display case at the front of the store. We adore the salami studded with pistachios, the Dodge City Salame flavored with fennel pollen and pink peppercorn, and the fiery soppressata. But rest assured—you can't swing a sausage without hitting something next level.
Hidden Gem
Cocina Luchadoras
In a neighborhood riddled with taco spots, this tiny Upper Fells joint has quickly become our favorite, turning out some of the best street-style Mexican eats in town. Run by the dynamic mother-daughter duo of Margarita and Rosalyn Vera, it's a best-kept secret, but we're willing to spill the black beans so that you, too, can enjoy handmade corn tortillas (a fourth-generation recipe!) and an always-fresh medley of meats. First-timers should order the al pastor and carne asada.
Photo courtesy of Scott Suchman.
THAI
Khun Nine Thai
When we've heard the lament—"Baltimore needs more Thai food!"—we silently nod along, hoping to keep the hungry throngs away from our hidden gem spot. Alas, it's time to celebrate this Mt. Vernon hole-in-the-wall, located next to Dooby's in the former Thairish space. It's easy to miss, but once you find it, you won't soon forget the 20-seat restaurant and its tiny kitchen, helmed by chef-owner Kittisak Pimput, which turns out the tastiest lemongrass soup, pad Thai, and panang curry we've had in the state. Aromatic and full of spice, this piquant cooking has quickly become our new comfort food go-to, especially when shared with friends.
HAPPY HOUR
PARTS & LABOR
Any bar-goer knows that the key to a good happy hour is the more, the merrier. This is why we're big fans of this Remington butchery's drinking deals, which last from 4 to 6:30 p.m. Monday through Friday and 1 to 4 p.m. on Saturdays and Sundays. Plus, the deals themselves are unbeatable: You can get rye whiskey any way for $5 a cocktail; there are $5 glasses of red, rosé, and white wines; local craft beer is available for $3 a draft; and they even offer a 20-ounce draft option for just $2.25. That's almost dangerously cheap, which is especially ironic for a place that once housed an auto shop.
Dish To Die For
Scallop Toast at Grand Cru
Toast is trending now, but the scallop creation, a meal in itself at this Belvedere Square wine bar, is, well, the best thing since sliced bread, thanks to new chef and former Dylan's Oyster Cellar cook Will Mester. Picture this: a thick-yet-crisp piece of whole-grain Atwater's bread soaked with snail butter and topped with five fat Cape May sea scallops charred in brown butter. Pair it with a glass of sauvignon sold by the glass (or the bottle) and thank us later.
Neighborhood Bar
29th Street Tavern
We have a natural skepticism when we hear about longtime dive bars getting "renovated." But our concerns abated when we heard that Long John's Pub, in Remington for 40 years, was being bought by the owner of Swallow at the Hollow and following the same formula: cleaning the place up without losing its character. Now it's that ideal homey bar with dark wood, stained-glass lamps, handmade curtains, and delicious wings and burgers. We love the retro neon sign out front. Nothing fancy—just the way we like it.
Neighborhood Restaurant
Dylan's Oyster Cellar
Dylan's earned its initial buzz as a subterranean pop-up in Mt. Vernon, but the charming seafood bistro has found its footing, and sweet spot, on a street-level corner in Hampden. In less than two short years, it has become a local haunt, blending its Belle Époque ambiance with an elevated mid-20th-century menu—addictive coddies, delectable rainbow trout—into a one-of-a-kind evening. Come for the oysters, hailing from coast to coast, but stay for the magical timelessness of it all.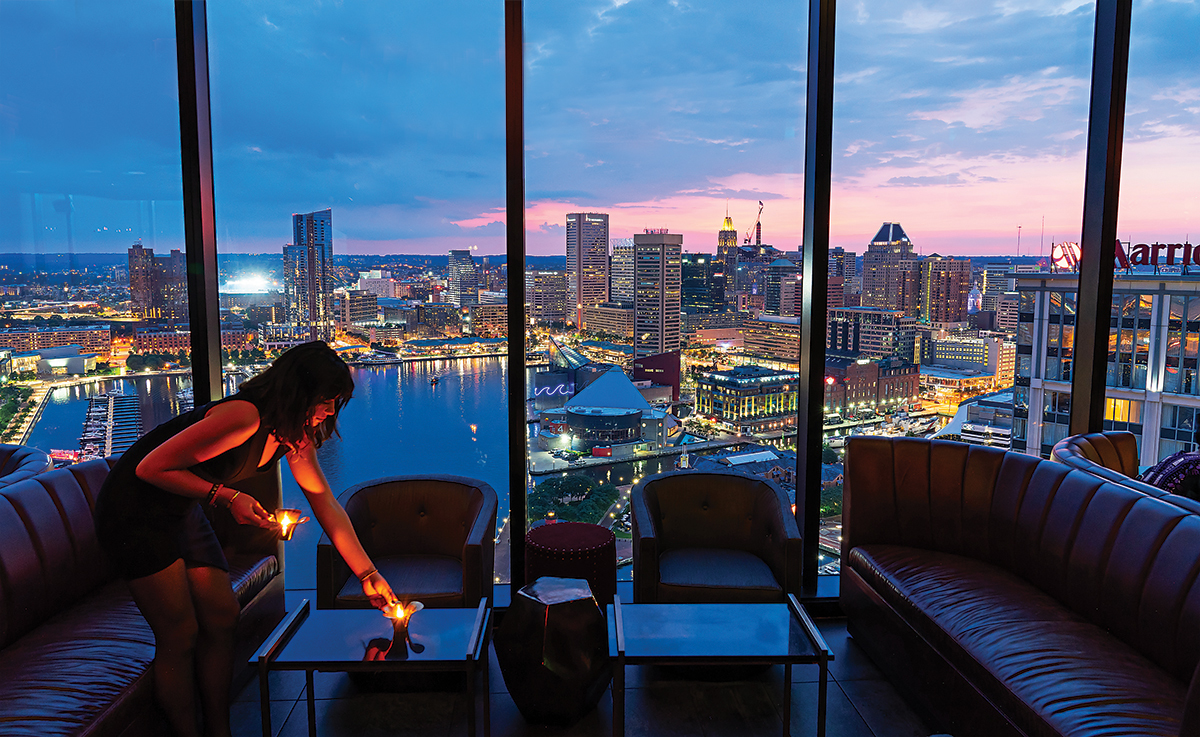 Photo courtesy of Scott Suchman.
VIEW
THE BYGONE
Baltimore is always beautiful to us, but even more so from the top of the Four Seasons at this chichi fine-dining spot. Dining up here on a clear day (or night) is like taking a helicopter tour, minus the fear factor. Enjoy unobstructed views of Camden Yards, the Domino Sugars sign, and the Key Bridge. (Squint hard, and there's Towson Town Center in the distance.) But a view can only go so far. The scenery meets its match thanks to jazzed-up American classics.
INSTAGRAM
Juliet Ames
@thebrokenplate
These days, there are so many people out there doing it for the 'gram, they can all begin to blend into one. But jewelry maker Juliet Ames (@thebrokenplate) inspires with her #whatsfordinner home-cooked meals, including spatchcock chicken and a sun-dried tomato and zucchini tart. We also love that her muse is her son, Nolan. The rising fifth grader and budding food critic is a star in his own right (recently appearing in a David Chang video while appreciatively eating brunch at Momufuku CCDC).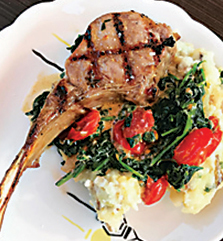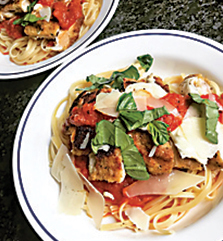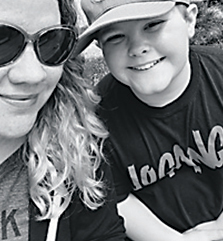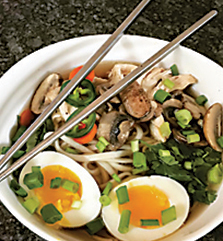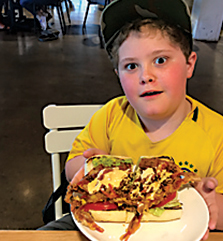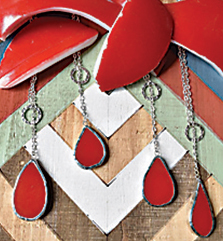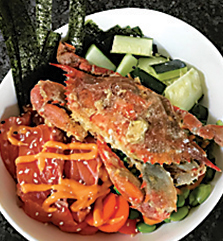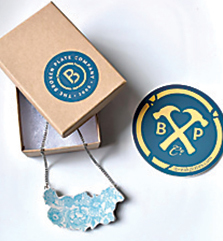 New Jewish Deli
The Essen Room
When this new, yet old-school, Jewish deli opened in Pikesville last year, we were kvelling—particularly those of us who are part of the county crowd, where the corned-beef scene can be slim pickings. At Essen, whose name means "eat" in Yiddish, the matzoh-ball soup is like bubbe used to make, the pickle bar is plentiful, and the pastrami with mustard on rye rivals anything you'd find in New York. Whatever you do, order a potato-filled knish.
Old-School Jewish Deli
Attman's
Attman's claims that it's an "authentic New York delicatessen (only better)" might sound like a tall tale, but it isn't. Since 1915, one of the last holdouts along Baltimore's Corned Beef Row continues to draw salt-cured meat mavens—and rightfully so. Their "world-famous sandwiches fit for a king or queen" are piled sky-high with the highest quality ingredients, from extra lean brisket to hot pastrami and house-made chopped liver that will speak to your soul and reconnect you with your long-gone relatives.
Chinese Food
Chopstix Gourmet
As our palates have gotten more sophisticated, and we've become familiar with once-exotic cuisines from the likes of Korea, Thailand, and Vietnam, good old Chinese food has become something of an afterthought. One visit to Chopstix Gourmet, especially the Rosedale location with daily dim-sum service, and it will become part of your dining-out rotation. Include plates of Singapore-style rice noodles and scallops in spicy sauce on your pilgrimage. Oh, and here's the real litmus test: It's packed not just on Christmas Day (when there are famously few options), but every day.
Indian Cuisine
Ananda
If you're not familiar with Indian cuisine, it's easy enough to resort to the same old, same old, but you'd be missing so much if you played it safe here. Ananda—meaning "bliss" in Sanskrit—is a fitting name for this spot. We can't say enough about the whole pan-fried Goa, a fried fish served with garlic and tamarind, as well as the shrimp balchao, cooked in tamarind, coconut, lime, and chili and served alongside a cardamom and cumin-scented lentil and pumpkin polenta.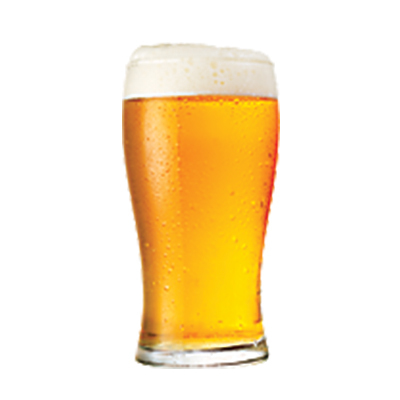 Taproom
Suspended
This sustainable brewery is bursting with Pigtown pride. (There's even a brass swine sculpture in the space.) The taproom is ideal for sipping drafts, meeting new neighbors, or grabbing a growler to go.
Community
Union Craft
No matter the locale, Union has always been a hub for the local community. But especially now that it's expanded to Medfield and added a makerspace, that collaborative and communal vibe is stronger than ever.
Joining of Forces
DuClaw/RavenBeer
Two of the oldest names in the craft beer world united as RavenBeer moved into DuClaw's production facility. For proof that two is better than one, sip DuClaw's Gose O's in the summer and Raven's Poetober this fall.
Brewer
Judy Neff at Checkerspot
Talk about doing your homework. Well before Checkerspot opened in South Baltimore in June, Judy Neff and her team were testing out home recipes in their basement and collaborating with local breweries. We can't wait to see what's next!
Events
Monument City
The staff at Monument City sure knows how to throw a good party. Whether celebrating an anniversary, partnering with local makers, or even hosting Harry Potter trivia night, the taproom is always hoppin'.
Photo courtesy of Kate Grewal.
SANDWICH
Grilled Cheddar "Spiked" at Artifact Coffee
Here's a phrase you'll never use again once you've tasted the real deal here: "Why order grilled cheese in a restaurant when you can make it just as easily at home?" Ha! At Artifact, they start with an earthy brown potato bread and then grill it to perfection with gooey, sharp cheddar cheese. But the ingenuity is in the "spiked" part: They add onions and house-made pickles to the mix (and throw a few more pickled veggies on the side of the plate for good measure). The result is a sandwich that is crunchy and cheesy and tangy all at the same time. Try that at home.
New bar
Regal Beagle
What's magical about Regal Beagle in Canton is how a brand-new spot can immediately feel so comfortable. Granted, we were familiar with the address when it was Jack's Bistro. But now that chef-owner Ted Stelzenmuller is letting Ryan Sparks run the place, it has really come into its own. The bar has a loose late-'70s/early-'80s vibe with reclaimed furniture in the lounge, old board games and a record player, and a cocktail menu with tiki-inspired drinks. We're fans of the Midori Highball with gin, Chartreuse, yuzu, honeydew, and salt. One sip of that while lounging in the back and you'll immediately feel at home.
New Restaurant
Tagliata
With so many restaurant openings in Baltimore these past few years, it can be hard to highlight a single space. But some spots, even in their freshman season, have old souls. Such is the case with Atlas Restaurant Group's Tagliata. Almost every item on the menu is a greatest hit here: from classics like chicken Parm and veal chops to more modern dishes such as duck with pistachio purée and seriously impressive crudos. The stunning Patrick Sutton-designed space—table for two on the patio please!—is also noteworthy.
Meal with a Mission
Mera Kitchen Collective
Food can be a powerful force for good, and no one knows that more than the five women who founded Mera Kitchen Collective. As a worker-owned co-op, Mera is focused on empowering refugees and immigrants by tapping into their culinary heritage. Inspired by similar women's empowerment groups in the Democratic Republic of Congo, the collective's founders have hosted events at Hersh's, Clavel, and R. House. One bite of their food and you can taste the love.
Second Act
Steve Monnier
We love a good second act, and chef Steve Monnier, formerly of Hampden's Arômes, is certainly having one with his new downtown restaurant, Chez Hugo. Here, Monnier has put together a mouthwatering menu of approachable Francophile favorites (the onion soup and escargots are incroyable). The whole roasted chicken takes 45 minutes to make, but suddenly we have all the time in the world to see what comes out of the kitchen.
LUNCH SPOT
Helmand Kabobi
Just because it's the midday meal doesn't mean we like to settle. At lunchtime, what we're looking for is good value, proper portions, and something satisfying enough to boost us through the often-endless afternoons. From kabobs to the signature kaddo borani with yogurt-garlic sauce, Hopkins Hospital-area Helmand Kabobi, the fast-casual version of the beloved Mt. Vernon Afghani restaurant, checks all those boxes—and many more.
Distillery
Old Line Spirits
These days, we Baltimoreans can finally say we've gotten back to our rye roots with plenty of options to drink local whiskey. But this Highlandtown spot—which makes American single malt and aged Caribbean rum—pushes the boundaries as the first city distillery to feature an adjacent cocktail bar. The Ready Room is a place to try the spirits in cocktail form instead of half-ounce samples. We appreciate that Old Line went to bat to get this legislation passed and hope this ignites a trend throughout the state so that more distilleries can add bars to their roster.
Bartender
Chelsea Gregoire at Hotel Revival
Not that the open, airy Topside needs any more light, but bar manager Chelsea Gregoire always offers a ray of sunshine. With experience at Dooby's, Pen & Quill, and Ida B's Table (not to mention her own cocktail consulting business), Gregoire was the ideal choice to run the program inside the newly opened Hotel Revival bar in Mt. Vernon. She puts playful spins on classic cocktails such as old fashioneds and shandies and is always conscious of using Baltimore-made products. Plus, we love her cheerful signature greeting of, "What's up, humans?"
Bagels
Bottoms Up Bagels
When we're finding it hard to drag ourselves out of bed on an early Saturday morning, the thought of biting into a Bottoms Up Bagel does the trick. Find these doughy creations at the Waverly, Fells Point, and JFX farmers' markets, or order them directly from their website. We love the creative options (Old Bay bagels, smoked jalapeño cream cheese), but nothing satisfies quite like a toasted everything with lox and green onion spread. Good morning, indeed!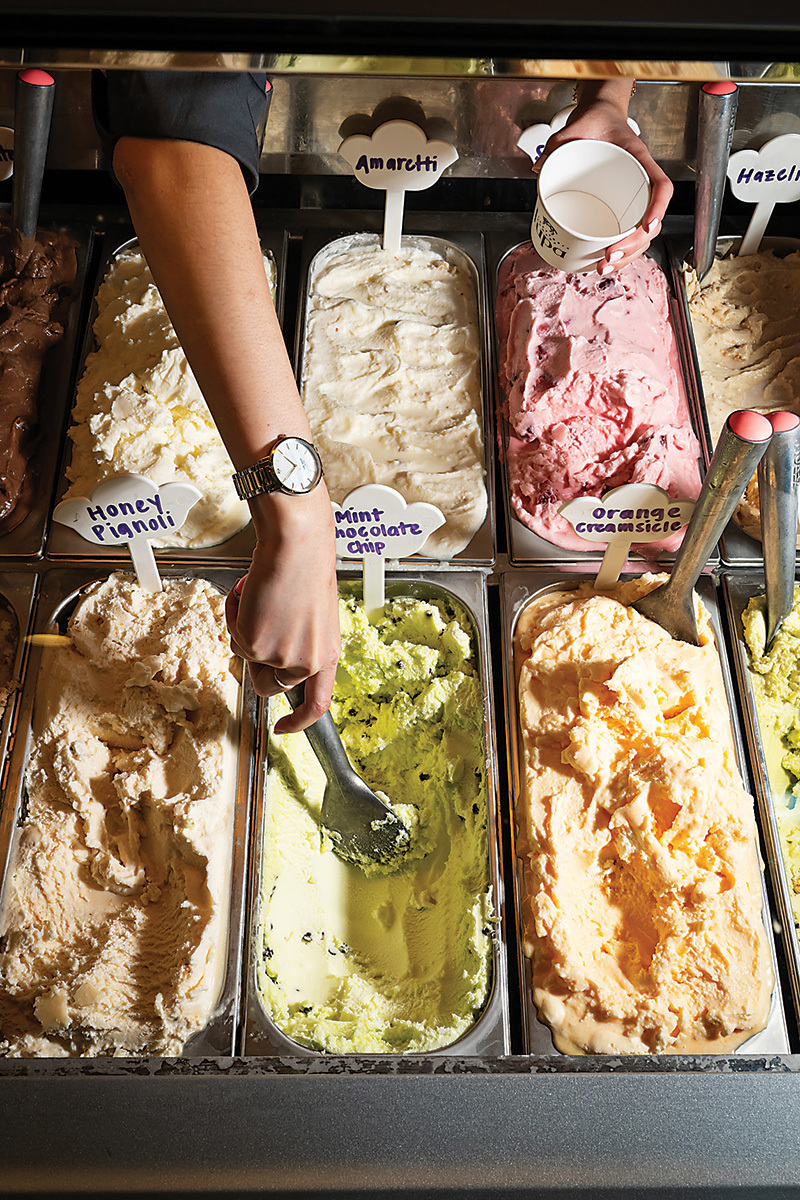 Photo courtesy of Scott Suchman.
Gelato
The Gelateria at Lupa Trattoria Romana
Outside Lupa's Gelateria, the line says it all. Insiders queue up for some of the most authentic gelato we've had this side of Florence (where, in fact, gelato was invented). Brave the throngs and pick from one of 20 dreamy, creamy flavors made from seasonal flavors such as strawberry with fresh-picked strawberries. We heart the hazelnut and pistachio and hard-to-pronounce types such as zabaglione and stracciatella, but if you're feeling indecisive, ask one of the stellar scoopers to come up with a custom combo just for you.
Wine Bar
101 Deli Bar
Not many bars in Federal Hill can say they have a sommelier on standby, but this modern spot stands out from the pack with its diverse wine list and two international pours on tap. The wine list is thoughtfully curated with whites, rosés, and reds from as far as Italy and Argentina, though it might not be as lengthy as others in the city. The vino varieties pair perfectly with 101's colorful charcuterie boards. Bonus points for a wine menu that uses simple descriptions such as "bright whites" and "orange stuff."
Vegetarian
Tofu Brah at Ekiben
Tofu is rarely revelatory, which is not surprising given that it's made from a block of coagulated soy milk. Forget everything you've ever thought of this vegetarian staple and order the spicy Tofu Brah (in a bun or in a bowl) at this Asian street-fare darling, where it's fried in spicy peanut sauce and served with seasonal slaw. How many tofu dishes can claim they've been given a shout-out in Vogue?
pop-up
Baltimore Free Farm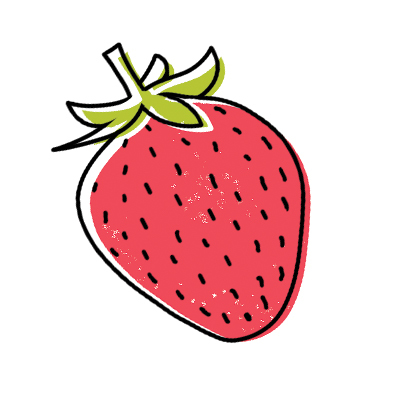 Every week, the Baltimore Free Farm conducts "food rescues" in an effort to feed the city's food deserts, picking up unwanted produce from local markets and distributing it to communities in need. These weekday drop-offs take place at neighborhood landmarks including The Land of Kush (Monday), Dovecote Café (Thursday), and the Grace Baptist Church (Friday), where the urban farm brings fresh fruits and vegetables to area residents—and all for free. Food for thought, indeed.
Tea House
Emma's Tea Spot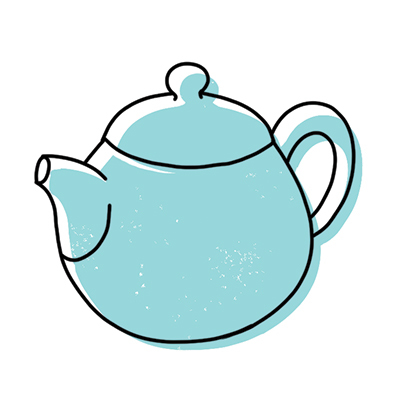 Thanks to our new love for Meghan, Harry, et al., tea is having a royal resurgence. Never mind hopping across the pond to get your cuppa—there's a bit of Britain right here in Baltimore at this adorable Hamilton haunt that proudly flies its Union Jack. Everything here is as authentic as it comes. Picture piping pots of English tea, sweet and savory scones (plus clotted cream), tea "sarnies" like egg and cress, as well as ones filled with cheese and pickles.
Photo courtesy of Kate Grewal.
Juice Bar
PLANTBAR
We've long been a fan of Plantbar in Belvedere Square thanks to its nutrient-packed, plant-based offerings. But now that they've opened a minimalist space in Harbor Point with even more options, we're officially hooked. When there's no time for lunch, we'll opt instead for a Glow With It with apple, cucumber, kale, celery, parsley, and lime—which gives us an afternoon boost and works wonders for the skin. And Plantbar's smoothie bowls are the most empowering way to start the day from nutritious (Matcha-Cado) to indulgent (Butter Cup).
Specialty Menus
R. Bar
The staff at R. House's bar certainly love a good theme—and we are much obliged. Last fall, the drinks were based on macabre legend Edgar Allan Poe (Mai Beating Heart was a fave). This spring, beverage director Amie Ward and team paid tribute to John Waters with 13 concoctions including the Cereal Mom, Pink Flamingos, and Corny Collins. And this summer, it has been all about summer camp. There's the cleverly named Salute Your Shandy and Wet Hot Bolivian Summer, as well as an ode to a traditional PB&J sandwich in Sack Lunch.
sushi spot
Katana
We like sushi spots where we don't always have to get sushi. And Katana in Canton offers a huge menu. There are steaming bowls of spicy pork ramen, heaping plates of chicken pad Thai, lunchtime teriyaki bento boxes, and filling udon noodle dishes. The wait staff is quick and attentive—and the restaurant is kid-friendly, whether you're sitting at the sushi bar or in the dining room. The sushi itself is excellent and includes melt-in-your-mouth Bluefin fatty tuna, buttery mackerel, and a whole page of fun specialty rolls. Though seemingly random at a Japanese restaurant, the red sangria is a drink not to miss.
Photo courtesy of Scott Suchman.
Bread
ROGGENART
Give us our daily bread, especially when it comes from this European-style bake shop that's run by Nemanja Popov, a Serbian who grew up in Austria (got that?) and owns 15 additional bakeries abroad. Since its opening last year, we've stopped by almost daily for a fix. The artisanal loaves—hearty, dense, seed-packed—are a total standout. But if you crave sweet over savory, also consider the preposterously flaky chocolate croissant or the walnut brioche, though everything coming out of the oven is special.

Photo courtesy of Matt Roth.
Dog Park
Patterson Park
Looking for cuteness overload in Baltimore City? Search no further than a fenced-in grassy knoll on the east side of Patterson Park. Here, pups off all sizes, hairdos, and personalities romp off leash, liberally sniffing butts, chasing tails, and making new best friends. Whether you're a lifelong pet owner or simply a fan of the four-legged, this canine paradise is a surefire way to brighten any day.
Raven
Ozzie Newsome
The "In Ozzie We Trust" motto derives from the fact that the Ravens' heralded drafts are rarely sexy but almost always effective (see: two Super Bowl victories and a roster of current and future Hall-of-Famers including Ray Lewis, Jonathan Ogden, and Ed Reed). It seemed that his final draft as GM—he'll be retiring at the end of the 2018 season—was going according to plan as he selected the solid-yet-unflashy choice of tight end Hayden Hurst with the 25th pick. But then, something unexpected happened: he made a trade with the Eagles and drafted speedy quarterback Lamar Jackson with the 32nd pick. A young, hungry, charismatic QB to challenge the previously unimpeded reign of Joe Flacco? Now that's sexy! And the hallmark of a great GM. He zigs when you think he's going to zag.
Streak
McDonogh Girls Lacrosse
In May, after 198 wins and a nine-year streak (!), the McDonogh girls' lacrosse team finally lost a game to Notre Dame Prep. The team's record is still one for the books—it's actually one of the best of all-time for high school sports teams (they didn't quite best one Louisiana girls' basketball squad, whose 218-game streak ended in 1953). Much of the credit goes to coach Chris Robinson, who stepped down earlier this year, assistant Nancy Love (who took over), and all the girls in Eagles' uniforms who put blood, sweat, and tears on the turf since that first win on April 13, 2009.
Karaoke
B-Side Karaoke
In the tradition of classic Korean karaoke bars, Mt. Vernon's Hotel Revival has three exclusive soundproof rooms where groups of up to eight people can sing to their hearts' content without sideways looks from a bunch of strangers.
Dance Party
Version
Every second Saturday, The Crown transforms its Station North music venue into a festive, feel-good, free dance party led by DJ Trillnatured and lively MC Kotic Couture, creating an all-embracing and celebratory space for the city's LGBTQ community.
Drag Night
Sweat!
Launched last summer by the GRL PWR arts collective, this inclusive evening series celebrates queer identity with performances by the region's most fantastic drag kings and queens, plus live music and DJ sets from local acts.
Burlesque
Gilded Lily
There are few better people to spend an evening with than the talented ladies of Gilded Lily. Carrying the torch of Baltimore's storied burlesque past, the decade-old, five-woman troupe incorporates sultry moves, sideshow comedy, and important messages into their always-empowering routines.
Movie Night
Bengies Drive-In
For 62 years, this nostalgic drive-in has been the ideal way for film-lovers of all ages to relive the good ol' days with vintage trailers, an old-school snack bar, and new flicks big-screened beneath the stars.
Photo courtesy of The Orioles.
KIDS' ACTIVITY
Camden Yards
Taking the kiddos to the ball game has always been pretty family-friendly, but this season, the Orioles made it even easier for young fans to enjoy Camden Yards. Through its new Kids Cheer Free initiative, children 9-and-under get a free ticket when parents buy an upper-deck seat. Over in the Kids' Corner, the new Bird House interactive treehouse also stands tall among the classic moon bounce, bobbleheads, and Skee-Ball, while kid-approved concessions, like corn dogs, snowballs, and chicken nuggets (plus cheap beer for mom and dad), keep the little bambinos content through the final innings.
Oriole
The $4 Beer
Let's face it—this year has been rough. Not only are the contracts up for some of our most beloved Orioles, but between unexpected slumps and injuries, we just can't seem to catch a break. While we bemoan the loss of our true "Best Oriole" Manny Machado (who almost surely has been traded by the time you're reading this), we wanted to give a shout-out to this season's new all-star: the $4 beer. For the first time, domestic drafts were available at Camden Yards in a variety of sizes, making a "small" 12-ounce beer a mere four bucks. And, oh boy, did we need it to get through the first half of this season.
DAY TRIP
CAMBRIDGE
In under two hours, you can be out of the city, across the Bay Bridge, and posted up at RAR Brewing in the waterfront town of Cambridge on Maryland's Eastern Shore. This revitalizing downtown is a great getaway for local brews and food, with lots of history (see the Harriet Tubman Museum and Underground Railroad Byway) plus close proximity to the breathtaking Blackwater National Wildlife Refuge. Wander its streets to peek into historic houses and pop into shops such as Bay Country Antiques.
Hike
McKeldin Area at Patapsco Valley State Park
Not even an hour's drive west of the city, the scenic trails along the Patapsco River make an ideal afternoon walk in the woods for just you and Fido or the whole family. You can't go wrong with any of the eight-and-a-half miles of easy-to-moderate trails that cover this Carroll County area—but we particularly recommend the Switchback and Rapids routes for pristine views of the waterway's north and south branches. Keep an eye out for fellow nature-lovers on horseback along the way.
Pool
Merritt Clubs Canton
Since 2016, Merritt Clubs has invested $17 million into its Canton location, adding additional gym space, a new parking garage, and a revamped daycare space. But the pièce de résistance is the just-opened rooftop pool with leisure areas, a hot tub, cabanas for daily rental, and a full-service bar with poolside snacks—all with 360-degree views of the sparkling harbor and downtown Baltimore. When you're relaxing on a lime green lounge chair sipping an orange crush, all the concerns of the real world, seven floors down, simply melt away.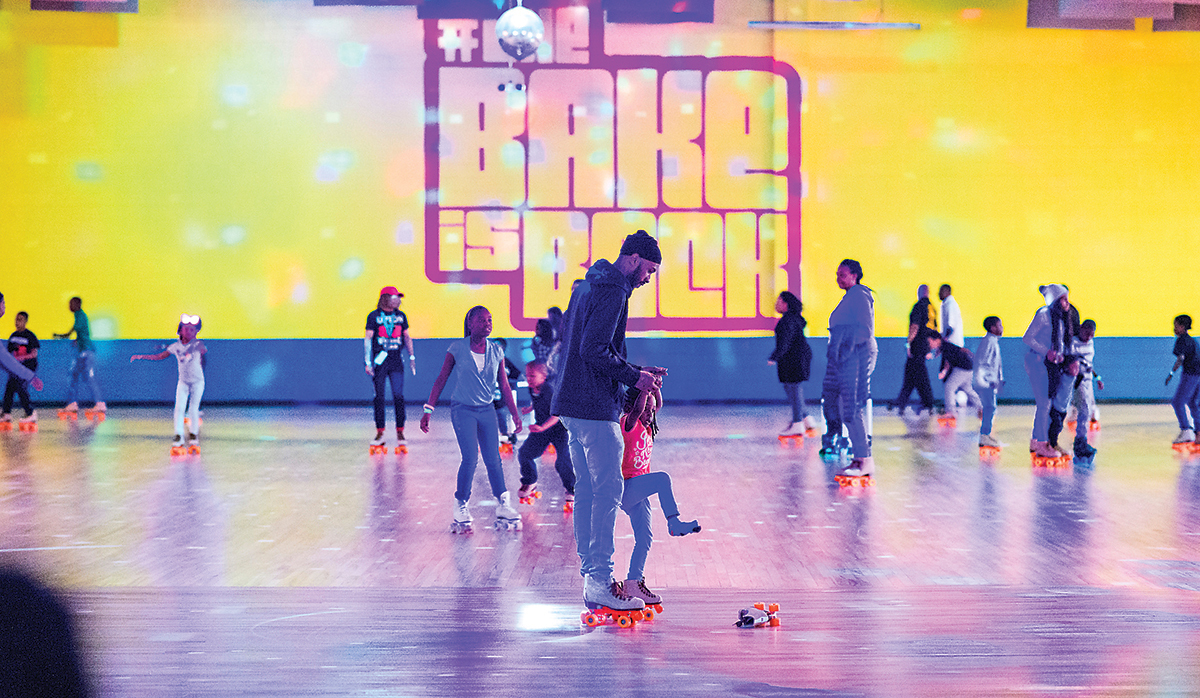 Photo courtesy of Matt Roth.
Comeback
Shake & Bake Family Fun Center
When Baltimore Mayor Catherine Pugh shut down this beloved West Baltimore skate rink last summer for much-needed repairs, she said of the community backlash, "You would have thought I shut down heaven." Since its founding by Baltimore Colt Glenn "Shake & Bake" Doughty in 1982, the Upton recreational center had acted as a respite for some of the city's most underserved residents, hosting countless roller-skating parties and family bowling nights. After a nearly $300,000 upgrade and grand re-opening this March, the center has returned to its former glory as a go-to place to lace up skates and celebrate the resilient history of the center—and its neighborhood.
Bike
Jones Falls Trail
Across 11 miles of city terrain, this all-levels trail is one of the best ways to explore Baltimore. Now running from the Inner Harbor, up 83, around Druid Hill Park, to Cylburn Arboretum, the JFT features a wide variety of local scenery, including urban, waterfront, and natural views, plus plenty of options for detours, lunch, and sightseeing. Cyclists can look forward to its Mt. Washington expansion by spring 2019.
Camping
Assateague State Park
Less than three hours from Baltimore, you'll find one of the most exceptional camping experiences not just in Maryland, but on the entire East Coast. From spring through fall, the natural wonder that is the Assateague Island National Seashore opens a portion of its pristine beaches, strewn with wildflowers and grasses, to outdoor enthusiasts for sleeping beneath the stars. Slumber to the sounds of the Atlantic Ocean, but beware of the wild ponies, who love to peruse coolers for campsite leftovers in the middle of the night.
Beach
Hammerman Beach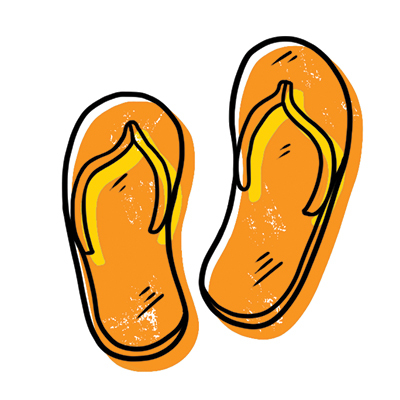 When the neighborhood pools are crowded and Ocean City seems too far to go, this just-outside-the-city beach offers fun in the sun that's only a 30-minute drive away. In-the-know city dwellers come to swim and sunbathe on the edge of the Gunpowder River, with lifeguards on duty, family-friendly playgrounds, and canoes and kayaks for rent. Just be sure to go early, late, or for a weekday escape, as the sands fill up quickly on weekends.
PARK
DRUID HILL PARK
After 158 years, this sprawling Northwest Baltimore green space—745 acres in total—remains a vital community gathering place and quite possibly the city's most dynamic park. Any day of the week, expect to find friends and families flocking for old-school institutions such as the Rawlings Conservatory and Maryland Zoo, outdoor get-togethers at the picnic pavilions or swimming pool, and, of course, open-air exercise along the Jones Falls Trail, around the Reservoir Loop, or in the majestic woods for the weirdly wonderful sport of disc golf. Don't sleep on the weekly Wednesday farmers' market.
INSTAGRAM
National Aquarium
@nationalaquarium
The National Aquarium has been a beloved institution for nearly four decades, but its Instagram account has become a Bmag favorite over the past few years for its visual dives into wonders of the deep. Each brilliant photograph feels close enough to touch. It's as if you're standing on the sandy shores with the just-released sea turtle, or within petting reach of Marmalade, the aquarium's recently rescued seal. And every post comes with a little lesson on the aquatic creature, connecting us even further with the myriad species that inhabit our state's (and planet's) waterways.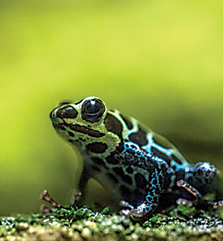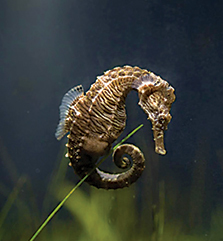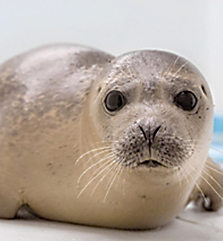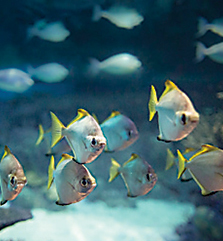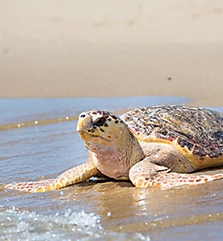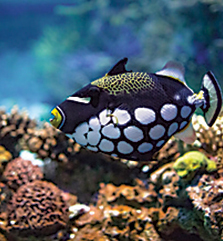 Used
The Book Thing
After a fire destroyed The Book Thing in 2016, bibliophiles from across the city came out in support of the beloved free book shop, donating time, money, and thousands of titles to bring the local institution back to life. Since reopening its doors last October, the Waverly/Abell warehouse is back and better than ever, with packed shelves, a new color-coding system, and an always-bustling clientele. Swing by for used bindings to add to your collection, and be sure to say hi to founder Russell Wattenberg, who has made the whole Thing possible.
New
Greedy Reads
Whether we like it or not, the face of Fells Point is quickly changing, but Greedy Reads is undoubtedly our favorite new addition. This February, the corner book store opened its gorgeous wrought-iron door and immediately felt like home. Run by former book publisher Julia Fleischaker, the walls are lined with a cornucopia of new printings, featuring everything from bestselling novels and nonfiction to cookbooks and kids' classics. The window display alone will inspire your imagination.
Photo courtesy of University of Maryland Baltimore County.
UPSET
UMBC
Creative acronyms abounded when the UMBC Retrievers became the first No. 16 seed to beat a No. 1 seed in the NCAA men's basketball tournament. ("U Must Be Cinderella" and "University of Maryland, Bracket Crushers" were two favorites.) Of the roughly 30 million brackets filled out online, it's estimated that only 2.18 percent picked correctly. UMBC's opponent, the Virginia Cavaliers, had only lost two games in the country's toughest league—the ACC—and handily won their conference tournament. But thanks to a quick tempo on both offense and defense, and one unfortunately timed injury for the Cavaliers, the Catonsville boys were able to make history.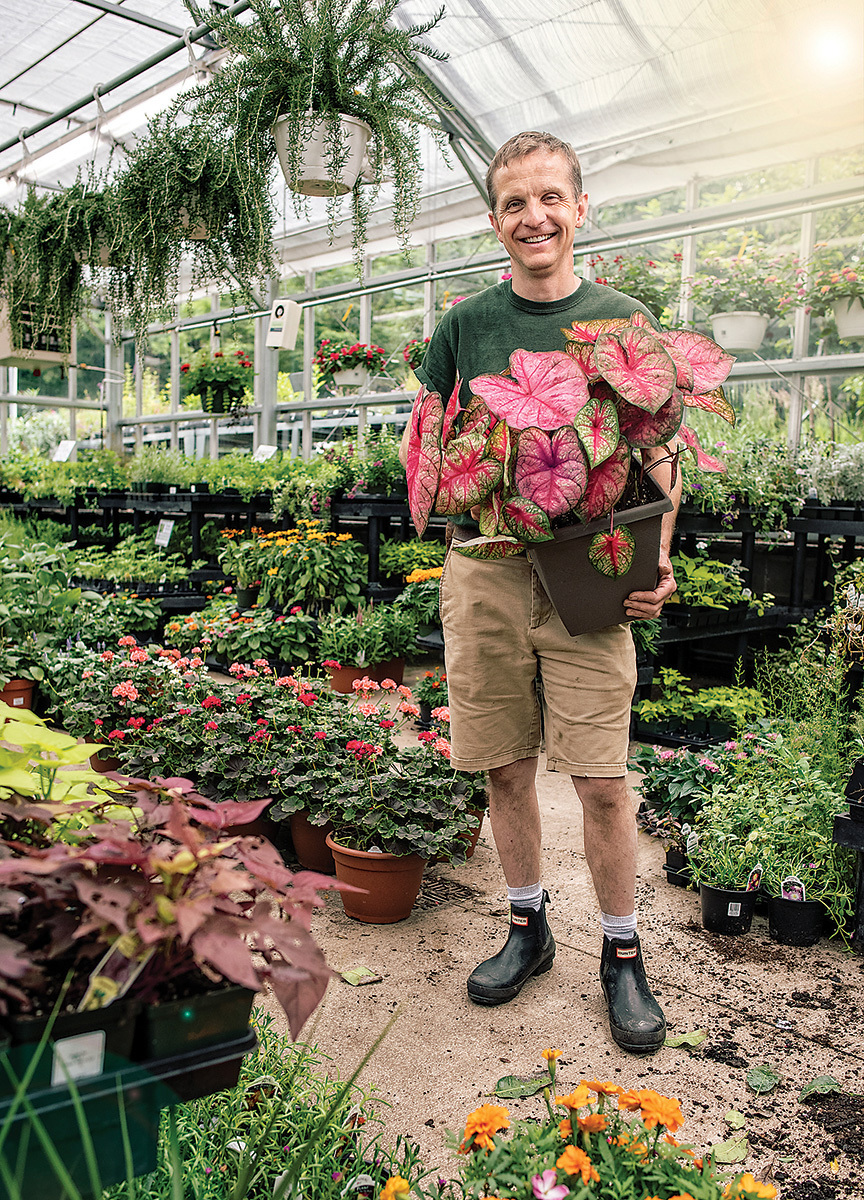 Photo courtesy of Christopher Myers.
Garden Guru
Peter Bieneman
Whether looking for advice on saving an anemic-looking Areca palm or landscaping a dark corner of your yard, folks from all around say, "We'll ask Pete!" The general manager at Greenfields Nursery & Landscaping really knows his stuff—and holds free classes at the nursery to share that wealth of knowledge. He has a master's degree in landscape architecture—but more importantly, is just flat-out passionate about plants.
Windows and Doors
KC Company
Put off by all the noise from the dozens of salespeople pushing cheap-looking plastic windows? Save yourself some aggravation and just head straight to the 87-year-old KC Company, a local, family-owned firm that handles Pella products, arguably the finest brand out there, with clients all over the Mid-Atlantic. Historic home? Period-correct windows in wood finishes—yes, wood—and custom sizes are a specialty of theirs. And their service and craftsmanship is tops.
Showroom
Cedar & Cotton
If one of your guilty pleasures includes scrolling through endless images of home decor inspiration on Pinterest, you are going to love Cedar & Cotton. Housed in an old textile factory, this beautifully curated home furniture showroom is all of our vintage furnishing dreams come true! From vinyl sofas and hanging basket chairs to mid-century chrome and burl wood étagères, you will always find something unique and inspiring.
Furniture
Design Distillery
Located on Key Highway, Design Distillery carries a wonderful range of chic and contemporary bedroom, dining, office, and outdoor furniture sure to create an eclectic ambience in any room. Among the store's selection, you'll find sleek wooden bed frames, one-of-a-kind rugs, colorful outdoor lounge chairs, and quirky room accessories. Looking to remodel an outdated space? Schedule a "Space Invasion" with Design Distillery's expert team to explore the endless possibilities of creating a stylish layout tailored to your heart's desire.
Small Engine Repair
Liberty Discount Lawn Equipment
Plenty of people will sell you new stuff, but getting the old stuff repaired can be challenging. Unless, that is, you're hip to Liberty, which can fix anything, from lawnmowers of all sizes, pressure washers, snow blowers, and chainsaws to generators (which won't do you much good in the next derecho if they don't run). And get this—they pick up and deliver. They're also happy, of course, to sell you new equipment—they're an authorized dealer for several brands, including Honda, Kawasaki, Cub Cadet, and STIHL.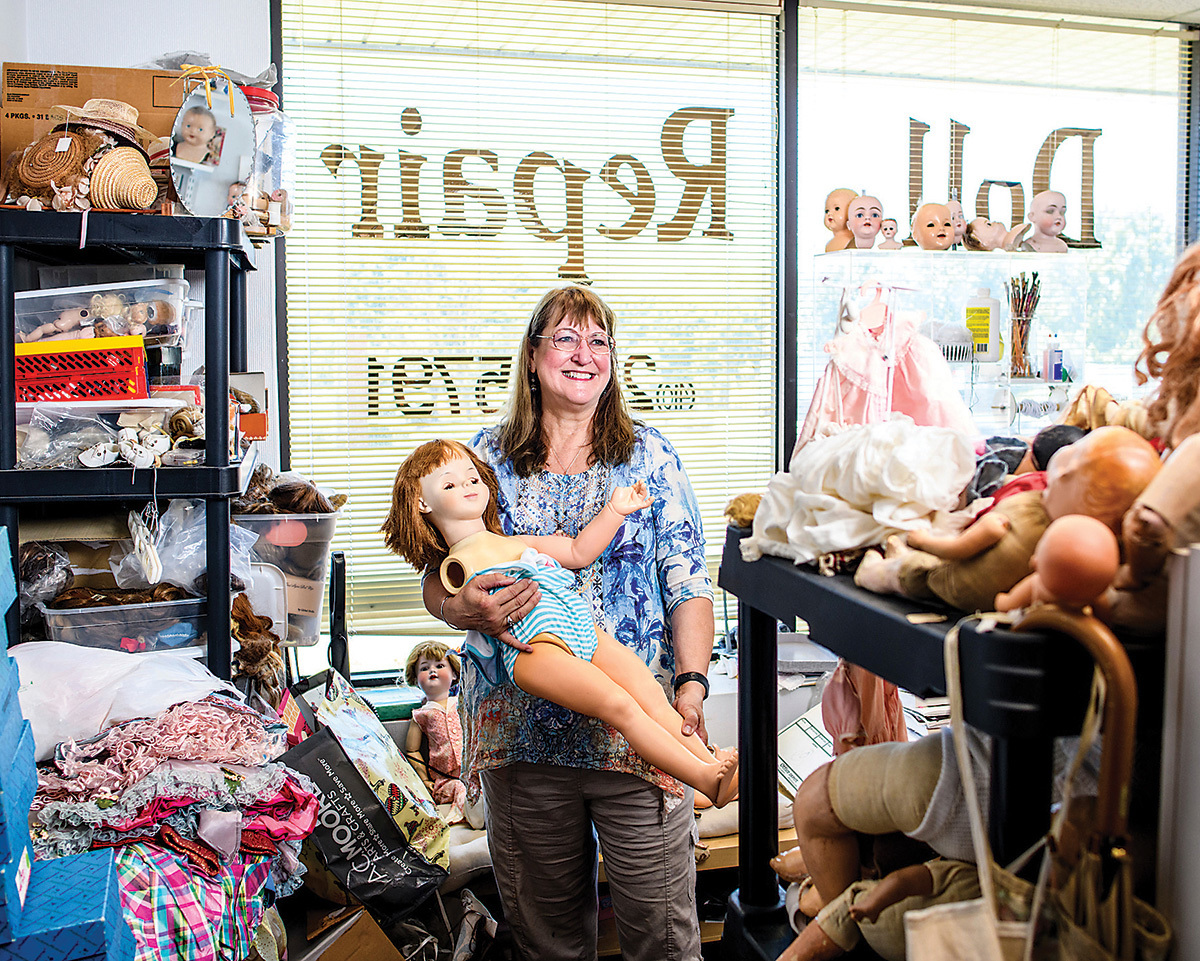 Photo courtesy of Matt Roth.
DOLL REPAIR
Creative Expressions Doll Repair
Sandy Hohne hates to see a doll in distress: The former systems analyst is a lover of dolls of all vintages, from the 1800s to the present, and has turned her passion into a business, repairing these family heirlooms with the care and precision of a surgeon. Whether Raggedy Ann needs an arm or your grandmother's China doll needs hair, she has a plan, using tools ranging from surgical clamps to drills and paint. Looking to make a new friend? She and partner Rita McCloskey also sell dolls.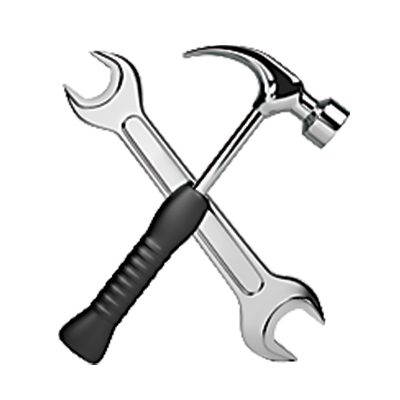 Plumber
Saffer Plumbing & Heating
Baltimore is rich in houses with century-old plumbing—think rusted-out iron pipes, chronic clogging, and cranky toilets. But these guys have seen it all, and usually have a quick fix at a fair price.
HVAC
Perry Hall Heating and Air Conditioning Co.
Just because you're in a panic, don't get lost in the jungle of people who claim to do HVAC right. These are the straight shooters we'd call first, whether it's an emergency repair on a blistering hot day or an HVAC upgrade.
Electrician
Madden Electric
Every time we name a very favorite service person, we worry they'll get too busy for us. So we're very reluctantly telling you about Vince Madden and his crews. In addition to all the capabilities you'd expect, they're also pros at adding lights, sensors, and generators.
Chimney repair
ChimneyTek
Want to see a scary movie that'll never make the Oscars? It's about the inside of your crumbling, creosote-lined 1924 chimney. But these guys have the slinky-camera technology to film it and the know-how to fix it, from cleanings to rebuilds.
Roofer
Park Heights Roofing
When it comes to workmanship, prices, and service, this smaller company punches way above its weight, whether it's a total re-roofing, leak repair, or gutter fix.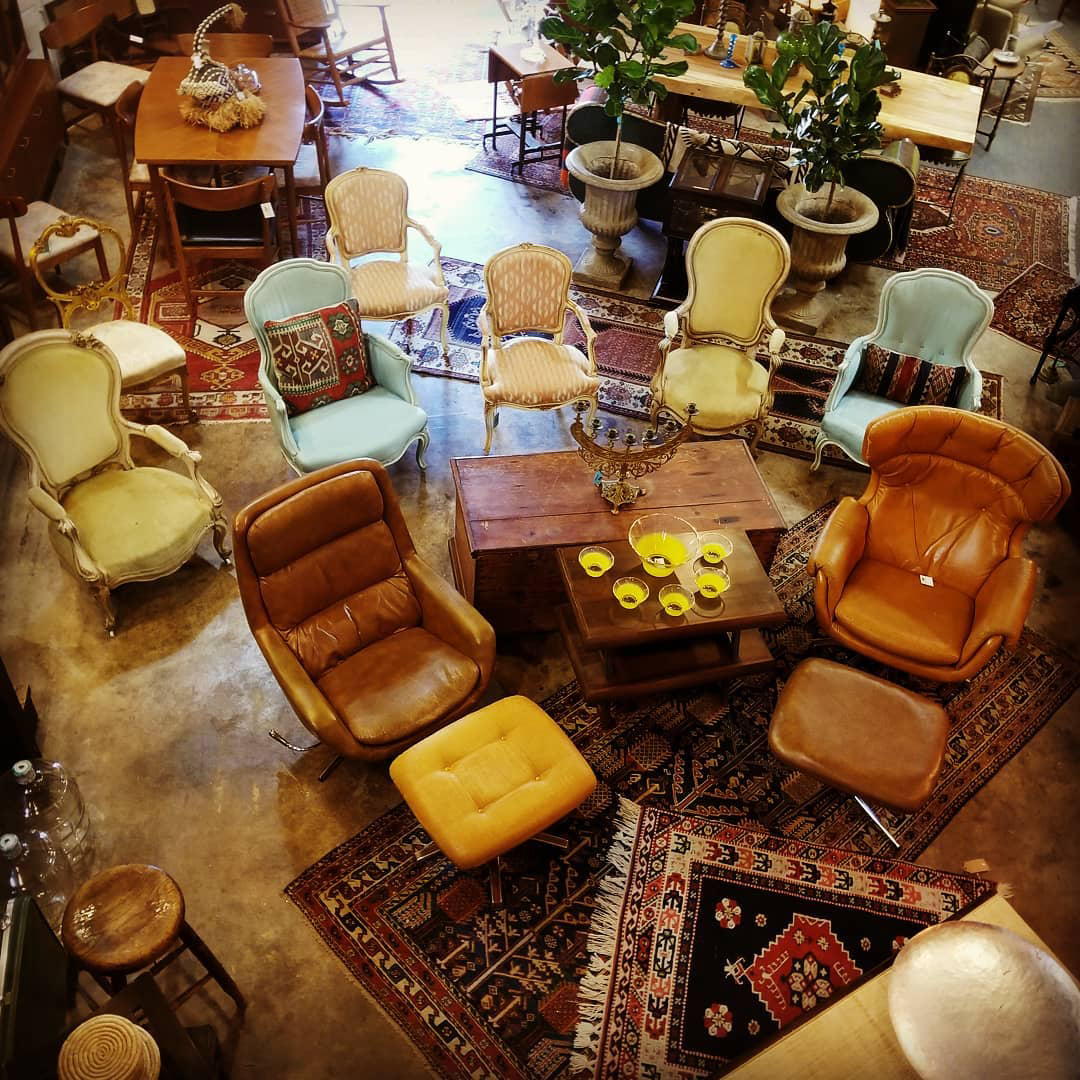 Photo courtesy of Julie Lilienfeld.
New Space
Wishbone Reserve
Earlier this year, everyone's favorite home treasure trove, Wishbone Reserve, made the move from their old Mt. Washington digs to the bustling Hampden shopping scene, and it's safe to say it was a perfect fit. Their one-of-a-kind vintage home goods neatly complement the quirky Hampden aesthetic, and their new space is as impressive as the goods they offer, with giant barn doors covered in a vinyl decal by Anika Starmer, a glass roll-up garage door, and an industrial integrity that offers the perfect juxtaposition to their antique offerings.
Cell Phone repair
Forever Wireless
So you drove your pickup over your phone again? If it's just the screen, or some other fixable issue, the people at this Baltimore outfit can help, offering repairs and accessories for all sorts of devices at several locations, thanks to quick access to all the original-quality parts they need. (If it's not worth fixing, they can sell you a new phone, too.) The best part? They'll come to your home or office to save the day, and for a really reasonable price.
Jewelry Repair
Towson Jewelry
Pay no mind to the fact that this longtime fixture in Towson Town Center is not in Towson anymore—it moved about a year ago to York Road in Mid-Govans, across from the Senator Theatre. The 37-year-old operation is still the place to go for quick, affordable, and skilled repairs on jewelry and watches, from important stuff like diamond remounts and insurance appraisals to fixing those little things that drive you crazy, like necklace-chain adjustments or replacing those earring clasps you could never get to work.
MODERN Lighting
Dorman's Lighting and Design
Call them a Baltimore lighting fixture, if you must: Whatever it is you're looking for in modern lighting, this 77-year-old business probably has it, from outside fixtures to chandeliers and floor lamps in lots of styles, plus a great selection of mirrors, accent furniture, artwork, and lampshades. Better yet, you won't get lost in a jungle of options, as they have a well-trained staff to offer lots of great advice, and keep you within your budget, to boot.
ANTIQUE
Wilson Heritage
Located in a small, two-story, and suitably historic building across the parking lot from Wilson Lighting, this wonderful hole-in-the-wall is more than just the place to go for antique and vintage lighting fixtures—it's a veritable museum. Besides having fabulous fixtures dating back a century, from ornate chandeliers to deco lamps, the shop—run for years by Jay Judd of the famous Howard Street Antique Row Judd family—also specializes in repairing and rewiring antique lighting.
Photo courtesy of Sean Scheidt.
Pet Spa
Reisterstown Pet Resort & Spa
Release the hounds! We've always thought of this place as one of the area's best boarding kennels, with caring staffers, a vet on call, and lots of play time, but there's much more to keep its guests wagging (or purring). There's daycare, indoor and outdoor swimming privileges for fun or fitness, and grooming, too. And the setup is perfect: It's on more than seven rural acres with 50,000-plus square feet of outdoor fenced-in play areas.
Firewood
Blue Moon Farms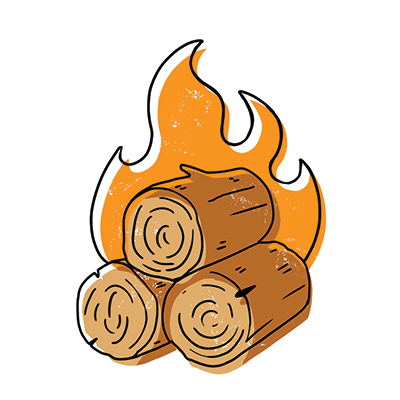 Just call him Mr. Firewood: Ben Cole of Blue Moon Farms is known not just for the countless cords he delivers to hundreds of fireplace-loving homeowners, but for the way he keeps wood-burning restaurants smokin' all year long. He and his log meisters are responsive and honest about each load, the wood that's stacked neatly in the rows of long sheds on his Randallstown spread is perfectly seasoned, and the stuff they sell to homeowners is all hardwood.
Home Health Care
We Care Private Duty Services
Worried about an elderly parent who's home alone? Turn to the folks at We Care. Working closely with family members, they can do an assessment of the client's needs, and then provide everything from help with daily activities to skilled nursing. And the staff not only has experience with a range of specific ailments, but can help acquire specialized equipment, as well as offering referrals for such things as Alzheimer's disease, cancer, or hospice care.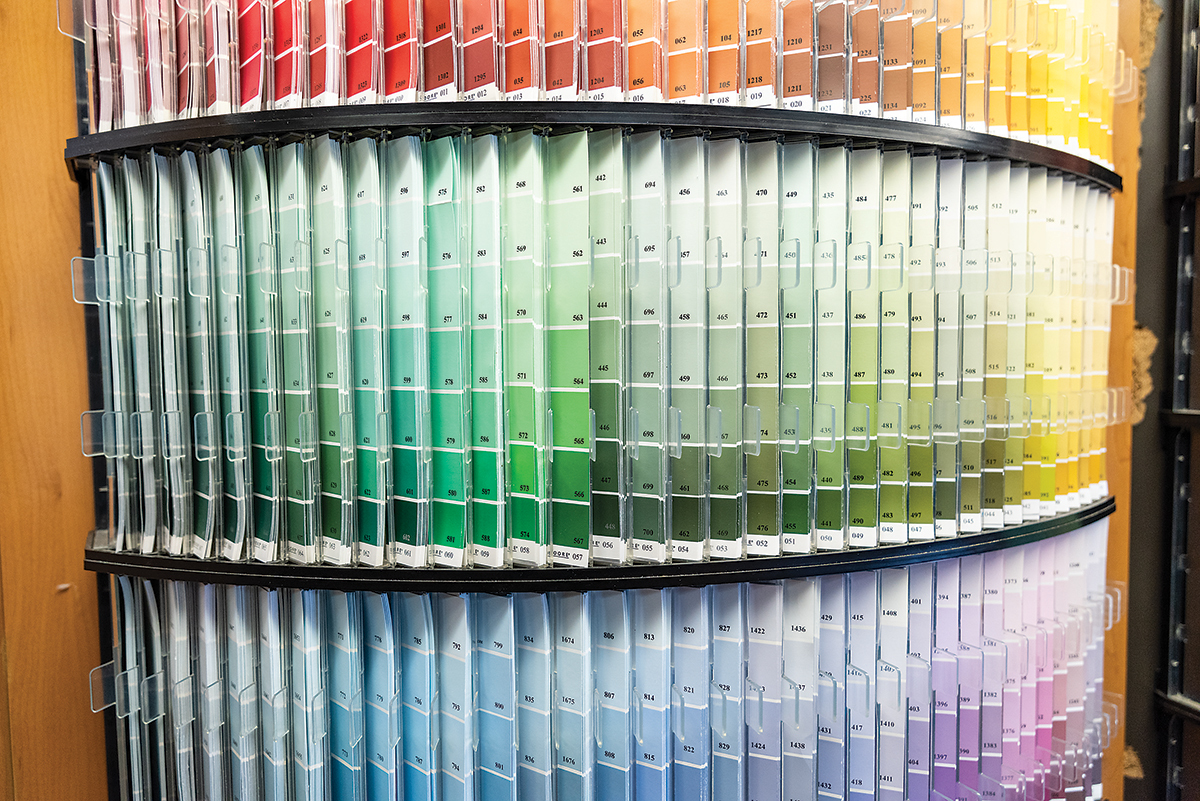 Photo courtesy of Christopher Myers.
Paint store
Budeke's Paints
The line of contractors waiting for the doors to open might tip you off: Just like the rest of Baltimore, they count on Budeke's for specialty paints and related products you can't get anywhere else (liquid metallic finishes for your walls and ceilings, anyone?). Non-pros will also love the design center, offering advice on interior décor, paint colors, and fabrics. And this family-owned Benjamin Moore retailer has staying power: At 150 years, it's one of America's oldest independent paint stores. Happy birthday, Budeke's.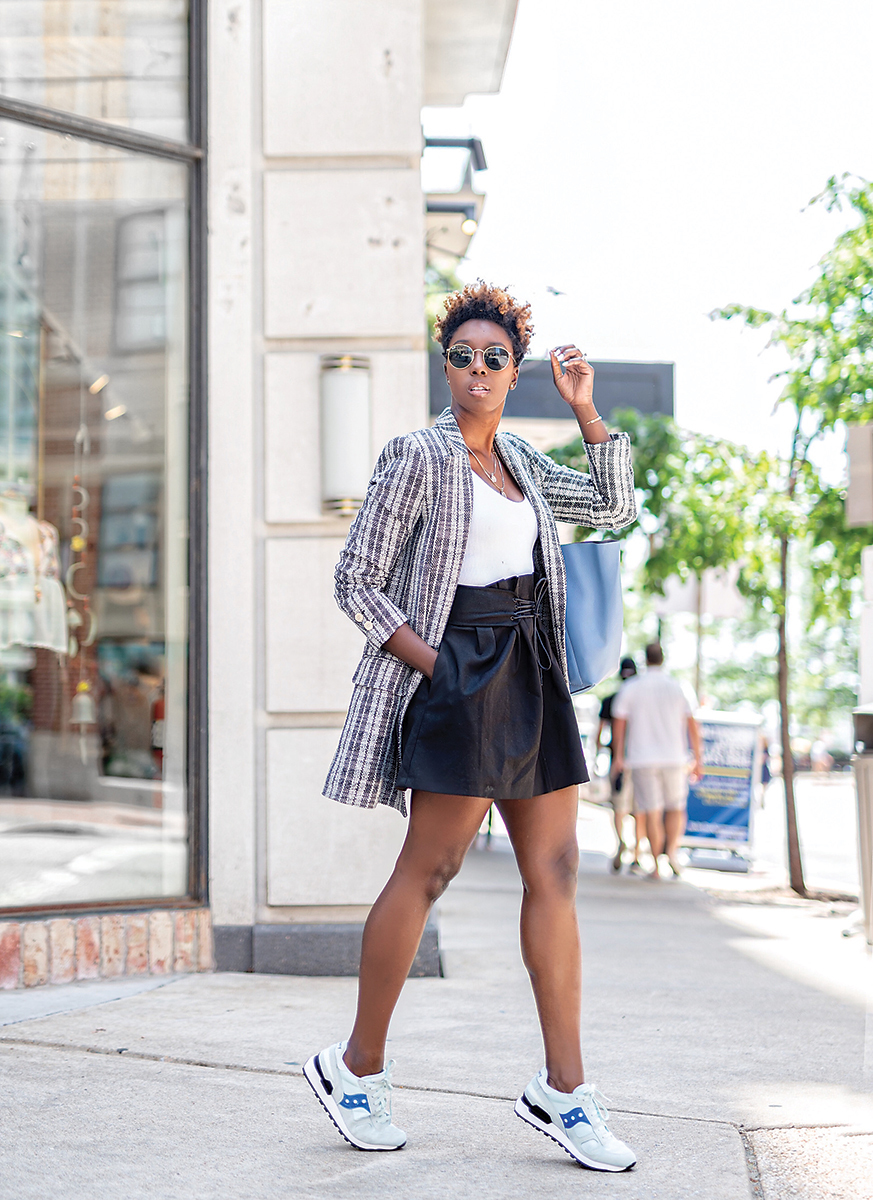 Photo courtesy of Vernon Davis.
Blogger
Dayna Bolden
"Humble," "genuine," and "insanely stylish" are just some of the words that come to mind when thinking of lifestyle blogger Dayna Bolden. Her blog, which features posts on fashion, beauty, motherhood, and entrepreneurship, is as inspiring as it is relatable. With more than 55,000 people following her on social media, her honest posts about her day-to-day life, struggles, and successes are full of tips, tricks, and positivity aimed to help people achieve their goals. She also hosts local meet-ups to encourage like-minded ladies to meet and connect—insert girl power fist pump here.
Accessories
Doubledutch Boutique
Accessories are the key to letting us have a little fun and express our individual style, but finding the right piece isn't always that easy. That's where Doubledutch Boutique comes in. With their killer assortment of designer and locally made accessories—from one-of-a-kind earrings to colorful sunnies and handbags—you're sure to find something that will set you apart from the crowd.
Fashion Showroom
Doll House Boutique
Shopping at Doll House Boutique can guarantee you one thing, that no one else will be wearing your same outfit. That's because this Mt. Vernon treasure trove is high fashion, edgy, and full of one-of-a-kind pieces. Owner and fashion designer Natalie Karyl has mastered her Ragdolls Couture collection, which has been worn by celebrities such as Vivica Fox and Faith Evans. The showroom also takes custom orders to fulfill all of your wildest fashion dreams.
Brand To Watch
Mess in a Bottle
Inspired by the uproar following the death of Freddie Gray, Kalilah Wright started her T-shirt company, Mess in a Bottle, to give a voice to the voiceless. Her shirts, which are adorned with empowering messages and images, are delivered in glass reusable bottles that are almost as trendy as the T-shirts themselves. Made locally in her Clipper Mill studio, the brand has taken off, with new messages being delivered daily. Wright's creations have also been seen on the pages of Teen Vogue and Cosmopolitan, as well as on some very notable celebrity clientele—most recently Serena Williams.
New Boutique
Raina Dawn
One step into this Quarry Lake shop and you'll feel like you're walking through the pages of your favorite fashion magazine. After years of working in the fashion industry, owner Raina Filipelli has carefully curated a thoughtful collection of wares from brands such as For Love & Lemons, Saylor, Generation Love, and more. From the variety of drool-worthy pieces organized to perfection to the cozy sitting area for your tired—yet supportive—shopping companion, expect to find the best in trends at this Instagram-worthy boutique.
Kids' clothing in store
Wee Chic
Wee Chic has babies, kids, and tweens covered with the latest fashion trends that are stylish and kid-proof. A local favorite of the fashion-forward Baltimore parent, Wee Chic gives kids a chance to shine with comfortable and on-trend clothing from brands such as Kate Spade, Ella Moss, EGG Baby, and so many more. Make sure you check out their "candy bar," with unique candy treats, scented pillows, and tons of other cool knickknacks for the kiddos to explore.
Kids' clothing Online
Worthy Threads
In May of 2017, Jessica Kremen and Lily Brown joined forces with one goal: to bring innovative styles and fabrics to the kids' clothing market. The result was Worthy Threads. Based and made in Baltimore, the brand offers a modern and stylish approach to kids' fashion without sacrificing any of the comfort or functionality the little ones require. The sweet fabric choices and adorable silhouettes are so cute you'll wish they came in your size.
Stationary Needs
Becket Hitch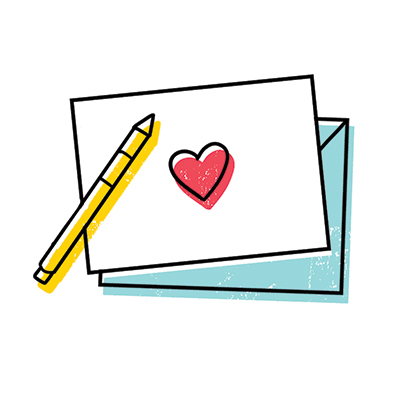 Organization is key when it comes to planning your success, so why not at least make that organization fun to look at? Enter Becket Hitch. Tucked away in Greenspring Station, this cute gifts and accessories store is stocked with everything you need on your desktop. From the coveted Day Designer planner to weekly notepads, journals, and hand-lettered thank you notes, you'll be productive in no time.
Vintage
Baltimore Vintage Expo
If you enjoy the thrill of the hunt, Baltimore Vintage Expo has your name all over it. Each spring, the Ideal Arts Space in Hampden is packed with a high-end selection of vintage clothing, accessories, and home goods from some of your favorite local vintage spots—Milk & Ice Vintage, Bottle of Bread, Wishbone Reserve, and Hunting Ground—and beyond. This year they also offered on-site tailoring from Bushelers of Baltimore and on-site denim repair by local denim experts Fischer Clothing Co. Pro tip: Get there early to get first dibs on the goods.
Photo courtesy of Bekah Kay.
Makeup Artist
Jamaya Moore
Getting your makeup done professionally can be nerve-racking. The last thing you want is to end up looking like Mimi from The Drew Carey Show. Enter Jamaya Moore. A professional makeup artist, beauty expert, and author, Moore has worked with major national brands including Under Armour, Beats by Dre, and VH1—so you know you're in good hands. Along with making her clients feel like their most beautiful selves, she also mentors other working makeup artists through her Pretty Much Academy, providing them with the kind of hands-on business coaching that will help them build their own brands.
Dresses
Sassanova
Whether you are attending a wedding, taking a trip, or simply having a night out with the girls, Sassanova is the go-to place for a flattering dress. From more classic silhouettes from brands such as Jude Connally and Rebecca Taylor to the more playful styles of Trina Turk and Shoshanna, you are guaranteed to find the right fit. And don't forget to stop by their beautiful display case of Julie Vos and Mignonne Gavigan jewelry to add the finishing touches to your look.
Shoes
Poppy & Stella
We are all familiar with the magical power of the perfect shoe (See: Ella, Cinder). Though you may not find glass slippers at this ultra-chic boutique, Poppy & Stella is sure to have you covered with some of the most beautiful contemporary shoes on the market, from sexy heels to super-stylish slides. With brands such as Sam Edelman, Miz Mooz, Frye, Lucky Brand, Born, and Kork-Ease, there's something for everyone at this popular shoe mecca.
INSTAGRAM
Sydney Paige
@coffeestainedlace
Sydney Paige's bright and vibrant aesthetic shines through our feed like a vacation for our eyes. Her upbeat personality makes you feel like you're following a good friend. Whether she is sharing her workouts, her outfit of the day, or simply her passion for the city of Baltimore, prepare to be inspired.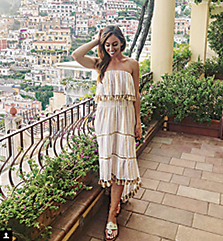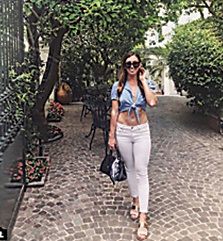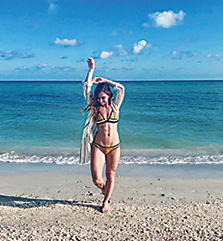 Photo courtesy of Seoul Spa USA.
Oasis
Seoul Spa
Located at Security Square Mall, Seoul Spa is the hidden gem of the wellness world. While the empty mall could deter you, rest assured the spa is spacious and clean. You can choose a wet or dry sauna for relaxing, or schedule the one-hour treatment, which includes a whole-body scrub, a facial with a cucumber mask, and a full-body massage—life changing.
Yoga
M. Power
Whether you like to do yoga in a heated room, with live musical accompaniment, or on the rooftop of the Natty Boh building, M. Power has a class to satisfy yogis of all experience levels.
Personal Training
INLINE PRIVATE Training
INLINE fitness puts the personal in personal training. Their experienced staff listens thoroughly to your goals and helps you reach them with intense cardio, pilates, and a few well-timed nudges of encouragement.
Strength Training
Lift Yoga + Strength
Yes, the space is peaceful and beautiful—it's inside an old church—but the "Lift" class is a challenging combination of mindfulness, intensity, and pure strength.
Spin
REV Cycle Studio
REV classes are somehow both exhausting and energizing. With a friendly and encouraging group of instructors and dynamite playlists, you'll be counting down the minutes until your next ride. No, really.
Pilates
MEGAfit
Feel the burn—the good kind—at this Quarry Lake studio that shares a space with barre. The classes are small, and each 50-minute session on the reformer pilates machine works all of the major muscle groups and can burn up to 700 calories.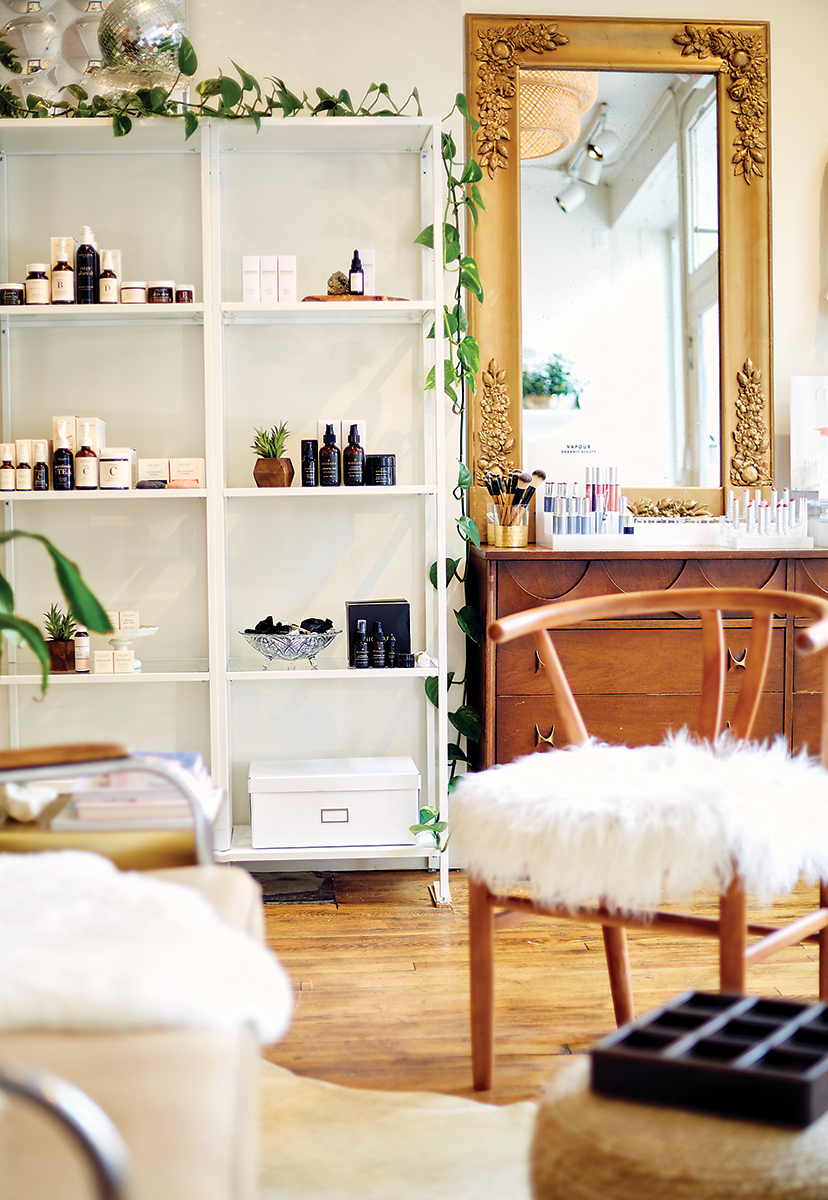 Photo courtesy of Sean Scheidt.
Beauty Bar
MAVEN Beauty Bar
Calling all beauty junkies and product hoarders: Maven Beauty Bar might just be downtown Frederick's best-kept secret. The light-filled space on E. Patrick Street is full of the latest and greatest in clean beauty, skincare, and brow services. Peruse the shelves for cult favorite brands such as One Love Organics, Coola, and Indie Lee before heading over to the brow bar for an expertly executed brow transformation. Maven also carries organic makeup lines and offers in-store tutorials for different types of applications, guaranteeing you'll leave putting your best face forward.
Contemporary Women's Boutique
Brightside Boutique
Embrace your inner fashionista and head to Brightside Boutique, the local leader in contemporary fashion trends. You'll find a great selection of brands including Amuse Society, MINKPINK, Levi's, and more at any of the store's four locations (their latest is on Market Space in downtown Annapolis). Want to be really in the know? Follow the store's popular Instagram account for the freshest scoop on Brightside's creative collaborations with other local vendors and hot new arrivals.
Salon
Ash + Oak Salon AND SPA
Amanda Hancock opened Ash + Oak Salon and Spa with one goal in mind: to create a space where anyone could walk in and leave feeling fabulous. And in just over a year's time, she has done just that. The salon, located in the heart of Catonsville, boasts modern décor, plush seating, serene treatment rooms, and an experienced staff who have traveled the country to take classes from industry leaders—so you know you are in good hands. The salon is also home to Lilly Arvind Wellness, which offers waxing, skin treatments, and lash enhancements to complete your new look.
Streetwear
16Sixteen
The idea to create casual but stylish clothing that would look great with sneakers came to Baltimore locals Kawise Mack and Kelvin Jordan in 1998 when they were just 16 years old. At the time, the duo didn't have the resources to make it happen, but 16 years later they launched 16Sixteen (get it?) and since then have been creating effortlessly cool, high-quality clothing that is the perfect mix of athleisure, tailored design, and raw streetwear. We especially love their Charm City hoodie.
Gifts
Trohv
We dare you to walk into Trohv and leave empty-handed. This Hampden mainstay has been serving the Baltimore area with its creative window displays and quirky merch for more than a decade now, and we still can't get enough. The store, which is expertly curated by owner Carmen Brock and her super talented team, is constantly changing week after week with a new inventory of things you never knew you needed. From the perfect accent pieces for your home to the witty card selection, cookbooks, and local artwork, Trohv is the gift shop for any occasion.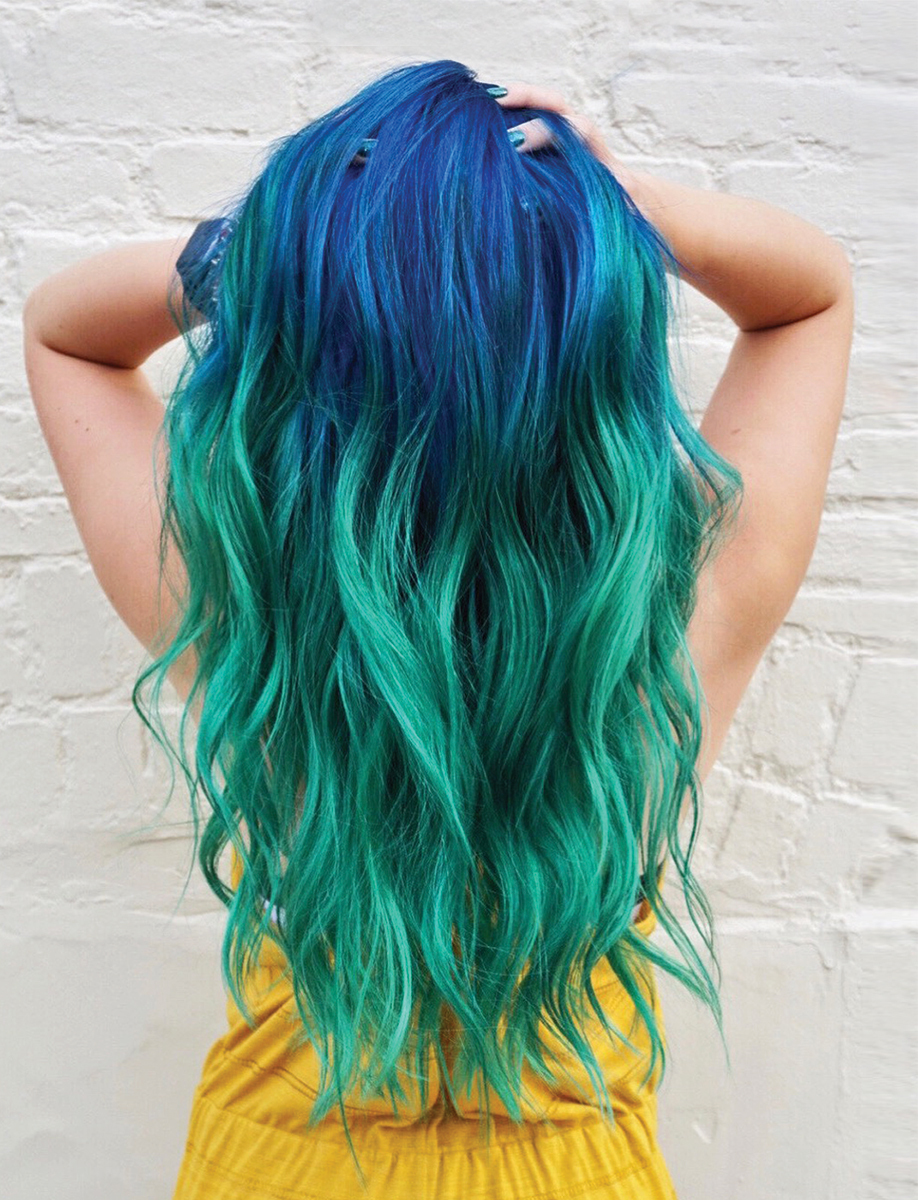 Photo courtesy of Liz Smoot.
Hair Colorist
Liz Smoot at Laboratorie
Whether you are looking for a complex fantasy color, the perfect highlights, or the most natural sun-kissed blond, Liz Smoot has you covered. As a senior colorist at Roland Park's Laboratorie, Smoot specializes in hair painting, balayage, and corrective color. And her vibrant Instagram (@elizabethashleyy), full of client before and after photos, displays her wide range of skills while also bringing on a severe case of hair envy.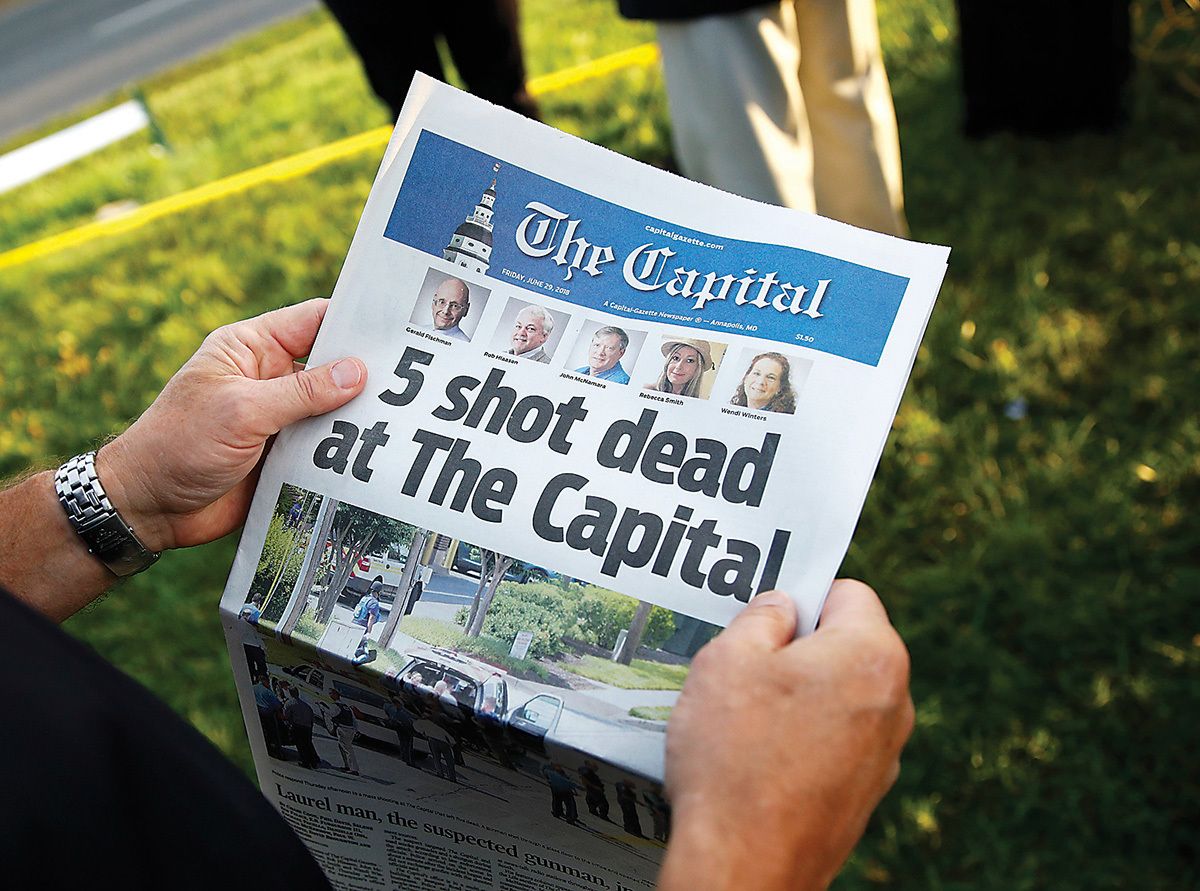 Photo courtesy of AP Photo/Patrick Semansky.
FORTITUDE
CAPITAL GAZETTE
"We are putting out a damn paper tomorrow."
Hours after a gunman killed five people and injured two more inside the Capital Gazette offices in June, reporter Chase Cook's tweet perfectly summed up the courage and resilience of his fellow Annapolis staffers. Those words will also be remembered as a defiant homage to his colleagues—editorial page editor Gerald Fischman, 61; editor and columnist Rob Hiaasen, 59; sports writer John McNamara, 56; sales assistant Rebecca Smith, 34; and community correspondent Wendi Winters, 65—with 75-plus years of combined experience among them. Daily newspaper work puts extraordinary demands on its professional practitioners, including long hours, hard deadlines, and low pay. By all accounts, this group was as talented and dedicated to their craft as they come. It goes without saying that their loved ones and friends will deeply feel their loss. Readers, no doubt shaken by the tragedy as well, will miss their commitment and contributions to the community that they gave their lives to serve.
Baltimore Police Corruption Coverage
Justin Fenton
Fenton seems to earn a "Best of" every year, but The Sun's cops reporter has never covered a more important story than the ongoing Baltimore Police Gun Trace Task Force corruption scandal. Fenton has been on the BPD beat since 2008 and knows the lay of the land, from police headquarters to the courthouse to the street. His detailed reporting continually provides insight into the worst police scandal in city history.
Farewell
C. Fraser Smith
The Daily Record's C. Fraser Smith's last column begins with lyrics from Leonard Cohen—"There is a crack in everything. That's how the light gets in."—and goes on to point out it's newspapers that find those cracks and shine a light on public life and government. It's not a bad metaphor. And Smith, who previously covered William Donald Schaefer, Annapolis, and national politics for The Sun, has been a trusted reporter and straight-shooting columnist for decades. Smith is also the author of well-received books on Schaefer, Jim Crow on the Eastern Shore, and the impact of Len Bias' overdose at the University of Maryland, and we look forward to his upcoming memoir.
New Voice
Dr. Kaye
Morgan State's WEAA—88.9 FM—has been through controversial changes in the past year, including the cancellation of Marc Steiner's morning program and the resignation of Sean Yoes, who hosted the station's afternoon First Edition show. But there is good news to report, too. Loyola University professor, filmmaker, author, and activist Kaye Whitehead's Today with Dr. Kaye has helped fill the void left by Steiner and Yoes with informed conversation from the vantage point of a black Baltimore mother.
Environmental Reporting
Power Struggle
The Sun's Scott Dance's look inside the Luke paper mill in Western Maryland revealed a tug-of-war as state officials tried to manage the economic interests of a generational small-town employer against efforts to promote renewable energy. Suffice it to say that officially labeling the black liquor sludge that the paper mill burns as a "renewable" energy source appears questionable at best.
Photo courtesy of Benjamin C. Tankersley.
Current Affairs Reporting
State of Addiction
WBAL-TV's yearlong multiplatform news and investigative series, hosted by anchor Jason Newton, examined the ongoing opioid crisis across Maryland, utilizing the station's deep pool of talent and resources. Chronicling local, state, and national efforts to confront the epidemic—as well as compelling personal stories of addicts and their families—State of Addiction earned Chesapeake Associated Press Broadcasters Association top honors for public affairs reporting.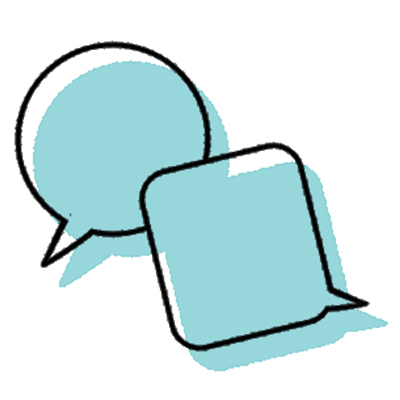 Breaking News Twitter
Luke Broadwater
A dogged City Hall reporter, Broadwater's feed is every local newshound's must-follow. Whether tweeting the latest election updates, his colleagues' reporting at The Sun, or relevant national news, Broadwater is always informative and on point.
Conversation
MizMaryland
After former state delegate Heather Mizeur's surprisingly strong bid for the Democratic gubernatorial nomination in 2016, we wondered about her next move. Now we have her podcast, which brings Mizeur's intelligence and thoughtfulness to a range of topics, including art, food, history, religion, and politics.
Documentary
Charm City
In helming her Maryland Film Festival hit, director Marilyn Ness spent three years in Baltimore—three of the most violent in the city's history. Her film takes a candid look at the divide between everyday citizens and the police but comes away with a surprising sense of hope.
Online Old Line News
Maryland Matters
With print publications cutting back on needed Annapolis and statewide coverage, it's heartening to see a website dedicated to genuine hard news—especially one run by veteran journos and political professionals Josh Kurtz, Louis Peck, Keith Haller, Angela Beck, Bruce DePuyt, and Bill Zorzi.
Road Show
Out of the Blocks
Aaron Henkin and Wendel Patrick's groundbreaking WYPR series examines Baltimore one block at a time and recently won a prestigious Edward R. Murrow Award. Now they are taking their show to new cities, such as Seattle and Detroit.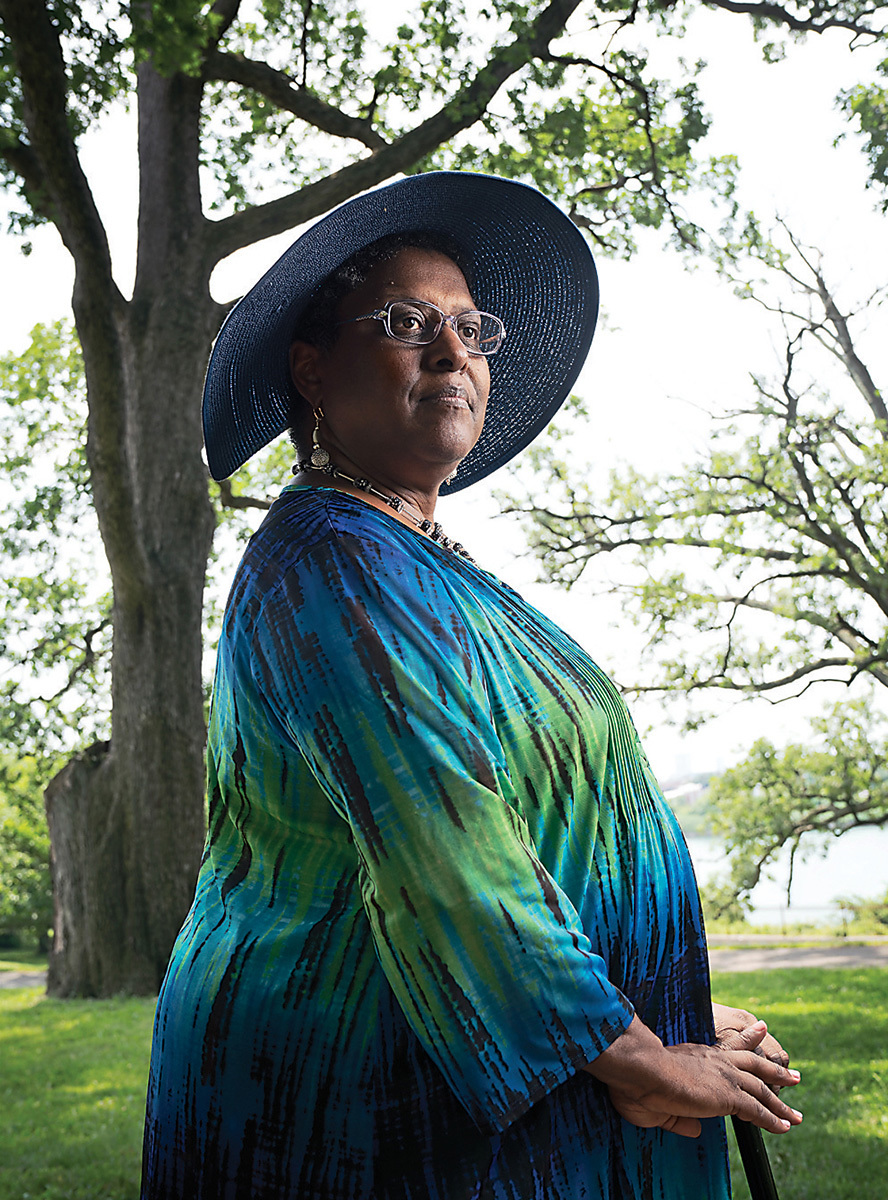 Photo courtesy of Frank Hamilton.
Columnist
E.R. Shipp
Earning a Pulitzer Prize in commentary for the New York Daily News—the first black woman to win in that category—E.R. Shipp's byline ought to be a must-read. Since coming to Baltimore to help launch Morgan State's School of Global Journalism & Communication in 2012, Shipp has also brought an informed and insightful take to The Sun's op-ed page. With a law degree from Columbia (as well as master's degrees in history and journalism), Shipp knows where this country has been—and the distance it needs to go—while addressing issues of race, equality, and criminal justice.
Prediction
Baynard Woods
A former City Paper editor, Woods' story from December 11, 2017—"Grave Concerns: Will Detective Suiter's Death Bring Commissioner Davis Down?"—for the short-lived Baltimore Beat essentially predicted the fall of Baltimore's police chief a month later. Woods uncovered the propaganda surrounding the death of Suiter, who was killed by his own gun in a case that still hasn't been resolved, tying it to broader BPD transparency and integrity failures.
One-Man Band
Paul Gessler
The former multimedia journalist at Fox affiliate WBFF always struck us as one of the city's most versatile reporters. Gessler, who recently became an executive producer with 1812 Media, covered hard news and features—from Baltimore's CeaseFire movement to the city's beer renaissance—with equal aplomb. But what we'll remember most was his fun, impromptu off-camera "dancing in the streets" moment with local kids captured by WJZ reporter George Solis.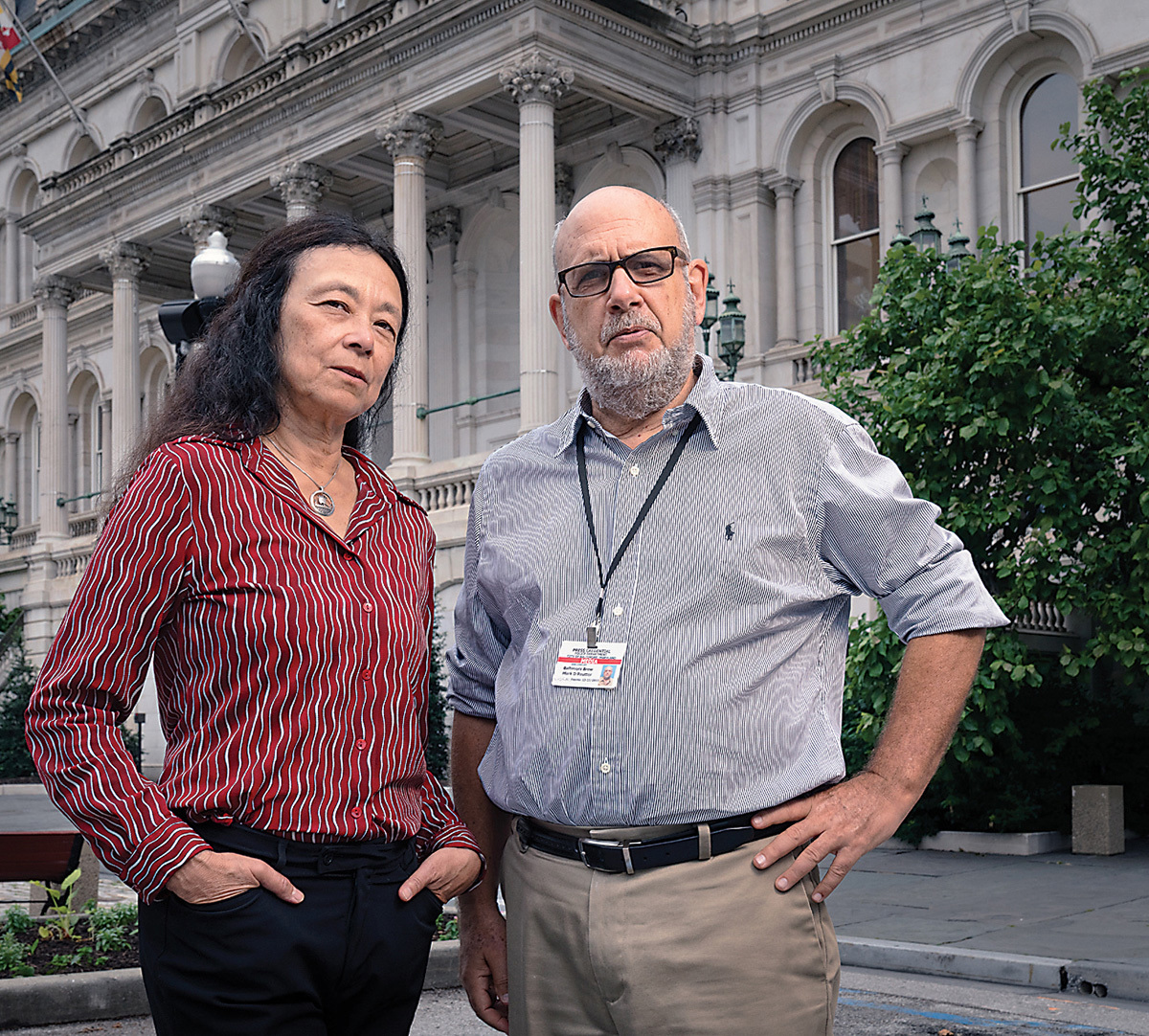 Photo courtesy of Frank Hamilton.
Dynamic Duo
Fern Shen and Mark Reutter
Led by former Washington Post staffer Fern Shen and former Sun reporter Mark Reutter, the Baltimore Brew is a must-read for its aggressive government accountability and City Hall reporting. Shen and Reutter connect the dots between developers, lobbyists, special interests, and city officials like no one else—for example, when former Mayor Stephanie Rawlings-Blake officiated the Las Vegas wedding of powerful local lobbyists Lisa Harris Jones and Sean Malone. They're currently suing the City Council and Police Department to end one-sided confidentiality agreements in police brutality cases.