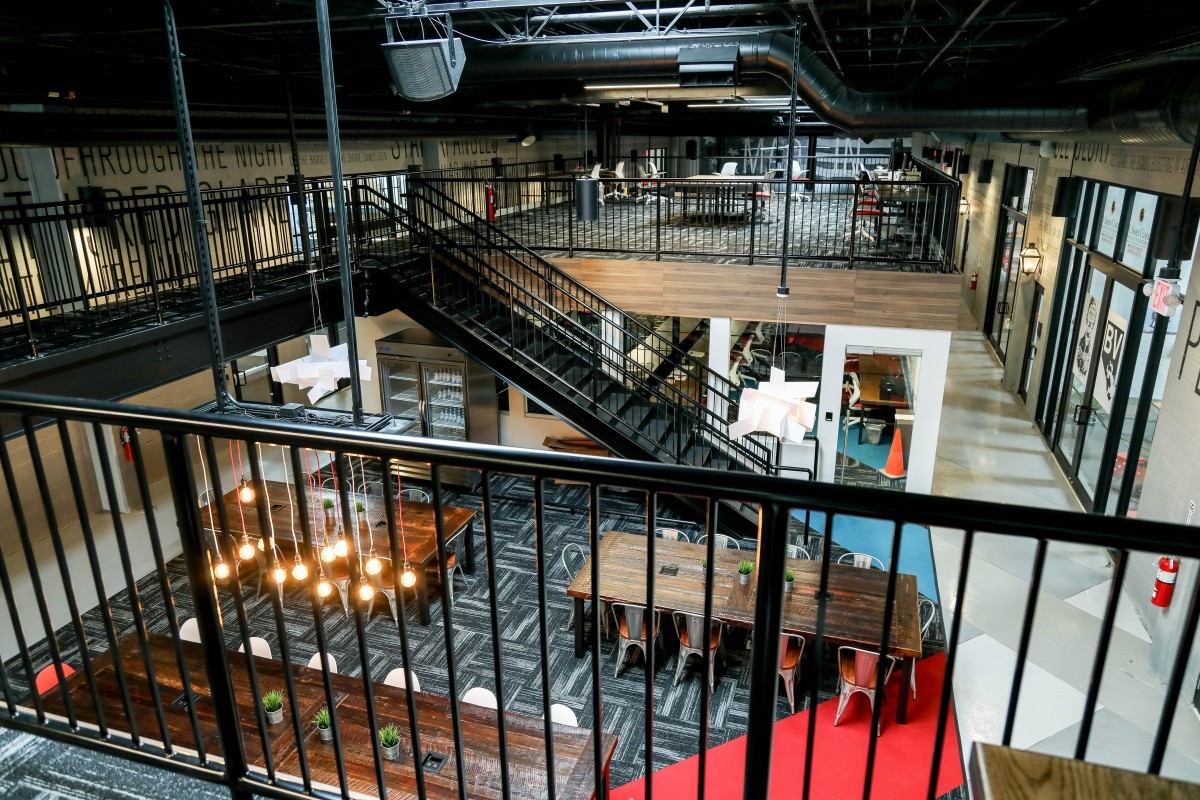 Port Covington
For an entrepreneur, consultant, or freelancer, one of the biggest overhead costs of running a business is leasing office space. Whether you're a one-person team or a business with a small staff, a traditional office might not be right for you. Fortunately, Baltimore is home to dozens of co-working spaces with a variety of membership options to fit your needs.
"Being based from a co-working space has undoubtedly helped our business. It provides a collaborative environment with others who have unique skill sets," said Edwin Winfield, co-founder of Homies, which is based at the Emerging Technology Centers. "If you're facing a problem with your business, there's a good chance someone else in the office has experienced it."
Whether you're a writer who wants a quiet space but likes to catch up over coffee or a maker who needs access to state-of-the-art tools for fabrication, one of Baltimore's co-working spaces will have your desired amenities.
The Beehive at Emerging Technology Centers
101 N. Haven St.
The Emerging Technology Center has provided an incubator for companies since the 1990s and launched the Beehive as its co-working hub. In addition to free parking, a coffee, tea and popcorn bar and gym space, members also enjoy monthly happy hours. Individual memberships start at $70 per month and scale to $350 per month for access for 2 to 3 team members and daily unlimited access.
Betamore
101 West Dickman St.
Betamore launched in 2012 as one of the first co-working spaces in Baltimore. Originally at 1111 Light Street, the entrepreneurial hub has expanded and upgraded to 8,000 square feet at City Garage. It offers 34 dedicated co-working spaces and access to coffee, a fridge stocked with local beers, unlimited conference room usage and free parking. Betamore sits at the edge of Port Covington with easy access to 95.
Brewer's Hill Hub
3700 O'Donnell St., Suite 200
Bridging the gap between incubation and a traditional office? Brewers Hill Hub opened in 2017 in the the former Natty Boh tower and offers spaces from hot desks to multi-purpose suites. Perks include free soda and beer, parking, donuts on Friday and a roof deck with views of the Canton waterfront. Flexible leasing terms range from one month to a year.
Charles Village Exchange
2526 St. Paul St.
If a comfortable Baltimore rowhome is your preferred working space, then Charles Village Exchange may be a fit. A 20-foot-high tower of windows lets in ample natural light and the Exchange is in the middle of restaurants and shops on a tree-lined stretch of St. Paul Street. Memberships start at $275 per month and include lockable storage, a full bathroom with shower and discounted Zipcar memberships.
Co_Lab Workspace
2209 Maryland Ave.
If you're a fan of biking or running to the office, Co_Lab (located on the Maryland Avenue cycle track) may be the right co-working space for you; part of its 4,000-square-foot space houses a shower and clothing storage. Additional amenities include a lactation room and an on-site bookstore and gift shop. Co_Lab is operated by the architects who designed it and works best for those who prefer a dedicated space.
The Cube
6905 York Rd.
The Cube is Maryland's first co-working space to offer pay-as-you-go childcare services. Founded by two mothers, the 1,100 square-foot has space for 60 members and includes unique amenities like wine and monthly manicures. Plus, for every three paid memberships, The Cube donates a six-month membership scholarship to a parent who is starting their own business.
The Foundery
101 West Dickman St.
The makerspace at City Garage is outfitted with desks, workstations, 3D printing, laser and fabrication workshops within 19,000 square feet. With complimentary coffee from Zeke's, hot dogs and popcorn, members are well-fed and caffeinated. Located in West Covington off the bike path that connects the area to Federal Hill and Port Covington, The Foundery has ample free parking. The space offers no memberships; access is only available with day passes and spaces can be rented for projects.
Function Coworking Community
4709 Harford Rd.
Fans of Zeke's coffee may want to consider Function, the first co-working space in Baltimore's Hamilton-Lauraville area. Its location in a 100-year-old rehabbed building with an open-air atrium and 1,500 square-foot gallery and performance space is only one block from the beloved brewer. There's enough space for 50 people with free parking and memberships start at $30. Function will use its space to host community events and members will receive discounts.
Homebase
300 W. Pratt St. and 2002 Clipperpark Rd.
With plans starting at $35 per month, Homebase's two locations in downtown Baltimore and Clipper Mill provide flexible options for entrepreneurs. Amenities include a lobby concierge, car charging station and locations close to I-95 and I-83 and many local restaurants. Plans start with basic unreserved desk space with 8 a.m.-6 p.m. access and scale to reserved offices for multiple people with additional perks.
Hub Baltimore
217 N. Charles St., 5th floor
Hub Baltimore is unique in that it's owned by Profiles, the management and recruitment agency, so all members have access to the teams. Private workspaces with exposed brick walls in the city's central downtown area start at $350 per month and scale to dedicated corporate offices starting at $750 per month. Five parking garages are located within the immediate vicinity and Hub's location allows for easy access to I-83 and I-95.
Impact Hub
10 E. North Ave.
In 2017, the team at Impact Hub restructured its membership to better align with its mission to advance equity and economic opportunity in Baltimore. The team hosts bi-weekly educational lunches, provides local visual artists opportunities to exhibit work in the space and curates a monthly market with local vendors. The 8,600-square-foot building includes offices, dedicated desks, phone booths and event rental space. Members have access to street parking and the Sweet and Savory Pop-Up Shop.
Johns Hopkins University FastForward
1812 Ashland Ave. and 301 W. 29th St.
Johns Hopkins University has two public co-working spaces; its original is near Johns Hopkins Hospital and the other is above R. House's food hall in Remington. (Hopkins' Homewood co-working space is reserved for students.) FastForward 1812 offers 8,000 square feet of co-working, office and lab space, and its R. House location has 9,000 square feet. Both offer legal, accounting and fundraising experts and, for those doing scientific work, access to a lab.
Open Works
1400 Greenmount Ave.
Housed in 34,000 square feet in the Station North Arts and Entertainment District (which allows tax breaks for art- and design-related businesses), Open Works offers 115 co-working spaces ideal for makers and small manufacturers. In addition to lot and street parking, the space includes storage and an on-site coffee shop. Seven staffed workshops provide state-of-the-art equipment, including the Stanley Black & Decker contract services and teaching shop.
Spark
8 Market Place, Suite 300
Located in the heart of downtown Baltimore overlooking Power Plant Live!, Spark's 70,000-square-foot co-working space offers day passes for non-members as well as dedicated desks, private offices and customized private suites. The list of amenities includes beer, wine, coffee and tea, a lounge and game area, dedicated meditation and a space for nursing mothers, storage, a complimentary fitness center and an on-site garage.
The Startup Nest
1401 Severn St.
Southwest Baltimore's Pigtown neighborhood got its first co-working and incubation space with the opening of The Startup Nest in 2016. Day passes start at $25 and include on-site parking and scale to dedicated desks at $450 per month with conference room access and discounts on classes and workshops. Private offices are also available and include mentorship from entrepreneurs involved with the community.