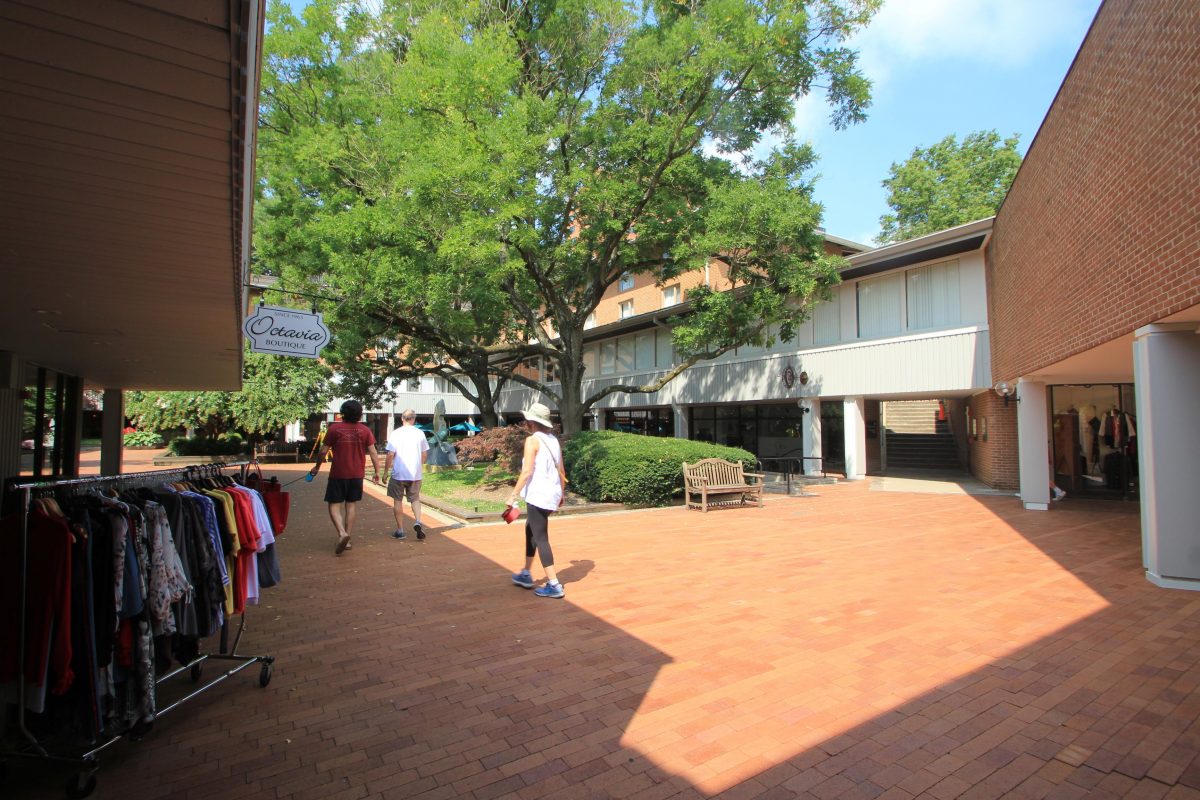 In a newspaper photograph from the mid 1960s, Octavia Dugan promotes the pending opening of Octavia Boutique wearing a dress suit, heels, and her hair styled into a bouffant. Dugan displays items of women's clothing arranged on an armoire slightly behind her and to the right.
She's also surrounded by piles of cinderblocks, scaffolding, and ladders. The only people eyeing Dugan's wares are a trio of hard hats sitting on the scaffolding above, looking confused as they sip coffee and smoke cigarettes.
"She was always done up," Betsy Wendell, Octavia Boutique's current owner says about the store's founder, who died in 2014 at the age of 98.
Not long after the photo was taken, developer James Rouse's eponymous company finished the retail portion of the then-modish Village of Cross Keys. Roughly 55 years later, the boutique still operates at Cross Keys. But while the shop's fashions evolved throughout the years, the development itself needs a makeover.
In the decades following Cross Keys' opening, it was among the Baltimore region's premier retail destinations.
The Cross Keys Inn hosted visiting teams in town to play the Orioles and Colts at Memorial Stadium. The city's business, political, and media leaders dined regularly at The Roost restaurant.
Slowly, the luster faded from the village following General Growth Properties' acquisition of The Rouse Company in 2004. The trend continued when Cross Keys was sold to New York-based Ashkenazy Acquisitions Corp. in 2013.
Merchants at Cross Keys say the center wasn't neglected under previous owners, but believe the out-of-town ownership failed to grasp the Baltimore market contributing to the retail portion of the village's slump.
"The onsite property management was always there for us and we didn't feel neglected," says Rosemary "Cookie" Schneider, who, along with her mother, owns the Pied Piper children's store in the development. "I think the property management in place during Ashkenazy's tenure was only able to do so much, but I don't know that for certain."
In July, however, after a roughly two year process, and the COVID-19 pandemic nearly derailing the deal, Towson-based Caves Valley Partners purchased the property from Ashkenazy for $27 million.
Over the next several years, the new owner intends to tackle a series of projects to add value to the property, such as overhauling existing structures including the gatehouse entrance on Falls Road.
Caves Valley Partners also plans additions including adding space for a grocer and building a 325-unit apartment building expected to cost in the neighborhood of $80 to $100 million. In the longer term, about seven years from now, the new owners also envision delivering a roughly $30 million office building.
Arguably the biggest asset Caves Valley Partners brings to Cross Keys, which is hard to measure in dollars, is the fact that it's a local firm that understands Baltimore's retail and office markets.
"What [Cross Keys] needs is a little bit more attention, and I think local ownership is a big deal here," says Arsh Mirmiran, a partner at Caves Valley.
Wendell, a third-generation owner via marriage of Octavia Boutique, counts herself among those who believe the switch to local ownership is meaningful.
On a recent muggy August morning, Wendell said she, and other merchants, are enthusiastic about Caves Valley Partners' plans to reestablish Cross Keys as a premiere retail destination: "Everybody is sparkling," Wendell said.
Schneider, whose mother opened Pied Piper on nearby Wyndhurst Avenue in 1965 before they moved the store to Cross Keys in 1995, shares the belief that local ownership makes a difference. It fosters an important connection, she said, between property owners and businesses.
"The merchant-landlord relationship has to be viewed, and treated, as a true partnership," she said. "If the merchant succeeds, the landlord succeeds."
Another important aspect of local ownership, Wendell said, is that Caves Valley Partners' vision for Cross Keys aligns with what Rouse envisioned when he initially designed it.
"The original intent when James Rouse built [Cross Keys], was to build a community," she said.
Rouse's vision for the property stretches back at least to the early 1960s, when he embraced the potential of the so-called New Town Movement—a style of development that emphasized planned communities based around town centers with easily accessible shops, offices, and recreational spaces.
Cross Keys served as something of a testing ground for the full realization of that concept, which Rouse brought to fruition with the construction of Columbia in Howard County a few years later.
In recent years, a similar trend toward mixed-use development, which embraces portions of the New Town Movement, but stresses more urban-style building, has dominated development plans in the Baltimore metro area. Caves Valley Partners has a history of delivering this style in both urban and suburban settings at projects such as the firm's Stadium Square in South Baltimore.
In keeping with this type of development, the firm is increasing building density in their scheme to breathe new life into Cross Keys.
The first step in adding that density is building apartments on part of the site now occupied by what's known as the tennis barn, which is currently in use by Coppermine FieldHouse and its parking lot.
"What gets us over the hump to do what we need to do is the addition of an apartment building," Mirmiran says. "That's the economic driver."
Despite plans to add more buildings, the firm's proposals are more evolution than revolution. In fact, much of what Caves Valley Partners is depending on to rejuvenate Cross Keys are assets that always worked in the development's favor.
One of the most obvious is the location not far from I-83, which makes it easily accessible to customers throughout the region.
Cross Keys' forward-looking design, with its emphasis on open outdoor spaces, also makes it an attractive place to eat, shop, and work, Mirmiran said, especially in the post COVID-19 world.
"It's matured nicely," he says, "The design and the layout feel very current to me."