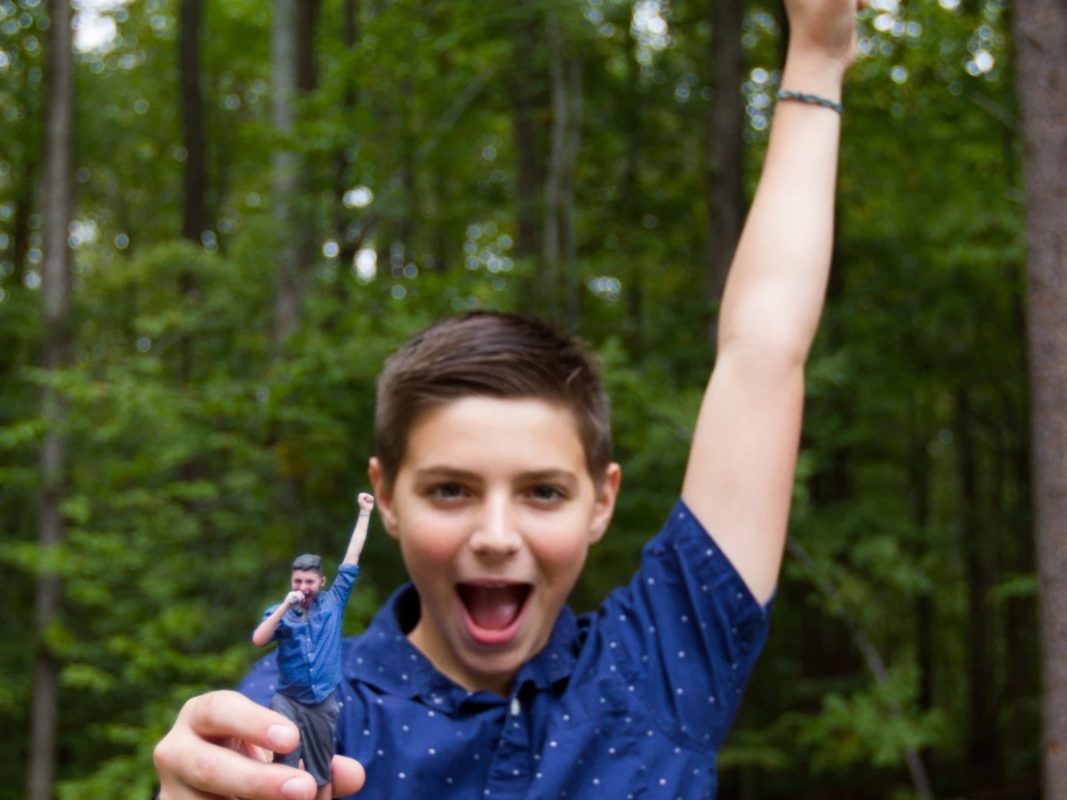 GoFigure 3D Photography
Whether we admit it or not, we've always secretly wanted our own action figures. Now, thanks to a Maryland-based company and 3D technology, these lifelike figurines aren't just for action movie stars anymore.
GoFigure 3D Photography allows families to capture their memories in 3D by using a full body scanner equipped with 89 cameras that capture a 360-degree image. The finished product is a miniature, lifelike figurine of your family members—furry ones included. 
"I really feel like it's the new picture," said Lara Thornton, owner of GoFigure, which launched in Calvert County in October. "It is a keepsake. Some people take to it right away and love it. I think others will eventually come around to it because I see it being the new norm—having statues of yourself."
Thornton came up with the idea after a family vacation in Key West, Florida. They wanted to take a family portrait to commemorate the trip and stumbled across a 3D print shop. Her 14-year-old, who is the company's go-to IT guy, thought the 3D portrait would be better than the standard vacation picture. Once she was back in Maryland, Thornton says she couldn't get the 3D print shop out of her head.
"It was a novelty that no one had really seen, and we loved it," she said. "I immediately started researching the technology and thinking of different ways I could put it to use." 
Since the company's launch, Thornton has been marketing the business to various nonprofits and charities that she's worked with through her children's school and has also been attending events to build up her clientele.
"I spent a lot of my time explaining what it is, really," she said. "It's hard. You need to see a picture or a video of it to really understand what it is. I have a mobile scanner, so I take it to conventions so curious customers can see it in action."
The process is simple, and it only takes a few seconds. A person or group of up to four people stand in the scanner in whatever poses they choose. The machine flashes twice—once to capture the image, another to display a grid, which identifies everything from clothing details to facial expressions. After a few poses, the customer can preview the scan before ordering the 3D printout.
"We can cover up tattoos, scars, or bandages," she said. "We can even add things that aren't there if they so choose. The customer has the freedom to make sure they figurine is exactly what they want." 
Once the scans are completed and approved, they are sent to a third party to be printed on sandstone. The 3D prints vary in size from 3-inch busts to 14-inch figurines with prices ranging from $48-165, respectively. Her most products are called milestones where they measure a child and make it proportionate to the size of the figurine with the hope that the family will come back in subsequent years to capture the child's growth at different ages.
"Wouldn't you love to capture your child at every age in more than just a photo?" she asks. "This technology is amazing. This keepsake is a way to see the growth of your children from the age of five to adulthood."