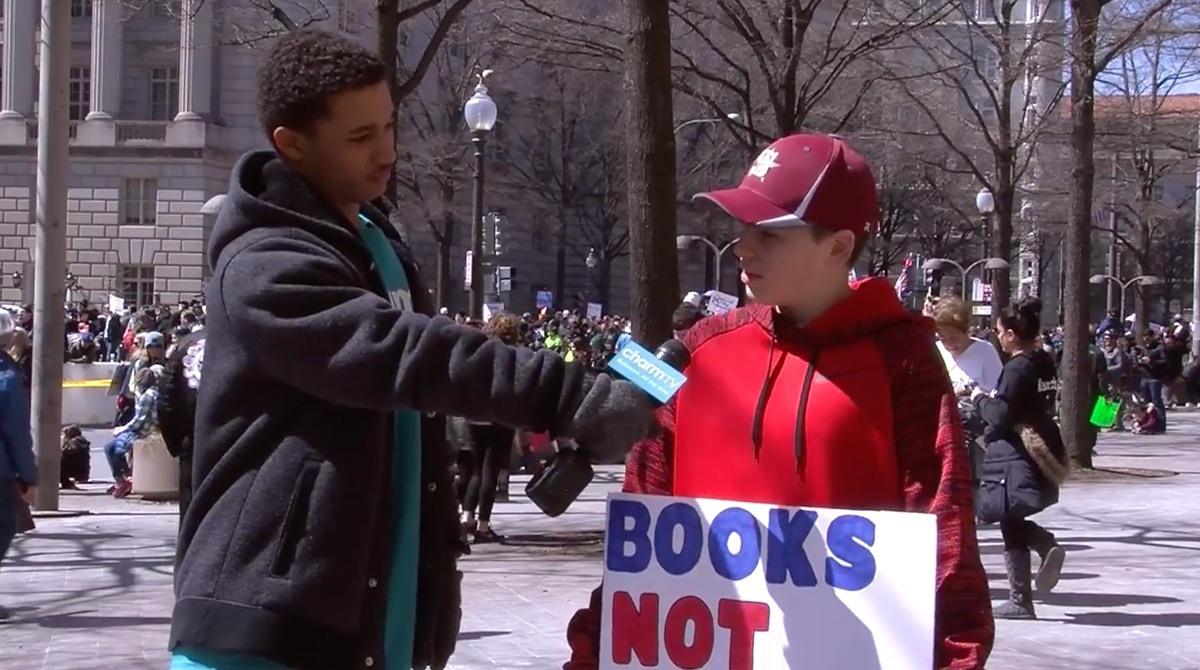 In recent months, there has been a trend around the country of young people taking matters into their own hands. Most notably, the students of Parkland, Florida, led the charge for harsher gun laws and students from around the country joined in solidarity for the March For Our Lives rally.
Similarly, in Baltimore, students are looking for platforms to express how the state of the country and the city have affected their lives. Mayor Catherine Pugh and her team at CharmTV—the city's news station that launched in 2014—came up with the idea for a television program featuring Baltimore youth. 
The Avenue will be solely run and operated by Baltimore City high school students under the direction of CharmTV's general manager Tonia Lee and will debut on April 21 at 11 a.m. The 30-minute show will discuss topics chosen by students, including violence in Baltimore, entrepreneurship, philanthropy, as well as lighter topics like fashion and entertainment.
"There was clearly a void of platforms for young people to talk about what's going on in the world," Lee said. "We really felt like bringing this type of concept, particularly to Baltimore, was a tremendous way to further engagement and allow young people in this city to really express their views."
The program will feature in-studio interviews, news packages, and roundtable discussions. It will air on Saturdays at 11 a.m. and will re-air on Saturdays at 2 p.m. and Mondays and Wednesdays at 7 p.m.
Run by six students with two of them hosting and the other four splitting various production roles, the show put students through auditions and casting calls in order to be selected. Lee says that this is considered work-study and the plan is to recast the students each year to open up the opportunity to other young people in the city who have an interest in broadcast journalism. In addition to discussing relevant news topics, the students will also be trained in all aspects in media production, pre-production, writing, shooting, and, editing.
"I think it's a wonderful opportunity to engage our young people in the city," Lee said. "We can not only reach young people, but also provide them with skills that they could viably use moving forward in their careers."
Baltimore School for the Arts senior Kyla Jackson and Kamari James, a senior at the Seed School of Maryland, are The Avenue's current hosts. Jackson, who will be studying broadcast journalism in the fall at Drexel University, says she's excited to have the opportunity to share her views with not just other youth, but everyone in Baltimore. 
"This type of programming is important because we really need to have something for the youth to share their opinions," she said. "We are going to talk about a lot of things that people wouldn't expect. We always hear about people dying, but we want to talk about the survivors in the city." 
An aspiring filmmaker, James loves that the entire show is youth-led and says the show has taught him about accountability. He's proud of the work that he and his fellow production team have developed.
"We're all bringing fresh ideas to the table," he said. "We've all heard about the different conflicts in Baltimore told from an adult's perspective, but it's not really heard from youth, the people who are going through it the most."