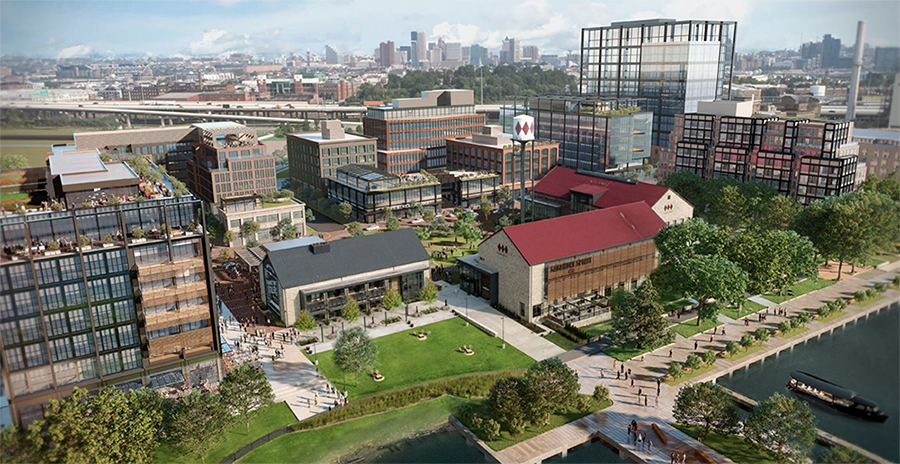 Port Covington
A politician's best bet days before an election? Make sweeping job-creation claims at a corporate gold-shovel show. Then hope nobody fact-checks you.
That's a bit what it sounded like recently, when, two weeks before election day, local, state, and national elected officials from both parties joined economic development officials and company officials to announce "Cybertown, USA." In essence, a cybersecurity firm and venture-capital companies that invest in tech startups are setting up shop in Port Covington, the massive mixed-use mini-city on a large waterfront tract in South Baltimore that's the brainchild of Under Armour founder Kevin Plank.
Try on some of these claims for size: "Maryland is home to the world's most advanced cybersecurity and data science . . ."; Baltimore is positioned to be the cyber and innovation capital of our nation"; and the jobs announcement "helps solidify Baltimore and Maryland's reputation as the cybersecurity capital of the world."
(That's from Mike Janke, co-founder of DataTribe, Gov. Larry Hogan, and congressman Dutch Ruppersberger, respectively.)
Granted, it's always good news that three companies are locating here: DataTribe, a globally known cybersecurity startup studio with offices in Maryland and Silicon Valley; AllegisCyber, a leading Silicon Valley-based early-stage cybersecurity venture-capital firm; and Evergreen Advisors, a Columbia-based investment banking and corporate advisory firm focused on assisting emerging-growth and middle-market companies.
And one of Port Covington's draws for the tech industry in the years ahead may be that it boasts a secure, redundant, private fiber-optic loop to provide gigabit-speed internet connectivity and site-wide public Wi-Fi service. The development is also unique in that it will be built from the ground up with a cybersecurity-hardened infrastructure.
But how does the Baltimore region really stack up nationally when it comes to cybersecurity and other I.T. jobs?
We checked out sources that don't need ballots to maintain their bank balances: The folks at Money magazine say we fall about in the middle of the pack in terms of I.T. job growth—109 percent growth annually—on a list of 20 cities outside of Silicon Valley (which is still the leading location).
When it comes to cybersecurity jobs, Tripwire says that Columbia is near the top of the list in the nation in per-capita terms, but behind Jersey City, NJ. And who wants to live there?
And metro Baltimore is nowhere on Forbes's list of seven cities destined to be cybersecurity capitals of the world (though Washington, D.C., is, as is Silicon Valley).
That may be partly because, compared to most metro areas, the I.T. sector is a relatively small share of the overall economy in Baltimore, says economist Dr. Jacob Cosman, an assistant professor at the Johns Hopkins Carey Business School whose specialties include real estate, retail business, and spatial competition in cities.
"The share of jobs in I.T. in Baltimore looks less like Seattle or San Francisco and more like Cincinnati or Las Vegas," he says. "Conversely, education and healthcare comprise a larger share of the workforce in Baltimore than most other metro areas."
In fact, he says, though Tech jobs in Baltimore are relatively well-paid, and might then have outsized importance to the region's tax base, "the concentration of I.T. jobs and I.T. firms is nowhere near the real centers of innovation and technology like Seattle and Silicon Valley," he says. "The concentration of I.T. in Baltimore is not even near the level in smaller centers like Boulder, Madison, and Raleigh. Without that high density, it's difficult to build the pool of specialized workers and financing that would accompany a legitimate hub of innovation."
So why can't Baltimore make all these dreamy geek-capital claims come true?
"The biggest obstacle is that other cities already have easy access to specialized workers and financing because they have a pre-existing hub of I.T. activity," says Cosman. "In addition, it's more difficult to attract highly paid, highly mobile workers to Baltimore because the city offers fewer of the amenities that high-income workers want. Some of this is geography—Baltimore will never have temperate winters, beaches, or easy access to wilderness—but some of that might change as the city develops more entertainment and cultural amenities."
Of course, if we can curb our enthusiasm a bit, the Port Covington development is still good for the city, Cosman says.
"Even if the announcement makes some very optimistic claims, the fact that established firms want to occupy the office space in Port Covington is still overall good news," he says. "The city government took a risk on the scale of hundreds of millions of dollars to finance development there. We can debate whether that was really the best use of the city's scarce fiscal resources, but the city government has made that decision to commit those resources, and at least it seems like there is some demand for the development the city has financed. This is probably not Cyber Town, USA, but it is much better than empty space."