The Eternal Optimism of Thibault Manekin
What's positioned his firm, Seawall Development, to succeed—particularly with Lexington Market—is an emphasis on community inclusion in real estate.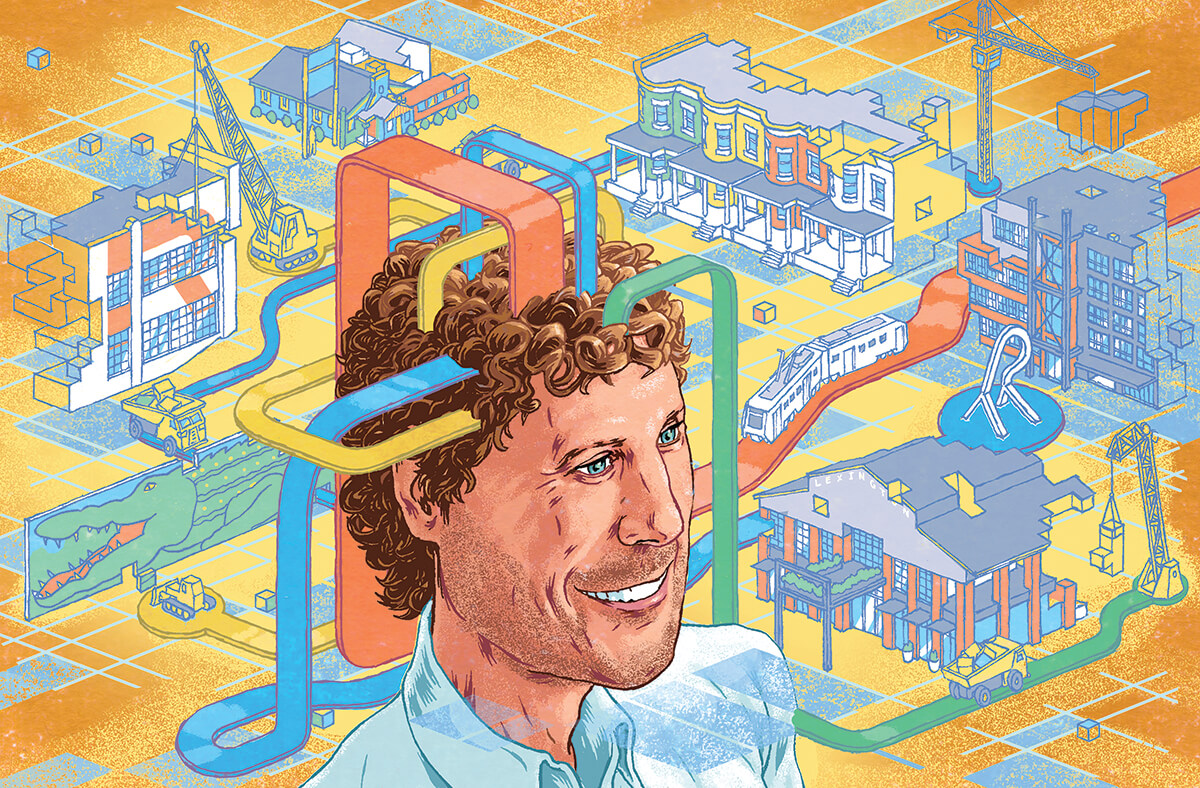 In early February, Thibault Manekin, sporting a mop of dirty blond hair, wearing a beaded shark tooth's necklace and blue T-shirt, sits in a crowded family room in Brazil, trying to secure some semblance of privacy for this Zoom. Manekin, 43, and his wife, Lola, along with their young sons, Finley and Durban, have spent nearly the past year in his wife's home country. When they had children, he promised Lola that they would spend a year there, so the kids could know her family and that part of their cultural heritage. It just happened to coincide with the coronavirus pandemic.
Every so often, the conversation is interrupted by the sounds of his boys, arguing in the other room. He then quietly and politely asks in Portuguese for a little help controlling the ruckus.
Not that the trip looks as if it has been hard on Manekin. Trading in the Baltimore winter for a Brazilian summer amid COVID-19 certainly has agreed with him. He's chatty, relaxed, and appears infinitely more comfortable than when his typical days as a principal at one of the region's most innovative real estate development firms, Seawall Development, thrust him into the limelight.
Despite the roughly 13-hour flight away, Manekin's hometown of Baltimore is never fully out of mind. That's due in large part to his company tackling its highest-profile project to date, leading the $40-million redevelopment of Baltimore's hallowed Lexington Market.
"Everybody in Baltimore has a Lexington Market story, and everybody in Baltimore has a reason they do, or don't, go there today, but they all have an opinion about why it's important that Lexington get back to the place that it really once was for our city," Manekin says.
It's a daunting task, but one that Seawall Development, the firm that Manekin co-founded with his father, Donald, in 2007, has handled well so far.
Founded in 1792, Lexington Market served as a hub of Baltimore life for generations. It was the place to grab fresh fruits, vegetables, and specialty items like raccoon or muskrat. It was the place to stop for lunch after weekend day trips to one of the department stores in what's now downtown Baltimore's Westside.
First, Seawall forged plans for an affordable development after the initial cost swelled beyond what the city was willing to pay. Their proposal for a new market shed harkens back to what Lexington Market looked like in 1910—a modern take on the turn-of-the-last-century structure. Renderings depict barn-like architecture, flooded with natural light and constructed with materials such as brick and metal to reflect the surrounding neighborhood's industrial-age aesthetics. Construction continues despite having broken ground in early 2020, shortly before the pandemic, and they're still on track to open in early 2022.
As is his tendency, at least publicly, Manekin downplays the difficulty of the project. While he admits "the last year was really scary," he is also adamant that he approaches challenges with an open mind, setting the company, and its projects, up for whatever the post-pandemic world holds.
"We're on fire now, you know, there are projects that we can't wait to talk about," he says. "I really think that we are just beginning to hit our stride."
What's positioned Seawall to succeed, particularly with Lexington Market, is an emphasis on community inclusion in real estate development through hours spent engaging residents via various outreach efforts. Via surveys, town halls, and feedback sessions, they've worked to create a vision for the public market that features a diverse array of vendors and an environment that is welcoming to all. Both points were of particular concern to the many Black residents of surrounding neighborhoods, who feared they suddenly wouldn't feel welcome in a market that's become a piece of their cultural heritage.
This sensitivity to neighborhood concerns, evidenced in its earliest and highest-profile projects in the city's Remington neighborhood, has furnished Seawall with a largely positive reputation as transparent and accommodating. That standing is rare in real estate development, an industry that many residents remain skeptical of for a variety of reasons, ranging from the impact of gentrification on long-time residents to developer's outsized influence at City Hall.
Seeking out community engagement, however, is more than just sound business practice. It reflects the ideals that Manekin consciously pursued after graduating from Lehigh University with a degree in marketing in 2000. At the time, he and brothers Sean and Brendan Tuohey started the D.C.-based nonprofit PeacePlayers, where they traveled to countries ranging from Northern Ireland to South Africa, teaching kids to play basketball to promote conflict resolution.
When Manekin returned home, he was struck by the incongruity of healing wounds in other parts of the world while his hometown struggled with many of the same problems of poverty and trauma. On one visit, as he passed through West Baltimore, he began to realize how the real estate industry, which his family had deep ties to, could bridge divides in Baltimore.
"WE WANTED TO BE NEIGHBORS, NOT GUESTS IN THE COMMUNITY."
"I remember coming back from South Africa, I was on North Avenue and Pennsylvania Avenue," Manekin says. "I had this epiphany—that real estate is the most powerful, connected industry on the planet, but it's done more to divide us than actually bring us together as human beings."
In 2007, he coaxed his father into joining him in launching Seawall Development. It was a natural fit, as Donald had spent decades at the helm of the family's real estate development company, Manekin Corporation. After its sale in 2000, he also served as Baltimore City Schools interim chief operating officer.
When his son asked him to join the company, Donald says, he felt "an instant sense of gratification." He had long believed that the Manekins were more than just landlords, but stakeholders in the community's success. "This was a natural opportunity to be part of something larger than ourselves," he says.
From the start, Seawall's founders emphasized listening to local needs over forcing their vision on residents, working to connect neighbors and garner community support for projects.
"I've always been fascinated with this idea of reimagining industries where we take something that we know, flip it upside down, and insert our own kind of purpose into it," says Manekin. "We had no idea what we were doing, but we were driven by this purpose of rewriting the script to see what that might look and feel like. That was 14 years ago, and we've been on this wild ride ever since."
Seawall's first high-profile undertaking was the overhaul of Remington's 100-year-old American Can Company on Howard Street, which they turned into the mixed-use Miller's Court in 2007. Two other developers had previously abandoned projects because they couldn't get neighbors to buy in. In early meetings with Seawall, residents vocalized their desire for a locally owned coffee shop, which Manekin didn't think would work at the time. But when Charmington's opened as a worker-owned co-op in the building's first-floor corner at West 26th Street, it quickly thrived. Five years later, President Barack Obama sat in the cafe, promoting guaranteed paid sick leave for American workers.
"Baltimore just hit the jackpot with that group at Charmington's and how much love they put into that project, and that just propelled us forward," says Manekin.
From there, Seawall also redeveloped Hampden's Union Mill in 2011, where Artifact Coffee now stands, using a similar model as Miller's Court. Drawing inspiration from Donald's work with public schools, the company also redeveloped a block of rowhomes in Remington to help teachers achieve homeownership, all done with community feedback.
"We wanted to be neighbors and not guests in the community," Donald says, before echoing a sentiment his son has also emphasized: "None of these ideas are our own."
By 2015, the company took on the ambitious, $60-million, mixed-use Remington Row, seeing the neighborhood's potential in its proximity to Johns Hopkins University and I-83. The overhaul would come to include the $12-million R. House food hall, which quickly became one of the city's most popular gathering spaces. "Those [projects] were the neighborhood's master plan," says Manekin. "They wanted to create a walkable urban boulevard."
It was the success of R. House that attracted the attention of Lexington Market Inc., which for years had been struggling to breathe new life into the fading landmark.
For much of the city's nearly 300-year history, Lexington Market was a cultural linchpin, beginning as an open-air market bustling with horse-drawn wagons hawking local goods, before becoming the center of Baltimore's thriving retail sector, just a stone's throw from the theater district and a convergence point for the city's transit system.
But after World War II, and particularly following the integration of city schools, many of the department stores followed affluent white residents to the suburbs. By the 1990s, most were closed, along with many of the other smaller retailers, leaving a wake of vacant or deteriorating buildings.
Through it all stood Lexington Market and its venerable vendors, such as Faidley's Seafood, circa 1886. But business at the market precipitously declined as concerns about safety started to outweigh the allure of crab cakes. Decades of neighborhood disinvestment spurred a rise in crime that scared off customers, causing the number and quality of market vendors to plummet.
Serious efforts to revitalize the space began with Mayor Stephanie Rawlings-Blake in 2010. In 2013, her administration hired urban planning group Market Ventures Inc. to conduct a study, which called for a complete overhaul of the market. Firms were then selected for architectural, engineering, and specialty consulting, and to serve as construction managers.
In late 2016, Baltimore City and Lexington Market Inc. unveiled their plans, but the proposed cost quickly escalated from about $35 million to as high as $60 million, which Lexington Market couldn't afford. In desperate need to regain momentum, and shave millions off the price tag, the city sought a new company to steer the redevelopment. By the fall of 2018, Seawall was officially on board.
Over the next few years, Manekin and his team launched into community outreach efforts, similar to their previous projects, including multiple public meetings to gather input on a new Lexington Market. At these events, residents did not shy away from demanding that executives directly address issues of race and class in their plans, with many often bluntly sharing their concerns that the new market would not be welcoming to people of color, as has been expressed about other new developments in and around the Inner Harbor.
"It takes a long time to build trust, and we don't have everyone's trust yet," Manekin admitted at the time, before vowing to deliver an inclusive space. More recently, he said he feels those conversations about inclusion served as "driving forces" behind plans for the market, ranging from aesthetics to the price point of the vendors.
The town halls continued, with community feedback incorporated into the design and development processes, as well as vendor recruitment, with the company aiming for a diverse lineup that resembles the demographics of the city. Two rounds of applications attracted 300 submissions for some 45 stalls. Seventy percent of applicants were Black, and more than half were women.
At the same time, Lexington Market isn't the sole focus for Seawall, which also played a role in the development of Union Collective, a 138,000-square-foot former Sears warehouse near Hampden turned thriving retail-manufacturing complex. Seawall continues to consider new projects they are "spiritually aligned with," in Baltimore and beyond.
But despite projects in other cities, and being on another continent for now—a pre-bedtime squabble between his two sons briefly requires his attention—Manekin stresses his continued passion for his hometown. After all, Baltimore is not just his home. It was his grandfather's home. It's where his father was born, raised, and still lives today.
Growing up, he remembers his grandfather and father both telling stories about weekend trips to Lexington Market. With construction on the new shed set to finish in under a year, Manekin hopes to be able to continue that tradition with his own sons. "It needs to be the heartbeat of the city," he says.