Miracle Workers
After decades of spreading holiday cheer, the Miracle on 34th Street tradition shines on. 
Bob and Darlene Hosier have enough Christmas decorations to deck out four houses, top to bottom. Over the past few decades, the couple has adorned the front of their three-story rowhome with countless strings of lights—along with a rotating cast of bright snowmen and wreaths, an inflatable purple hippopotamus, vintage Christmas dolls, and a handmade replica of the train garden from It's A Wonderful Life—and hundreds of thousands of people have traveled to their home on the corner of a sleepy Hampden block to see it.
"It's just some Christmas lights," grumbles Bob, repeating the phrase over and over in conversation. The 62-year-old has given this response to countless people over the past few decades—reporters, grocery store clerks, documentary filmmakers—who ask him why Hampden's Miracle on 34th Street tradition has become a local and national phenomenon that's now woven into the narrative of Baltimore's quirky character.
Sometimes, when Bob repeats the phrase, he pulls on the ends of his graying handlebar mustache; other times, he gently slaps the knee of his worn-in blue jeans for emphasis. It doesn't matter how many times or in how many ways he repeats it, he says, there will always be people who don't get it. People who question why he and his neighbors living on the 700 block of W. 34th Street spend the weeks between Halloween and Thanksgiving decorating their front porches, stoops, and lawns with over-the-top holiday light displays. People who don't understand how the residents deal with the tens of thousands of strangers who pack the block during the holiday season to take pictures of "the most outrageous Christmas lights in Maryland." People who press them about what kind of break they get on their electric bills or whether they get paid for their appearances on HGTV, CNN, or the homepage of Bing.
But it's never been about the cost or the publicity, although Bob understands why no one can believe that he and his neighbors do all of it—the planning, purchasing, decorating, hosting—for absolutely no money. The Miracle on 34th Street tradition is simply how Bob and his neighbors decorate for the holidays, and no matter how the block and its residents have changed through the years, that sentiment stays the same—at least as long as Bob has a say in it. "I'm just a guy who puts up some Christmas lights," Bob says. "I can't help that the whole world shows up to see them."
The story of how the tradition started is a tale almost as time-honored as Christmas itself. In the early 1980s, Bob, who was working as a meat cutter at Kash & Karry at the time, fell in love with Darlene, who was working as the grocery store's head cashier. The pair tied the knot in 1983, and Bob moved into Darlene's three-story rowhome on W. 34th Street's 700 block, where she has lived for all of her nearly 70 years.
As a young married couple, they realized they shared an affinity for Christmas decorations during their first holiday season. Bob, who grew up decorating the outside of his parents' house in Northeast Baltimore with as many multicolored lights as possible, asked Darlene if he could add some twinklers to the outside of the house. Her father, who purchased the home in 1947, had always decked out the home's exterior during the holidays, and Darlene had carried the torch since his death, but Bob took it to a new level with themed displays, illuminated figures, and even a full-sized tree on the roof. "To any rational human being, what I do during the second half of the year to prepare to decorate would be too much work," Bob says. "To me, it's just getting ready for the holiday."
"If someone wants to join this party that we have with the lights every year, we're here for you."
In the early 1990s, Bob rigged a speaker system so they'd have Christmas music playing along with the lights. Their neighbor across the street wanted to be able to enjoy the holiday tunes from his house, too, so Bob wrapped a speaker wire around a string of lights and ran it along the light pole that adjoins the two houses. Other residents on the block admired his handiwork, and before long, Bob was going from rowhouse to rowhouse installing hooks on his neighbors' roofs and draping lights to connect all 25 homes on the block.
Something about Bob's commitment to creating extravagant displays that grew in size and spectacle each year, along with the over-the-street lights, seemed to motivate other residents to get in on the act. While there was always plenty of holiday spirit and a strong sense of community to spare, residents began adding countless bulbs, as well as things like working train sets, brightly lit palm trees, and handmade sculptures, to the outside of their homes. By the late '90s, as word spread to the rest of the region, 34th Street became a popular destination for holiday revelers who would walk or drive down the block to admire the rows of merry houses. "People were pulling over to take pictures of everything," Darlene says. "The attention just started rolling from there."
Full-scale notoriety came in 2001, when the Maryland Lottery contacted Bob with the request to capture the block in its full holiday glory for a TV commercial. Bob hesitated, not only because he didn't feel comfortable getting paid for the commerical, but also because he believed that once the rest of the state saw what locals had begun dubbing the "Miracle on 34th Street," there'd be no turning back. "A bunch of the neighbors came to me and said they really wanted to do the lottery commercial," Bob says. "I said it was okay with me, but I told them, 'Remember folks, if we do this, we can't stop doing this. Once it starts, we can't stop,'" he says.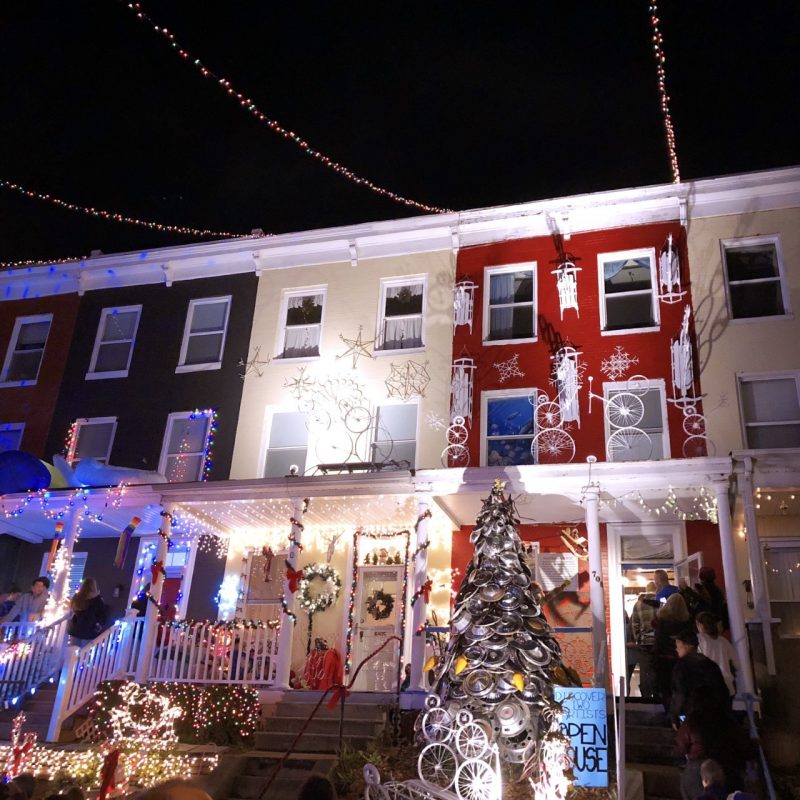 Sure enough, the week the commercial ran, the tightly knit working-class neighborhood was practically gridlocked. "Cars couldn't move, the fire department couldn't move, the police department couldn't move," Bob remembers. "There were people stuck on both sides of I-83 waiting to get in. I have never seen so many people in my life." Thousands of people streamed into Hampden that winter to see the now-famous lights, and media attention from both area and national news organizations followed close behind.
Thanks to coverage from national outlets such as The Travel Channel, Nightline, and Better Homes & Gardens, as well as the rise of social media, the Miracle on 34th Street tradition has steadily grown into the sensation that it is today. As depicted in the commercial that escalated it all, there's a countdown that marks the block's "lighting" on the Saturday following Thanksgiving, except now every square foot of the street is filled with onlookers and the night is known as an unofficial block party. The tradition still comes to a close on New Year's Eve with a handmade ball drop, but now instead of four people watching a slightly toasted Bob run through the street as "Baby New Year," roughly 4,000 people show up to catch a glimpse of him in a diaper and bonnet.
Some residents have even developed their own methods of measuring the crowds, including the Hosiers, who leave composition notebooks on their porch for visitors to sign and collect about 20 books-worth of signatures every season. Longtime resident and artist Jim Pollock, who converts his living room into a pop-up art gallery during the holidays, uses a handheld clicker to count people as they walk in. (He averages about 1,200 visitors per night, and nearly 300,000 people have walked through in the past seven years alone.) "One time, a woman came through the gallery and said, 'In a world full of chaos, this is a beacon of hope,'" says Pollock, who's famous for the 10-foot-tall hubcap tree in his front yard. "What more could you ask for from some Christmas decorations?"
"At the end of the day, it's about nothing else but decorating for the holidays."
Of course, fame has its downsides. The sidewalk, as well as people's porches, steps, and circuit breakers, have experienced significant wear and tear, and finding street parking during the holidays is a decades-old issue. Far from immune to the city's increased crime rates, the block's residents threatened to go dark during the 2014 holiday season in an effort to bring attention to a string of violent crimes that had occurred in the neighborhood. (The lights stayed on, but the bluff attracted plenty of buzz.)
But despite transforming from a kitschy block-wide hobby into an internationally recognized attraction, the only thing that has really changed about the Miracle on 34th Street—besides the added foot traffic—is its residents. It's still strictly voluntary: There isn't a homeowners' association or a committee that organizes the event, and, undeterred by persistent requests, there are no vendors or businesses sponsoring the block.
Over the past few years, all but seven of the original decorating households have left the block, making way for a new generation of renters and homeowners. "I've had a lot of good neighbors who have passed or left the block and took some of that magic with them," Pollock says. "We've had to find new people to pick up the spirit."
While longtime residents don't have a say in whether new neighbors embrace the street's tradition, many make an effort to ensure that newcomers are aware of the four-to-five week spectacle that will take place outside their front door and offer decorating assistance. "If somebody needs lights, I'll certainly spread the joy," Bob says. "If someone wants to join this party that we have with the lights every year, we're here for you."
Since most residents know about the block's signature event before moving day, many are prepared to carry on the tradition, or in some cases, start their own. Hillary Strilko, who moved onto the street in 2009, now teams up with local animal rescue and welfare organizations to serve cookies and cocoa to 34th Street visitors in exchange for donations. The initiative started as a way to honor the memory of her brindle pit bull, Roo, and has raised more than $135,000 over the past decade. "We use a tall money box, and a lot of parents will lift their kids so that they can donate themselves," says Strilko, who calls her home "the doghouse" and decorates the outside with inflatable pups and photos of pets in holiday gear. "It's heartwarming to watch people teach their kids about giving back to local causes."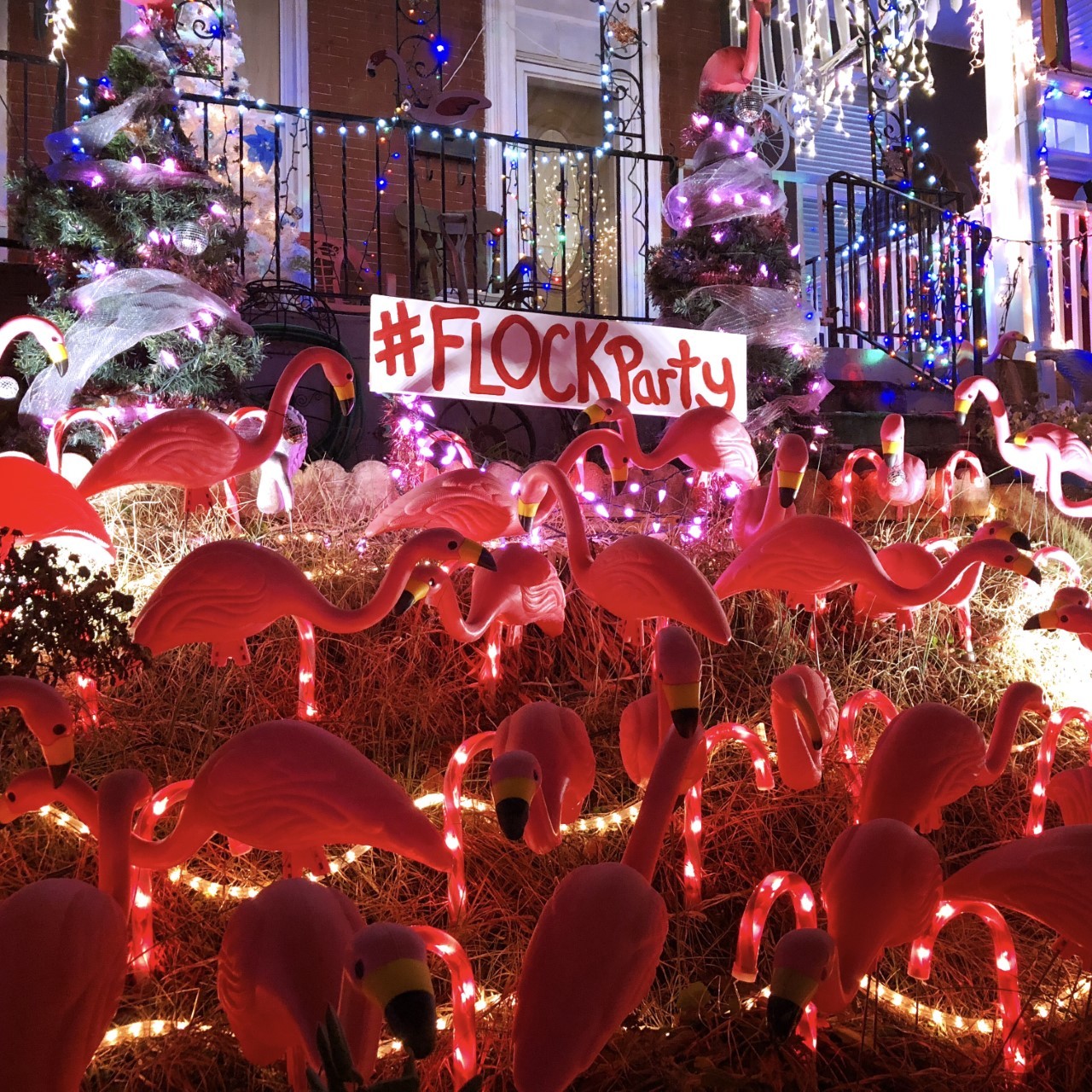 -Amanda White-Iseli
Down the street, Riley Wilks and his wife, Heather Franz, have embraced their role as "the flock party," thanks to the 60-some illuminated lawn flamingos they bought from a MICA student to use as holiday decorations. While they have fun scattering the flamingos in the yard and being the go-to house for Christmas parties, Wilks says that the weeks between Thanksgiving and New Year's Eve are mostly just like any others for them, thanks in part to their parking pad. "We just stay inside and do our normal routine: Netflix, ice cream, and Chinese food," Wilks says.
Previous renters Carla Johnston and Jennifer Wright did not have quite as positive an experience when they moved onto the block in 2013, however. The 20-something roommates were excited to reuse some of their Halloween decorations, including handmade fake ceramic limbs, to create a "Zombie Christmas" themed display. A few days before the lighting ceremony, they transformed their lawn into The Walking Dead meets Christmas, with zombie heads atop trees and a fake blood-stained sheet next to candy canes and a blow-up snowman. Wright says that, within a few days, one of the neighbors confronted her on their front lawn, saying she had "never seen decorations so inappropriate." Wright and Johnston took down the spookier parts of their display, but shortly after, news trucks and reporters showed up at their door and, even though neither commented to the press, the story of the disagreement appeared in The Wall Street Journal. "We were just trying to do something different; we weren't trying to disrespect Christmas," Johnston says today. "I love Hampden, but that street is very much like, stick to the rules, or else. The following year, our theme was Home Alone, and we hung paint cans from the roof and played music from the soundtrack. That went over well."
Bob told his doctor, "Fill me up with some morphine, I gotta go light the street."
As time goes on and Hampden continues to change—the neighborhood's average home value index has increased by nearly $90,000 since January 2012—many wonder what the future holds for the Miracle on 34th Street. As Bob and the remaining original decorators reach the age when climbing onto three-story roofs to replace Christmas lights is no longer an option, he says it will come down to whether the younger residents are willing to invest the time and energy into keeping the tradition alive. As it stands, the Hosiers operate all of the lights hanging above the street. "More people on this street can get involved, but the magical question is, where are you plugging all of this in? And who is going to pay for all of this?" Bob asks. "It's not an exorbitant amount of money, but is anyone else in the younger generation going to put the time and effort into it?"
While some residents, like Wilks and Strilko, believe that the block will continue to decorate for years to come, especially since the Hosiers' daughter and grandson live on the block, others aren't so sure. "Nothing lasts forever," Pollock says. "I would love for me and all the neighbors to take over when Bob is done, and then we'll be set for the next 10 years. But when Bob chooses not to do it anymore, I think a lot of other people on this block are going to choose not to do it anymore, too." He adds: "My biggest fear is that when this all ends, John Waters is going to swoop in and do a movie here because he always does a movie about stuff after its death."
But the man who started it all isn't done yet. Bob and Darlene have made so many amazing Miracle memories—proposals staged on their front porch, meeting Gov. William Donald Schaefer, helping their neighbors plug in for the first time—that they've forgotten more of them than they remember, and he doesn't plan to stop leading the charge anytime soon. (A few years back, Bob was in the hospital the Friday before the lighting with a gallbladder issue, and he told his doctor, "Fill me up with some morphine, I gotta go light the street.")
Bob's biggest concern for the future—besides still being able to climb his ladder safely—is whether they'll be able to preserve the integrity of the event by keeping vendors and sponsorships at bay and stick to bringing joy to the neighborhood. "At the end of the day, it's about nothing else but decorating for the holidays," Bob says. "When I have to keep track of the cost or I have to take money from vendors and things like that, that's when it's time to stop."
The Miracle on 34th Street started with just some Christmas lights, which is why every year during the final hours of Christmas Eve—after the thousands of bundled-up onlookers who packed the street earlier have gone home to bed—Bob stands on the empty sidewalk and takes a photograph of each illuminated home. Then, sometime after the lights have been taken down and the decorations returned to storage, Bob will add the photos to his ever-growing collection of mementos that he'll pass on to his grandson, Colt, to show him what a string of lights and an idea can do. "It's just some Christmas lights," Bob says, one last time, "but what it's done, for this block and tons of other people, is absolutely amazing."