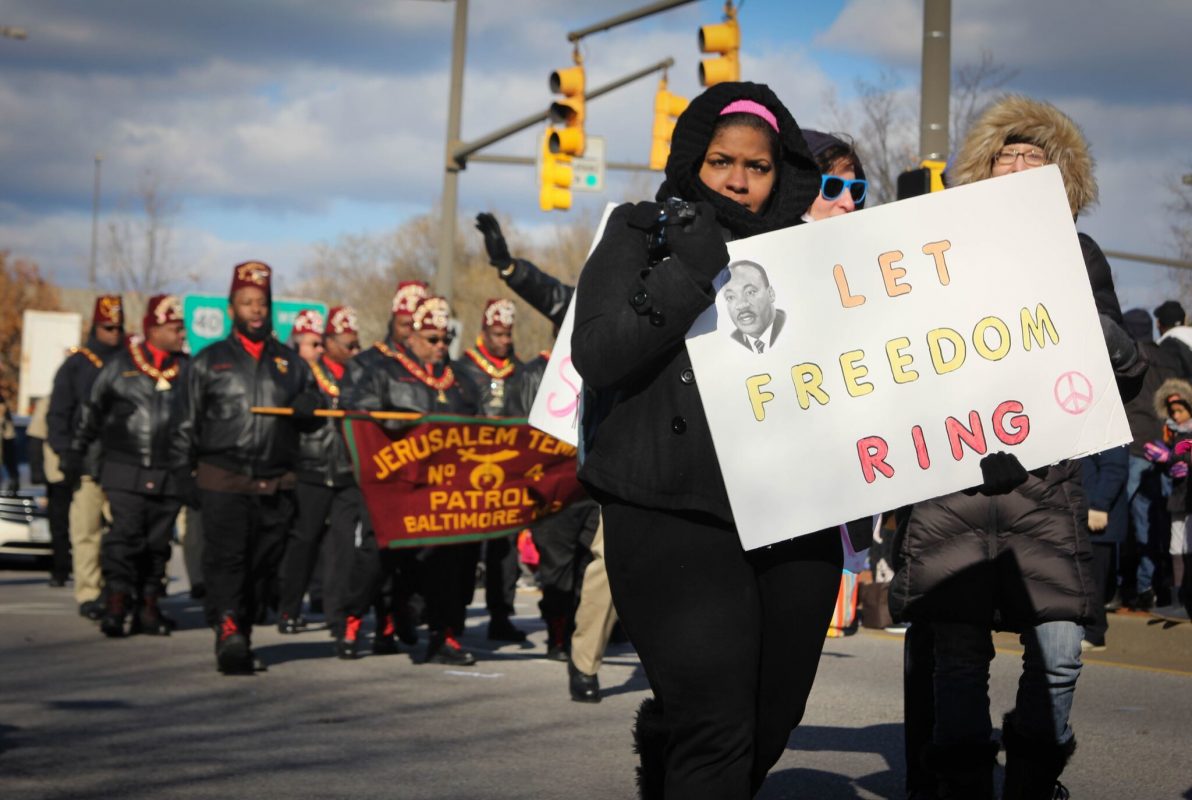 Meredith Herzing
Update December 13: Mayor Catherine Pugh announced today that the annual MLK Day Parade will continue after receiving complaints from residents and community leaders. 
"I've heard from residents who'd like to continue the tradition of the Martin Luther King Jr. Day Parade & those who'd like to participate in a Day of Service," she said in a tweet. "Why choose—we can do both!"
For the past 17 years, Baltimore has celebrated Dr. Martin Luther King, Jr. Day with a parade through the streets of downtown. But this coming January, Mayor Catherine Pugh has decided to honor his legacy by encouraging others to emulate how he lived his life by hosting a Day of Service in partnership with United Way of Central Maryland.
While many residents and local organizations have practiced a day of service over the years to celebrate the Civil Rights leader's life, Mayor Pugh believes that the city can make a larger impact if its residents come together
"Dr. Martin Luther King, Jr. was a public servant who devoted his life to the advancement of civil rights and equality," she says on her website. "Building on this momentum, Baltimore begins a new tradition to honor this commitment and to encourage community-based organizations to organize and submit service projects that welcome volunteers of all-ages." 
In lieu of residents lining the street that bears his name to see marching bands, steppers, and floats, residents are encouraged to volunteer in their communities as Dr. King once did. Organizations like Civic Works have already begun accepting volunteers to work on different community lots in East Baltimore to clean up and plant gardens. Many more organizations are expected to follow suit in the coming weeks.
In years past, the event has attracted hundreds of spectators from all across the region to participate in the festivities. On average, more than 50 groups have participated in the event each year ranging from high school and community bands to color guards, fraternities and sororities, dance squads, and civic organizations.
The East Coast Westsiders marching band has been performing in the parade since its inception 17 years ago. For Marvin McKenstry, Jr., the COO of the band, the parade means just as much to him as the celebration of Dr. King himself. He can't imagine one without the other. 
"Being able to march down Dr. Martin Luther King, Jr. Blvd is very special and exciting," he said. "We don't care about being out in the cold because we know what this holiday represents and what Dr. King represented—we want to celebrate that."
Though the parade is clearly an important aspect of celebrating the holiday locally, Pugh insists that this new tradition will appropriately honor Dr. King: "Our communities grow stronger when we all choose to serve."