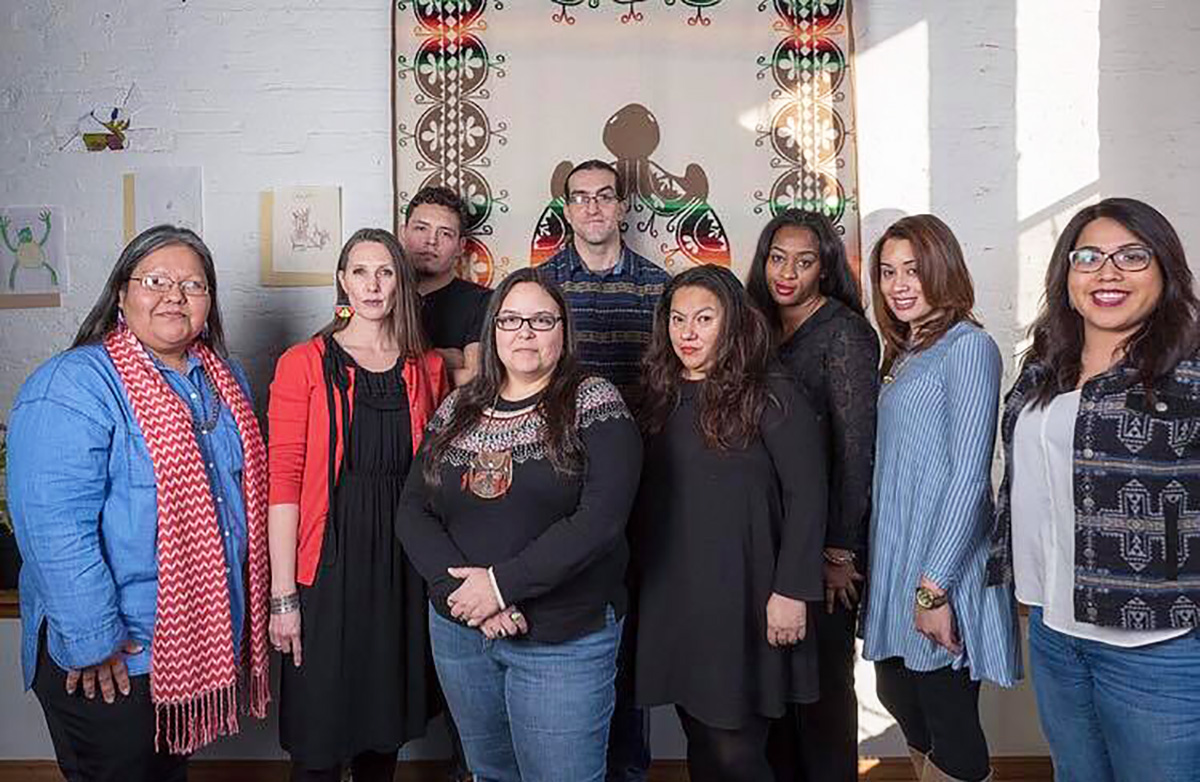 Kerry Hawk-Lessard (second from left) and the Native American LifeLines team. —Native American LifeLines of Baltimore
Ellicott City resident Kerry Hawk-Lessard, 52, is the descendant of the Shawnee tribe. She also has family in the Assiniboine and Sioux tribes. Although she was raised Native, she says that there are members of her family who she doesn't know, as well as pieces of her ancestry that she's only recently discovered.   
Among them is the story of one of her ancestors who attended the Carlisle Indian Industrial School—a boarding school in Pennsylvania known for pushing the assimilation of Native Americans. There, students were forced to speak English, wear Anglo-American clothing, and act according to American culture. 
 "It wasn't until I had my master's degree that I focused specifically on historical trauma and the experience of boarding school survivors, not having any idea that it was something one of my ancestors went through," she says.
Now, Hawk-Lessard is the executive director of Native American LifeLines, a Title V Urban Indian Health Program that serves metropolitan areas in Baltimore and Boston. The organization works to support the more than 70 percent of American Indians who live off of reservations, but are often left out of the conversation—especially given that Urban Indian Health Programs receive less than one percent of the total Indian Health Service budget. 
"There are a lot of Native people who live in cities who may be in the same situation," Hawk- Lessard says. "Just because they don't speak their language, or because they don't look like what media or film has determined we should look like, that doesn't mean that they are any less Native."
As a community activist, Hawk-Lessard works to combat these issues that stem from the overall erasure of Native history—a concept that is often overlooked in the context of Thanksgiving. 
"Part of the process of creating the United States was eliminating the Indigenous people that lived there," says Bayley Marquez, an assistant professor in the Department of American Studies at the University of Maryland, College Park, adding that European settlers took resources and killed large parts of the Indigenous population. 
Hawk-Lessard acknowledges that the eradication of Indigenous people and the attempts to strip them of their culture has had a negative generational effect. In fact, Marquez's students have expressed that they rarely talked about the issues of present-day Indigenous people in their previous history courses. 
"It's a very romanticized history," Hawk-Lessard says, "and it obscures people from seeing us as we exist today. So, if I don't look like Disney's Pocahontas, I'll get lots of micro-aggressive questions."
Some solutions may rest in education and meaningful allyship. As Thanksgiving approaches, a handful of Baltimore's local businesses and advocacy groups have been bringing this conversation to the forefront. 
Allie Smith, owner of Bramble Baking Co., is donating 10 percent of her holiday pie sales this year to the International Indigenous Youth Council. "I've started to think more about the day as one to share what I love and know best (pie) in service of reflection," Smith wrote in an Instagram post. "This includes support of and deep gratitude for Indigenous communities." 
At Motzi Bread in Charles Village, co-owners Russell Trimmer and Maya Muñoz are allocating all proceeds from their Thanksgiving pies to Indigenous and Black-led causes including Native American LifeLines.
 "We wanted to do something around Thanksgiving to honor the history of Indigenous folks," says Trimmer, who adds that he and Muñoz are beginning to rethink their own celebrations. "We're continuing to evaluate whether we want to celebrate Thanksgiving at all given its history, but it's still an ongoing consideration for us personally." 
Good Kids Mad City, a local youth organization that works to end violence in urban areas, is hosting a "Feed the Block" event in East Baltimore on Friday, November 27 to honor Native American Heritage Day. 
When it comes to her students, this year, Marquez has noticed a shift in the conversation in light of the aligned interests of the Black Lives Matter movement. 
"It's sort of a constant battle of dealing with either having no representation or suddenly having hyper-representation," Marquez says, "but also having to be representative of your group and counter all of these years of historical misinformation."
During such an important year for civil rights, local Indigenous community organizations are working to amplify the voices of both causes. 
"That is what we're looking to do," Hawk-Lessard says, "to create relationships that are real and meaningful."