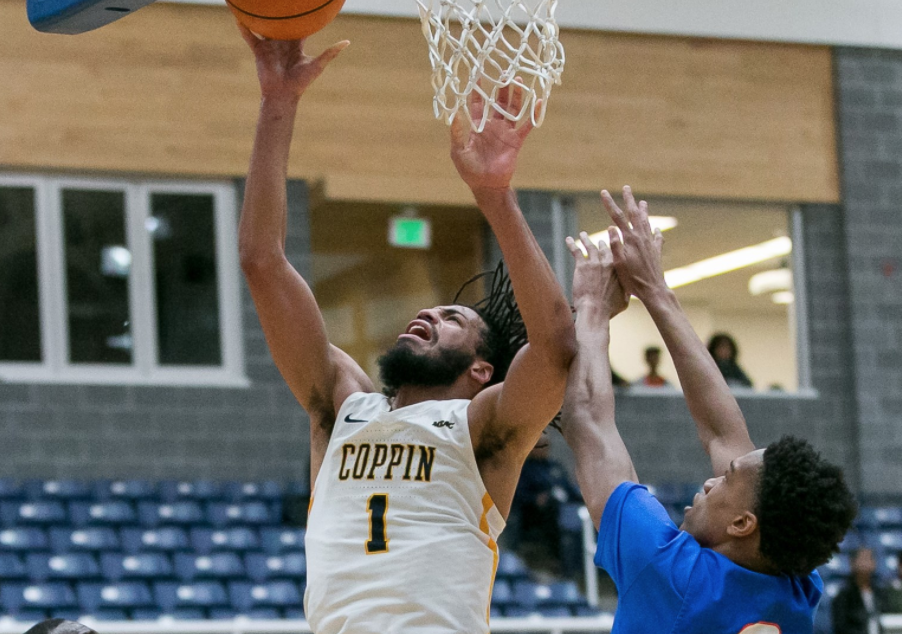 Troy Queen/Coppin State University
No one said it was going to be easy.
Coppin State University forward Chad Andrews-Fulton scored a team-high 19 points in Monday's thrilling double-overtime win over Florida A&M at Coppin's PEC Arena. None more important than his layup with 12 seconds to go, which put the Eagles in front 79-78 and lifted Coppin to their first win of the season after 17 straight losses. 
The victory for the Coppin men is the first under the tenure of new coach and hometown hero Juan Dixon, who starred at Calvert Hall College High School and led the University of Maryland to national title in 2002. 
Drafted by the Washington Wizards, Dixon eventually played in the NBA and then Europe before starting his coaching career with the Terps under Mark Turgeon. Last year, in his first head-coaching gig, Dixon directed the University of the District of Columbia's women's team to 3-25 mark. The Coppin men also struggled last year, coming off an 8-24 record. And, in fact, Coppin's winless mark before this week had been 20 games, dating back to last season, and the longest in the country, according to the Baltimore Sun.   
Dixon replaced Michael Grant, who had been at the helm for three seasons. Now it's up to Dixon to try and fill the shoes of local legend Fang Mitchell, who previously led the Eagles for nearly three decades, posting 11 consecutive winning seasons during one stretch and four NCAA Tournament appearances.
Despite the early struggles this season, if anyone possesses the resiliency to turn around the Coppin season—and program—it might just be Dixon.
The undersized former guard has overcome obstacles his whole life, including losing both of his parents to AIDS when he was a teenager. 
After two MEAC conference games in North Carolina, Coppin returns to Baltimore Jan. 20 and hosts Morgan State.
Check Baltimore magazine's story on Dixon—his reconnection to his Baltimore roots, reunion with his father, and hire at Coppin State—in our February issue.