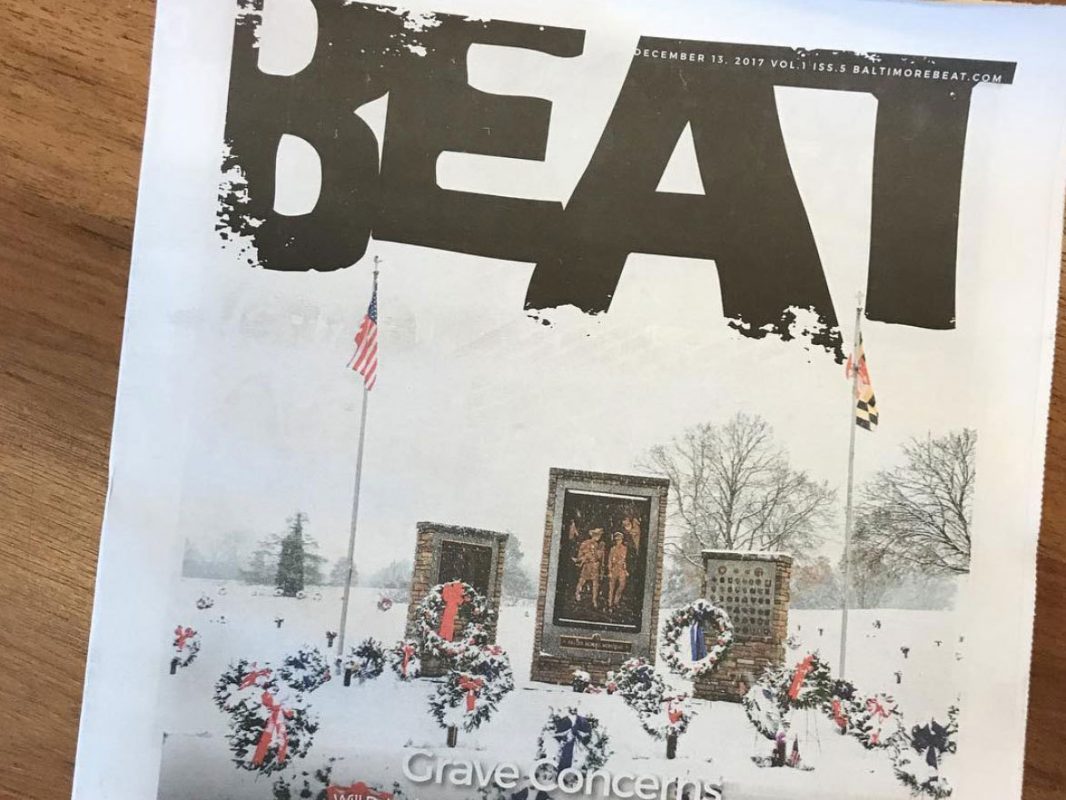 Baltimore Beat
Four months ago, a new alt-weekly paper arrived on the scene just as City Paper was departing. Baltimore Beat, headed by editor-in-chief Lisa Snowden-McCray and managing editor Brandon Soderberg, formerly of City Paper, declared that it would not be "City Paper part two," but a fresh, new take on the under-reported news in Baltimore.
However, after facing similar problems as its predecessor, the Beat—as it was affectionately known—announced via Facebook that it would be shuttering its doors effective immediately.   
"We launched the Baltimore Beat in November 2017 in an effort to provide a new alternative, independent journalistic voice to the city," the post read. "We're proud of the work we've done but, unfortunately, advertising support hasn't been sufficient to sustain us. . . We're grateful for the opportunity and regret that we are unable to continue."
Snowden-McCray followed up the announcement with a simple tweet to her followers: "We did really great work in a short time with very limited resources." She also followed up by  applauding the hard work of her team and other contributors, as well as the support she got from readers.
"I found out I'm damn good at running the editorial side of a paper," she wrote. "The amount of love, support for this paper, and talent that we were able to put on our pages was insane and the best part."
For now, the paper will still remain alive online, but there will be no final issue according to Soderberg, who took to Twitter to express his anger and frustration about the decision.
"I went through all this only because I believed we had the backing to build and grow," he tweeted. "I wanted to change the media landscape here. I thought our publisher felt the same way. There is no last issue, we heard yesterday morning as we were finishing up the next issue and [was] told to stop."
The Beat's publisher Kevin Naff from Brown Naff Pitts Omnimedia (BNP), which also oversees the Washington Blade—the oldest LGBT newspaper in the country—and the Los Angeles Blade, said he doesn't have "anything further than what we released" to offer as comment. 
Since opening a few months ago, the publication has tackled gun violence, teacher strikes in West Virginia, police commissioner Kevin Davis' firing, and several op-ed's that showcase "community voices."
There has been no official word on whether the staff will try crowdfunding to raise money to stay open, but Soderberg is planning a fundraiser with his partner in writing Baynard Woods through their journalism nonprofit, BINJ, to support investigative journalism in the city. 
"[Baltimore Beat] was special and I maintain that it would make a lot of money too," Soderberg said on Twitter. "Don't let this deter anyone else from trying. I am glad we tried, and we will see what we want to do next."