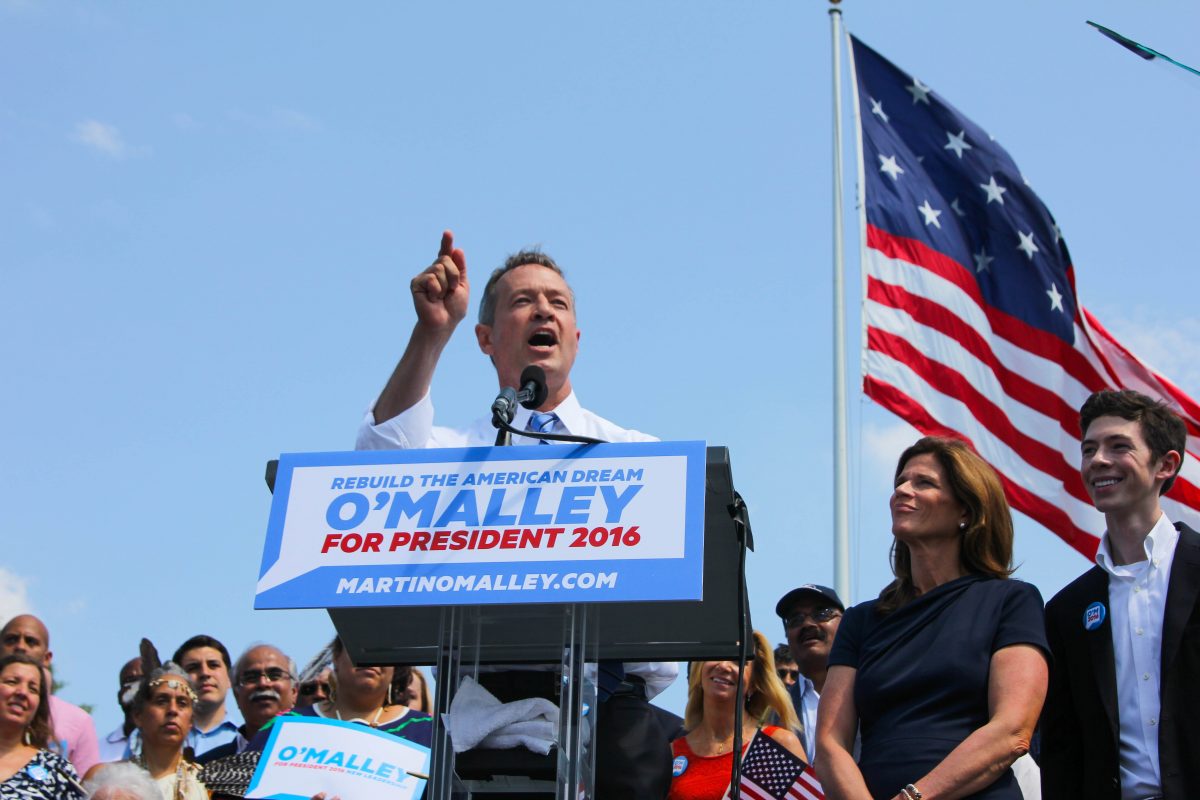 On an unexpectedly warm morning, with Baltimore's harbor as his backdrop, former mayor and Maryland governor Martin O'Malley offered an animated, and, at times, fiery, indictment of the status quo and rapidly growing economic inequality in the country.
And then he officially announced his bid for the White House in 2016, declaring that the presidency of the United States wasn't a crown to be passed back and forth between two families.
"Recently, the CEO of Goldman Sachs let his employees know that he'd be just fine with either Bush or Clinton," O'Malley recounted for the crowd. "Well, I've got news for the bullies of Wall Street—the presidency is not a crown to be passed back and forth by you between two royal families."
The biggest question today wasn't whether Martin O'Malley was going to announce a presidential bid—that's been assumed forever as we noted in a profile two years ago—but who would turn out to support him.
O'Malley, a staunch backer of Democratic favorite Hillary Clinton's run in 2008, doesn't have a natural constituency in the way that the former first lady and secretary of state does in her bid to become the first woman to win the nation's highest office. Nor does he have socialist Vermont Sen. Bernie Sander's built-in progressive following.
None of the city or state's major politicos were on stage with O'Malley—other than his father-in-law, the long-serving, former Maryland attorney general Joseph Curran.
Even in his adopted hometown, O'Malley's legacy in light of the Freddie Gray riots has taken a darker hue recently. His administration's "zero tolerance" toward crime—while seen as effective in reducing violence in the city at the time—has also been blamed for engendering poor relationships between struggling neighborhoods in the city and the police department. In fact, the ACLU and NAACP sued and won a settlement from the O'Malley administration in the aftermath of his mass arrest policies. And one local activist group, Baltimore Bloc, led a protest of O'Malley's announcement at Federal Hill.
That said, there are plenty of reasons why O'Malley's record as both mayor of Baltimore and governor of Maryland might appeal to Democratic primary voters. He's credited with reducing lead poisoning in the city as mayor, adding drug treatment services, and making city services, like trash pick up, more efficient. As governor, he successfully fought to end the death penalty in the state, to make same-sex marriage legal, to strengthen gun control measures, and to pass a Dream Act for young immigrants brought here by their parents.
During his announcement speech, O'Malley plugged his efforts to keep college tuition in check in Maryland while governor as well as his commitment to the state public school system, which has generally been ranked among the best in the country.
He also highlighted his middle class background, including the lift his father received from the G.I. Bill as a World War II veteran, and took shots at Wall Street's influence and power, sticking to a populist economic message throughout his announcement: "Tell me how it is, that you can get pulled over for a broken tail light in our country, but if you wreck the nation's economy you are untouchable."
But at the moment, the continued blight in many Baltimore neighborhoods—though certainly driven by long-term national economic and political trends as much as anything else—and his administration's crime and policing policies are viewed as albatrosses around O'Malley's bid.
O'Malley didn't address the recent violence in Baltimore at length in his remarks, but made it clear that more needs to be done directly, including raising the minimum wage, to end "the scourge of hopelessness" in challenged urban areas. "Conditions of extreme poverty," O'Malley said, "breed conditions of extreme violence."
O'Malley, who has never backed away from his record in Baltimore, also touted the widely-praised CitiStat and StateStat efficiency initiatives that he implemented first as mayor and then as governor.
But how exactly O'Malley will raise his profile and standing among potential primary voters outside of Maryland isn't clear.
In the most recent Quinnipiac poll, he ticked just 1 percent of support among potential Democratic voters, well behind not only Clinton, at 57 percent, but Sanders, at 15 percent. Still, with just three candidates officially entered in the Democratic race—although former Rhode Island senator and governor Lincoln Chafee is expected to join the field next week—there would appear to be enough elbow room between the centrist Clinton and ultra-progressive Sanders to create a running lane. One major difference, of course, from Clinton and Sanders is O'Malley's age—at 52, he's a generation younger than either one of those candidates.
"I think he has shown vision with his ideas for improving health care and education in the state of Maryland," said O'Malley supporter Joan Floura, a small business owner who lives in Govans and has two children in Baltimore City public schools. "We need a fresh approach to government and something new—not the same old thing."
How much traction he ultimately gains remains to be seen, but there's certainly nowhere to go but up at this point for the never-shy O'Malley—off to Iowa today to win over that caucus voters there.