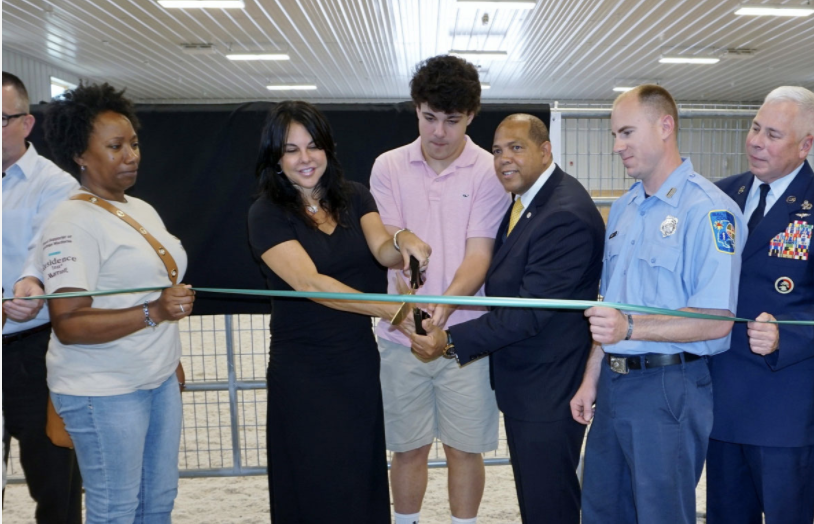 Courtesy of Baltimore County Government
Just one day after the 143rd Preakness Stakes, Baltimore County announced the grand opening of The Kevin Kamenetz Arena, an equestrian learning center at the Baltimore County Center for Maryland Agriculture and Farm in Cockeysville. It was named in honor of Baltimore County Executive Kevin Kamenetz, who passed away suddenly on May 10.
"He loved horses and he loved veterans," Kamenetz's wife Jill said at the grand opening. "This is just doing what he loved best."
The 12-acre equine grounds cost the county $2.96 million and includes two barns, pasture space, and more than 9,000 square-feet of arena with classrooms. The mixed-use facility will serve primarily as an equine arena and learning center with programs for veterans through programming provided by the New York-based nonprofit Saratoga WarHorse Foundation. The foundation, run by a Vietnam veteran, will assist veterans who are suffering from unseen wounds by providing a free experience with horses that will help those struggling with life after military service.
"[This] is a natural expansion of the educational mission of our agriculture center and it will provide powerful therapeutic and mental health resources to help veterans," said County Council Chair Julian Jones in a statement. "Naming it the Kevin Kamenetz Arena is a fitting tribute to a man who dedicated his life to serving the public and making sure that government fulfills its role of helping those most in need."
The arena will host two three-day sessions each month beginning today. It includes lodging, meals, and travel and veterans will undergo classroom and hands-on training with an instructor before meeting the horses.
The rotating herd of horses used in the program include 10 to 18 thoroughbred retired race horses from the local nonprofit horse rescue Foxie G Foundation and Sagamore Racing in Reisterstown. Although the program is ground-based, meaning there is no actual horse-riding involved, its meant to create a connection between the horses and the veterans. So far, the Saratoga Warhorse Foundation has helped more than 900 veterans dealing with post-traumatic stress and suicide.
"When most people hear about us they think, 'What could a horse possibly do for me?'" Bob Nevins, founder of Saratoga WarHorse said. "Racehorses are pushed to their absolute limit and when their careers end, finding their way presents challenges very much like those we face when transitioning from military to civilian life. What we do helps to neutralize the effects these stresses present."
In addition to the partnership with Saratoga Warhorse, the county is also in talks with EquiTeam Support Services in Pennsylvania and the Connected Horse project about the possibility of providing additional equine-assisted therapy for not only veterans, but also people with dementia.
"Kevin really wanted government to work to help people, and when I heard about this, how could I not be here?" Jill said. "This is just his legacy continuing on. He really truly cared about every person, and I just love this whole thing that's happening with the horses."