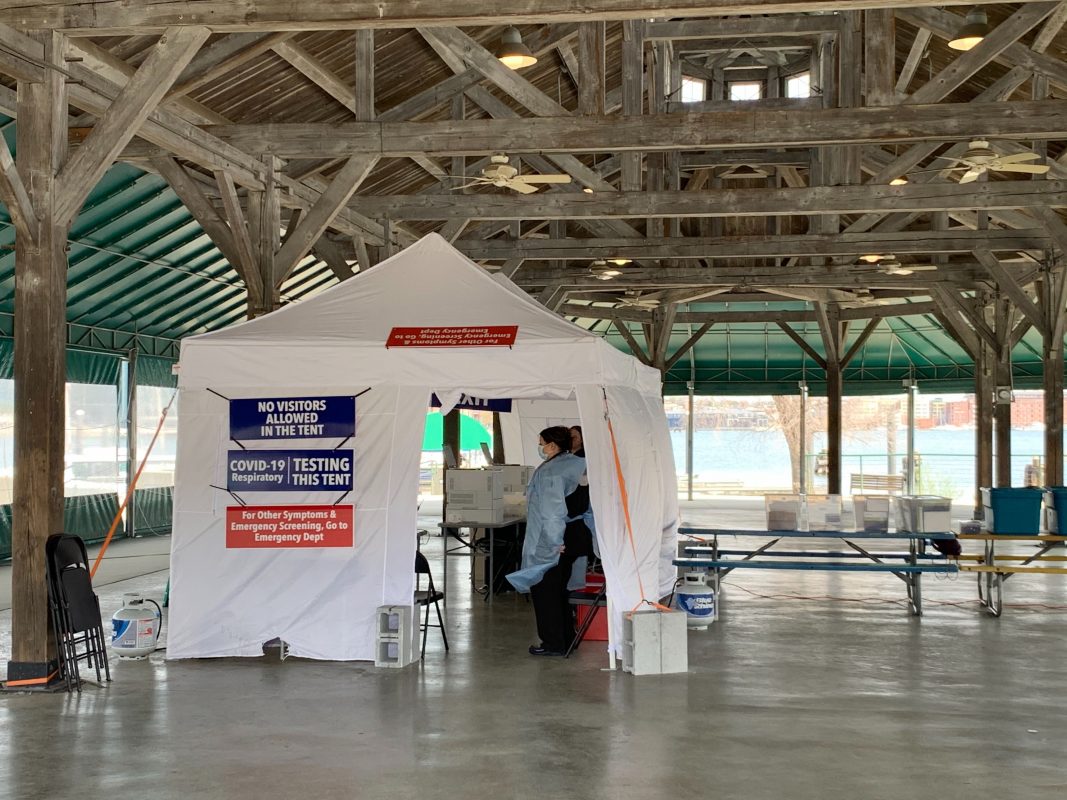 As the spread of coronavirus continues to grow exponentially in Maryland, medical facilities have become overwhelmed with the amount of patients who need treatment. In an effort to preempt this problem, COVID-19 testing sites and clinics are sprouting up across Baltimore to ease the burden on overworked hospitals.
"It keeps staff safe as they are seeing patients in open air environments with more space," says Dr. Bronson Elizabeth Delasobera, the clinical lead at a newly-formed MedStar testing site at the Baltimore Museum of Industry (BMI). "It's also more efficient for patients who can check in quickly and get in and out in 10 minutes."
As soon as government orders came down, closing nonessential businesses, Anita Kassof, the BMI's executive director, reached out to a friend at Johns Hopkins to inquire how she could lend a hand. She was contacted that same day by representatives from MedStar Health, which had been scoping out potential testing sites on Google Earth and came across the BMI parking lot.
Workers quickly converted the BMI pavilion adjacent to its parking lot into a testing site fashioned with tents and proper equipment.
"It is certainly serendipitous," Kassof says. "[Closing the museum] cuts the heart out of us. There's a sense of pride—this has helped our staff feel like we're continuing to help the community."
At the BMI, the process from registration to specimen collection takes 10 minutes.
In total, there are doctors, nurses, registration staff, administrative directors, and greeters working at the makeshift clinic treating 50 patients per day. This number is comparable to brick-and-mortar urgent care spaces that see anywhere from 35 to 100 patients daily.
"This clinic ensures that these patients don't have to visit a busy urgent care or hospital that has a lot of other patients," Delasobera says. "There's also a potential to be exposed to other people that are ill [in those spaces]. It eases up the process."
Patients are pre-screened through their MedStar primary care or telehealth platform, and, since the center was set up a few weeks ago, Delasobera says that there have been several positive tests. Overall, she estimates the clinic has seen around 200 patients, and it has the capacity to add staff should the need arise. Sometime next week, MedStar will also be implementing point of care testing that can deliver site results in 24 hours—at the moment, this process has been taking a few days to a week.
"We want patients to get the answers they need when they are sick," Delasobera says.
But clinics like MedStar's aren't an anomaly. A collaborative effort between the University of Maryland Medical System and Johns Hopkins has sent workers to set up field hospitals at the Baltimore Convention Center and a nearby Hilton hotel, an initiative that Governor Larry Hogan spearheaded last month. In addition to its clinic at the BMI, MedStar has a similar tent space in Montgomery County, and has plans for another in Prince George's County.
Further testing will also be conducted at tents set up at Pimlico Race Course, where the Baltimore City Health Department expects to run 50 tests a day in collaboration with LifeBridge Health.
In addition to community gathering places offering up their space, local business owners are also doing their part to make sure the public has access to testing.
Lauri Dixon, vice president and general manager of Party Plus Tenting + Events, has shifted her focus to providing her tents for testing and triage at hospitals on the University of Maryland Medical Center and Johns Hopkins campuses.
"We've never really had a situation like this," Dixon says. "We're helping people and it's helping us."
Party Plus is offering both monthly and three-month rentals, as well as giving significant discounts. The company has also started providing drive-through carryout tents for restaurants and food banks. "We're looking at avenues of how to help the community," Dixon says, "and also help keep the lights on in our small business."
It's a testament to the business community's willingness to adapt and eagerness to give back in any way they can.
"There's a sense of gratification that we have an ability to help," Kassof says. "It feels good to give back in this very small way and work to make sure we are still responding to the needs of the community."