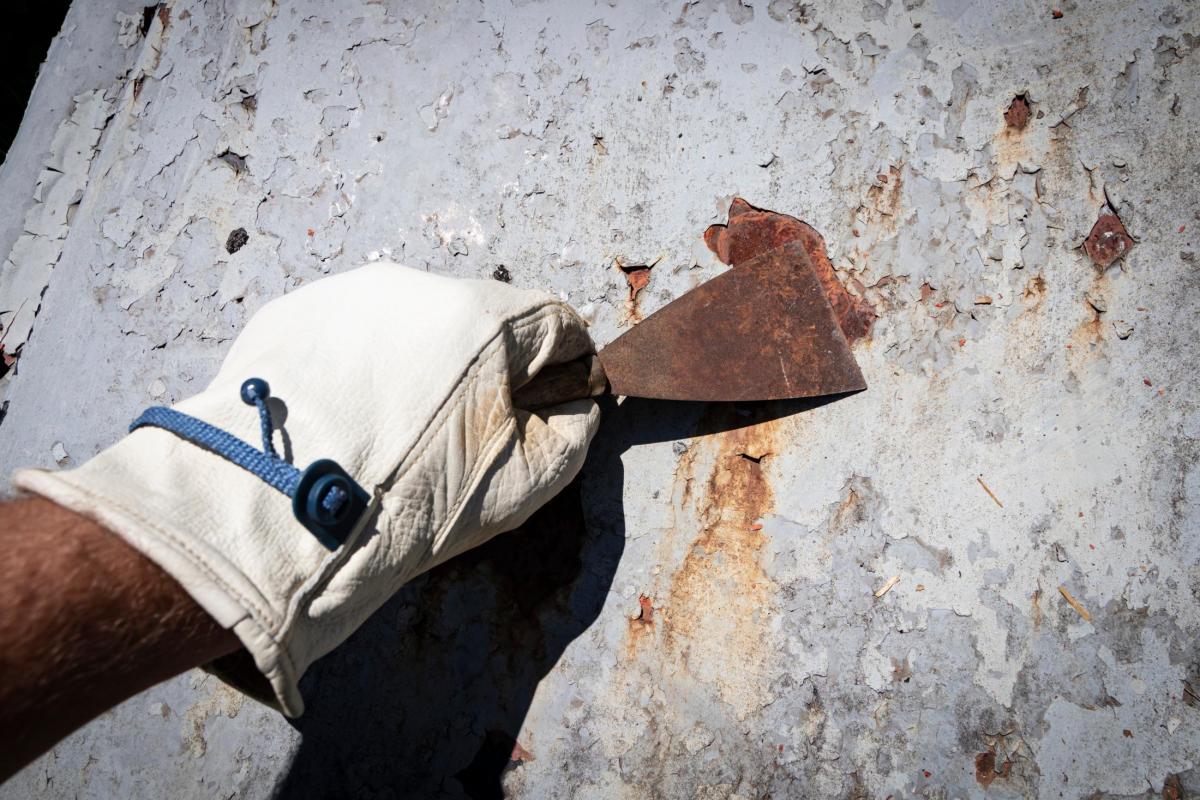 Shutterstock
Tens of thousands of homes in Baltimore are likely contaminated with lead paint, according to a recent report by The Abell Foundation. That means there are thousands of city residents who are at risk of lead poisoning—which can cause serious health problems in adults and severely impact development in children. 
The report, released in April, estimates there are 85,057 occupied housing units within city limits that have "significant lead hazards." It's estimated that every neighborhood in the city has at least some housing units with lead hazards, though the so-called "Black Butterfly"—a term coined by Dr. Lawrence Brown to describe the geography of East and West Baltimore—is estimated to have the highest concentration of dangerous units.
"This report is attempting to put some figures around what is very difficult to measure," says Luke Scrivener, the report's author. "And it's difficult to measure because nobody has ever gone out and measured every single solitary house in the city."
Because of that, Scrivener says the true number of units with lead paint hazards could be higher or lower, adding that there is "some fuzziness." 
Using 85,000 or so occupied units as a baseline, though, the report is able to provide an estimated cost for treating the issue: Somewhere between $851 million and $4.2 billion. 
The reason for the range? There are different ways to treat lead paint in a housing unit. Among them are lead hazard control, which is cheaper but requires more upkeep, and lead abatement, which is more expensive but does not require as much follow-up work. 
While neither has a precise definition, lead hazard control is essentially repairing and repainting areas with exposed lead paint. Lead abatement is the removal, replacement, or encapsulation of lead hazards. The report estimates that lead hazard control costs between $10,000-$17,000 per unit, while abatement costs between $30,000-$50,000 per unit—though an exact cost would obviously depend on the scope of work and the size of the unit.
Camille Burke, director of Baltimore's Childhood Lead Poisoning Prevention Program, calls lead poisoning "completely and totally preventable."
"It's one of the few childhood health risks we can entirely prevent," says Burke, who's been with Baltimore City Health Department since 2015. 
A lot of the workload for testing for lead paint comes from routine bloodwork. Children who are one and two years old are supposed to be tested under Baltimore City Health Code. Any child who is found to have more than five micrograms per deciliter of lead in their blood has their results shared with Baltimore's health department and the Maryland Department of the Environment (MDE).
Then, "we have to do an inspection in the house," Burke explains. "It could be their home, it could be another family member's house—we do an inspection of the primary residence."
While a home is being examined and tested for lead paint, someone else from the prevention program will have a conversation with the child's caregiver, covering topics like food insecurity, utility bill assistance and, importantly, how to prevent lead exposure. 
They also make sure that the homeowner—especially if it is a landlord—is connected with a contractor, approved by MDE, to do the lead paint mitigation work. The Childhood Lead Poisoning Prevention Program has the authority to put a lien on a property if a landlord does not take steps to remove lead risks. 
"Owner occupied is a little different. I can't force them to do anything," Burke says. "I can force a landlord to do something—but owner-occupied, 90 percent of the time, they're willing to do it."
As outlined by the Abell Foundation report, lead mitigation is expensive, and that cost can be prohibitive to some. Burke says she and her colleagues in the Department of Housing are able to help homeowners through forgivable loan programs. A property is not considered cleared until it is inspected again after the remediation or mitigation work is done, Burke says. 
Like so much in public health, preventing lead poisoning can be long, arduous work. Burke says in a standard year, the program will see 500 or 600 cases. Because of a backlog created by the pandemic, Burke says the program currently has more than 1,000 open cases. She says she has one inspector who's viewing 5-10 properties per week—a number higher than Burke would like. 
The report does not make specific recommendations, but outlines ways Baltimore can continue to address lead poisoning prevention, including using federal funds through the Department of Housing and Urban Development, and through the Children's Health Insurance Program. It concludes by saying the cost of mitigating lead hazards in the city will be high, and that the city "will need new resources to tackle the urgent problem of lead paint poisoning."
Burke's assessment of the problem is similar—she says there's always more work to do, but that the program is limited by staff and money. 
"Public funding for health is just woefully underfunded," Burke says. "We desperately need more people, more funding."
Despite the limitations, though, Burke says she and her colleagues love their work, and find it important in ensuring that every child in Baltimore has a safe home.
"If we can detect [high lead levels] early, there is so much we can do to change the trajectory of a child's life," she says, "and so much more we can teach the parents about lead."