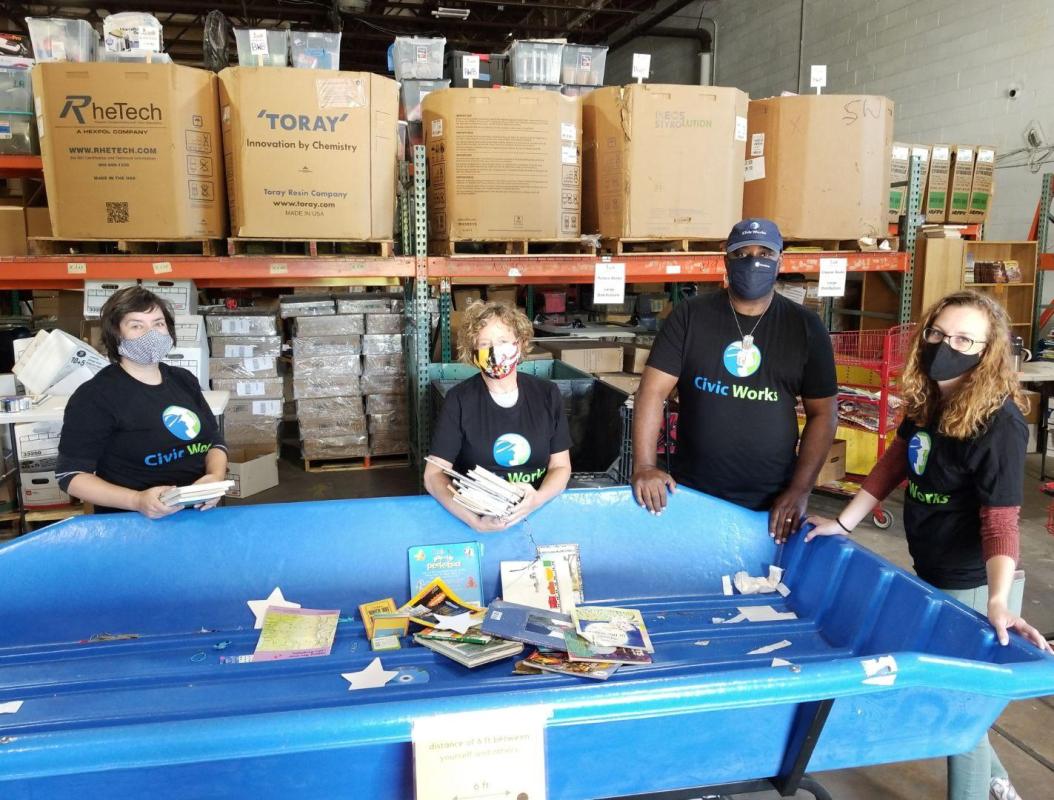 —Courtesy of Civic Works
By now, you've likely heard about the Baltimore Office of Promotion and the Arts' (BOPA) last-minute decision to cancel the city's annual Martin Luther King Jr. Day Parade—which hasn't been held since 2020 due to the pandemic—and the tensions it created within city government and the surrounding arts community. 
Since the press release announcing the cancellation last week—which suggested Baltimoreans plan a day of service in lieu of celebrating Dr. King's legacy at the parade (an idea later criticized by many, who believed that those honoring Dr. King should be able to do both)—BOPA released a clarifying statement pointing responsibility to the Mayor's office, which co-sponsors the parade, stating, "BOPA does not have the authority to, nor would we ever assume to, make unilateral decisions on mayoral events." 
Mayor Brandon Scott then shifted blame back to BOPA, saying that his office was "told by BOPA that [the parade] wasn't a priority," during a Monday appearance on WYPR's Midday with Tom Hall. He responded further by calling for the resignation of BOPA CEO Donna Drew Sawyer—Sawyer ultimately stepped down earlier this week—and announcing on Twitter that his office will indeed be organizing the parade this year.
The annual procession is set to step off from its regular route—starting at the corner of Martin Luther King Jr. Boulevard and North Eutaw Street—at noon on Monday, January 16. 
"Given the recent turmoil and disruption within BOPA, leading to instability within the arts and culture community, my unwavering support for preserving Baltimore's vibrant cultural heritage and ensuring the success of important events such as the MLK Day Parade remains unchanged," Scott said in a statement earlier this week. 
He went on to announce that he has appointed BOPA's current Chief Marketing and Programs Officer Tonya Miller Hall to be the Senior Advisor for Arts & Cultural Affairs in the Mayor's Office. "In this role, Tonya will work closely with our cultural and artistic leaders to develop a fresh perspective and strategy for revitalizing our communities and harnessing Baltimore's rich artistic talent and cultural assets."
Despite the controversy surrounding the parade, many arts institutions and community organizations are hosting their own programming to honor Dr. King and his unwavering fight for equality. From cleanups and clothing swaps to film screenings and opportunities for kids, there are so many ways to carry out the vision of the famed Civil Rights leader, and keep his memory alive.  
Acts of Service  
Jan. 16: Chili Bowl Monday
Give back to those who need it most with Muslimat Al-Nisaa Shelter & Inge Benevolent Ministry's annual event benefitting the city's unhoused population. Provide neighbors with a hot bowl of chili, warm clothing, and health screenings. Not able to volunteer? Make an impact by donating or drop off supplies to 3708 Liberty Heights Ave. 700 Fallsway, 9 to 3 p.m. 
Jan. 16: Church on the Square Day of Service and Clothing Swap
Join this community-based Canton church in putting together survival kits for an upcoming volunteer trip to Cuba and participate in a clothing swap. Also accepted are donations and non-perishables for their free pantry. Want to help with providing supplies? Find the Amazon wish list for Cuba, here. 1025 S Potomac St., 1 to 3 p.m.
Jan. 16: Civic Works' Day of Service
While it is a day off for some, it's a day on at Civic Works. Participate in indoor and outdoor volunteer opportunities with programs like Civic Works' Community Landscaping, Real Food Farm, Baltimore Community ToolBank, Second Chance, and more. Register online for this rain or shine event to play a part in helping the community.  2701 Saint Lo Drive, 9 a.m. to noon
Jan 16: Head Start Somerset's Day of Service Giveaway for Children
St. Vincent de Paul's new Head Start program is providing free winter wear and school supplies for children ages 3-5 in the Somerset community. Sip hot chocolate and learn more about the benefits of this early education program that supports lower income families beyond the classroom. Somerset St., 9 a.m.
Jan. 16: Herring Run Park Tree Care and Cleanup
Lend a hand to the Friends of Herring Run Parks organization in revitalizing the park for the community. Tools will be provided to prune and care for young trees and pick up trash. Register to take part in giving Herring Run Park a little TLC. Parkside Drive and Brehms Lane, 10 a.m. to noon.
Jan. 16: JVC's Day of Service and Learning Signature Site
The Jewish Volunteer Connection of Pikesville is holding many service-related and educational opportunities for all ages. Register for their signature program to create kindness kits—a package of needed materials for those who are unhoused—and help to deliver them throughout the community. High school students can earn service-learning hours by volunteering to be a group leader for this event, as well. You can also pick up a kindness kit to assemble and distribute on your own time. 8101 Park Heights Ave., Pikesville, two shifts from 10 a.m. to 3 p.m. 
Jan. 16: The Giveback at Lexington Market
In the spirit of Dr. King's selfless devotion to service, Tio G's Empanadas and Latin Kitchen is providing the unhoused community with a hot meal and resource fair. The fair will take place from 10 a.m. to 2 p.m., highlighting resources that people experiencing homelessness can utilize. They are also accepting donations for those who cannot attend. 112 N Eutaw St., 10 a.m. to 5 p.m.
Jan 16: Wes Moore and Aruna Miller's Day of Service
Join Governor-elect Wes Moore and his Lieutenant Governor-to-be Aruna Miller for a day of service dedicated to the trailblazing efforts of Dr. King. The event is in partnership with The United Way of Central Maryland and requires an RSVP to volunteer. More details to come as we get closer to the event.
Virtual Events 
Jan. 7-14: Virtual MLK Scavenger Hunt
Engage with the Enoch Pratt Free Library's resources to educate yourself on Dr. King's legacy with literary works inspired by and about him. Share your answers in person with library staff at the Waverly branch by Jan. 14 for a small prize.
Jan. 16-31: "I Have a Dream" Virtual Races
Run in the third-annual "I Have a Dream" virtual race to honor Dr. King's worldwide impact from wherever you are. Choose from five different races with a portion of all registration fees donated to the Equal Justice Initiative. After you cross your personal finish line, you are awarded with a limited-edition medal with a quote from Dr. King: "If I cannot do great things, I can do small things in a great way."
Arts and Education
Jan. 14: Poetry at The Walters Art Museum
Enjoy the art of spoken word crafted by author, poet, and Coppin State University professor Kondwani Fidel. (Among our Best of Baltimore winners in 2021 for his poem "Beneath the Shell.") Special guests will include musician John Tyler, who will accompany Fidel's performance, as well as rising local rapper Eddie Vanz. Following the program, mingle with the artists and learn how you can support their work. 600 N Charles St., 2 to 4 p.m. 
Jan. 15: MLK Day Film Screening
Baltimore Hebrew Congregation and Jews United for Justice have partnered with many local organizations to host their sixth-annual movie screening and discussion to honor Dr. King. This year's showing is the award-winning documentary On These Grounds, which delves into the school-to-prison pipeline. The film focuses on a viral video of a white police officer in South Carolina throwing a Black teenager from her school desk. A panel discussion featuring speakers from local organizations will follow.  7401 Park Heights Ave., 1 to 4 p.m.
Jan. 16: Reginald F. Lewis Museum's MLK Day: Where Do We Go From Here?
Visit the Reginald F. Lewis Museum of Maryland African American History and Culture in commemoration of the holiday. The museum's all-day event will review the importance of Dr. King's last book, Where Do We Go From Here: Chaos or Community—which discusses the future of America's race relations in many aspects of society. From 12 to 1 p.m., enjoy performances and discussion with the cast and creators of Broadway's Don't Bother Me, I Can't Cope, which focuses on strong themes of Black power, feminism, and the African American experience. From 2 to 3 p.m, local jazz quintet Keith Snipes and Company will pay tribute to the Civil Rights Movement with songs and poetry. 830 E Pratt St., 12 to 6 p.m.
Jan. 16: American Visionary Art Museum's Dare to Dream Day
Honor Dr. King's leadership with a free day full of interactive and creative activities at the American Visionary Art Museum (AVAM). Explore the work of visionary artists of color labeled throughout the museum and enjoy events like the open mic and poetry slam, storytime with Tellie Simpson, and an African Dance performance by Keur Khaleyi. AVAM is also collecting new toiletries and winter wear for Paul's Place, an organization focused on outreach for Baltimore communities and families.800 Key Hwy, 10 a.m. to 5 p.m.
Jan. 16: "I Can I Will" Create Peace Workshop
HopeWorks and the Howard County Martin Luther King Jr. Holiday Commission brings an interactive experience fostering discussion about ways to create peaceful and healthy communities and relationships. Inspired by the theme of peace in our communities, participants will create art to inspire healing, equity, and transformation. 8045 Harriet Tubman Lane, Columbia, 2 to 3 p.m.
Jan. 18: Loyola University's Martin Luther King Jr. Convocation Address
Father Bryan Massingale will deliver the 30th-annual MLK Convocation Address titled "Racial Justice Then and Now: Honoring the Past, While Looking to the Future." Massingale is an esteemed professor at Fordham University and will be providing new perspectives on historical and modern racial justice challenges and how we can use education to strive against them. 4501 N Charles St., McGuire Hall, 6:30 p.m.
Family-Friendly Activities 
Jan. 15: Howard County Celebration
Join fellow peers of Howard County at the Horowitz Center Smith Theatre for an afternoon set aside to appreciate the legacy of Dr. King. Look forward to a keynote address by Howard Community College's president, performances by diverse community groups, and recognition of the 2023 Dr. Martin Luther King Jr. "Living the Dream" award recipients and contest winners. The awards identify an individual and organization who carry out the work of Dr. King today in their commitment to the community. Campus Drive, Columbia, 2 to 5 p.m.
Jan. 15-16: Visit the B&O Railroad Museum
As part of the museum's new exhibit, The Underground Railroad: Freedom Seekers on the B&O Railroad, the weekend leading up to the holiday is dedicated to celebrating Martin Luther King Jr. Special programming includes a From Slavery to Civil Rights tour, educational activities for kids, a presentation and choir recital by Reverend Montgomery of Baltimore's historic Union Baptist Church, and train rides available to purchase on-site. 901 W Pratt St. 
Jan. 16: Fresh Start Church Memorial Breakfast
Celebrate the hard work of key community leaders and enjoy a breakfast in honor of Dr. King. Listen to keynote speaker, Apostle Craig Norvain Coates, who is the senior pastor at Fresh Start Church and also wears many hats in the community as an author, business owner, and the first African American Chairman of the HIV Commission. Tickets are $50. 7514 Ritchie Highway, Glen Burnie, 8 to 10 a.m.
Jan. 16: PJ Library Programming
The Jewish Volunteer Connection invites families with children in preschool to read stories, participate in a service project, and learn about each other's differences. Get the little ones involved and enjoy a kosher, nut-free snack provided during the event. 8101 Park Heights Ave., Pikesville, 10 to 11:30 a.m.
Jan. 14-16: MLK Day Activities at Port Discovery
Port Discovery is open for extended hours during the holiday weekend. While regular, hands-on activities are offered, you can also engage in a special exploration of the poetry behind Dr. King's celebrated "I Have a Dream" speech, as well as art projects to honor the remarkable Civil Rights activist. 35 Market Place