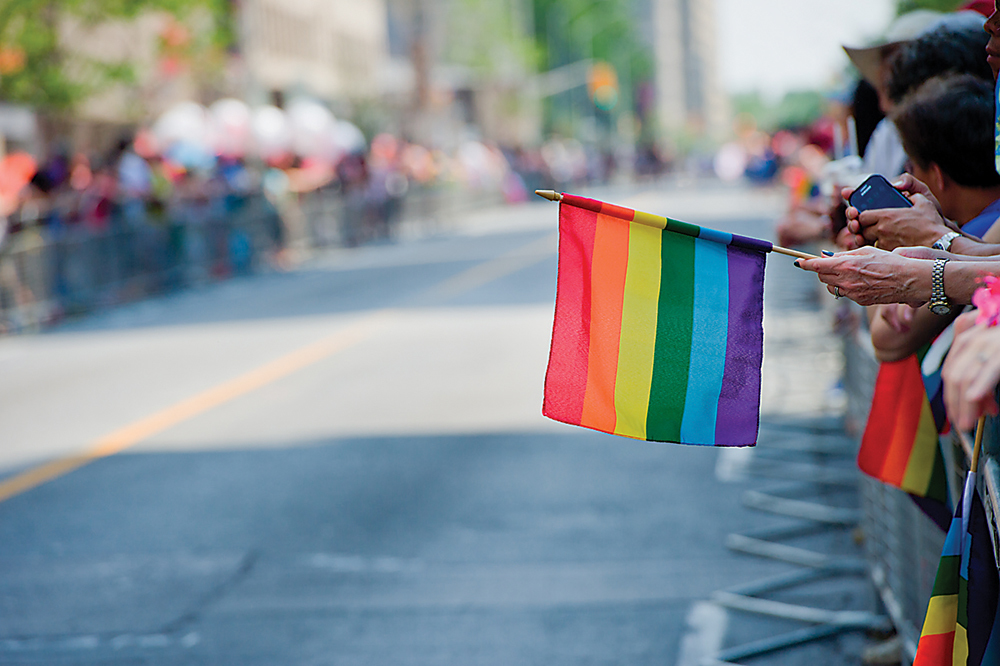 What once started as a small rally of protestors at Charles Plaza in 1975 has since become Baltimore Pride—a weeklong celebration of unity and acceptance.
For this year's festival, July 19-24, organizers are aiming to make the events more inclusive than ever, featuring programs specifically targeted for LGBTQ youth, seniors, women, transgender community members, and people of faith.
"Something I've noticed from travelling to different Prides around the country is that they often say they're open to everybody, but they leave so many people out," says Kevin E. Holt, outreach coordinator for the Gay Lesbian Bisexual Transgender Community Center of Baltimore and Central Maryland (GLCCB.) "This year, the biggest thing we want people to know is whatever your identity, Pride is for you."
Youth programs, for example, will take over Read Street in Mt. Vernon during the annual block party on July 23, highlighting separate vendors, performers, and alcohol-free activities planned by teen volunteers with the University of Maryland.
"The little parking lot that we designated for our youth program last year wasn't nearly enough space to hold everyone that came," Holt says. "It's a beautiful thing that they're coming out and celebrating themselves, so we knew we had to think outside of the box and do something more for them."
In keeping with the all-inclusive sentiment, this year's theme is One Baltimore—a message that GLCCB board president Jabari Lyles describes as "a wish towards a day where differences are honored, and we, as citizens of Baltimore, take pride in the differences that we possess."
The theme will carry over into all aspects of Pride, including Saturday's parade and block party in Mt. Vernon and Sunday's festival in Druid Hill Park.
Holt, who is also Baltimore's King of Pride 2016, says that the event has physically expanded its footprint to include Charles, Eager, Read, and Cathedral streets for the block party. That event will feature diverse performances by '90s dance music powerhouse Crystal Waters, Bilboard chart-topper CeCe Peniston ("Finally"), former American Idol contestant (and Baltimore native) George Lovett, and local rapper Abdu Ali.
The block party will also highlight a special tribute to the 49 victims who were killed in the mass shooting at Pulse Nightclub in Orlando last month. Holt, who knew one of the victim's personally, says that, although the community is still healing, Pride is a great opportunity to bond in the wake of such a tragedy.
"We've grieved. Now it's more about strength," he says. "We're here and we're still standing. And that's what Pride is really all about—showing who you are as a person and as a unit."
Don Davis, owner of 25-year-old Mt. Vernon mainstay Grand Central, says that his club has increased safety precautions since the attack, but, other than that, the best way to recover is to live authentically.
"You can't run and hide. You just have to move forward," he says. "We all have to learn to start loving each other, and Pride is a great way to bring people together to celebrate how far we've come."
In addition to annual events like Gertrude's Twilight on the Terrace party and the high-heel race down Cathedral Street, other Charm City establishments like Union Craft Brewing, Flavor, and Hard Rock Cafe are hosting their own kickoff celebrations to promote the mission of Pride.
Though now it is seen as more of a celebration, Holt acknowledges that the origins of Pride were political in nature. He hopes that he can motivate future generations to continue to promote a message of acceptance, just as the pioneers of Baltimore Pride did for him.
"I love seeing young people look at me and say, 'Wow you're really proud of who you are,'" he says. "The people who started Pride 40 years ago were the ones fighting for their right to dance in the streets and be who they are. Those were the people who paved the way. I always keep that in mind."