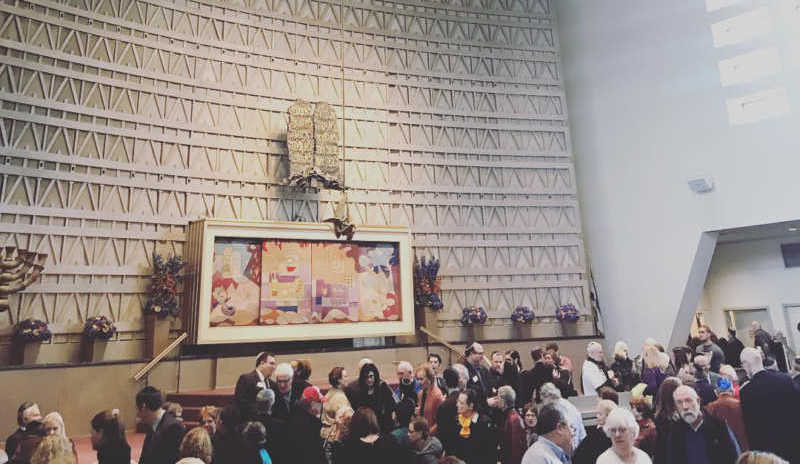 Janelle Diamond
Police responded to the Tree of Life synagogue in Pittsburgh on Saturday during morning services following reports of an active shooter. The shooter has been identified as Robert Bowers, who walked into the synagogue with an AR-15 semi-automatic rifle and three pistols and began shooting, killing 11 and injuring six more.
Bowers is being charged with 29 federal counts, including several hate crimes.
"They're committing genocide to my people," he told a SWAT officer after being shot and captured, according to a federal criminal complaint released ­Sunday. "I just want to kill Jews."
The Anti-Defamation League, an international Jewish organization that fights anti-semitism and bigotry, says that this shooting is the the deadliest attack on the Jewish community in America.
The names of the victims were released on Sunday, the oldest being 97-year-old Rose Mallinger, who lived in the Squirrel Hill neighborhood and was a faithful member of the Tree of Life temple. Bernice Simon, 84, and her husband, Sylvan, 86, were married at the Tree of Life synagogue in December 1956, and died together there on Saturday along with brothers Cecil and David Rosenthal.
This tragedy has sparked worldwide outrage with local officials and clergy speaking out about the horrific loss.
The Baltimore Hebrew Congregation held a special service on Sunday morning to mourn with the families who lost their loved ones in the shooting. Rabbi Elissa Sachs-Kohen addressed the congregation detailing how devastated she is at the loss of life in the Jewish community.
"My heart is so heavy this morning," she said to the congregation. "And my heart is heavy with fear. Not fear that I, or someone I love will be the next target, though that is real. My heart is heavy with fear that we will send our thoughts and prayers; that we will go on Facebook and Instagram and with a tear on the face of a yellow emoji express our sadness and that we will think that is enough. That is not enough."
Senator Ben Cardin, who attended the service on Sunday, took to social media to express his outrage about the act of hate.
"Heartbroken and horrified by the mass shooting at the Tree of Life synagogue," he said in a tweet. "Just appalling. I'm thinking of and praying for the entire Squirrel Hill community today. And I'm grateful as ever for our first responders. We cannot—we WILL NOT—accept this as normal. I refuse."
Governor Larry Hogan also expressed his grief on Twitter, even reaching out to the Governor of Pennsylvania to offer assistance "to help our neighbors."
"We are deeply shocked and saddened by the horrific shooting at Tree of Life Synagogue in Pittsburgh," he wrote. "Our prayers are with the victims and those were were injured."
Senator Chris Van Hollen took to Twitter to plead for a stop to gun violence.
"Horror strikes again," he wrote. "My heart goes out to Pittsburgh. We must end the hate. We must stop the gun violence. We have it in our power to save lives. Hate, silence, and failure to act have deadly consequences."