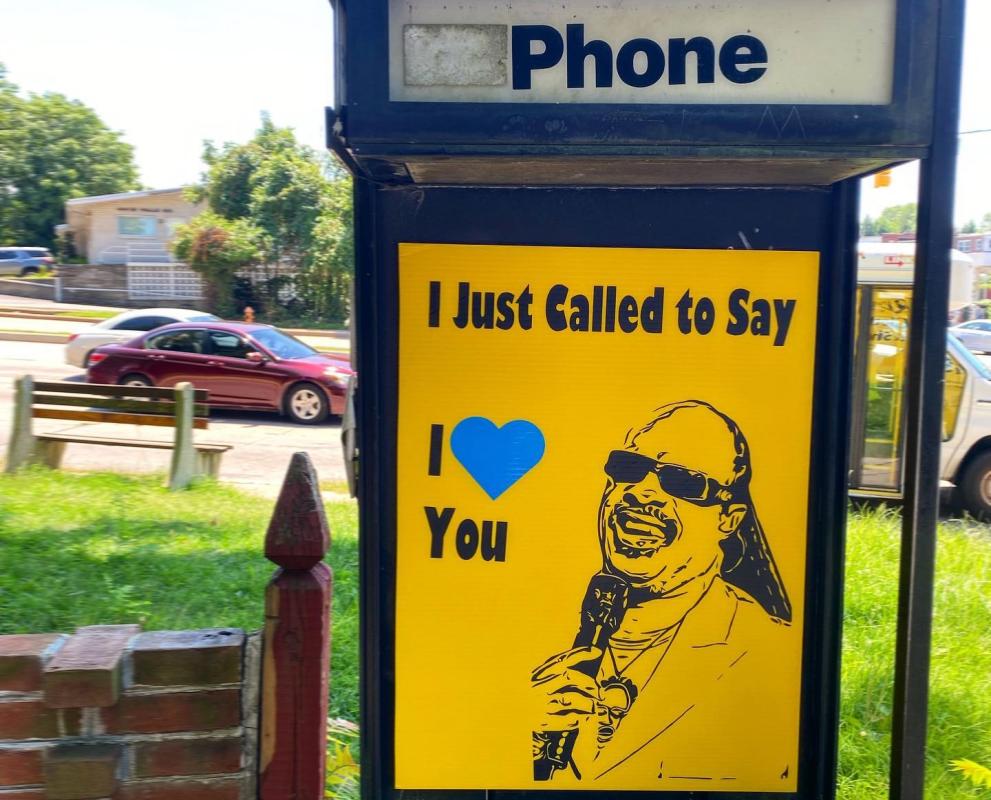 —The Broken Plate Co. via Facebook
We've been following the work of artist Juliet Ames—founder of local jewelry business The Broken Plate—for years. But many Baltimoreans were introduced to Ames more recently, when she embarked on a quest to breathe new life into Charm City's forgotten salt boxes. Thanks to the Govans artist, the yellow grit bins that assist with snow removal have become adored attractions decorated with vinyl, paint, and plywood.
Ames' growing fanbase can't get enough of her renovated pieces of public art, which feature witty designs like zebras that ran wild from their local farm, out-there lawyer Barry Glazer, Baltimore's own Billie Holiday, and depictions of John Waters' Dreamlanders Divine and Edith Massey (The Egg Lady). This past spring, The New Yorker even ran a piece on Ames and asked Waters to weigh in. The native Baltimorean, whose 1966 film Roman Candles showed his sister using sand toys in a salt box, was impressed with Ames' idea to take standard city property and turn it into "Banksy-bait." 
But it seems that the boxes were just the beginning for Ames. Recently, her trademark golden-yellow art has started to appear on the insides of abandoned pay phones around the city, too. We caught up with Ames to learn more about the inspiration behind her latest canvases, which are already making a splash. ("I love this new Baltimore 'movement,'" wrote WJZ's Denise Koch on Twitter.)
You started with salt boxes, and that did so well that your artwork caught the eye of The New Yorker and John Waters. What was that like?
It's been a roller coaster. I couldn't plan it if I tried. As a person who was born and raised in Baltimore, to have John Waters do an interview about you? That's like the pinnacle of cool. I sent a thank you letter and he sent a postcard back. It's my most treasured thing now. 
So what led to the transition to pay phones?
I can't sit still. I need something to keep myself busy, and I couldn't get into a pottery class, so I'm filling my time up with phone booths this summer. I've always noticed empty booths and how they look like picture frames. At first, I thought about making a diorama or a scene inside of them. But that's just too much work, so I thought I'd continue with the style of art that I've been using on the salt boxes. I already had those materials, so I'm just kind of going with it.
So far, this new project has included images of Stevie Wonder (with the adorable "I Just Called to Say I Love You" caption), a shoutout to Beyoncé, and Ron Burgundy of Anchorman. What's your process when it comes to choosing the designs?
I'm a fangirl, so it's pretty self indulgent for me to include Beyoncé, but it also felt "of the time." I'm trying to stick with phone themes. There's a lot of iconic scenes in movies and TV—you know, album covers, things like that—with pay phones. And I thought about how we're not going to have those anymore because we don't use pay phones. I wanted to capture that. 
Any hints on new pieces to come?
I have Marty Bass coming to the studio on Tuesday. We'll be making some together. And I'm going to be doing a Superman box, obviously, because he's one of the most iconic phone booth users. I've got Lionel Richie's "Hello" coming. And I'm going to remake some of the artwork that got stolen to look nicer. The art isn't nailed down, so some of these are getting stolen like the salt boxes were, which is kind of a bummer. But I was a photographer in my first art life, and both the salt boxes and pay phones are like photo projects for me. I mean, I don't make this art to hang in someone's basement. But at least it's getting out there and I'll still have all the photos.
No matter where it finds a home, your art makes people happy. How does that feel?
In 2020, right before the world shut down, I read The Book of Delights by Ross Gay. It's a great book of essays. Every single day, he took note of something delightful that gave him some joy—like the littlest things. That's kind of how the salt boxes got started. The first salt box was on The Avenue in Hampden when the restaurants were shutting down and everyone was sad. I thought putting a little piece of delight out there would just make people happy. And then I got addicted to providing little bits of delight. The phone booths are kind of an extension of that. I've got friends that drive Lyft and, you know, they're just driving around Baltimore all day. Knowing that they're going to see a phone both out there and that they'll have two seconds of smiling makes me happy. 
Alright, we have to ask: are pay phones the new salt boxes?
No. This is kind of a short run to keep myself busy—just a little summer side project. The salt boxes should be back in November. It's a mad dash for real estate.