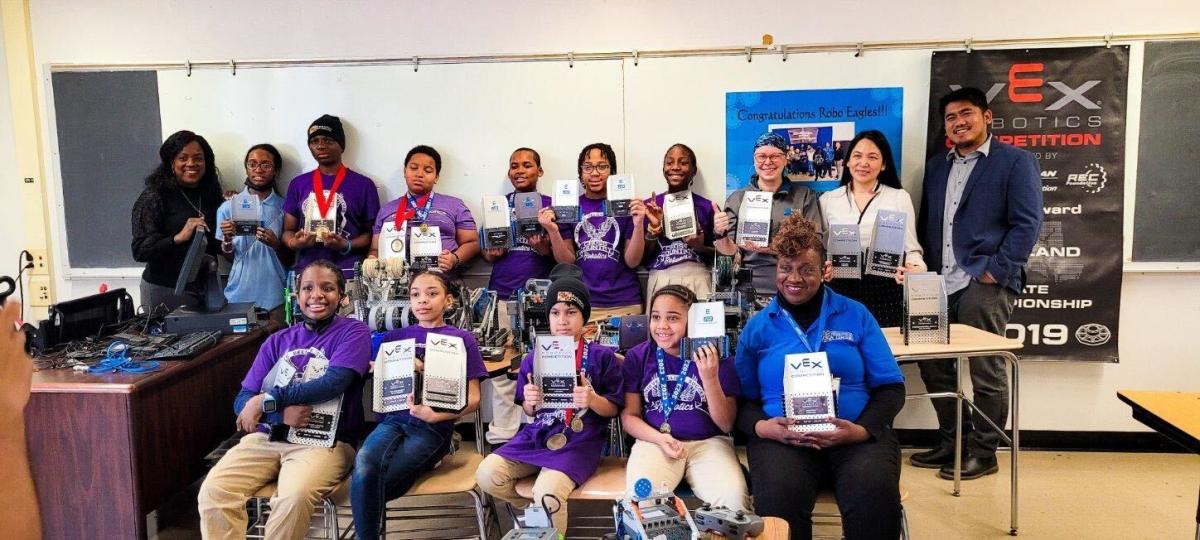 —Courtesy of Sabrina Boyd
Throughout this school year, the RoboEagles—a robotics club for students grades three to eight at Cross Country Elementary/Middle School in Northwest Baltimore—have worked hard to learn coding, practice teamwork, and, ultimately, create functioning robots.
Now, after successfully competing on both district and state levels, the robot-building youngsters are soaring into national and worldwide competitions.
This week, the RoboEagles Vex Robotics Competition (VRC) team—which placed sixth in the Maryland Vex IQ Middle School State Championship Competition in Woodlawn last month—is in Council Bluffs, Iowa to compete in the National VEX VRC Championship. There, seven students will put their metal robots to the test alongside nearly 100 other middle school clubs. Their bots will play a game called "Spin Up," which tasks them with conducting exercises and scoring goals using small round discs. 
Before heading to Iowa last week, Cross Country's robotics coach Cherry Lyn Amata said that she was ecstatic for her students, sharing that they've participated in 12 competitions in the six short months since the school's club first formed. Each student on the team gains experience in all roles, whether they're researching, writing code, designing, building, programming, or driving the robots. 
"My kids are very proud, and I'm very proud of them and their accomplishments this year," Amata says. "While learning how to program, research, brainstorm, and build robots, they're also learning to be patient and responsible, and persevere. It's not just academics."
Eleven-year-old RoboEagle Layla Bolden, an aspiring robotics engineer, had mixed emotions while gearing up for the trip: "[It's] nerve racking," she said. "But I'm excited because it took us a long way to get here. And it's my first time on a plane. Usually, most of our competitions are in the city." 
While donations from parents made it possible to send the team to nationals, next month, they need help funding a trip to Dallas, Texas—where nine RoboEagles will compete against more than 800 teams from across the globe in the VEX Robotics World Championship. For this event, the team's plastic robots will play a game of "Slapshot," in which they collaborate to score points using the discs. 
To help cover expenses for the Texas trip—from plane tickets to hotel rooms to travel gear to keep their robots safe in transit—RoboEagle Ethan Smith's mother, Sabrina Boyd, created a GoFundMe page. Nearly $5,500 has been raised so far, and Boyd says the team hopes to raise $15,000 before April 29.
"We're going to be raising funds until the day we leave so that the kids can have the best experience possible," she says. "It's such a huge deal for them to be able to meet different people, [be exposed to] different cultures, and compete against some of the best of the best. This is an experience that they need to have so they can understand how expansive the robotics world is."
Students credit their success thus far to support from other teammates, family members, and school staff. Both during competitions and at school, the kids are focused on brainstorming ideas to improve their creations. 
"We practice a lot," Bolden says. "Sometimes we'll ask to be excused from class to practice. And when we're at competitions, we look at the other robots and find stuff that we can do to modify our own and make them better."
Following the competitions, the kids will be focusing on giving back. Amata says she hopes the RoboEagles can share their STEM skills with children at local youth centers: "We're going to help them build their own robots using the parts we have here at Cross Country, and then show them the robots that our students built." 
In the meantime, 12-year-old Smith is excited to show other teams what Cross Country is made of at the national and international events: "I'm excited because I've never been to Texas—and also because I don't have to go to school."