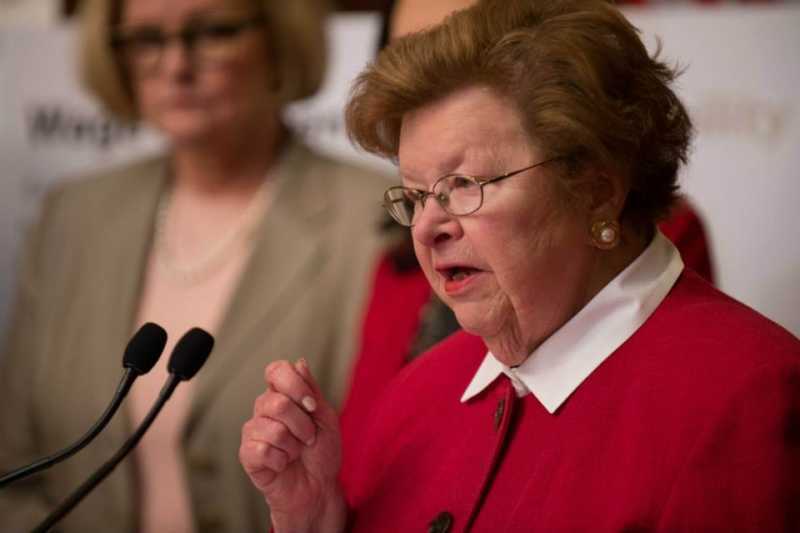 Courtesy of Barbara Mikulski
Former U.S. Senator Barbara Mikulski watched the Supreme Court nomination hearings Thursday of candidate Brett Kavanaugh and said she found the testimony of the Stanford University professor who has accused him of sexual assault to be sincere.
Mikulski was one of just two women in the U.S. Senate when she witnessed the testimony and treatment of law professor Anita Hill, who told the all-male Senate Judiciary Committee that then-Supreme Court nominee Clarence Thomas had repeatedly sexually harassed her when he was head of the Equal Employment Opportunity Commission.
"I, of course, found Professor [Christine Blasey] Ford very credible," Mikulski said Saturday following an event at the Baltimore Convention Center to promote the city's efforts to ensure an accurate count in the 2020 U.S. Census. "Not only in her personal presentation, but that on her own she had spoken about this with a therapist and a friend previously."
It is worth noting, added Mikulski, who began her career as a Baltimore social worker, "that she [Ford] remained so distressed years later that she wanted to have a different front door on her own house."
When Mikulski moved up from the House of Representatives to the U.S. Senate in 1986, she became the first Democratic woman ever elected to the upper chamber of Congress. Five years later, she saw first hand the machinations behind the appointment of Thomas, who was tapped by then-President George H.W. Bush to fill the seat of retiring Justice Thurgood Marshall appointment, and Hill's testimony.
After Ford and Kavanaugh's own testimony last Thursday, the Senate Judiciary committee, divided along partisan lines, initially voted to move his confirmation forward without further FBI investigation into Ford and two other women's allegations of sexual assault. Later, at the behest of Arizona Senate Republican Jeff Flake, President Donald Trump and Senate Republicans agreed to an additional background check of Kavanaugh—a limited investigation, however, that is now drawing scrutiny as inadequate.
"First of all, I'm glad the Senate is finally returning to regular order and re-opening the background check on Judge Kavanaugh," said Mikulski, who earlier jokingly described herself as a "C-Span junkie" in retirement. "They need to actually look at the facts of the case involving Professor Ford and there are the other allegations as well."
Later Saturday, NBC News reported the FBI, as part of its background check, will investigate the allegations of Ford and Deborah Ramirez, who alleges inappropriate sexual behavior by Kavanaugh when both were in college at Yale. But the agency, at the direction of the White House, will not investigate the allegations of a third accuser, Julie Swetnick, who alleges she witnessed Kavanaugh "engage in abusive and physically aggressive behavior" toward women while in high school at Georgetown Prep in North Bethesda and that he was present at party where she was drugged and gang-raped.
Also at the direction of the White House, it has been reported, broader area of investigations are off limits—including Kavanaugh's drinking in high school and college, interviewing certain witnesses, as well as questions of whether he lied to the Senate during his testimony.
"Judge Kavanaugh, who is a D.C. appellate judge, deserves to have all the facts presented, too," Mikulski said. "He wants to clear his name, and a further background investigation can add to his cause."
In 1991, Republican senators on the Judiciary Committee, including Orrin Hatch of Utah and Charles Grassley of Iowa, both of whom remain on the committee, were excoriated for their harsh and often insensitive cross-examination of Hill. Democratic senators, including top-ranking member Joe Biden, were scrutinized for failing to recognize the significance of Hill's claims.
Other women, who made similar allegations to Hill's sexual harassment charges against Thomas, were not called to testify.
"To anybody out there who wants to be a whistle-blower, the message is: Don't blow that whistle because you'll be left out there by yourself," Mikulski said in 1991, regarding the lack of support among her male Senate colleagues for Hill. "To any victim of sexual harassment or sexual abuse or sexual violence, either in the street or even her own home, the message is nobody's going to take you seriously, not even the United States Senate."
Today, there are 23 women in the Senate. Seventeen are Democrats and six are Republicans. Four Democratic women serve on the Judiciary Committee.
Maryland Democratic Senator Ben Cardin, who also attended the U.S. Census event Saturday, suggested Friday in a tweet that the Judiciary Committee call more witnesses to testify under oath, including "the retired federal agent who administered Ford's polygraph."
Cardin told MSNBC in a weekend interview that Kavanaugh had "crossed the line" and "demeaned the process" during his often emotional, and at times angry and belligerent, testimony last week.
Sen. Chris Van Hollen, who filled Mikulski's seat after her retirement two years ago, said in a Facebook post midday Saturday that he supported "the effort to postpone any further votes in the Senate until the FBI reports on these credible and deeply troubling allegations. The truth is nonpartisan."
Van Hollen also said that, with his combative testimony Thursday, Kavanaugh revealed he is not an appropriate appointment to the country's highest court.
Judge Kavanaugh's meltdown was the angriest and most partisan performance a Supreme Court nominee has ever delivered. How can the public ever have confidence that he would judge impartially on controversial issues that come before the court?

— Chris Van Hollen (@ChrisVanHollen) September 28, 2018
"Talk to your friends and your family—and then have them talk to five more people that they know," Van Hollen continued. "Please tell your friends in other states to keep calling their undecided Republican Senators and tell them what's at stake."
After Thursday's testimony from Ford and Kavanaugh, Maryland Governor Larry Hogan, along with three other Republican governors, said he deemed the allegations against the judge "credible."
"It's very disturbing. It gives me great pause. There are credible charges and big concerns. They need to be heard," Hogan told The Baltimore Sun. "They ought to take whatever time it takes to make sure these accusers are heard and he has a chance to respond to them."
Previously, Hogan had declined to comment on the Kavanaugh nomination, except to say he would not call for an investigation by the Maryland state police.
On Friday, after receiving a request from the Montgomery County state house delegation to investigate sexual assault charges against Kavanaugh, Montgomery County Chief of Police and Montgomery County State's Attorney John McCarthy said they would only do so, per procedure, at the behest of a victim.