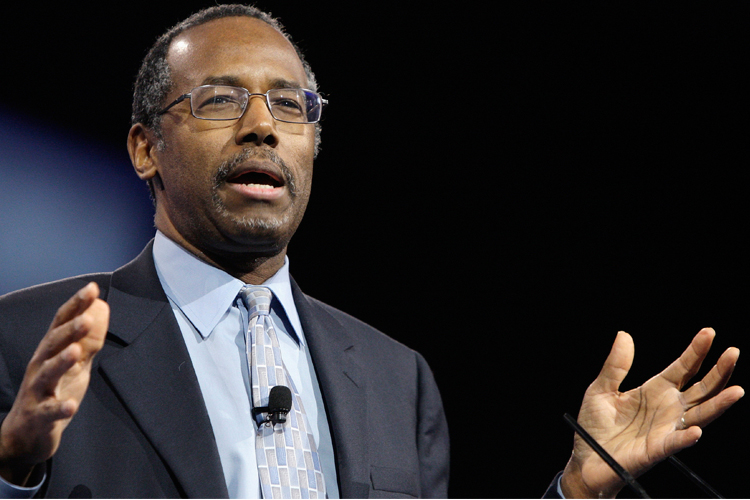 Courtesy of The Christian Post
Ben Carson, the famed Johns Hopkins doctor who became the first surgeon to successfully separate Siamese twins at the head, formally announced his bid as a Republican presidential candidate Monday. Before today, Florida Sen. Marco Rubio, Kentucky Sen. Rand Paul, and Texas Sen. Ted Cruz were the only formally announced candidates in the Republican field.
Carson's entry into the presidential sweepstakes by no means came as a surprise: Last month, the 63-year-old retired neurosurgeon said he would be making a major statement May 4 in his hometown of Detroit about his decision to enter the 2016 Republican field.
Carson, who has never held elected office, first rose to national attention in 1987 following the groundbreaking surgery on the conjoined twins. At the time, he was already the youngest chief of pediatric neurosurgery ever at Hopkins and his personal story, overcoming a childhood of urban poverty, was later turned into a best-selling autobiography, Gifted Hands, and movie.
Others, including former Arkansas Gov. Mike Huckabee, former Florida Gov. Jeb Bush, and South Carolina Sen. Lindsey Graham are expected to join the suddenly burgeoning—former Hewlett-Packard CEO Carly Fiorina also announced a bid today—group of Republican contenders.
Coincidentally, Fiorina also has local ties: She earned a master's degree from the University of Maryland Robert H. Smith School of Business.
Carson's quick rise to prominence in conservative political circles began after a 2013 National Prayer Breakfast speech—a setting that's usually nonpolitical—when he sharply criticized President Obama's heath care law and tax polices.
But Carson has also shot himself in the foot several times in public remarks, comparing Obamacare to slavery and comparing homosexuality to pedophilia and bestiality, for example. In 2013, he canceled his scheduled commencement address at Hopkins after his remarks about same-sex marriage sparked an outcry on campus.
He remains, however, popular in conservative and Tea Party circles, often polling ahead of elected officials in the field where he's seen as both an inspirational leader and advocate for conservative Christian values. He opened up his home and talked to Baltimore magazine about his life story in 2009.
Of course, we still expect another Marylander, former Baltimore mayor and former Gov. Martin O'Malley, to throw his hat into the ring on the Democratic side. The field there remains, well, almost nonexistent at this point, other than former Secretary of State Hillary Clinton.
Given the past two weeks in Baltimore, bringing Carson and O'Malley together for a discussion addressing inner-city problems might not actually be a bad way to start the presidential debate season.