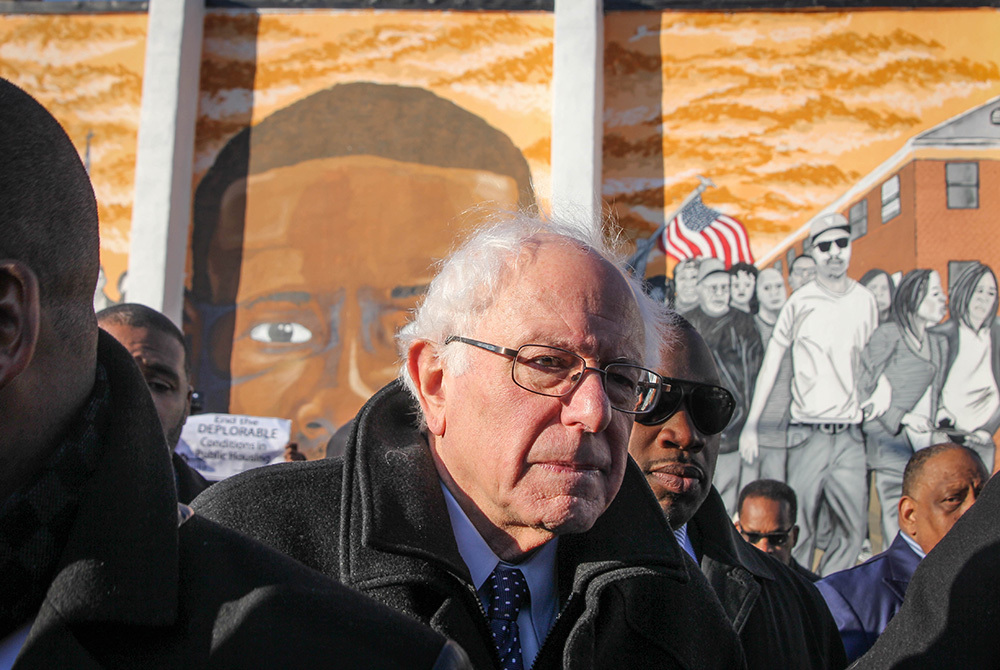 Photography by Meredith Herzing
"I'm with you Bernie! We don't want Trump!" came several shouts, along with others calling for more jobs and better housing, as Bernie Sanders, the Vermont presidential candidate, joined Rev. Jamal Bryant and other African-American pastors for a Tuesday morning walking tour of Sandtown, the West Baltimore neighborhood where Freddie Gray was arrested last April.
At the outset of the 20-minute walk through one of the city's most challenging communities, Bryant, pastor of the Empowerment Temple Church, pointed to the bail bonds offices and liquor stores, noting the lack of resources and investment in the area. "This is the kind of businesses we have here," Bryant told Sanders.
Followed by a throng of media and growing number of local residents, Sanders eventually made his way past at least a dozen boarded up homes to the prominent Freddie Gray mural near Gilmor Elementary School and the Gilmor Homes public housing complex.
"This is where you need to be," a young mother said to Sanders. "We need day care, we need after-school programs. We need stuff for them [students] to do so there won't be another riot."
After touring Sandtown, Sanders returned to the Freddie Gray Empowerment Center at Eutaw Place for an "Ecumenical Roundtable Discussion" with Baltimore faith and social justice leaders to discuss issues of poverty, education, housing, mass incarceration, disparate sentencing, and economic development, including greater investments in urban infrastructure.
"I think it was very worthwhile," said Rev. Donté L. Hickman Sr. afterward. "I think it's important not only to see, but to gain a feeling for what's happening in our urban neighborhoods. I think our pastors came in with thoughtful questions as well for him, and Senator Sanders listened closely to our concerns and what we said we need in our communities.
"For being from Vermont, my first impression was that he is someone who wants to work toward progress," Hickman added, "and that he is sensitive and empathetic to the issues that persist and affect people in urban communities."
At one point during his walk, someone asked Sanders directly, "Why are you in Baltimore?"
"Because we have to end the national tragedy of people going to jail, rather than being in school or going to work," responded Sanders, who maintained a serious, if quiet, demeanor throughout the morning. Time magazine announced Monday that Sanders, who is trailing well behind former Secretary of State Hilary Clinton in Democratic primary polls, won the magazine's readers' poll for "Person of the Year."
Sandtown resident Larry Brown praised Sanders for taking the initiative to visit his neighborhood. "You don't see many people like that get out of the cars and take the time to walk around," said Brown, who said he knew Gray well. "Most people are too scared. But we need resources."
"I told him to keep it real," said Leona Berry-Bova, who hugged Sanders after the senator stood in front of the Gray mural, created by the Baltimore street artist known as Nether. "I told him, 'You can't let anyone take your faith away.'"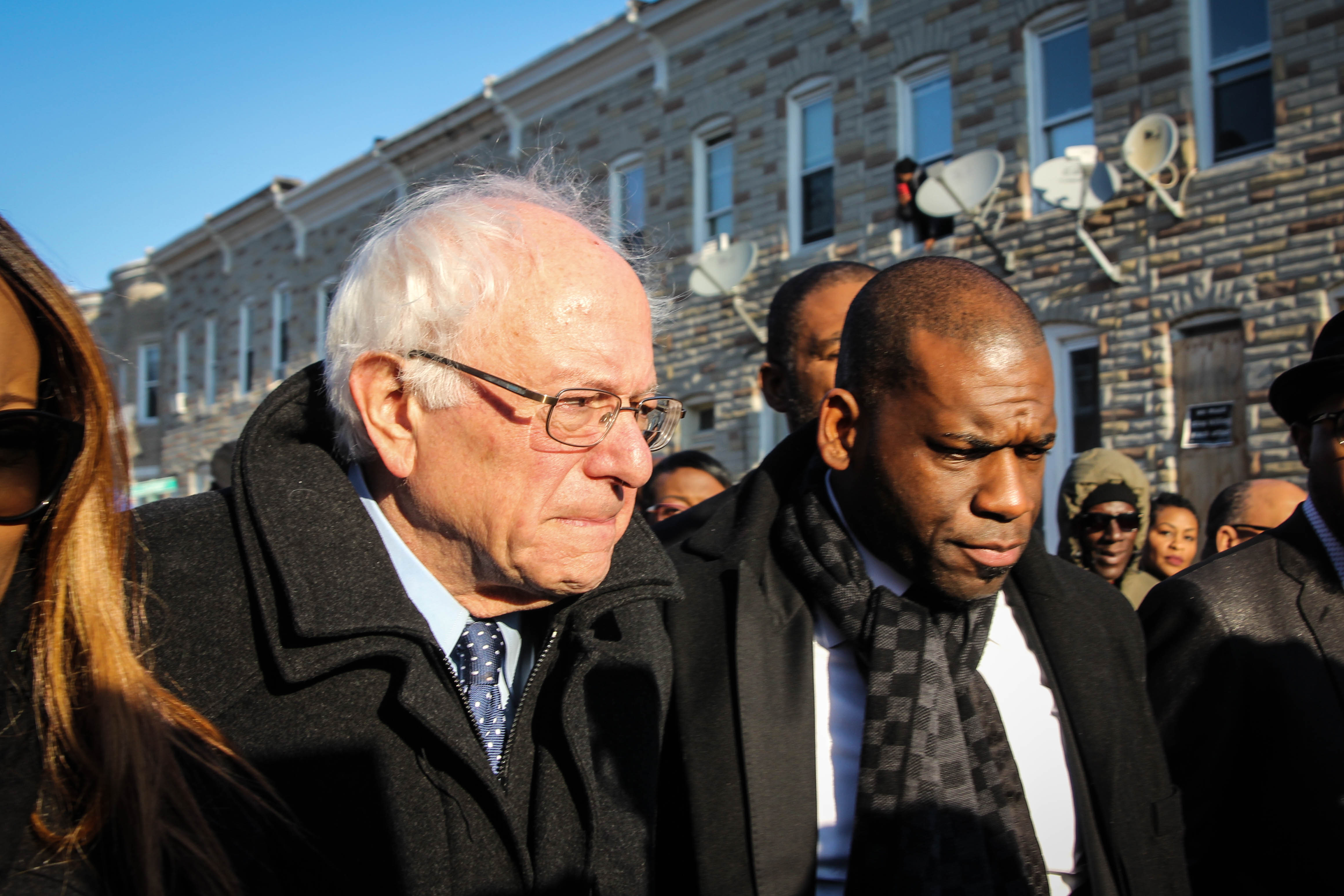 "We have 2.2 million people in jail," said Sanders, adding that the United States incarcerates more of its citizens than any other country. "We're spending $80 billion a year locking up fellow Americans. Even some of my conservative friends realize that this doesn't work." After the walking tour and meeting with local pastors, Sanders met with the media briefly for a press conference. Sanders did not talk about Freddie Gray specifically, or the ongoing trial of William Porter, the first Baltimore officer of the six to be tried. However, he did highlight criminal justice reform issues overall, which he called the social justice issue of the 21st century.
To reduce recidivism and the allure of crime, Sanders called for more educational resources, more job training, and improved housing. Sanders also said the police departments need "to look like the communities they serve."
He also spoke of "the high cost of being poor," referring to the increased interest rates paid in working class communities, and more expensive, yet less nutritional food options, which drew some applause from the pastors. Sanders added that anyone who "took the walk that we took around this neighborhood" would not believe that they were in the wealthiest country in the world. "You would think that you were in a Third World country."
Sanders also reiterated his main campaign theme that over the past 30 years "there has been a massive transference of wealth from working families to the top 1 percent." He noted he has introduced legislation to raise the federal minimum wage to $15 an hour and supports free tuition at public colleges and universities.
Toward the end, one member of the media raised a hand, inquiring why a Sanders' staffer had earlier suggested that journalists keep the focus on the issues facing West Baltimore, rather than questions about ISIS, for example.
"I'll talk about ISIS, but today what we're talking about is a community in which half the people don't have jobs," said Sanders, his voice rising, again to applause from some of the pastors standing behind him. "We're talking about a community in which hundreds of buildings are uninhabitable. Obviously, the issues around ISIS are hugely important. So is poverty and education."