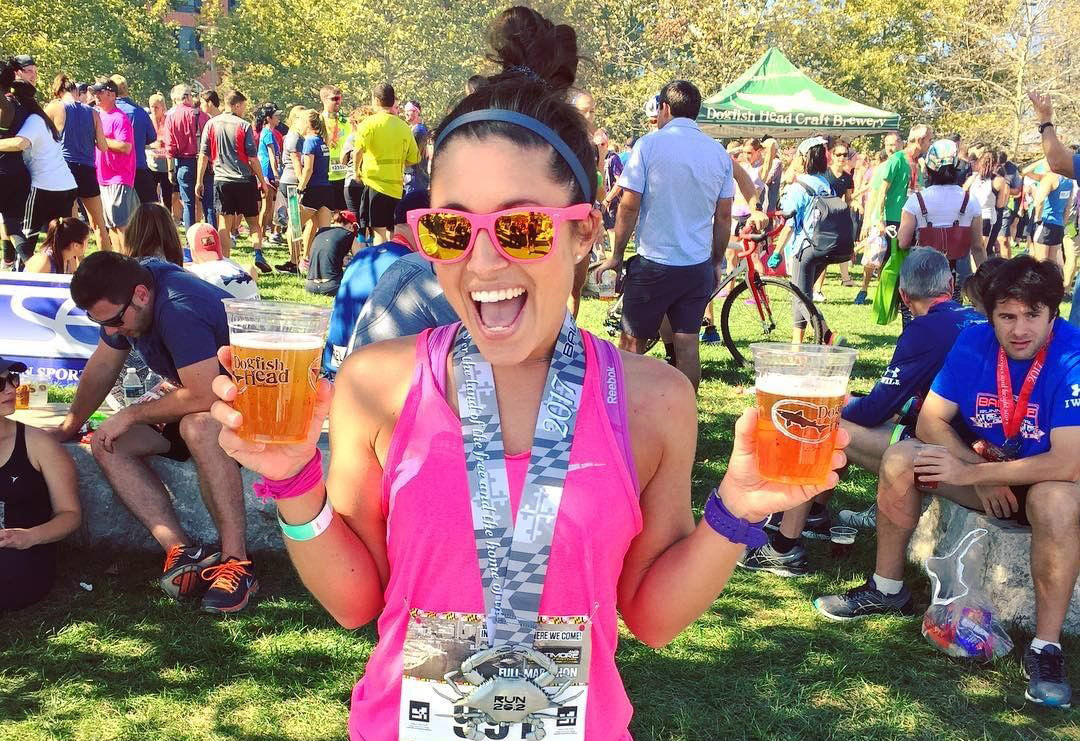 Baltimore Running Festival
Every fall, more than 20,000 runners from all over the East Coast train to compete in the annual Baltimore Running Festival. The marathon mania kicks off this Saturday, October 20, at 7:30 a.m. and includes a 5K race, a half-marathon, a relay race, and a full marathon. But even if you aren't planning on slipping on your sneakers and running the 26.2 miles, there are tons of ways you can celebrate with your fit friends.
From the best places to watch the race and the rowdiest post-race parties, to pre-race events and recovery get-togethers, here's how to participate in the Baltimore Running Festival without breaking a sweat.
Pre-Race Receptions
.05K Presented by 98 Rock: Whether you're a world-class walker or an Olympic-level sprinter, everyone can participate in this .05k race on Thursday, October 18. The festivities at Game Sports Bar start at 6 p.m., and the 162-foot race begins at 8 p.m. All proceeds from the $15 entry fee will go to benefit the One Love Foundation and include a race bib and a commemorative t-shirt. 1400 Warner St., 410-385-0100
Under Armour Baltimore Run Fest: Check out this pre-race extravaganza on October 19 from 5-8 p.m. The activities include a shakeout run starting at 6 p.m., a meet and greet with Under Armour professional trail athletes, and words of wisdom from run coach Sandra Gallagher. They'll also be food, drink, and fitness samples from local vendors. 2601 Port Covington
Lululemon Shake Out Run: Get ready for race day on October 18 with a fun run led by athletic ambassadors Nick Rodricks and Esther Collinetti starting at 6 p.m. Afterwards, the complimentary local brews, tasty bites, and good vibes will get you fueled up and ready to race (or cheer). 820 Aliceanna St., 410-528-5485
Spirited Spectator Spots
Baltimore Running Festival Cheer Station: Hosted by Checkerspot Brewing Company and November Project, this cheer station will surely bring the noise. The event starts at 9 a.m., and there will be trampolines, water balloons, pumpkins, and live music performances from Brad Kolodner and Stephen Pawlak. 900 E 33rd St.
Lululemon Cheer Station: Want to support your running friends and family with a fitness-loving crowd? Head out to Lululemon's cheer station right in the middle of the marathon course. They'll supply the cheesy signs, coffee, and the D.J. so that you can focus on the chants and cheers. President Street roundabout in Harbor East
Watch & Cheer Party at Lee's Pint & Shell: Head to Lee's Pint & Shell for a spirited crowd, ready to scream and shout. If you bring a sign and buy a food item, Lee's will offer 26-cent Smirnoff Bloody Marys, sangria, and mimosas. They'll also be handing out free Miller Lite drafts to all of the runners after the race. 2844 Hudson St., 410-327-2883
Post Race Parties
Run Fest Race Day Party: Head over to Sandlot to celebrate race day on October 20 from 8 a.m.-10 p.m. Central Maryland School of Massage will be offering free massages to runners, BeachFit Baltimore will host a complimentary yoga class, and the first 200 runners to arrive get a free Dogfish Head Seaquench Ale to get the party started. They'll be tons of other drinks deals, and the live music starts at 3 p.m. 1000 Wills St., 410-568-4916
BGE Home Celebration Village: This race day party stretches along the Inner Harbor Promenade and includes McKeldin Square, West Shore Park, and Rash Field. They'll be live music performances, interactive games, and lots of food and drink vendors, as well as a kids fun zone with face painters, clowns, and inflatable games. This is definitely the most popular spot to watch the racers cross the finish line. E Pratt St.
Baltimore Run Fest After Party: Drink and dance the pain away at Southern Provisions' post-race celebration. The marathon madness runs from 6-10 p.m. and will include a live DJ, $4 select drafts, $2.50 Miller Light bottles, $5 house wine, and $6 slider duos. Proceeds from the $5 wristbands go to the Cystic Fibrosis Foundation. 3000 O'Donnell St., 410-675-4029
Recovery Rendezvous
Yoga with Charm City Run: Whether you just completed your first 5K or are wrapping up your 10th marathon, all are welcome to join Charm City Run for post-race yoga at Fells Point. The class is from 10-11 a.m. on October 21 and will be all about recovering and stretching sore muscles. 1500 Thames St.
Recovery Day at Lululemon: After crushing running goals in the Baltimore Running Festival, your body may need some love. At Lululemon in Harbor East, there will be an all-levels yoga for runners class at 10 a.m., and, from 11-1p.m., Charm City Integrative Health will be providing local cryotherapy. 820 Aliceanna St., 410-528-5485
Rev Cycle Marathon Recovery Yoga: Relax, recover, and rejuvenate at Rev Cycle on October 21 from 12-1 p.m. All are invited to this 60-minute practice focused on stretching and repairing sore muscles. 1718 Whetstone Way, 410-727-4738
Post-Race Recovery Sessions with Mobile Performance: Head to Charm City Run in Annapolis on October 21 for some well-deserved pampering. Mobile Performance Therapy will offer complimentary massages and stretch therapy, a practice that helps to increase circulation and loosen up connective tissue. 1910 Towne Centre Blvd.