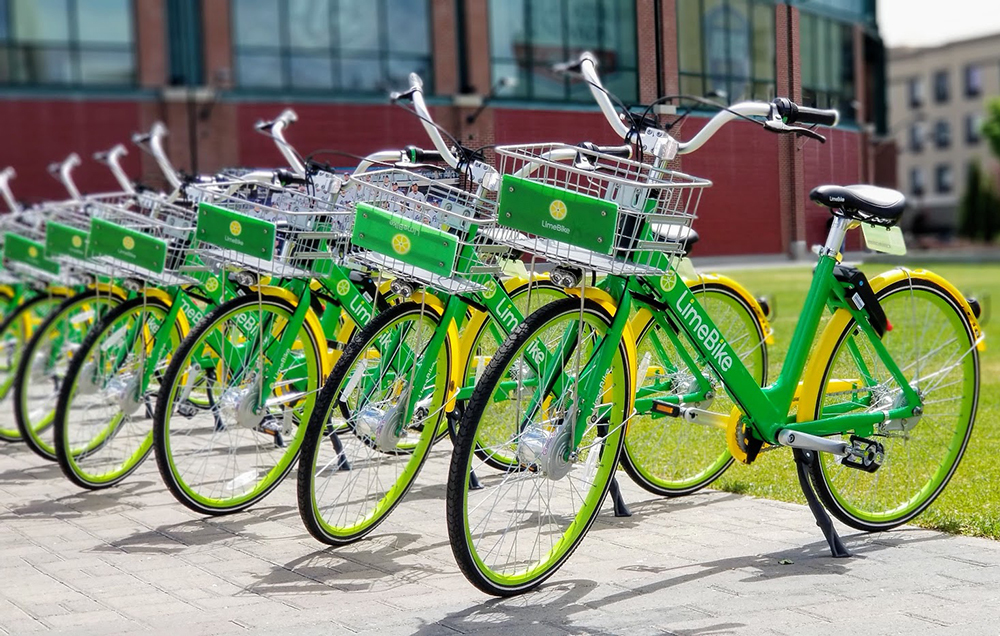 Lime
Less than two years after its much-anticipated start, Mayor Catherine Pugh and the Department of Transportation announced Wednesday that the city's theft and vandalism-plagued bike share program will permanently cease operations today. In its place, the Mayor and DOT Director Michelle Pourciau announced the City of Baltimore has entered into an agreement to launch a new, dockless bicycle-share program in partnership with Lime, a bike and electric-scooter start-up company, and Bird, an electric scooter start-up, which began operating in Baltimore this summer.
At center of the switch is a focus on offering rental bikes and scooters in a broader swath of the city neighborhoods. The existing Baltimore Bike Share program stations were largely concentrated downtown.
"Responding to the needs of those in our city who desire efficient, accessible and low-cost modes of transportation is the basis of these new partnerships," Pugh said in a statement. "We're confident that these new dockless options will actually expand transportation access for residents and visitors across our city. In the meantime, we'll continue to assess the demand for these and other innovative options as a 21st-century city determined to serve the varied transportation needs of all who live, work, study and visit here."
Bikemore, Baltimore's nonprofit bicycling and advocacy organization, said it supports the city's plan to introduce the privately operated, dockless bike share and scooter systems. It also praised the city's mandate that the placement of the new dockless bicycles include neighborhoods where 40 percent or more households earn less than $25,000.
"The existing Baltimore Bike Share system has significant shortcomings, most of all its in ability to expand to serve neighborhoods in Baltimore that need transportation the most," Bikemore said in a press release. "Baltimore's pilot program is designed to place more bikes and scooters in more neighborhoods than ever before."
Baltimore Del. Robbyn Lewis (District 46), a member of state's Environment and Transportation Committee, also praised city officials for "hitting the reset button" on bike share. "Glad to see [City DOT] shifting away from docked bike share to [a] dockless bike program," Lewis wrote on Twitter. "Most importantly, placement will be equitable, so that communities most in need of transportation options are prioritized. Really well done."
In ending their $2.36 million contract with Bewegen Technologies, City Hall said both the Department of Transportation and the Canadian-based bike share company "fully" acknowledge "the unique situation and challenges Baltimore Bike Share has encountered since its launch in 2016."
Less than a year after its launch, the city was forced to temporarily shutdown the bike-share program because of theft, vandalism, and repair issues, which were contracted out to local Corps Logistics in Westport. Before re-opening last fall, Bewegen paid for additional locking security, but the system continued to struggle to keep its stations stocked with functioning bikes. The DOT said after the re-start that along with the return of the existing bike share bikes and stations, the Phase II portion of the planned bike share expansion—to 500 bikes and 50 station—would be implemented as well, but those efforts never fully materialized.
At the time, Bewegen President Alain Ayotte, the former CEO of the vendor of the Capital Bikeshare system in Washington, D.C., said the company had not faced a similar level of vandalism and theft in other cities.
"We are confident that this new partnership with Lime and Bird will enhance transportation options to a great many more citizens across our city," said Pourciau. "The Department of Transportation will be evaluating the effectiveness of dockless technology in order to provide the citizens of Baltimore with a dockless program that enables bike and scooter share systems to operate without physical stations. Our ultimate goal is to give the citizens of Baltimore the ability to access a robust dockless program that works for everyone."
Bird launched in Baltimore in June with more than 60 electronic scooters placed throughout the Inner Harbor, Harbor East, and Fells Point. They can be rented for $1 to start, plus an additional 15-cent per minute using the company's mobile app. Riders can leave them anywhere when they are finished and a Bird representative will collect the scooter.
"It's clear there's an urgent need for additional transit options in Baltimore, and Birds are a great solution for short 'last mile' trips," company spokesperson Rebecca Hahn told Baltimore. "As summer heats up, Bird offers a convenient alternative to sitting in traffic or sweating through a walk or bike ride."
Lime operates in similar fashion, but offers both bicycles and electric scooters, and has already been rolled out in dozens of U.S. cities in the past year, posting over 6 million rides overall to date. According to the National Association of City Transportation Officials, in the last year, the total bike share bikes doubled in the U.S. last yea to 100,000, with 44 percent of bike share bicycles now dockless bikes, which are unlocked for rides with a smart phone app.
Bewegen is expected to remove the existing bike share inventory by end of this month. Current Baltimore Bike Share members should contact the Department of Transportation at 410-396-6802 by September 30, 2018 for refund information.
Baltimore digital content producer Michelle Harris contributed to this story.