Brick + Board Salvages the Prized Clay Bricks and Yellow Pine of Baltimore's Abandoned Rowhouses
Mission also focuses on workforce development, hiring individuals who have barriers to employment, and providing training at its Howard and 25th Street lumberyard.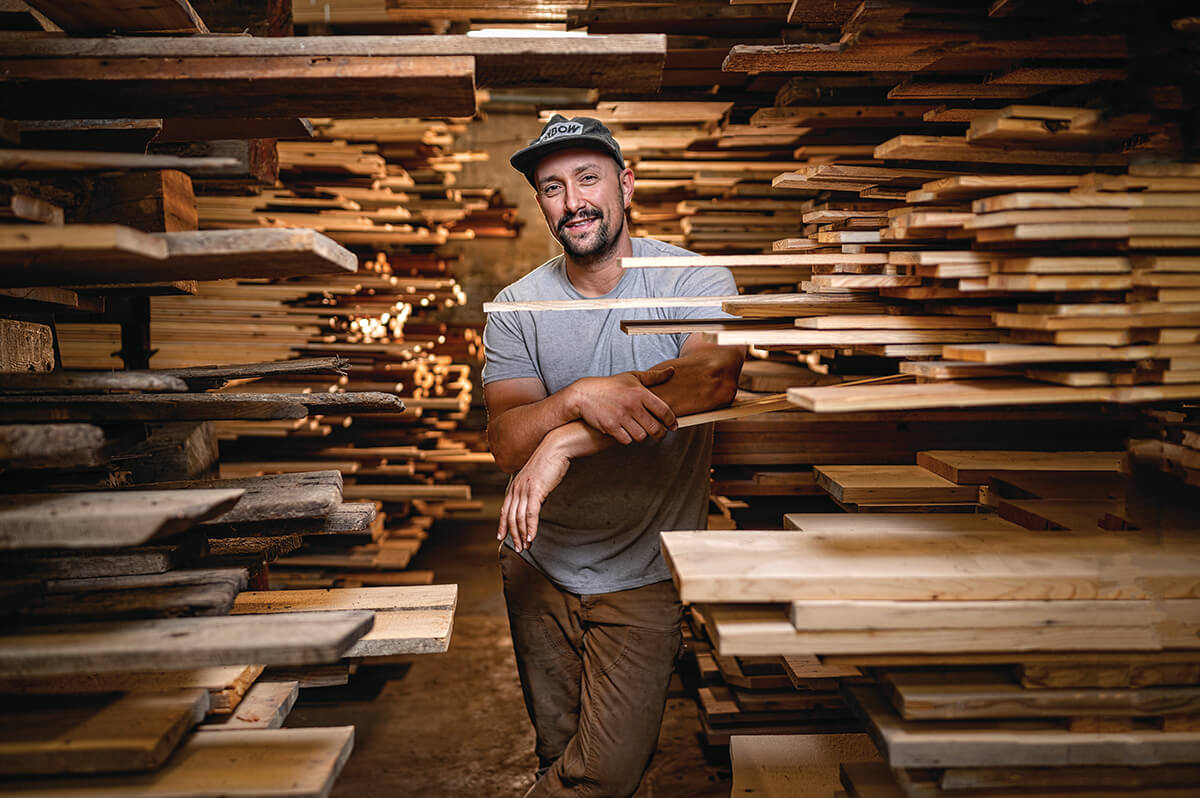 Max Pollock lasted six weeks at the University of Pennsylvania Carey Law School.
"From the first day, it felt like everyone was being groomed for a big firm," says the 36-year-old Takoma Park native. "It was going to snap any sense of creativity I had, and I was afraid of becoming a robot. One day, I saw a young guy fixing up an old Victorian house in Philadelphia, and I wanted to do that instead."
Not that he had carpentry experience, but Pollock sent an email to the small eco-conscious construction company that was rehabbing the home and asked if he could join the team.
"They basically said, 'Yup, you can come and be free labor and push a broom.'" Quitting law school, he says, was "the best decision I ever made."
He didn't fully commit to the rehabbing lifestyle just yet. After pushing that broom for a while, he went on to graduate school and even took a housing policy job in D.C. Then, in 2014, he made what may well be the second-best decision he's ever made: launching Brick + Board, which salvages the prized clay bricks and yellow pine of Baltimore's abandoned rowhouses and resells the refurbished materials to builders, contractors, and craftsmen. (Pollock began his "deconstruction" career with the Baltimore nonprofit Humanim and spun Brick + Board, now a for-profit enterprise, out of Humanim.)
From the beginning, Brick + Board's mission has also focused on workforce development, hiring individuals who have barriers to employment, and providing training in salvage, carpentry, millwork, and warehouse management at its Howard and 25th Street lumberyard. More recently, Brick + Board has been making similar reclamation forays into older homes, buildings, and barns in the surrounding counties and region.
Baltimore is built upon great clay beds, notes Pollock, who has become something of a brick historian and collector over the years, with a particular expertise on the once-great Baltimore Brick Co. It's in his blood, he jokes. His mother's last name, Kirpich, means "brick" in Russian.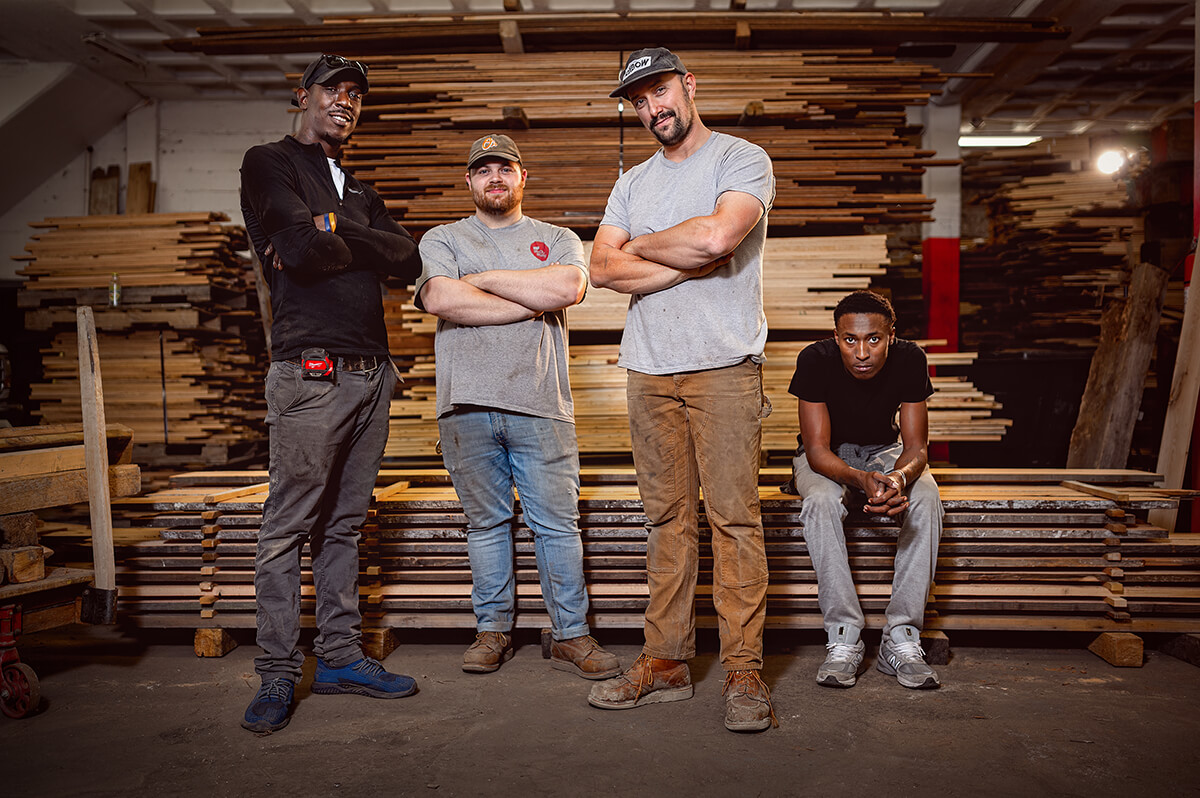 For 70 years, from the 1890s until 1968, the Baltimore Brick Co. set their East Monument Street kilns to bake at nearly 2,000 degrees, using mules at one time to lug their product to local construction sites, according to The Baltimore Sun.
In any city, it's the geography and geology that determine the way it looks, Pollock says, with a nod to our ubiquitous brick rowhouses and beloved marble stoops, most of it quarried from sites in Baltimore County. He adds that it's been both a blessing and a curse that nearly all the rowhomes in Baltimore were framed with wood from old growth, southern yellow pine forests. Harvested to near-extinction in the decades after the Civil War, the quality and grain of our yellow pine is treasured by high-end rehabbers, craftsmen, and furniture makers.
Originally, Pollock believes, a good deal of the yellow pine arrived as lumber, coming by schooner up the Chesapeake Bay from North Carolina and Georgia to Baltimore. At least some of that yellow pine, after a century supporting homes in East Baltimore, was put to repurpose in the Exelon high-rise at Harbor Point.
Other reclaimed wood at Brick + Board gets sold each week, through a partnership with the U.S. Forest Service, to national furniture retailer Room & Board, where it's transformed, for example, into their McKean console table line—so named for the street of demolished West Baltimore rowhouses that it came from. The price would shock the original homeowners, were they still around: $1,199.
Pollock's favorite finds over the years include signed and dated, turn-of-the-century bricks, as well as floorboards from long-ago duckpin bowling lanes on Howard Street. The building looked like any vacant storefront scheduled to be gutted, but those lanes, Pollock learned after salvaging them, are believed to have been part of the barroom there owned by 1890s Orioles third baseman John McGraw and catcher Wilbert Robinson. As colorful a duo as were ever in the game, the pugnacious McGraw and affable Robinson not only created a baseball dynasty in Baltimore, they invented duckpin bowling at their saloon, "The Diamond."
"This was a few years ago, and I know a guy who does a lot of the work at Union Craft Brewery, building their bars and tables. He told me they were updating their space and he was looking for tabletop material," Pollock says. "I was like, 'Holy shit, Union Craft Brewery? They make Duckpin ale. I will give this to you.'"