At Camp Small, City Foresters Give Local Trees a Second Life
The zero-waste reclamation site in Cold Spring transforms fallen city trees into everything from lumber and mulch to tables and playgrounds.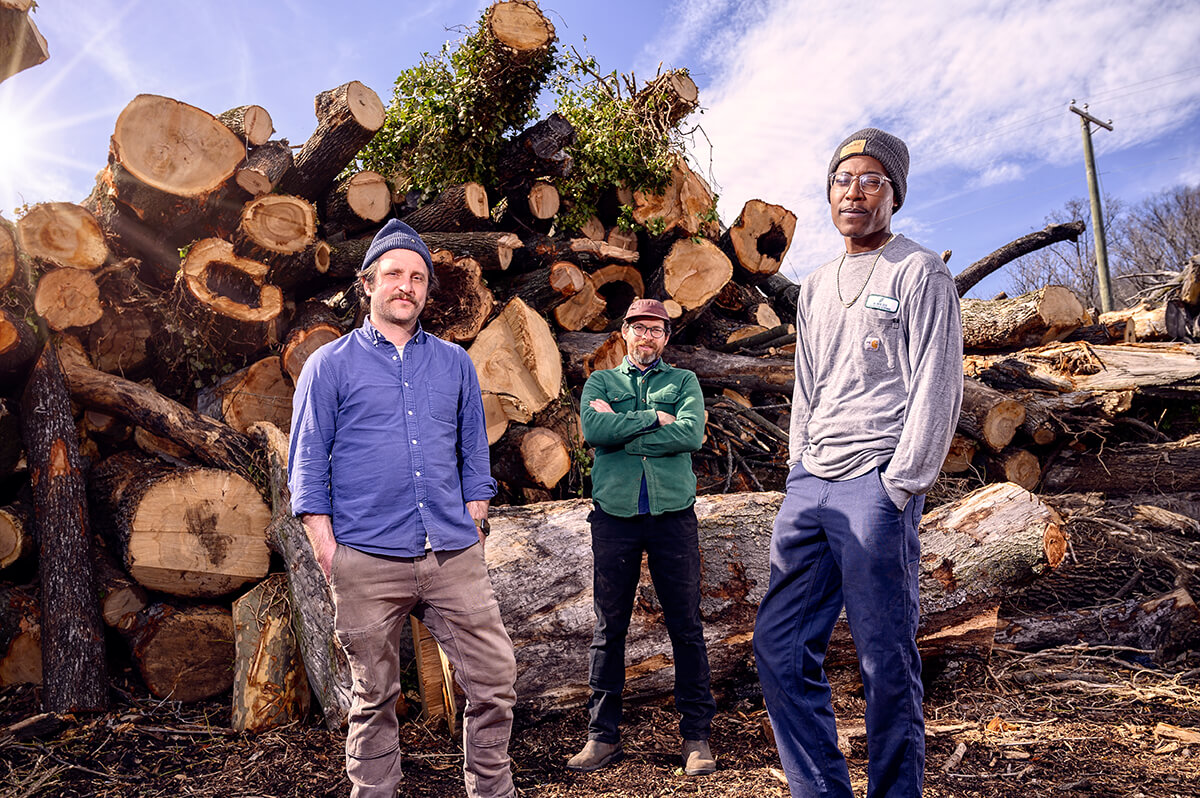 On first look, there's nothing tiny about Camp Small. Thousands of massive old timbers, piled more than a story high, line the weathered driveway leading up to this one-of-a-kind lumberyard in Cold Spring.
But at the end of the road, inside a tan, metal barn, sits the two-man team behind this ambitious operation that seeks to see the forest through the trees in Baltimore City.
"It's a sea of inspiration," says Nick Oster, a former woodshop teacher who runs Camp Small with yard master Shaun Preston, gesturing toward the mountain of wood. "We laugh at each other, because each time we saw open a log, we're like 'Oh, man! This is the most beautiful!' With every single one."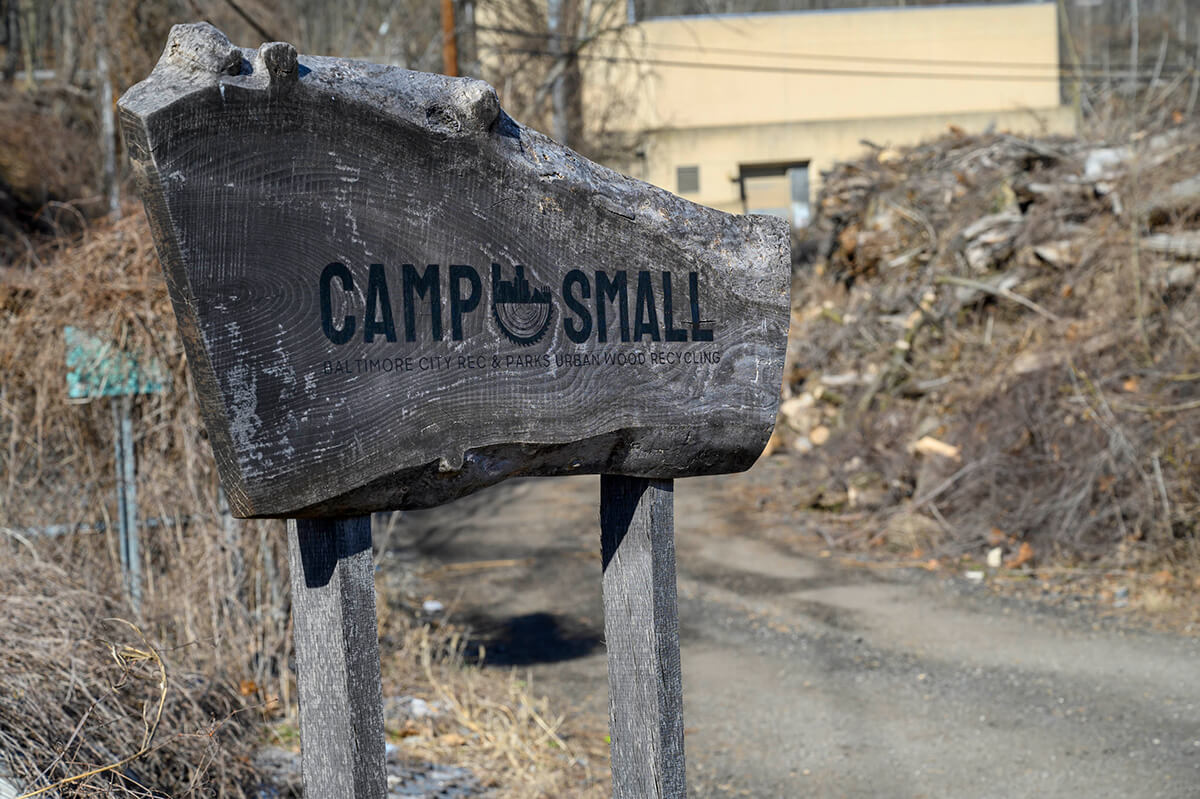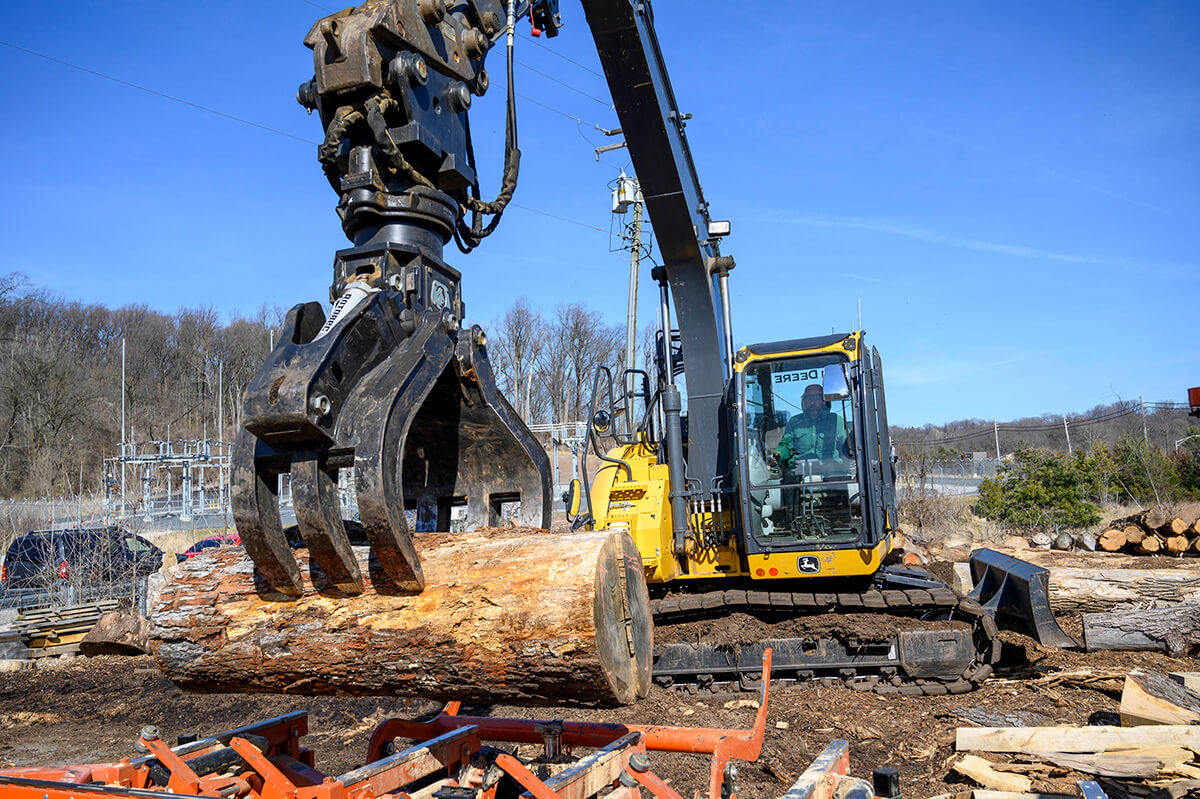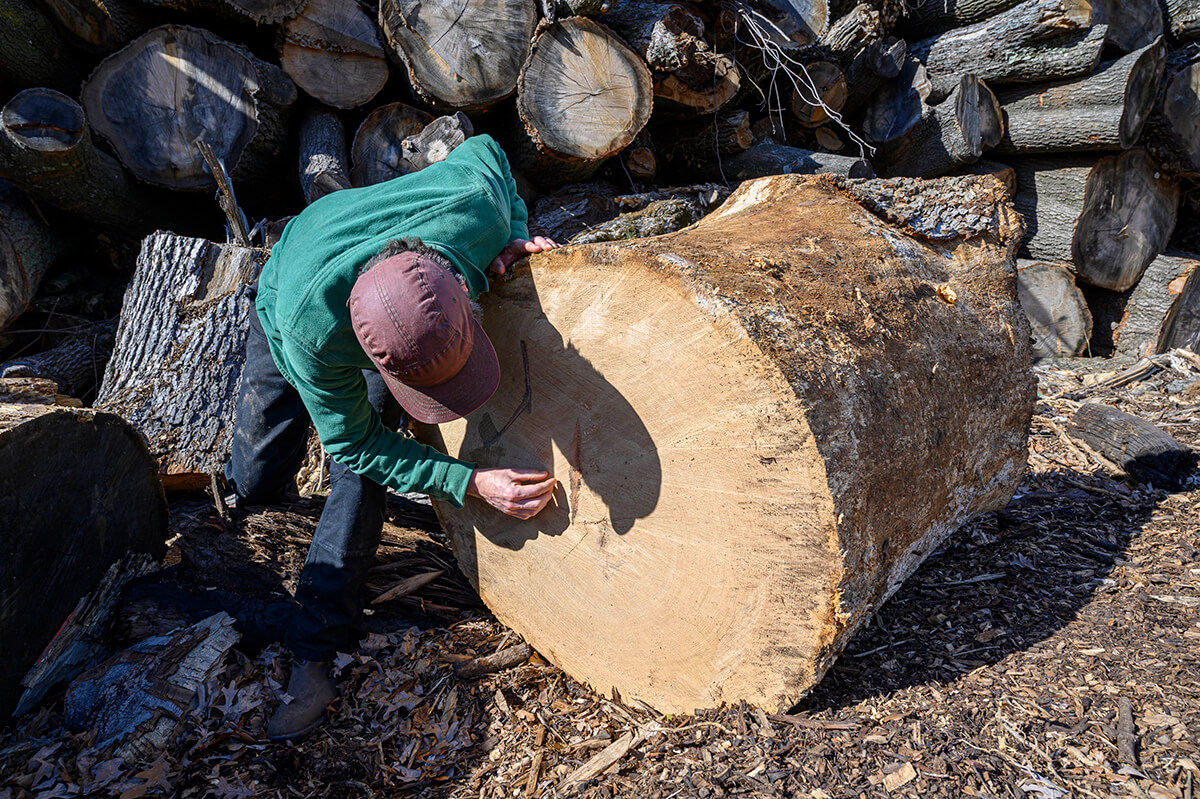 The duo is employed by the Department of Recreation & Parks and tasked with overseeing this five-acre former dump site that is transitioning from a graveyard for felled and fallen trees to a zero-waste reclamation project that gives a second life to all the branches, limbs, and trunks collected by the city, be it due to storms, disease, or street maintenance. Against the hum of I-83, those natural materials are now being transformed into everything from lumber and mulch to tables and playgrounds.
"When I first started, there was no plan, no equipment, no building," says Preston, who arrived in 2016 with Camp Small's launch by the Rec & Parks Urban Forestry Division and the city's Office of Sustainability. "We are standing where there was a 20-foot-high football field, vegetation growing over it, of decomposing logs and debris."
First, he made and sold compost. Then, eventually, with the financial help of the city's Innovation Fund, plus feedback from the community, he purchased a sawmill, kiln, and other pieces of heavy equipment to start making a more noticeable dent in the pile.
"We knew that some of this stuff was worth something, and we wanted to capture that," says Preston, a former artist and Boy Scout.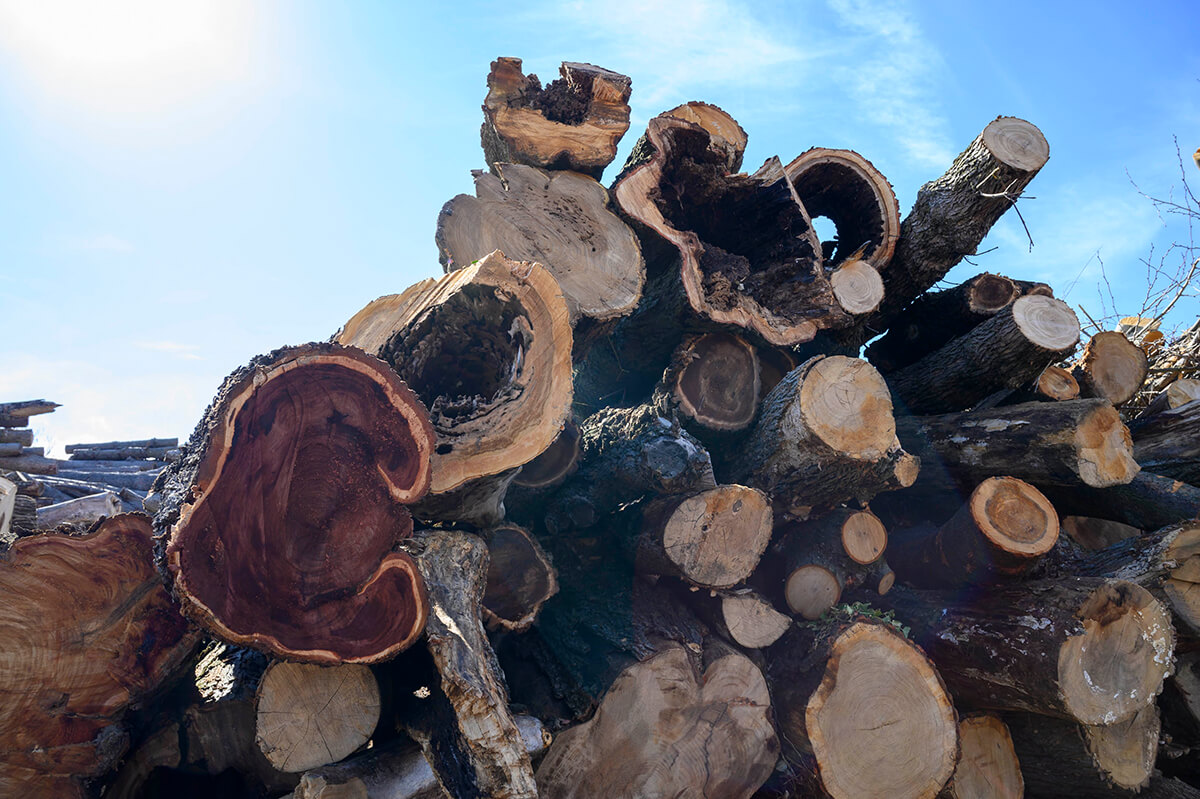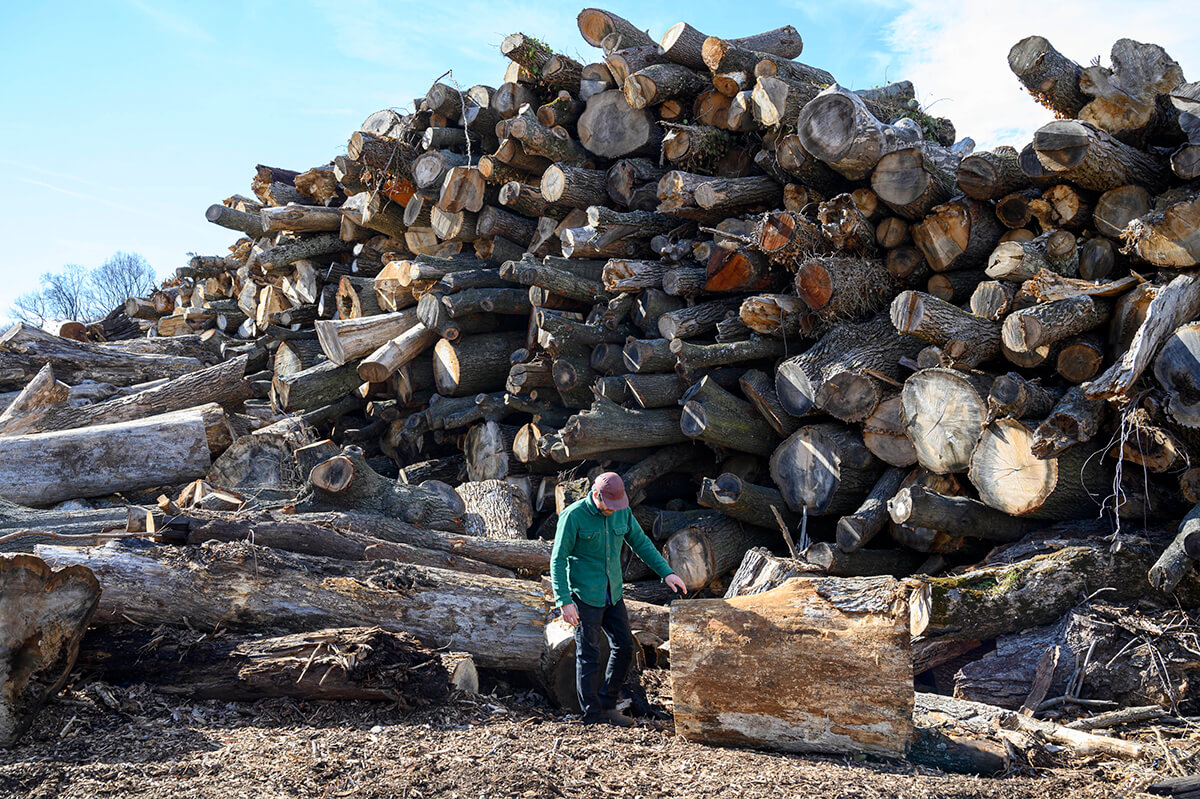 As a result, their recycled products are now sold both raw and finished to local homeowners, artisans, and businesses, such as Sandtown Furniture and B. Willow, as well as repurposed into city projects such as park benches, trail boards, and bridges. In fact, the new Middle Branch Recreation Center in South Baltimore is clad with wood of former ash trees from Gwynns Falls-Leakin Park.
Inside their workshop, woodchips cover the floor and bundled planks of former oaks, maples, and walnuts sit neatly stacked against the back wall. Their specimens range in size, shape, and age, with some upwards of 250 years old—"a witness to so much," says Oster, who joined Camp Small in 2021.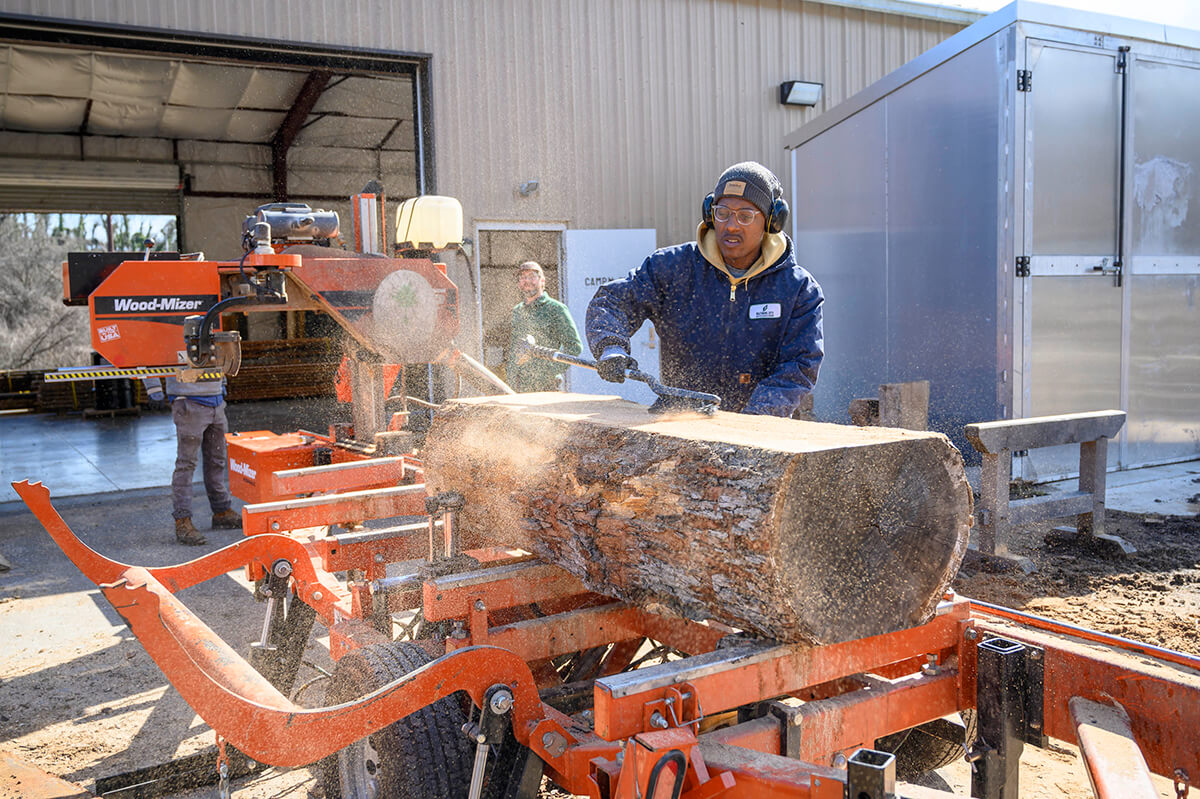 And while selling products is a part of their model, the duo remains committed to affordable pricing, offering discounts for community projects and giving some wood away for free.
"So many things have come out of the woodwork," says Preston. "This material is a public resource, and we want to be a community resource."
Later this year, they hope to further that mission by launching a workforce development program that partners with a local nonprofit to provide teaching, training, and job opportunities for city residents with employment barriers—perhaps growing the size of Camp Small along the way, with department colleague Maurice Ashby, currently lending a hand. After all, they have more wood than they know what to do with, receiving some 9,000 tons annually.
"This is a full-circle economy," says Preston, noting that Camp Small made over $90,000 in revenue last year. "Eventually some of that will go into planting new trees."