Cameo: Andy Cook
We sit down with the campaign director for Made in Baltimore.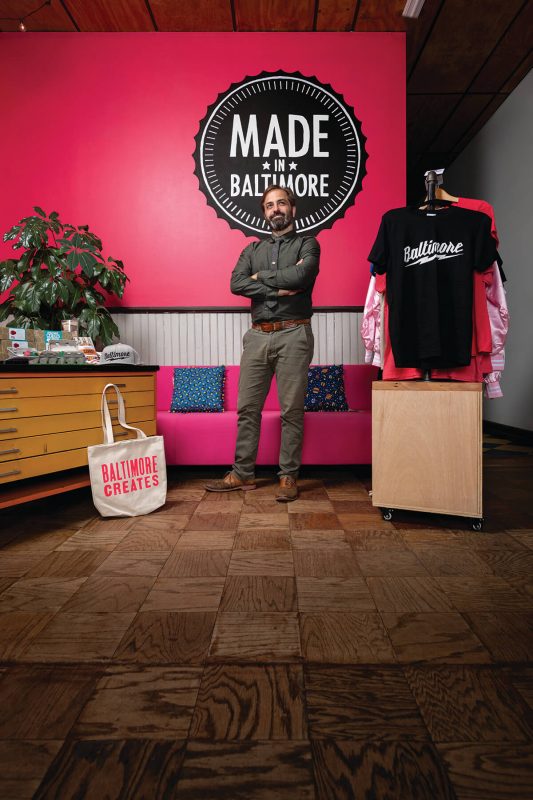 How did Made in Baltimore begin?
In 2015, I, along with a couple other people, put on the first pop-up shop on North Avenue as a way to raise the profile of some local makers. And in that first project we had 80 different companies, way more than we expected. I eventually received funding from the U.S. Economic Development Administration, as well as support from Baltimore Arts Realty Corporation, to basically run Made in Baltimore as a pilot project for two years. We created the Made in Baltimore business certification, which allows [a business] to put our logo on their packaging or marketing material, create a profile on our website, and then participate in all our programs. We launched the business certification in February 2017 and we just crossed our 200th certified business.
What do you think makes Baltimore's makers different?
I think that there's a ton of creative entrepreneurship here in Baltimore. A number of our members in the network are alums from local universities and there's a lot of young entrepreneurs coming out of those institutions. I also think that there is still a bit of a history of manufacturing in the city that people identify with. One of the things that comes up when I'm talking to these business owners is that they feel a real sense of identity with the industrial past of Baltimore and see themselves within that history. For a lot of people, entrepreneurship is alsoa matter of necessity. Entrepreneurship, I think, is a path for people who want more.
What role does Made in Baltimore play in the city?
My wife says my archetype is the artist's boy scout. I come at things from a creative perspective, but also from a strong sense of civic duty. I was trained as an artist, I worked as a freelance photographer, and I ran an art space in town for a number of years. So I know what it's like to be a solo entrepreneur in that creative space. Since the very beginning, I've seen the economic development potential of the creative economy. But I've seen it, quite frankly, overlooked quite a bit or under-resourced. Baltimore has a lot of challenges. The deck is stacked against it, thanks to decades of disinvestment. If we're going to get out of that, I think it's going to come from the people of the city and its creative and entrepreneurial spirit. I see [Made in Baltimore] as being just one player in helping to harness that spirit and turn it into something productive and something that we can be proud of in the city.
What would your advice be to those looking to be a part of this community?
These business owners often have their heads down, working on making their products and running their business, so much so that they can feel really isolated, making networking extremely valuable. It's an opportunity to compare notes, collaborate, and commiserate. The number one thing we always hear from [makers] is that they want more opportunities to network with each other and network with other relevant service providers. So my advice would be, don't forget to get out there and meet people and participate in communities where you can support others and they can support you.