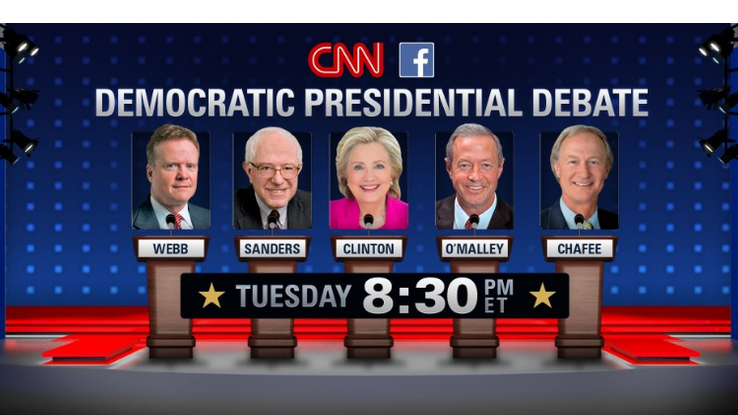 Courtesy of CNN
Former Gov. Martin O'Malley will get his first shot on the big stage with Democratic presidential primary frontrunners Hillary Clinton and Bernie Sanders in Tuesday night's CNN debate.
And the big question at the moment among the national media seems to be whether O'Malley—who put together a compelling resume of liberal accomplishments during his two terms in Annapolis—can finally gain some traction in a campaign that has thus far barely registered a blip on the radar.
In a poll released last week by Goucher College, O'Malley registered just two percent of support among Maryland Democratic voters, which was only slightly better than the most recent CBS national poll where he managed just an asterisk—indicating less than .5 percent of the tally.
By contrast, Clinton, the former Secretary of State, and Sanders, the Vermont senator, registered 46 and 27 percent support, respectively, in the CBS poll (below). Vice president Joe Biden, who has not yet decided whether he will run, even posted at 16 percent.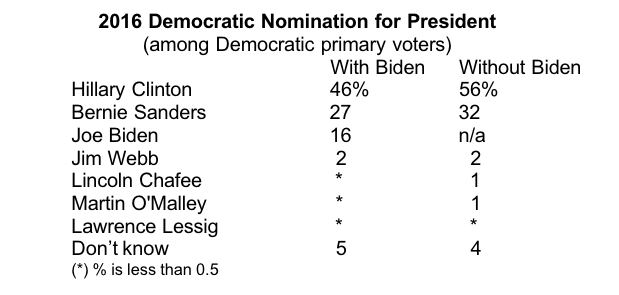 O'Malley has been loudly pushing for more Democratic debates in recent weeks—not an unusual tactic for an underdog. But beyond mere desperation, the former prosecutor, city councilman, and Baltimore mayor most likely feels confident he can hold his own on stage with Clinton and Sanders, as well as with Jim Webb and Lincoln Chafee, who are also struggling at the bottom of the polls. (Whether he eventually decides to run or not, Biden is expected to skip the first debate.)
When he ran against Republican Bob Ehrlich in 2010, O'Malley was generally seen as the better debater. And while his speeches at the 2004 and 2012 Democratic National Conventions flopped—his oratory often comes across as overblown—O'Malley is a studious politician who always has his numbers and facts on the tip of his tongue. He also isn't afraid of being combative, a trait that often came across in his Sunday morning talk show appearances when he served as chairman of the Democratic Governor's Association.
If anything, the challenge Tuesday night might be for O'Malley to combine his natural instinct for data (see CitiStat and StateStat initiatives) with a sense of humor, likeability, and charisma—which has been difficult in the past for him to transmit via television. O'Malley didn't come up with a five- or 10-point plan for how he would govern as president, but a 15-point plan—overkill in the age of Twitter and sound bites.
In recent days, O'Malley has gone after Clinton for "shifting positions" on the Trans-Pacific Partnership trade deal and Sanders for not supporting "common sense" gun control measures. Also, just the opportunity to stand next to Clinton and Sanders, both a generation older than the O'Malley, could help the famously fit O'Malley present a younger option for potential Democratic voters—a la Bill Clinton and Al Gore circa 1992.
"I think right now most people in the Democratic Party think they only have two choices," O'Malley acknowledged during in a recent Washington Post interview. "It's malpractice as a party to have waited so long to begin our debates. Eight years ago, we had already had nine debates. But now we'll finally have our first, and finally we'll get the opportunity to make our case to the American people."
Of course, no one in Maryland was surprised when O'Malley launched his campaign earlier this year in Federal Hill. The move seemed like a mere formality after passing a series of liberal agenda items during his second term, including Maryland's same-sex marriage law; the Dream Act (to assist undocumented immigrants with in-state tuition); a new, partisan congressional map; and stricter gun controls regulations following the mass school shooting in Newton, CT.
In fact,
in Baltimore, many—including us—have believed an O'Malley presidential campaign
has been inevitable since his days as a city councilman.