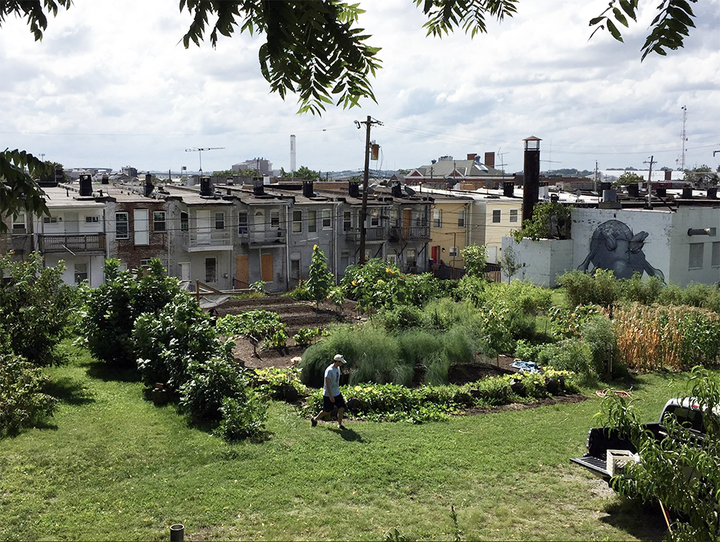 On Wednesday, the South Baltimore Gateway Partnership (SBGP)—an economic development authority funded by revenue from Horseshoe Casino—announced it would be awarding more than $2 million to support community projects and local parks in South and Southwest Baltimore.
The first-ever round of grants totaling $650,000 from SBGP was awarded to 30 recipients including Cherry Hill CDC, Citizens of Pigtown, Federal Hill Main Street, and Living Classrooms Foundation. The amounts are divided into three levels—up to $5,000, up to $50,000, and up to $100,000—and will be awarded twice a year.
"Neighborhoods and nonprofits across the district asked us to help them make a difference," said executive director of SBGP Brad Rogers. "And we've got their backs."
Some of the higher tier recipients include the Youth Resiliency Institute that received $100,000 for its Cherry Hill Arts and Music Festival and Living Classrooms Foundation that was awarded $90,000 to support its School Leadership in Urban Runoff Reduction Project.
Smaller grants were awarded to projects like the Pigtown community garden, a mobile pantry by Fishes and Loaves, and Southwest Baltimore Charter School—the venue for the announcement.
"Our aging school building has needed audio-visual equipment for so long," said Erika Brockman, executive director of the Southwest Baltimore Charter School. "With this $5,000 grant, we will be able to finally take care of the problem."
SBGP is tasked with spending its portion of the funding from the city's casino revenue on projects that improve the life of 16 South and Southwest Baltimore communities—including Cherry Hill, Westport, Federal Hill, Otterbein, and Lakeland—as outlined in the group's master plan.
"The needs in the community are very real," Rogers said. "We have set an audacious goal—to have the best parks in Baltimore. Period. Because our neighborhoods deserve them." 
Rogers explains that the goal of SBGP is to allocate 20 percent of funds for grants, 30 percent for enhanced services in the community, and 50 percent for bigger picture projects. All proposals and applications for funding allocation are vetted and approved by SBGP's board of directors including neighborhood leaders, local business owners, and city officials.
In the coming 2018 fiscal year, SBGP will disperse about $6 million along with another $6 million from the Local Development Council—a committee also created to manage the city's casino revenue.
Rogers also announced on Wednesday that SBGP is investing $1.4 million to improve public spaces in collaboration with the Department of Parks and Recreation. The funds will be used for maintenance and programming in local parks, but specific plans has not yet been decided.
Although plans are still being finalized, Rogers believes the overarching goal has already been fulfilled in the South and Southwestern Baltimore communities, and he is optimistic about the future of the projects.
"It's incredibly exciting," he said. "What you have, for the first time, is a large number of neighborhoods unified around a common goal with the resources to make it happen. We're all committed to moving forward together."