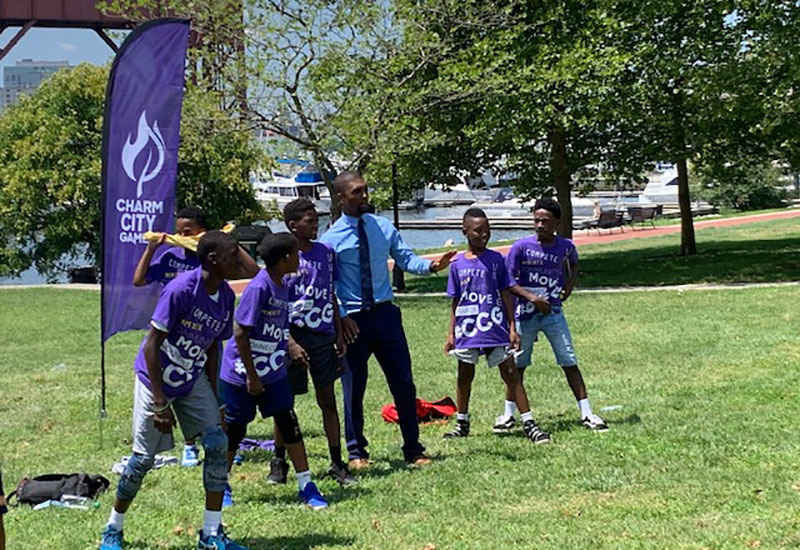 Evan Greenberg
Baltimore City Council President Brandon Scott edged out the kids wearing purple Charm City Games t-shirts in two different foot races at Canton Waterfront Park Monday, but given that Scott is a former track athlete, they were perhaps a bit closer than he would've liked. It's this type of friendly competition that the Charm City Games hopes to foster in its inaugural year.
"We know that you learn so much through competition and athletics about life," Scott says. "It's great to have this happen across the city during summertime, put teams together, make sure that kids are meeting kids from other parts of town—something that doesn't always happen in Baltimore—and get young people outside their neighborhoods. This city and all spaces in the city belong to them."
The Games include different sports for kids ages 12 to 14, from basketball and tennis to track and field, and many more. The Games, currently in progress and lasting until July 20, bring together athletes from districts across the city to compete for team and individual honors. They were born out of a smaller initiative that Baltimore City Recreation and Parks director Reginald Moore created in Macon, Georgia—which was a way to get kids from all different areas active and bring them together.
"We want to get our kids out and engaged," Moore says. "We want our kids exposed to many unique different opportunities and teams and to bring them together from different communities. Sports teaches the kids discipline."
The Games are led by coaches from within the Rec and Parks departments, as well as volunteers from across the city. Many of these community leaders have their own experiences with athletics, and the hope is that they'll be able to impart some wisdom on the competitors in their respective sports. Those in charge recognize competition as a unique mechanism to teach kids life lessons from an early age, something Moore acknowledges was top of mind when planning this event. "We want to develop their life skills to let them know that sometimes you may not win, but being a good sport is important too," he says.
As for the future, Scott and Moore hope to have an overwhelming number of kids competing, to the point where there might even be tryouts to make a team. Moore has his designs set on potentially sending a Baltimore team to future International Children's Games in Hungary in 2020 or Seoul in 2021. Overall, though, the goal to reach as many kids as possible remains the same. Organizers also feel it's important to meld community and competition together to create something that is wholly positive and becomes something to look forward to for years to come.
"This event is something we've talked about for a long time," Scott says. "This is the true show of what young people in Baltimore do each and every day. They're just trying to be kids, grow, have fun, and have success in athletics and academics. We want to show everyone who doubts Baltimore, and specifically who doubt the young people of Baltimore, what they're really about."