Christina Flowers Has a Street-Smart Philosophy for Housing Baltimore's Homeless
Through the Real Care Providers Network, the minister is aiding those who are currently unhoused across the city.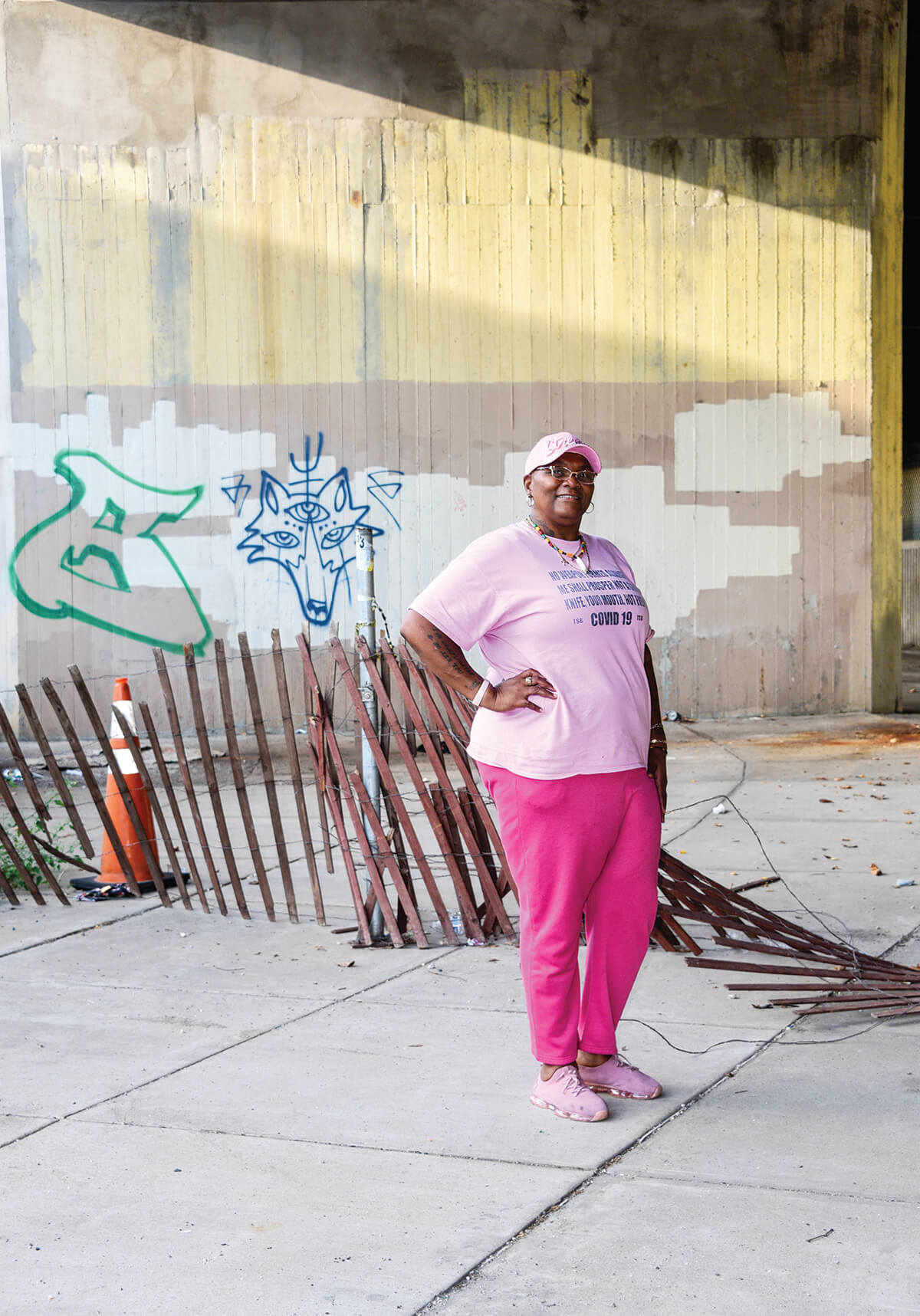 Most advocates don't live with the people they serve—especially when they are fighting for services and support for the homeless community. But minister Christina Flowers is an exception, or as others say, "the angel of the streets of Baltimore." Day in and day out, and during many a dark night, you can find her handing out food and supplies to those currently unhoused across the city.
"Many want to bundle all homeless people together, but they're unique individuals who need to be treated as such," says Flowers. "We have to think outside of the box and find ways to engage with humility and compassion."
Flowers' advocacy began in March 2013, when she came across the conditions of the homeless encampment underneath the I-83 bridge at Guilford Avenue and Centre Street and was stunned by the rest of society's lack of urgency to help. "It's as if the homeless are invisible, like we've become numb to their humanity," she says.
At the time, the city was planning to raze the encampment without a plan to relocate the people who lived there, but after public outcry, then-Mayor Jack Young allowed them to stay. Flowers' self-funded mission to provide housing and stability for homeless individuals in Baltimore began the very next week.
"God said, 'When I was hungry, you fed me,'" Flowers says. "I founded the Real Care Providers Network to bring the power of God to the front lines."
RCPN may not be well-known, but Flowers is no stranger to aiding the vulnerable. Her first nonprofit business, Belvedere Assisted Living, cared for the elderly. She also founded Belvedere Homes, a support service in its namesake neighborhood, which has housed hundreds over the years. RCPN is now her full-time focus, and it's far from a 9-to-5 gig.
"We're bootleg, but we get it done," says Flowers. "My volunteers are humble, compassionate, and amazing at what they do. I don't care about your degree; I care about your heart."
"It's as if the homeless are invisible, like we've become numb to their humanity."
While the city's methods of dismantling encampments have historically been mired in bureaucracy and policy issues, Flowers embraces a radically different approach. Starting last fall, her small but mighty team showed up under the bridge every day for eight months, providing warm meals, portable restrooms, and personal protective equipment, among other resources. On stormy nights, Flowers stayed through the morning to make sure everyone was safe.
"We became like a family, taking blows as they came," she says. "I didn't see those big-name organizations under the bridge. It's like having a grown child, but completely forgetting the baby stage. You have to start on the streets first."
There were plenty of trying times, like one wintry morning when Flowers found two women frozen to death in a tent. She held other organizations' feet to the fire to advocate for the people coming in and out of the encampment, whether it was to place a roof over their heads or secure treatment for substance abuse and mental health disorders, a common root of chronic homelessness.
After eight months of effort, RCPN successfully secured housing for every last individual, without any state or grant funding.
"They are still God's sheep and he has appointed me as a shepherd," says Flowers, who became an ordained minister in September but is continuing her current work before leading a congregation. "It saddens me that we look at our brothers and sisters sleeping on the streets like it's their fault, instead of looking at the core of our social ills. People say the poor will always be amongst us. I say, amen…and?"
With 18 homeless encampments and an estimated 500 unsheltered individuals in Baltimore City at last count, Flowers says her work is far from over.
"It takes a village, and we can do so much more if everyone uses their resources to help those in need. When I think about all that needs to be done, I'm reminded that the harvest is plentiful and the work is our fruit."