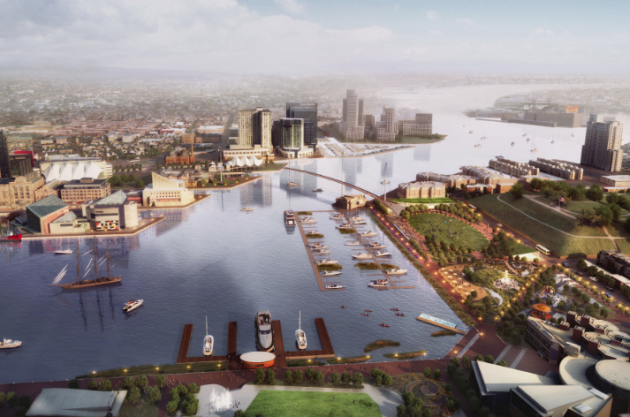 Rendering: Ayers Saint Gross
A pedestrian bridge connecting Federal Hill and Harbor East is just one of the highlights of an ambitious Inner Harbor redevelopment plan released by city officials today.
Joining with the Waterfront Partnership of Baltimore and the Greater Baltimore Committee, the city is pitching an overhaul of Rash Field, including adding a beach, barge pool, and kayak launch there. Plus, more parks, playgrounds, green space, and new bike-sharing stations around the rest of the Inner Harbor—as well a renovation of the outdated, existing promenade infrastructure.
Plans also call for a stage at West Shore Park, a new ampitheater and outdoor café's at Harborplace, and an expansion of Pierce's Park at Pier 5 and 6.
There is no timetable or budget, yet, for the proposed pedestrian bridge, which would include a turnstile design to allow tall ships.
Forty years after the Inner Harbor promenade was completed in 1973, city leaders say it's time to reinvigorate Baltimore's most valuable tourist—and local—attraction. "It's overdue for attention," said Donald Fry, president and CEO of the Greater Baltimore Committee at a press conference announcing the plan, put together by Ayers Saint Gross.
The Inner Harbor plan can be found here.
Laurie Schwartz, executive director of the Waterfront Partnership, said reducing parking lot space around the water and planting more grass, trees, and underwater seagrass beds will help support the Waterfront Partnership's goal of a "swimmable, fishable" harbor by 2020.
In addition to attracting more tourists—14 million people visited the Inner Harbor in 2012, generating $2.3 billion in economic activity—the redevelopment effort will benefit local families as well, Schwartz noted. She added that 21,000 children under the age of 15 live within a half-mile of the Inner Harbor.
Mayor Stephanie Rawlings-Blake, who once worked at the Inner Harbor, echoed Schwartz. She said "greening and softening" the harbor, adding playgrounds, bike sharing, public amenities, parks, and programs, will not just continue to attract tourists, but help retain residents and attract new families.
Said Schwartz in a statement:
"In 1973, when the Inner Harbor public promenade was completed, it set the framework for all development to follow. Heralded as a model of urban waterfront redevelopment, the Inner Harbor has treated our city and state well but after 40 years, it needs to be refurbished and updated so that it remains a viable asset."