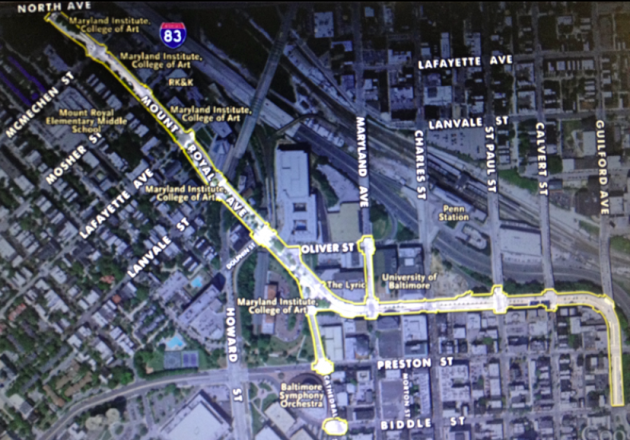 Ron Cassie
More cycle track, please.
That was the message from bicycle
advocates at a public meeting Thursday evening at the Midtown Academy
near the Maryland Institute College of Art (MICA).
It won't be
completed overnight, but the Baltimore City Department of Transportation
presented the next step in a suddenly expanding downtown bicycle
network—the Mount Royal Avenue cycle track.
The dedicated,
two-lane bicycle route (cycle tracks physically separate bicycles from
auto traffic) will run on the north side of Mount Royal Avenue from
McMechen Street, near North Avenue, down to Charles Street.
The
design, which is 65 percent complete, officials said, will be finished
this fall. Construction is scheduled to begin next spring, with the
cycle track opening some time in late 2016. When completed, it will
particularly help bicycle commuters in the MICA, University of Baltimore,
and midtown corridor link with Penn Station, for example, and the
forthcoming Maryland Avenue cycle track project. About 45-50 parking
spaces will be removed along Mount Royal Avenue to make room for the
bicycle track.
At a standing room-only public meeting at the Pratt Library two weeks ago, BDOT
representatives presented plans for
a dedicated, two-way cycle track that will run north and south on
Maryland Avenue from 29th Street to Pratt Street. That project, expected
to be implemented this fall, also includes several new east-west
painted bike lanes.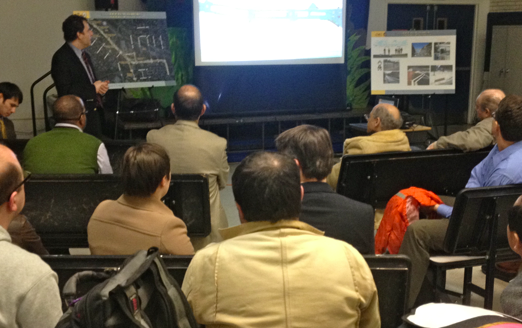 The Mount Royal Avenue cycle track is part of a
broader, $6 to $7 million infrastructure upgrade to Mount Royal Avenue
that will include dedicated electrical conduits intended to assist Artscape, water main improvements, street and landscaping, new traffic signals, and enhanced handicap accessibility.
Currently,
the only cycle track in the city is the short, north-south Fallsway
bike lane east of Charles Street, which starts near the Inner Harbor and
links to the Guilford Avenue bike route. Light Street Cycles bike shop owner Penny Troutner and Chris Merriam, executive director of Bikemore,
a Baltimore nonprofit bicycling advocacy organization, as well as
others in attendance—while pleased to hear the city is building
additional cycle track for bike commuters—also strenuously requested
that city officials extend the Mount Royal cycle track three blocks more
to Guilford Avenue.
According to the current plan, bicyclists are
supposed to use the eight-foot sidewalk between Charles Street and
Guilford Avenue when either heading north on Guilford or south on the
Fallsway cycle track, which is also part of the larger Jones Falls
Trail. But an increase in pedestrian traffic and the speed of cars
coming off I-83 in that area will remain a hazard without the extension
of a dedicated cycle track, Troutner and Merriam said. They also
stressed the benefits of a fully connected bicycle-friendly route that
sweeps across a large swath of the downtown commercial area.
"This
is such a short distance to go [to extend the cycle track to Guilford
Avenue]," Troutner said. "We need to complete the thought."
"I
strongly recommend continuing the cycle track down to Guilford Avenue,"
Merriam said, noting that the bike path in front of the Inner Harbor,
which isn't physically separated from pedestrians, hasn't worked for
bicyclists because of the heavy foot traffic there.
Still, despite
the desire to extend the Mount Royal cycle track by several blocks, as
well as concerns about crossing North Avenue and turning onto Charles
Street—the planned project, though not yet completely designed—was
generally well received.
"I think this is great," Troutner said. "The more cycle track, the better."