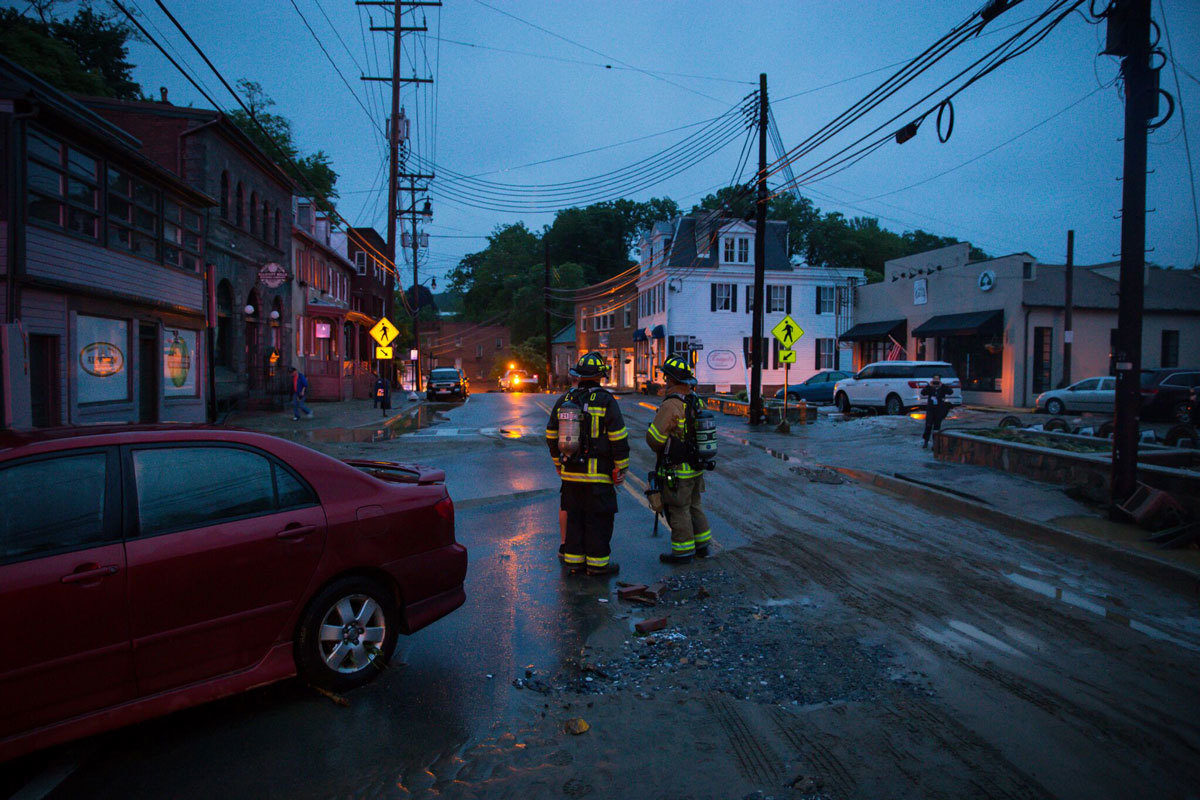 Photography by Geoff Lawrence
For the second time in two years, Ellicott City is in need of relief after flood waters ravaged down Main Street on Sunday, May 27. The storm brought an estimated 8.4 inches of rain in less than three hours (nearly .2 inches more than the July 2016 storm), leaving cars submerged in water, storefronts severely damaged, and one National Guardsmen found dead after helping to rescue a woman in the torrent. In true Charm City fashion, the community is once again coming together to organize fundraisers, dining promotions, and benefit concerts to help residents and business owners in need. Here are ways that you can help:
ONGOING: Yoga for a Cause at Krav Maga Maryland
Every week Krav Maga Maryland hosts a yoga class benefiting local and personal causes, at $5 for members and $10 for non-members. For the rest of the summer, all profits from their ongoing Yoga for a Cause fundraiser will go toward flood relief in Old Ellicott City. Come out to Columbia on Thursdays at 6 p.m. to donate in down-dog style. 8865 Stanford Blvd, Ste 141 Columbia, 6 p.m. $5-10.
5/30: Horseshoe Casino Fundraiser
Horseshoe Casino Baltimore is lending a hand by donating a portion of the day's drink proceeds to Howard County Government's relief fund. Specifically, Horseshoe will give $2 of every drink sold at its multi-level bar 14Forty throughout the day. During the Stanley Cup matchup in the evening, $3 of all drinks sold will go toward disaster relief. 1525 Russell St., 844-777-7463
5/31: Flood Fundraiser for Ellicott City and West Baltimore
Stop by Fells Point Tavern from 6-10 p.m. on Thursday to sip Tito's drink specials and challenge friends to a round of life-sized Jenga in support of the cause. All proceeds from the evening's event will be donated to disaster relief in Ellicott City and other areas of West Baltimore that were severely flooded. Fells Point Tavern, 1606 Thames St., 6-10 p.m. 410-276-4700.
5/31: Yogi for Old EC
Stop by Yogi Castle in Ellicott City—which thankfully wasn't damaged by the storm—this Thursday evening to enjoy a cup of frozen yogurt for a good cause. The shop will offer raffle prizes and a donation station to benefit those in need. 10132 Baltimore National Pike, Ellicott City, 410-418-4889
6/2: Fundraiser for Old Ellicott City at Wieland's Barbecue
This barbecue joint, located just a stone's throw away in Catonsville, is hosting a benefit concert featuring the folk and Americana sounds of local band Strings Attached. All donations made during the event will be given directly to the Ellicott City Partnership. Wieland's BBQ, 821 Frederick Rd., Catonsville, 5 p.m., 410-593-1245.
6/2: Dry, Dry Again: Benefit Concert for Ellicott City
The family-owned Rooster + Hen Store is lifting spirits through music therapy at this benefit concert. The organic market will feature local artists, like the Colamiles and Joe P. Harris, while serving food for friends and family. Treats and tunes are nothing new for Rooster + Hen Store, which hosts free live music every Wednesday. But this Saturday, proceeds will go to the Ellicott City Partnership, starting with a $10 suggested donation. Rooster + Hen Store, 2302 Frederick Road, Catonsville, 6-8 p.m. 443-341-6166
6/3: Ellicott City Fundraiser at Black Flag Brewing Co.
This Columbia brewery has named one of its latest releases after Ellicott City. The EC Wit—a Belgian witbier made with coriander, cherries, and blackberries—will debut at the brewery's benefit for flood victims on June 3. Hang out in the taproom to sample the beer while enjoying pretzel rolls from Dough Boy Fresh Pretzel Co. Fifty percent of all on-premise drink sales (plus $1 of any to-go purchases) will be donated to clean-up efforts. Plus, all bartenders will be donating 50 percent of the day's tips to aid in relief. Black Flag Brewing Co., 9315 Snowden River Pkwy, Ste. C., Columbia, 12-7 p.m.
6/6: Peace a Pizza Fundraiser
Neighboring Ellicott City in Catonsville, Peace a Pizza was luckily unaffected by the weekend's flash flooding. In an effort to help rebuild Miss FIT on Main Street, the pie shop is donating 20 percent of its pizza proceeds on June 6 to the women's gym. Whether dining in or carrying out, be sure to mention supporting the cause. 15 Mellor Ave, Catonsville, 410-747-2255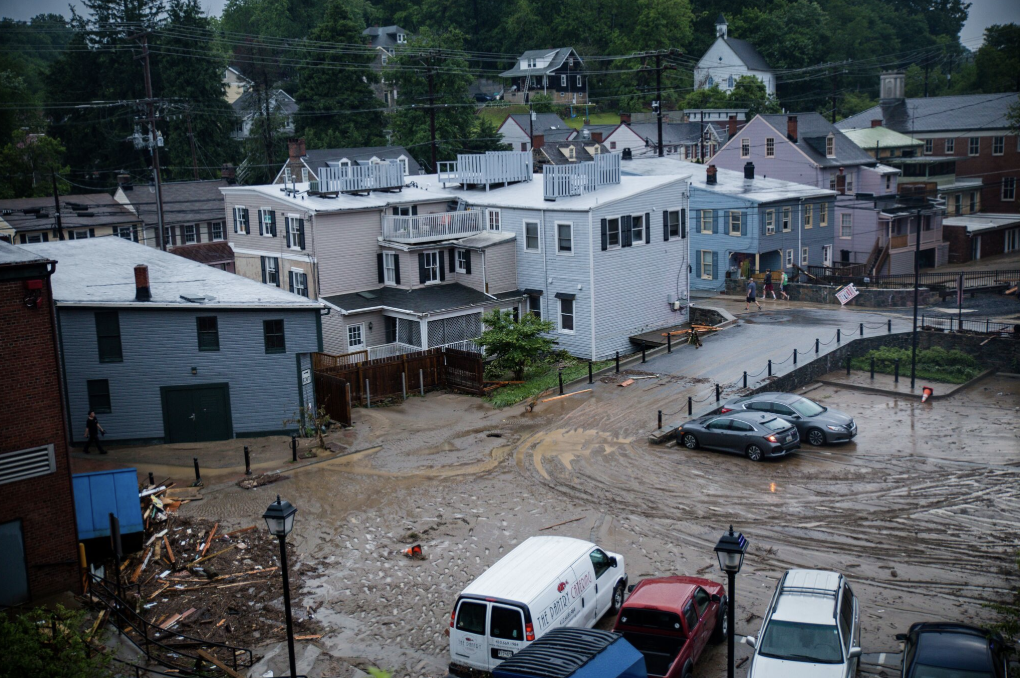 6/7: Fundraiser for Ellicott City at Heavy Seas Beer
Heavy Seas stands up to flash flooding with this fundraiser to clean up and minimize devastation. Next Thursday, the tap room will host live music by the Faceless Ones, and donate half of its earnings to the Ellicott City Partnership—just as it did to aid damage in 2016. Back then, the nonprofit was able to collect and distribute over $1.85 million to help with recovery. Heavy Seas Beer, 4615 Hollins Ferry Rd., Halethorpe, 3 p.m. 410-247-7822
6/8: A Drink for Ellicott City
Join The Baltimore Whiskey Company for pizza, cocktails, and live music at Paulie Gees in Hampden. The evening's entire bar tab will be donated to the Ellicott City Partnership. Paulie Gees, 3535 Chestnut Ave., 9 p.m.-2 a.m., 410-647-1048
6/9: Ellicott City Fundraiser at Guinness Open Gate Brewery & Barrel House
Guinness' new facility in Halethorpe is lending a hand to its neighbors in need with this fundraiser on Saturday, June 9. The test taproom will donate 50 percent of the day's beer and merch sales to the Ellicott City Partnership to aid in rebuilding efforts. 5001 Washington Blvd., Halethorpe, 11 a.m.- 8 p.m.
6/14: Goldschmidt Vineyards Seminar
Petite Cellars fine wine shop in Ellicott City will host educational seminars throughout June, starting with this talk from winemaker Nick Goldschmidt. Learn about his experience working in wine areas like New Zealand, Australia, and South America as he showcases featured wines like Chelsea merlot and Boulder Bank sauvignon blanc. All proceeds will benefit the Ellicott City Partnership. 11079 Resort Rd., Ellicott City, 6-9 p.m. (410) 750-0562, $35
6/15: Knob Creek Petite Cellars Single Barrel Launch
Indulge your senses during this Knob Creek bourbon tasting with light hors d'oeuvres. There will be discounts available through the event, along with a bottle engraving. Proceeds will go to the Ellicott City Partnership, and donations are also encouraged. 1079 Resort Rd., Ellicott City, 4-8 p.m. (410) 750-0562, $10
6/22: We Are EC Strong Benefit Show
A handful of local musicians and drag performers will gather in Mt. Vernon for this benefit show at Grand Central Nightclub. Enjoy entertainment by Kyle Sharp, Anastasia Mae Belladonna, Venus Fastrada, Chris Jay, and more. There will also be t-shirts on sale to benefit the cause. Grand Central Nightclub, 1001 N. Charles St., 9-11 p.m., 410-752-7133
6/22: Patron Roca Tequila Mixology Class

Test your tequila technique and learn how to mix a masterful margarita at this seminar that takes you through the history and production of Patron. Purchase your favorite variety afterward for a discounted price, while tickets go toward the Ellicott City Partnership. 1079 Resort Rd., Ellicott City, 6:30 p.m. (410) 750-0562, $25
7/28: ECStrong 5K
The ECStrong 5K started in 2016 as an annual race to remember the devastation caused by that year's flash flooding. Now, in the wake of the second flood, runners will support businesses that were impacted in 2016, as well as those in need of relief currently. The race's $35 registration fee includes a t-shirt, chip timing, and free beer at the finish line. This year the festival returns with live music, vendors, and breweries. All profits will be donated to the Ellicott City Partnership. Course begins at Howard County Courthouse at Park Place, 3451 Court House Drive, 8 a.m.-1 p.m., $35.
7/28: ECStrong Festival
Bring the entire family to the Howard County Fairgrounds for this festival that will donate 100 percent of ticket sales to flood victims. Highlights will include live music, onsite breweries and distilleries, a variety of food trucks, and a kids zone with toys and games. Howard County Fair, 2210 Fairgrounds Rd., West Friendship, 12-8 p.m., 410-442-1022
Diablo Doughnuts Creates Ellicott City Doughnut: Stop by this doughnut shop—which recently unveiled its new location in Federal Hill—to sample a special EC Strong doughnut glazed with the colors of the Maryland flag. Owner Michael Roslan is making eight dozen per day, and selling them for $2 each. All proceeds will be donated directly to disaster relief. 1035 Light St., 410-892-3251.
United Way Reestablishes ECStrong Fund: In an effort to provide shelter, food , and other basic necessities in the wake of the flood, United Way of Central Maryland has reactivated its ECStrong Fund—which initially launched after the devastation in 2016. Mirroring the previous campaign, 100 percent of all donations received will go directly toward providing relief as quickly as possible. Residents are encouraged to call 211 for immediate assistance.
GoFundMe for Ellicott Mills Brewing Company Employees: Ellicott Mills Brewing owner Timmy Kenzski has established this crowdfunding campaign to help his staff get back on their feet. "Help if you can," he posted to Facebook. "All we can do is wait and do what we can."
Phoenix Emporium Recovery Fund: After fully recovering from the 2016 flood, this beloved bar was once again wiped out during Sunday's storm. Management has established a GoFundMe page that will assist employees with rent, car payments, and other living expenses until they can find employment elsewhere.
GoFundMe for Park Ridge Trading Company: Among the many businesses damaged or destroyed is Max Robinson's Park Ridge Trading Company—which is back to square one again. The family-owned gourmet kitchen goods store rebuilt once before and is looking for support to reopen a second time. Robinson has established a GoFundMe page to fund reconstruction, provide for employees, and support tenants in the apartments above the store.
Fundraiser for All Time Toys: It was all fun and games at All Time Toys, which was established by a group of friends in 2006. Ten years later, after ownership shifted to co-founder Jason Barnes, the store needed complete reconstruction from the first flood. Now, Barnes has created a GoFundMe page raising money to salvage his livelihood yet again.
GoFundMe for Su Casa Furniture: For 18 years, Su Casa has furnished Ellicott City homes, among others nearby its three additional locations in Maryland and Delaware. Ready to rebuild again, the company started this GoFundMe page to continue being a part of Historic Ellicott City. In this trying time for the city, Su Casa appreciates "the strength in our communities," they wrote on the page.
GoFundMe for Antique Depot Buddy McFreed: In 2016, Beth Tribe of Reisterstown began a GoFundMe on behalf of Stefan Freed to help with rent after the first flood. His shop, Buddy McFreed's, was a trove of retro treasure, with the goal of making "the world a little brighter." Now, the same page has been reactivated as Freed works to reopen the store.
Fundraiser for A La Mode Boutique: This beloved boutique, which was forced to relocate to the top of Main Street after the first flood, had only been open for six weeks before the waters rushed in again—causing significant damage to its brand new space and products. Friends and customers have established this GoFundMe page to help husband-and-wife owners Chris and Amie McCaslin rebuild their store yet again. A La Mode Boutique has also begun selling $5 ECStrong bracelets to support the cause.
Fundraiser for Junk Girl and A Journey from Junk: Both of these vintage stores from owner Kelli Fitzsimmons-Myers sustained significant damage and loss during the flash flood. All donations from the crowdfunding campaign will go toward rebuilding and reopening the stores, so that Fitzsimmons-Myers can reconnect with her loyal customers.
Sgt. Eddison Hermond Memorial Scholarship: Friends and family of Sgt. Eddison Hermond, who was tragically and heroically killed in the flood, have set up this scholarship fund in his memory. While serving as a National Guardsmen, Hermond also worked for Howard County's Victoria Restaurant Group—which operates Victoria Gastro Pub in Columbia and most recently opened Manor Hill Tavern in Ellicott City. To continue the legacy of his service, the scholarship will be awarded annually to a member of the hospitality industry who embodies the values that Hermond lived by.
Save the Clock T-Shirts: These t-shirts are back on sale after the iconic Ellicott City clock on Main Street was swept away yet again. The shirts are $20 each and all proceeds will be donated to the Ellicott City Partnership.
T. Rowe Price Makes Sizable Donation: The Baltimore-based global investment manager is donating a $20,000 grant to be distributed evenly between the Community Foundation of Howard County and United Way of Central Maryland's ECStrong Fund. "Our thoughts are with those who were impacted by last week's flood in Old Ellicott City," said T. Rowe Price Foundation president John Brothers, in a statement. "The town is a historic treasure, and we consider it our responsibility to invest in the vitality of the communities where our associates live and work."
*This list will be updated.