Bikemore's One-of-a-Kind Cranksgiving Ride Returns in Its Ninth Year
For local cyclists, the combined bike race, scavenger hunt, and food drive is as synonymous with Thanksgiving in Baltimore as sauerkraut.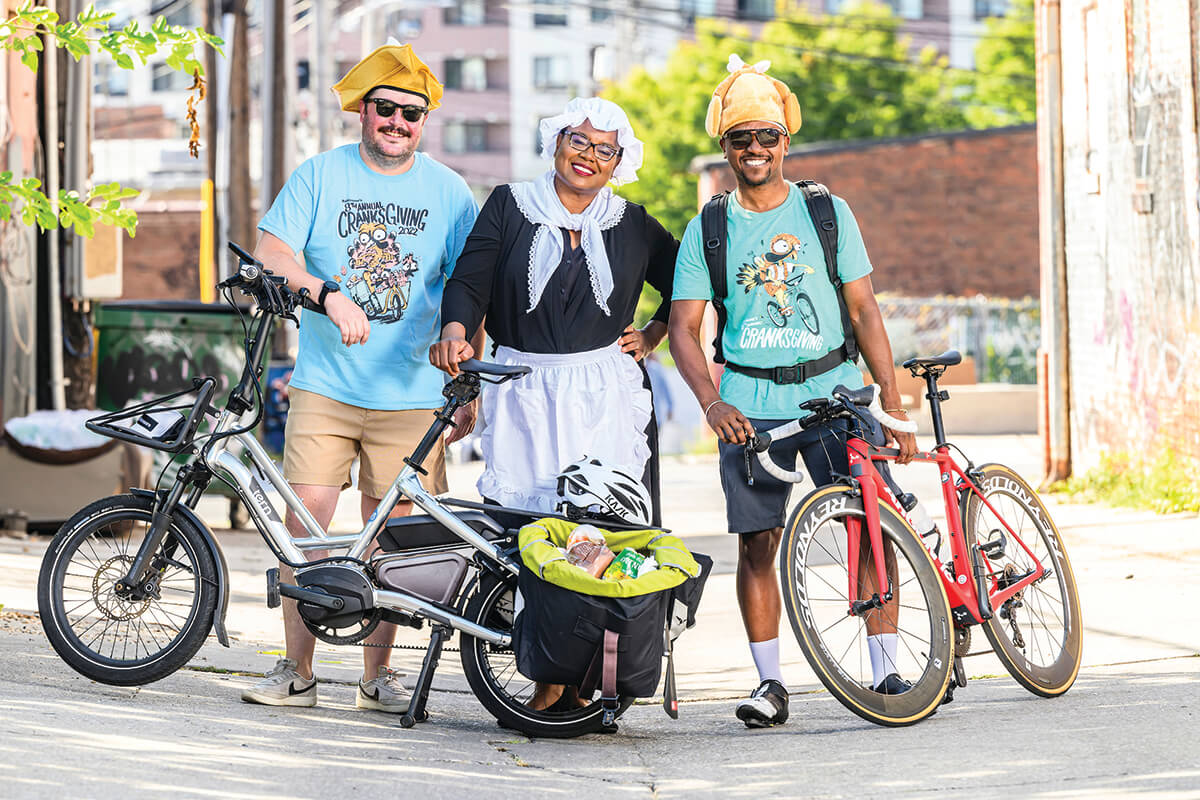 In mid-November, while the rest of us are busy prepping pies and stuffing turkeys, local cyclists will take off with baskets and backpacks to search the city's grocery stores for boxes of oatmeal, jars of peanut butter, cans of beans, and so on.
Now in its ninth year, Cranksgiving has become an annual tradition—and competition—that combines a bike race, scavenger hunt, and food drive, one that is now as synonymous with Thanksgiving in Baltimore as sauerkraut. For cyclists, at least.
"It's an event filled with joy," says Jed Weeks, interim executive director and policy director of Bikemore, the local nonprofit cycling advocacy group that hosts the event. "We found a way that Bikemore can give back to the community in a time of need and elevate other nonprofits in the city…It's really a win-win."
In 1999, the tradition began in New York City, with one generous bike messenger, Antonio Rodriges, who was in search of a unique way to give back to his community. He designed the event to resemble "alley cat races," or unsanctioned bike races meant to mimic a messenger's intense, fast-paced daily routine, and it took off.
Before long, Cranksgiving went nationwide, and in 2015, Baltimore caught on when Bikemore started its own competition, with gathered goods supporting two local food insecurity nonprofits, Moveable Feast and the Franciscan Center.
To date, there have been close to 500 participants and more than $5,000 worth of donations. But this is no ordinary food drive. With a list of groceries and locations, small teams depart from Charm City Meadworks and hit various designated stores throughout the city, with only two hours allotted for travel or shopping.
At the end of the race, donations are divided into bins, points are tallied based on their speed and haul, and awards are handed out during an after-party. Over the years, participants have established friendly rivalries and some don holiday-themed costumes aboard festively decorated bikes.
This month, Cranksgiving will take place on Saturday, Nov. 18, starting at 1 p.m. Registration is free, beyond at least $10 for groceries, encouraging ample participation. And in the years to come, Weeks hopes that the organization can entice even more participants, perhaps through the inclusion of e-scooters and other mobility devices, in an effort to accommodate those without bike access.
"It's not just for bike messengers and roadie cyclists," he says, as new bikers, kids, and families from across the city have participated in this one-of-a-kind ride. "It balances the competition spirit with pure fun. I don't know how to describe it; it just feels very Baltimore."