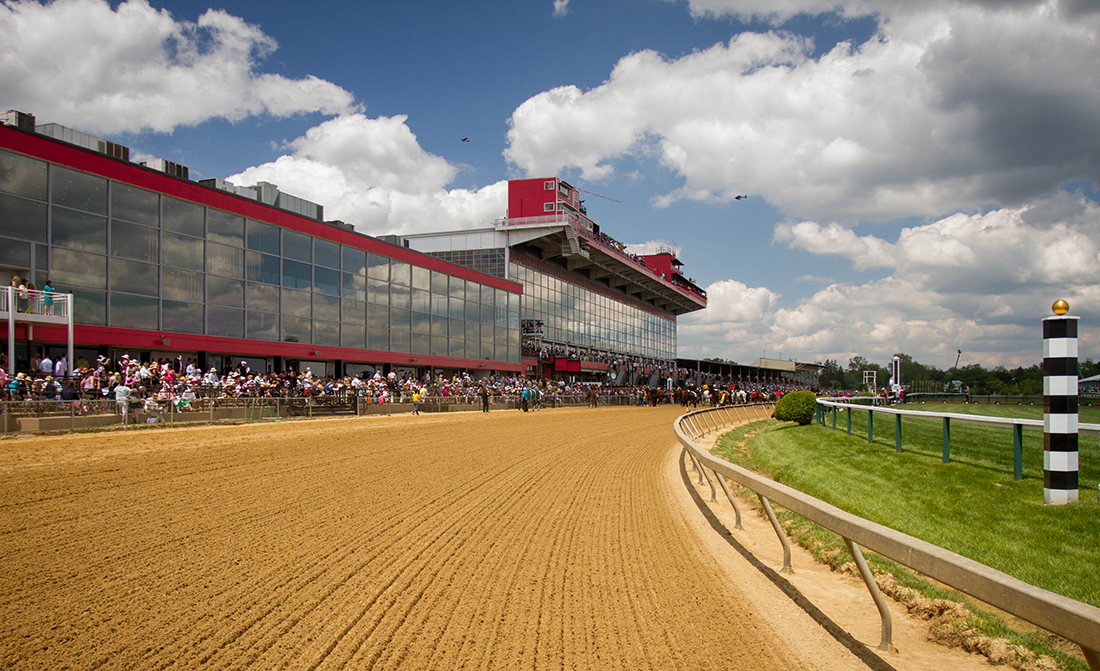 Flickr / Creative Commons
It's sad, really, the whole situation. How the venue, Pimlico Race Course, for one of America's most iconic sporting events and one of Baltimore's great decades-old traditions, the Preakness Stakes, has been left to wither and die.
If you've been, there's no shortage of evidence, from the unusable bathrooms a few years ago, to the 7,000 Old Grandstand seats the track's owners have said are unsafe to sit in this year, to on Tuesday morning, when a water main burst, leaving a pair of craters in the parking lot just outside the historic-yet-dilapidated, 149-year-old facility's administrative offices.
Even Pimlico's jockey's lounge, used sparingly throughout the year but which you expect would be in better condition for riders preparing for a nationally televised horse race with a $1.5 million purse, looks like it hasn't been updated since the 1980s (the hand-crank manual pencil sharpener affixed to a desk is a giveaway). Plus, it has its own damage: The frayed net on a Ping-Pong table wouldn't even allow a fair game.
The course's crumbling state is all too obvious a symbol of the disarray that surrounds the Preakness Stakes. The ongoing legal and legislative battle and public posturing between Baltimore City and The Stronach Group—the Canadian real estate conglomerate and Pimlico's owner—which hasn't hid the fact it wants to move the Preakness 30 minutes south to a "supertrack" in Laurel, has been well documented. (Though we've yet to hear how new mayor Jack Young feels about the situation.)
Of course, it makes business sense for the track's owners to want to have a state-of-the-art, year-round facility halfway between here and Washington, D.C., where they can attract the type of corporate dollars they want, while theoretically strengthening the state's horse racing presence. And, outside from one weekend a year and the money that some residents of surrounding and blighted Park Heights charge visitors to park, the neighborhood sure doesn't enjoy the type of long-term economic impact you would hope a legendary sporting event, and its home, could bring to a place.
The 110-acre Pimlico lot sits practically desolate for 50 weeks out of the year—the parking lots are used to do things like walk dogs—coming alive only for 12 days surrounding the running of the Preakness, the second jewel of the famed Triple Crown. When that happens, it only makes the warts more apparent to visitors. You won't see them on TV, though. "Viewers won't see the dumped mattresses, tires and garbage on desolate blocks, the high concentration of liquor stores and convenience shops," is how The Undefeated put it in an article this week.
These hard truths don't mean it's easy—or right—to simply throw away one of the great traditions of the city, and the state. That might be why Maryland law says the Preakness can't be moved from Pimlico for any reason other than "disaster or emergency." It's hard to imagine anybody wants a Colts 2.0, though at least this potential move is playing out publicly. In fact, when I visited Pimlico as the sun rose early Tuesday morning and joined one of the free public tours of its barns, I didn't find one person there who wanted to see the track close down, even if they understood its crumbling condition.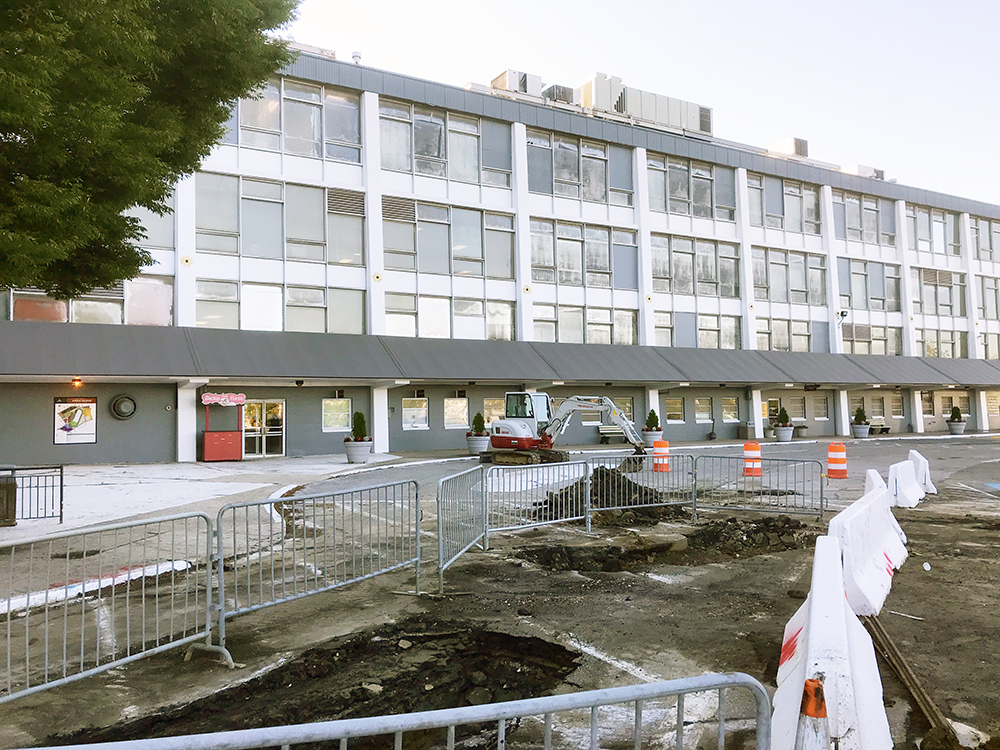 It may have been a biased polling group, but our tour guide, Anita Slebzak, a lifetime horse racing enthusiast who started working at local tracks in 1978, certainly doesn't want it to happen. "Having the Preakness is like having the Super Bowl or the World Series in your hometown every single year," she said after guiding a group of nine people around. "I hope that they keep it."
So does 32-year-old John Anderson, the security guard who tagged along with our group. He's worked at the track on and off for 15 years; his mom has him beat, at 19. "I work here. My mom works here. My dad will be here tomorrow. My sister will be here on Preakness Day, and so will my will brother-in-law," he said. From South Baltimore, the guy with gold front teeth and an endearing and infectious laugh isn't sure if he'd be able to get to Laurel to work, should Pimlico close and its land redeveloped, unless transportation was part of the deal. "There's no need to take it down," he said, standing beneath the grandstands. "For what? You make a lot of money here, and it's historic."
Indeed, Frank Stronach, 86, a self-made billionaire who has sued his daughter, Belinda, for financial mismanagement of the family assets (and she vice versa), bought Pimlico, and Laurel, in 2002. Money, more money, could have been invested in the place a long time ago. Even so, just two years ago, on a nice weather day, Pimlico set single-day records for attendance (140,237) and handle ($97.16 million).
Even someone who you'd think would have rooting interest for the proposed new location for the state's premier track, Louann Day, a retired communications official who lives within walking distance of the current Laurel Raceway and took a tour of Pimlico on Tuesday, said she hopes the venue stays right where it is. "This is iconic Maryland," she said. "It'd be like taking crabs away."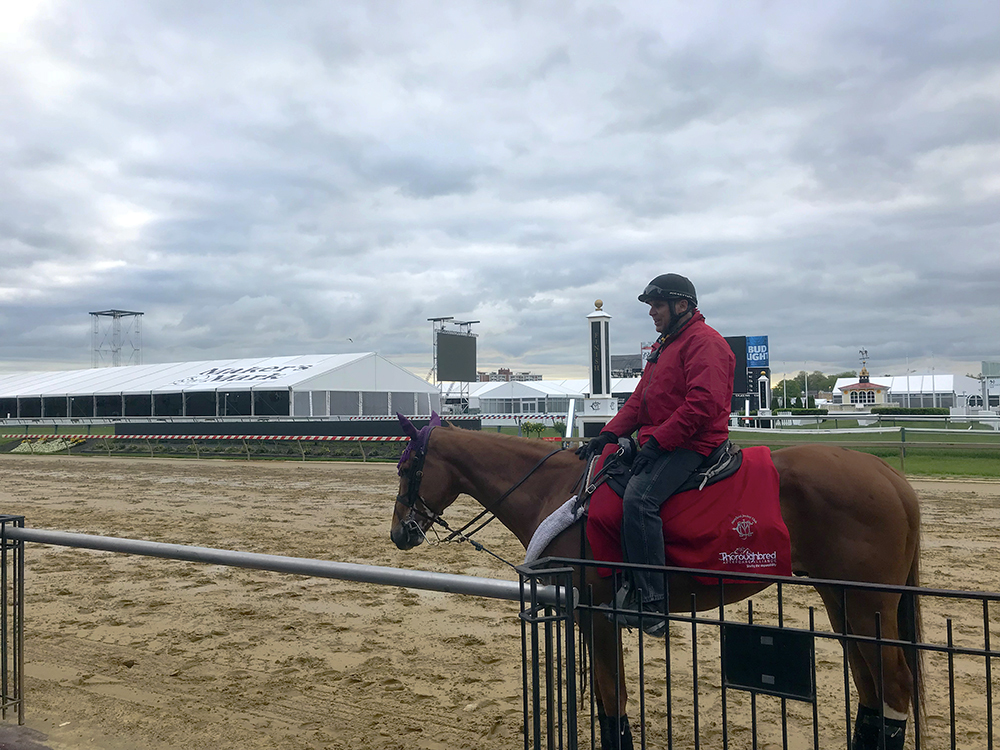 Gone not only would be the theater, pageantry, and buzz (Infield party or otherwise) of the 100,000-plus watching the running of the Preakness—a reason to celebrate, and we could sure use as many of those as possible. But also disappearing into thin air would be the small, charming moments, the type of early weekday mornings that leave an impression on plastic minds.
Like when Tim Tullock, a veteran outrider and racing analyst who sat on a horse near the start-finish line of Pimlico's one-mile dirt oval and informed wide-eyed kids (and adults) about the nuances of horses. "Did you know horses can't throw up?" he said, as a way of explaining that they can't breathe through their mouth. Later he entertained his own kids, by video-chatting to them from horseback, as he rode about the property.
A few media members stalked the stables, looking for a glimpse of War of Will, one of the horses involved in the controversial Kentucky Derby finish two weeks ago. And security guards talked shop, one about the good old days when you could bring anything in on race day, even your own liquor. A second spoke of another reality. Part of his job Saturday? To retrieve the golf carts that kids from the surrounding divested neighborhood hop the Pimlico fences to steal. (Note: They have GPS in them, so they're easy to find.)
Meanwhile, television crews ran wires from their many production trucks, in preparation for Preakness Day, making sure the electricity worked. "The Home of the Preakness," the signage says nearby, a true statement until at least 2020. After then, we don't know.