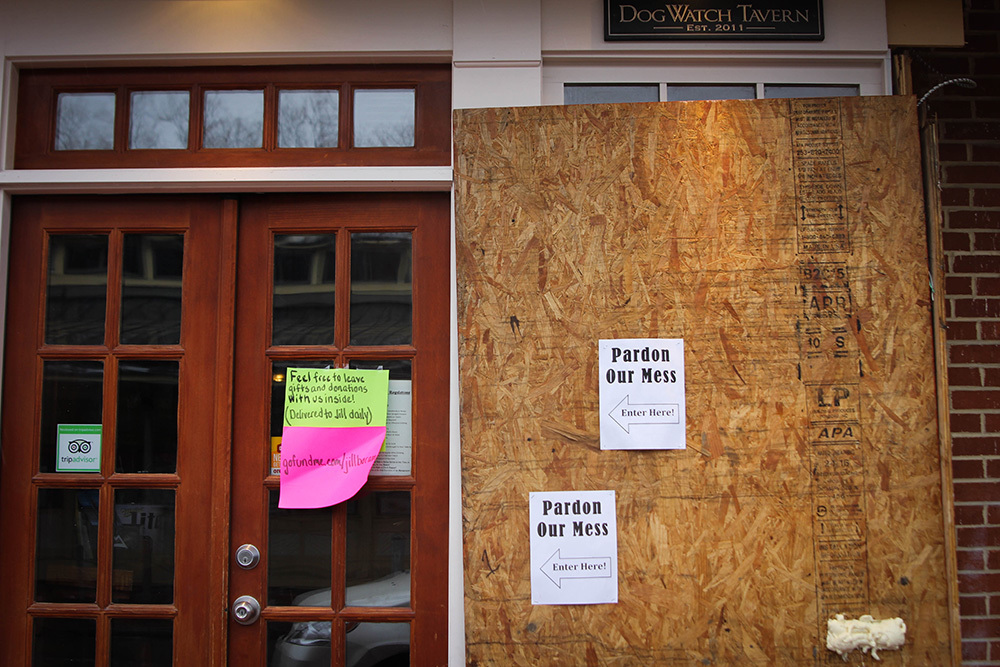 Meredith Herzing
This past fall, DogWatch Tavern owner Marka Browning was officiating a wedding for her longtime chef, CJ Boram, and his soon-to-be-wife, Jill, on the Baltimore waterfront. Now, less than four months later, Jill is recovering in The Johns Hopkins Hospital ICU from injuries sustained during this past weekend's violent hit and run outside of the bar.
The 27-year-old was leaving the bar with her husband after he got off work early Saturday morning when a minivan crashed through DogWatch's doorway in reverse. The driver had been involved in a previous fight at a different bar just down the street. Jill suffered skull fractures and a broken hip, leg, and teeth, among other injuries.
"This has been one of the darkest experiences we've ever had to deal with," Browning said. "It was last call, so our doors were locked and we were cleaning up. All of the sudden, this car comes rushing through and the door comes off. You just keep replaying what you could have done differently over and over again. We were just innocent bystanders and this violence spilled out onto our property."
A GoFundMe page has raised more than $52,000 for Jill, who just got out of surgery last night and is "doing surprisingly well," Browning says. "She has a long road ahead of her, but she is a freakin' trooper."
For its part, the bar also suffered extensive structural damage and it has not yet been determined what insurance will cover, since DogWatch is merely a tenant of the building. The bar is currently accepting gifts and flowers for Jill, CJ, and their family—and has been keeping its normal hours.
"Anyone who has been to Fells Point knows that this is a strong, tight-knit community," Browning said. "This is not behavior we stand for and this isn't anything close to what we're about. As a community of business owners, we're going to look into the cause to make sure we can prevent something like this from happening in the future."
Browning said business has been down "about 90 percent" since the weekend incident, but she has been floored by the community support. She says that DogWatch is planning on throwing a fundraiser in a couple of weeks.
"It's incredibly unfortunate that this is what it takes to get the powers-that-be to understand that something has to change around here," Browning said. "If the system isn't going to work for us, at least we know we have the full support of the community to do the right thing."