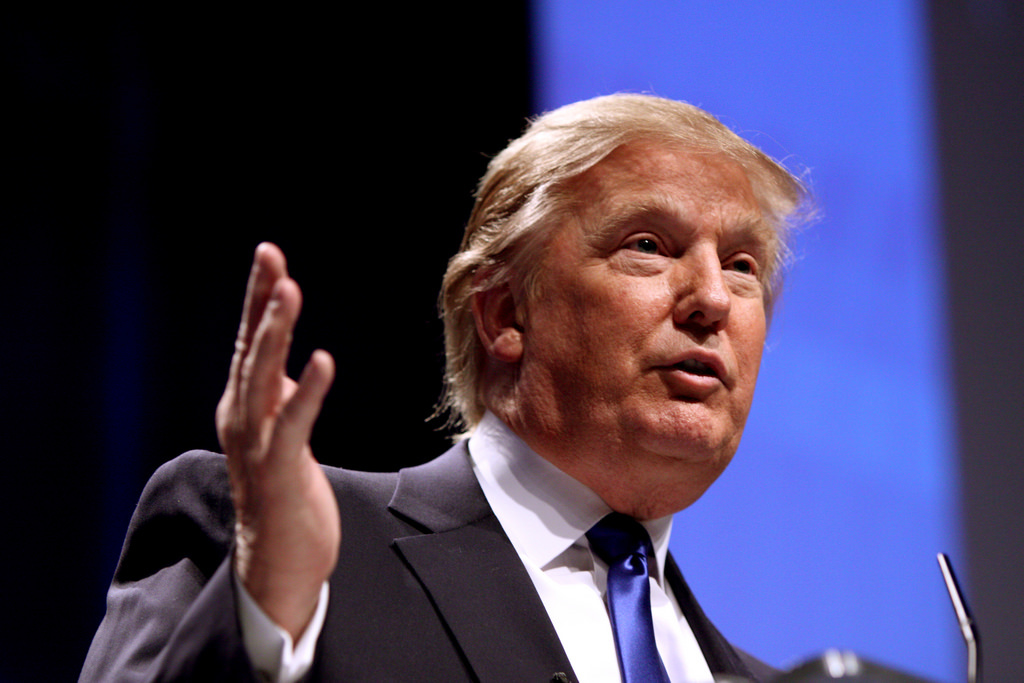 Flickr / Creative Commons
Controversial Republican businessman Donald Trump pulled off one of the biggest upsets in U.S. presidential history Tuesday night, defeating heavily favored Secretary of State Hillary Clinton.
Trump will be sworn into office as America's 45th president on January 20 in Washington, D.C. He will be the first president without prior government or military experience—not the historic first projected by recent political polling, which Clinton had comfortably led for many weeks.
The key East Coast battleground states of Pennsylvania, North Carolina, New Hampshire, and Florida in particular, were very tight, postponing any early call in the race. And Ohio, another battleground state, was called surprisingly quick for Trump.
Both candidates entered Election Day with historically low approval ratings, setting the stage perhaps for Trump's remarkable performance in light of traditional predictive models.
Trump's key to victory was flipping several states that President Obama had won in 2008 and 2012, including key states in the Midwest, such as Iowa. Many also point to Libertarian Party candidate Gary Johnson, who received more votes than any third-party candidate since 1996.
About 61 percent of Americans viewed Trump unfavorably entering this week, which is the worst score Gallup has observed in its presidential polling history since 1956. About 52 percent view Clinton unfavorably—the second-worst score ever—according to Gallup.
"In sum, this contest of historically unpopular candidates concludes with Clinton the apparent 'lesser of two evils,' and that could be what decides the election," Gallup concluded—apparently erroneously in hindsight—in its summation.
Trump visited Baltimore back in September, where he addressed the National Guard Association's annual conference at the Convention Center and was met with both supporters and protestors.
"In all my years in military service, I've kept my political views to myself—but I retired 18 months ago," said retired Lt. Colonel Bill York, of White Marsh told us in September. "He's saying all the things I've been telling my wife behind closed doors. He wants to make America great again. He supports a strong military, offering economic opportunity to the inner cities, and he supports the rule of law."
Similarly, Kathy Friedel, 57, a Baltimore County school bus driver from Cockeysville spoke about supporting Trump.
"I have faith in him," she said. "I've done my research but it comes down to a gut feeling. I trust him more. I think he speaks his mind and tells the truth."
On the flipside, Gov. Larry Hogan, a Republican, disavowed Trump previously during the campaign and wrote in his 88-year-old father—former Maryland Rep. Larry Hogan, Sr.— at the top of the ballot, according to aides in a story posted by The Baltimore Sun.
Hogan's decision to reject the nominee of his party points to blue Maryland's 2-1 Democratic voting registration advantage and the lower favorably ratings of Trump in the state. (The Texas Tribune reported the former president George W. Bush and former first lady Laura Bush did not make a presidential selection when casting their ballots.)
In the late hours of Tuesday night, several financial markets were in turmoil because of the returning election results, including Asian markets trading sharply lower and the United States' Dow Jones futures down as much as 800 points.
—
In Maryland's Senate race to fill the shoes of the retiring Barbara Mikulski, Montgomery County Rep. Chris Van Hollen, a Democrat, handily defeated Republican Del. Kathy Szeliga, from Baltimore County, as expected.
Szeliga, however, distinguished herself during the course of a solid campaign and debate performances and likely has set up another run for higher office down the road, according to political observers.
"She wasn't well known statewide, but she ran a very viable campaign," said Todd Eberly, associate professor of political science and coordinator of public policy studies at St. Mary's College of Maryland. "She couldn't disavow Trump or she'd lose her base, but she's more of Larry Hogan-type. She could do well in a non-presidential year."
In addition, Republicans clinched victory in both the U.S. Senate and the House, winning enough seats to extend their six-year streak of commanding the latter.
In Maryland's congressional races, incumbents Andy Harris, a Republican, and Democrats Steny Hoyer, Dutch Ruppersberger, John Sarbanes, John Delaney, and Elijah Cummings retained their seats. Democrats Anthony Brown (District 4) and Jaime Raskin (District 8) won open seats.
Additional reporting by digital editor Jess Mayhugh