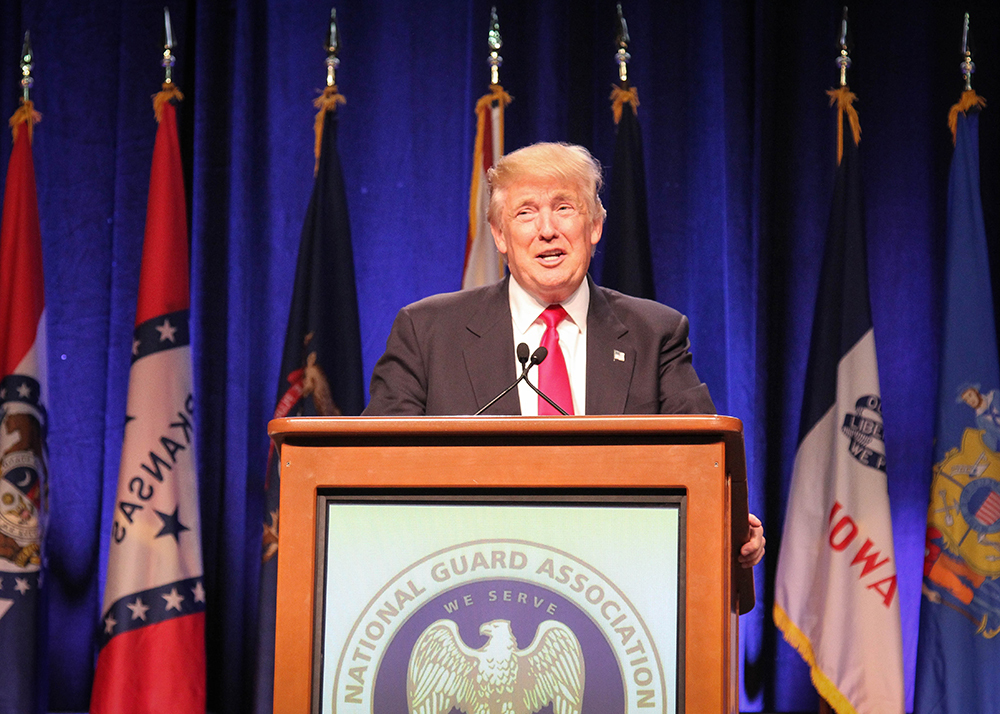 Photography by Meredith Herzing
Republican presidential nominee Donald Trump addressed the National Guard Association's annual conference Monday afternoon at the Baltimore Convention Center, pledging to build up the nation's military while also going hard after former Secretary of State Hillary Clinton's recent remark that half of his supporters belong to what she called "the basket of deplorables."
On the heels of last week's Commander-In-Chief Forum and the 15th anniversary of the 9/11 tragedy yesterday, Trump's speech to an estimated 4,000 National Guard members from around the country comes at a time of increased scrutiny of national security issues in the presidential race. Both Trump and former Secretary of the State Hillary Clinton were in New York City Sunday for the 9/11 memorial service there. (Clinton, who was recently diagnosed with pneumonia, felt ill during the event and cancelled a scheduled trip to California today to speed her recovery.)
"Our support comes from every part of America, and every walk of life," Trump said in his 20-minute speech, which he read from a teleprompter. "She divides people into baskets as though they were objects, not human beings."
Generally relaxed and poised in his tone, Trump was well received by the audience, at least half of whom were in uniform and offered support throughout his remarks. He received his biggest applause after pledging to take on ISIS, end the defense sequestration, and provide a direct line to the White House for the National Guard, if elected president. Trump received a standing ovation when he punctuated those words, adding, "We will be one people, under one God, saluting one American flag."
"In all my years in military service, I've kept my political views to myself—but I retired 18 months ago," said Bill York, of White Marsh, a retired Lt. Colonel with the Maryland's National Guard. "He's saying all the things I've been telling my wife behind closed doors. "He wants to make America great again. He supports a strong military, offering economic opportunity to the inner cities, and he supports the rule of law."
Retired Maryland Air National Guard Brigadier General Allyson Solomon, an immigrant from Trinidad and Tobago, said the convention center was filled with both Republicans and Democrats, but that she wasn't surprised by the warm welcome given to Trump. "We're polite, respectful, and we try to find common ground to work together—that's our nature," Solomon said of those in the Guard. "And we serve whoever is Commander-In-Chief."
After a long pause, Solomon smiled and said it's "not likely" that she will vote for Trump. She said that she was disappointed in not hearing more from the GOP candidate in terms of his vision for where the National Guard fits into the overall defense picture. The Baltimore native was also disappointed that he didn't address issues affecting urban and at-risk youth—Trump didn't mention the city in his remarks at all.
"It was a political speech," Solomon said.
About 75 Trump protestors were on Pratt Street across from the Convention Center by 11:30 a.m. and a larger number of Trump supporters, around 150 or so, were also rallying and waving signs, with Charles Street essentially serving as a barrier between the opposing groups. Despite occasional shouting back and forth between the two sides—and also passing automobiles—the morning demonstrations were peaceful and took place without any arrests or major incidents.
Trump supporter Elam Stoltzfus, 66, a real estate developer and home builder from Lancaster, PA, said he supports the GOP nominee for two main reasons.
"First, most of the drugs that come into this country come from Mexico and Trump has pledged to stop that," Stoltzfus said. "We have a drug problem even in Lancaster. And two, he's a businessman who knows how to balance a budget."
"I have faith in him," echoed Kathy Friedel, 57, a Baltimore County school bus driver from Cockeysville. "I've done my research but it comes down to a gut feeling. I trust him more. I think he speaks his mind and tells the truth."
The group Marylanders for Trump rallied outside the Pratt Street's Transamerica Tower. Trump won the state's Republican presidential primary, garnering 54 percent of the vote, besting his closest rival, Gov. John Kasich of Ohio, who tallied 23 percent. The state's top elected official, Republican Governor Larry Hogan, has said is not a supporter of his party's controversial nominee, however.
"I'm not a Trump fan," Hogan told The Associated Press in March. "It's a mess. I hate the whole thing. I don't think we have the best candidates in either party that are being put up. I don't like the dialogue. I don't like the things that are going on, and I'm sick of talking about it, because it's not anything I have anything to do with."
Activists from the Baltimore-based Peoples Power Assembly, which organized numerous demonstrations around Freddie Gray's death and the trials of the police officers involved in his fatal detention, gathered outside the convention center. In the group's Facebook event post, the Peoples Power Assembly said they intended to tell the candidate that "his racist, fascist, bigotry is not welcome here."
"We're standing up against his [Trump's] completely compromised vision of this country,' said Rev. Cortly "C.D." Witherspoon. "The people we represent make up the diverse bouquet that makes up this city."
According to an Opinion Works poll released earlier this month, Clinton led Trump among registered voters in Maryland by a 29-point margin (54-25 percent). Democrats hold a 2-1 advantage among registered voters in the state.
Nationally, however, polling shows the presidential race is much closer with Clinton leading Trump by five points—46 percent to 41 percent—according to the most recent Washington Post/ABC News survey.
The National Guard Association includes nearly 45,000 current or former National Guard officers. Founded in 1878, it was created to provide unified representation for the Guard in Washington, D.C.
"We are participants in democracy as well as defenders of democracy," said retired Maj. Gen. Gus Hargett, the National Guard Association president in a statement announcing's Trump appearance. "So, in both roles, we are very curious to hear Mr. Trump's vision for national defense and how the National Guard fits into those plans."
The annual conference is a traditional stop on the campaign trail for presidential candidates. The event has hosted at least one of the Democratic or Republican candidates every year since 1992, the NGAUS said in a statement. This year, the association invited both Trump and Clinton.