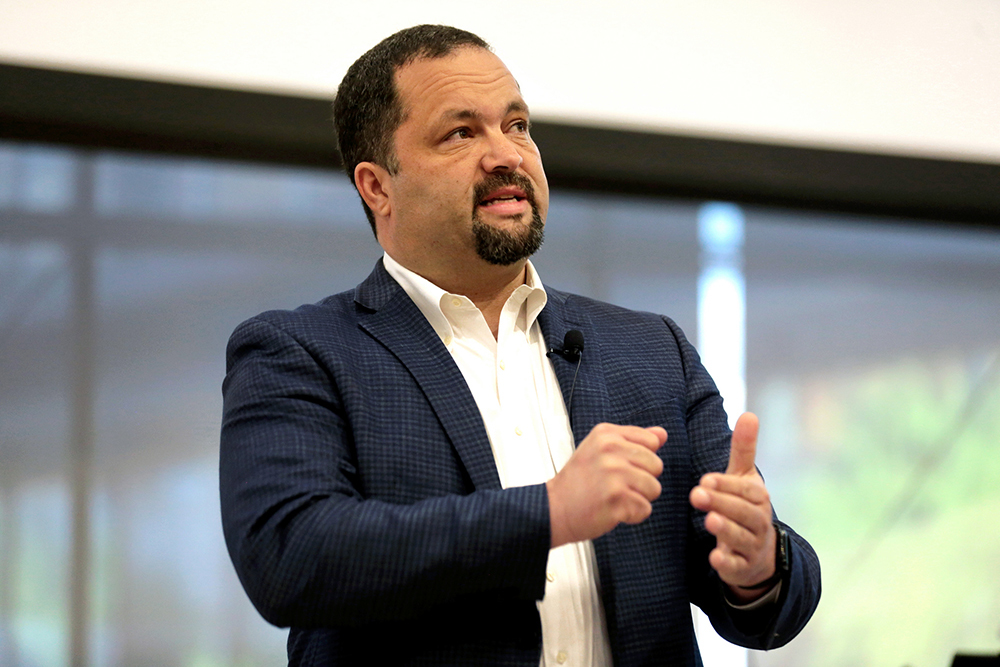 Ben Jealous, the son of former Baltimore City school teachers and a former NAACP president, handily beat Prince George's County Executive Rushern Baker for the Democratic gubernatorial nomination Tuesday.
Jealous, an unabashed progressive with support from the Maryland teachers union and Sen. Bernie Sanders, will face off against incumbent Republican Gov. Larry Hogan, presenting voters with a clear choice in November. Despite a 2-1 Democratic advantage in registered voters in the state, Jealous is expected to have his work cut out in challenging Hogan, whose approval ratings have consistently ranked in the mid-60s during his first term. Unopposed in the Republican primary, Hogan also starts the general election campaign with a nearly $8 million fundraising lead on Jealous.
"Hogan will lose because he doesn't know how run to against some who can build people-powered grassroots campaign," Jealous told supporters at his campaign's victory party at the Reginald F. Lewis Museum in Baltimore.
Jealous will certainly try to tie Hogan, considered a moderate Republican, to the head of his party, President Donald Trump, who received just under 34 percent of the vote in Maryland in 2016.
"A [Jealous] vs. [Hogan] race isn't just interesting nationally because of what Jealous represents for the future of the Dem Party," Goucher College political science professor Mileah Kromer commented on Twitter last night, "it's also what Hogan represents for the future of Republican Party."
In another high-profile primary race Tuesday, incumbent Baltimore State's Attorney Marilyn Mosby won another four-year term, defeating defense attorney Ivan Bates and former prosecutor Thiru Vignarajah, who essentially split the opposition vote. Mosby tallied just less than 50 percent support of Democratic voters with 96 percent of the precincts reporting last night.
Mosby became a national figure in 2015 after filing charges against six city police officers involved in the arrest of Freddie Gray, who died while in custody and maintained the support of numerous Baltimore political leaders, including Rep. Elijah Cummings, former Rep. Kweisi Mfume, and Mayor Catherine Pugh.
In Baltimore County, the Democratic nomination for county executive remained in a three-way deadlock after voting ended. Former Del. John Olszewski Jr., state Sen. Jim Brochin and County Councilwoman Vicki Almond posted 33.1 percent, 32.7 percent, and 31.8 percent of vote with more than 98 percent of the vote counted last night. However, a significant number of provisional ballots—nobody will know until July 5 how many—were likely cast yesterday after the Department of Motor Vehicles announced they failed to update the registrations of 80,000 voters over the past year. In the GOP nomination for Baltimore County executive, Insurance Commissioner Al Redmer easily defeated state Del. Pat McDonough.
In city state senate races, two incumbents, Nathan McFadden in East Baltimore, and Barbara Robinson in West Baltimore, lost to challenges from younger state delegates, Del. Cory McCray and Del. Antonio Hayes, respectively. Another state delegate, Del. Mary Washington appeared to be on the verge of upsetting state Sen. Joan Conway with 96 percent of the voting in Tuesday.
In another high-profile state senate race, Sen. Jill Carter held off a challenge from former school teacher J.D. Merrill, the son-in-law of former mayor and governor Martin O'Malley.
In a state house race that garnered regional and even some national attention, state Del. Robbyn Lewis, a public health expert and the first African-American woman to represent District 46, exceeded expectations in easily fending off a big-money challenge by newcomer Nate Loewentheil, a former Obama Administration official.
With 80 percent of the vote, U.S. Sen. Ben Cardin won the Democratic primary in his bid to return to Capitol Hill. He'll be challenged by Tony Campbell, an author, minister, and political science professor at Towson University.
In District 6, the only open congressional seat in Maryland, Democrat David Trone, who spent nearly $12 million, will face defense consultant Republican Amie Hoeber, who also won GOP's 2016 nomination. Rep. John Delaney is resigning his seat in a bid for the Democratic presidential nomination in two years.