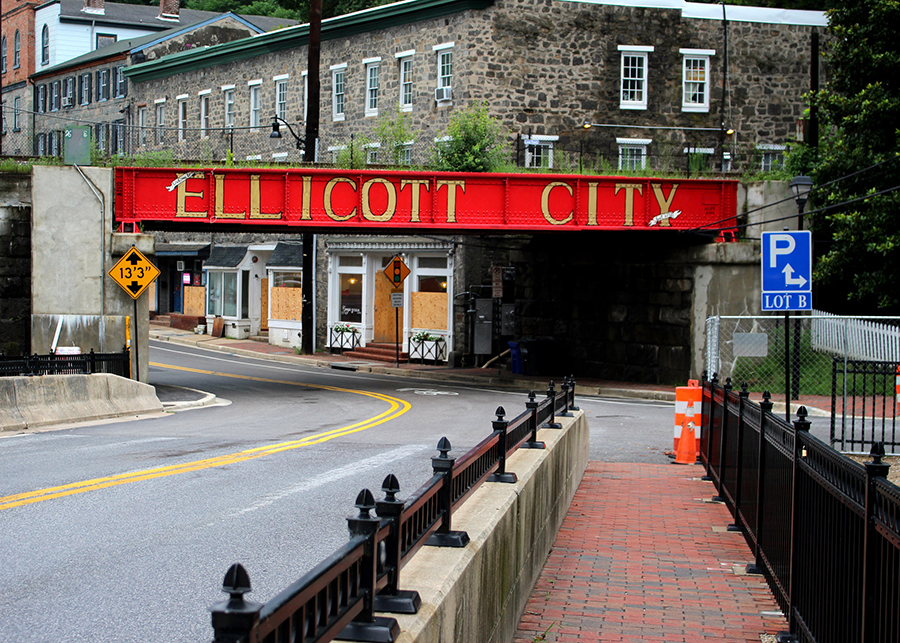 Flickr / Creative Commons
After any bad rainstorm, the thoughts of many Marylanders turn to Ellicott City and its Main Street businesses. Because floodwaters ravaged the historic town twice in two years, Howard County executive Allan Kittleman and county councilman Jon Weinstein introduced legislation to tear down 10 properties on the most vulnerable lower half of the street.
"I wish we weren't here," Kittleman said as he announced a $50 million five-year flood migration plan on Thursday. "But this is a change we need."
The demolition of the properties—which account for about 5 percent of buildings in the historic district—will expand the flood plain and the idea is to replace the buildings with green space and a larger channel for tributaries.
Executives from Preservation Maryland released a statement noting that this kind of demolition could result in Ellicott City being removed from the National Register of Historic Places, and therefore could lose a lot of incentives that help historic communities rebound and rebuild.
And while many Ellicott City residents desire more time to provide feedback and commentary on the proposed plan, the business owners most directly affected have been heavily involved in the conversation.
"We knew this announcement was coming. They didn't ambush us," said Mark Hammis, owner of neighborhood bar The Phoenix Emporium, one of the spaces slated for demolition. "I have a meeting coming up about what to do next. We're still in the negotiating phase. But we'll move somewhere, we have to. I've got kids I need to send to college."
Another Main Street establishment affected by the flood migration plan will be furniture store Shoemaker Country, whose owners say they will continue to work no matter the store's location.
"Keep an eye for our coming new location and reach out to us for the custom pieces of furniture that we are known for," owner John Shoemaker said. "We are still producing pieces despite losing our retail shop in the flood."
The future of other businesses seems a bit more uncertain, like Italian restaurant Portalli's, which was extremely hard hit in both of the devastating floods of the last two years.
"Today is an extremely sad day for us at Portalli's," owner Evan Brown wrote on Facebook. "[We] would like to thank everyone who played a part in making Portalli's a pillar in the community on lower Main Street for the past 10 years . . . When we started this business, we wanted to offer the community a unique place to spend time while enjoying good food. We can only hope we've been successful in achieving our goal and were able to provide that for you, our guests. Words cannot describe how appreciative we are for the support we've received from you, time and time again, after every tragic event we've faced."
Other businesses, like retail shop Sweet Elizabeth Jane, are counting their blessings that they were able to move towards the top of the hill in between floods and their building can be spared from the latest demolition plan. Though, owners acknowledge, the town doesn't feel quite the same.
"We are all affected," Sweet Elizabeth Jane owner Tammy Beideman said. "The foot traffic from other businesses not being here is going to be a problem. There's still not a lot open. You really need the whole town to make things good. We just have to take it one day at a time and do the best that we can."
Unlike the first flood when many businesses were driven to open, things are a lot different after this most recent flood on Main Street. Some businesses will not be returning this time around, and few other retail shops, like Culture Lab and HorseSpirit Arts Gallery, are relocating.
"There is no right or wrong answer," Beideman said. "You just have to evaluate your risks, your investment, and your comfort level with the whole thing. The push shouldn't be to reopen by all means. The push should be to do what is right for your business. What it looks like for every business is different."
For both Beideman and Hammis of The Phoenix, in particular, the idea of keeping their businesses local has been the top priority.
"Howard County will always be the optimal location for me," Hammis said. "But we're going to move somewhere, of course we are. Keeping this place open is all I know how to do."