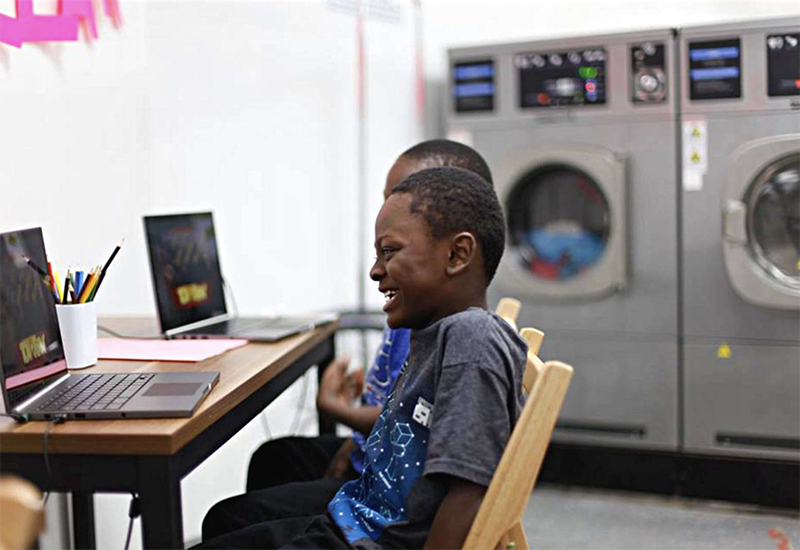 Digital equity—providing those in need with the resources and information to access the internet and its services—is the focal point of the just-launched Wash and Learn Initiative across Baltimore.
Starting today, the Enoch Pratt Free Library and Libraries Without Borders' partnership, along with the support of the Robert W. Deutsch Foundation and the Media Democracy Fund, will see the introduction of laptops, tablets, and targeted programming inside four different laundromat locations in the city. Laundromats are a place of gathering—everyone needs to do their laundry. With this in mind, those behind the program decided that the best way to do outreach was to meet people where they are.
"We are a public library so we need to be serving our city and the public," says Enoch Pratt CEO Heidi Daniel. "We are very much about being community based and responding to the needs of our neighborhoods and our city. This [program] furthers our reach by creating community partnerships that take us outside of existing spaces."
The four laundromats the program will be in are two different Sudsville Laundry locations, Laundry City West, and Hipp Laundromat in East Baltimore. "This community could use all the resources that they can get," says Brandon McGoogan, a manager at Hipp Laundromat. "We're just so excited about this program."
The program won't be focused on one particular thing—part of meeting people where they are also means curtailing the program to whatever the demand is at the moment. There might be a class on setting up a Gmail account one day and résumé help the next. Librarians will be on hand a few times a week to answer questions and assist in any way they might be needed.
Digital equity can also be defined by filling in the blanks of what those without regular access to digital resources don't know. Meeting them in a low-stakes, familiar place like a laundromat is a way for the program to ease into its goals and its mission.
Adam Echelman, executive director of the Libraries Without Borders' U.S. office, says that the program in Baltimore has been very grassroots, too, with local companies helping out with furniture and the laundromat owners themselves being amongst its biggest champions. And though this digital focus is specific to Baltimore, there are proven similar models of the Wash and Learn Initiative in Detroit and St. Paul, Minnesota.
"The biggest gap and jump for us is turning something that's cool into something that's impactful and sustainable," Echelman says. "We are thinking about how to create a public space conducive to learning, like a public library."
Libraries have always been a warm, inviting place where information of almost any kind can be found. But as the internet has evolved and things have gone digital, the means by which this information is accessed has changed, and as a result, so too has the library.
Daniel says she is often asked why people still need the library when its functions can easily be replicated on a mobile device, and to that, she notes that not everyone is fortunate enough to have these resources. "You have people come in who have been so disenfranchised and so disconnected from the internet," she says. "This digital life that we have all created as a society, that they don't even know where to begin."
With this in mind, it only makes sense to take this idea and extend it far and wide to places where the people in need the most are naturally going to be. Daniel hopes, too, that reaching more people can create a symbiotic relationship in which those at laundromats reconnect with their local library branch.
"What the library does really well is bring our philosophy of 'We are here to help, we're here to serve the city,'—we bring that into every partnership, whether it's in our buildings or outside of our buildings," Daniel says. "People are coming to us or we are going out to them, almost every single day."