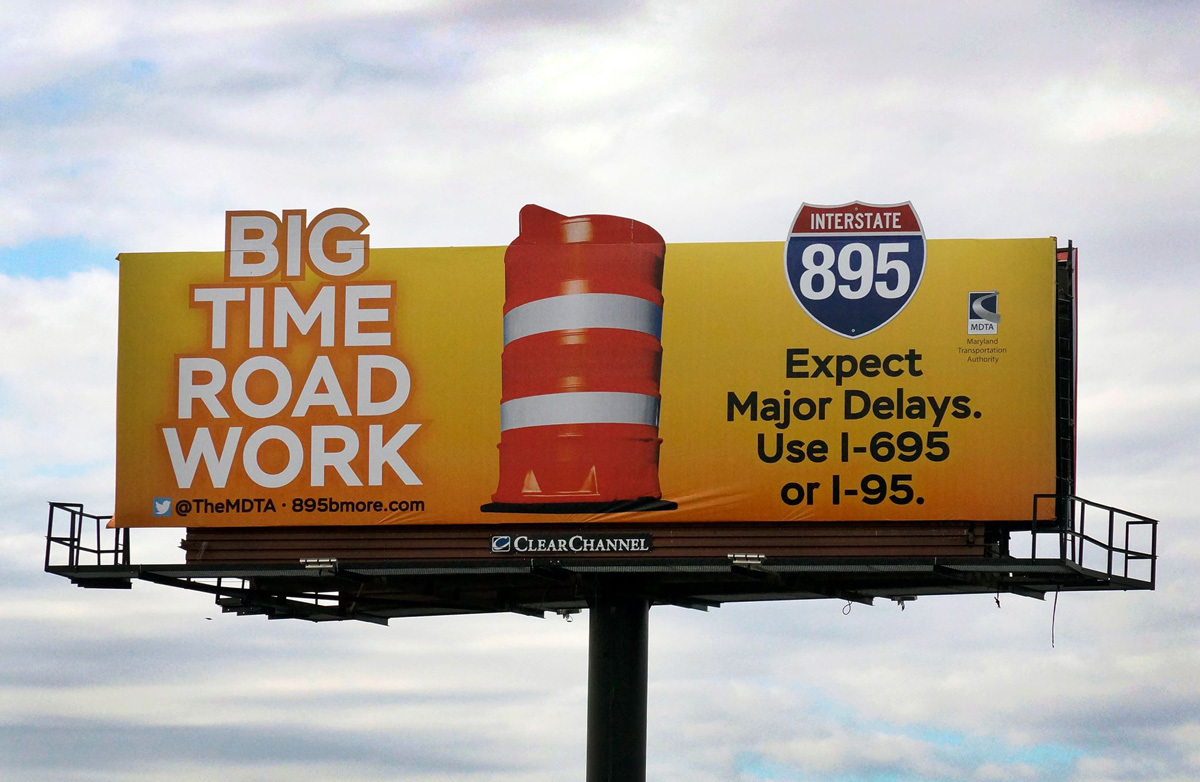 Maryland Transportation Authority
Today is the first day that thousands of motorists' commutes will be disrupted as the Maryland Transportation Authority (MDTA) begins construction on I-895 to replace the bridge north of the Baltimore Harbor tunnel. The MDTA plans to limit that part of the expressway to one lane in each direction for the $189-million project to replace the 60-year-old bridge. The expected completion date is summer 2021. MDTA chairman Pete Rahn advises drivers to get ready for delays.
"This is going to have a significant impact on people's travel," he said. "People are going to notice. There is no way to underestimate the impact it will have on the driving public that is currently using 895."
Never fret—we have compiled everything you need to know to help make your commute a little easier over the next couple of years.
Road closures
Beginning today, northbound I-895 and exit 10 at Holabird Avenue will be completely closed. Two-way traffic will operate on southbound I-895 with one lane going in each direction.
Additionally, the northbound Harbor Tunnel will be closed for 60 days in spring 2019.
In spring 2020, southbound I-895 will be closed. Two-way traffic will operate on northbound I-895 with one lane going in each direction. The southbound Harbor Tunnel will be closed for 60 days during this time.
"This I-895 Bridge is the MDTA's only remaining structurally deficient bridge," said MDTA executive director Kevin C. Reigrut in a statement. "We ask our customers to be patient as we deliver this long-overdue project and remind motorists to drive safely through work zones."
Alternate Routes
"To avoid sitting in traffic, motorists should plan on using I-695 or I-95 as alternate routes," Rahn said. "They will definitely be sitting in traffic if they do not."
Unless you need to reach one of the exits on I-895, the state is suggesting drivers use alternate routes. The Holabird Avenue exit ramp from the bridge is also being replaced and will be closed during the entire project, so do plan accordingly. Rahn says that unless 40 percent of the 79,000 drivers take different routes, "we're going to see a lot of unhappy people."
Speed Cameras
On Monday, speed cameras went into effect on I-895 between the Baltimore Harbor tunnel and Lombard Street to keep drivers from speeding in the construction zone. The state has also placed warning signs to caution motorists about the cameras.
The speed limit in the work zone is 50 mph. MDTA Police will begin issuing $40 fines starting December 17 after a 21-day warning period.
Stay Informed
Rahn says that due to the major traffic impacts and different stages of the project, the MDTA will be in constant communication with the public regarding the progress and changes, including a project website.
It may not seem like closing one lane in each direction for three years is the best option, but Rahn said that it was necessary to allow the project to be completed more quickly and he's asking for patience from the drivers for the duration.
"The approach we have taken on this is designed to get the work done absolutely as quickly as we can," he said. "We're going to be out of the public's way two years faster than it would have been if we had done it with a traditional approach."