Famous Frank's Corner Store on Wheels Gives Back to Cherry Hill
Frank Hudson is among a long line of entrepreneurs that have catered to residents' snack and beverage needs.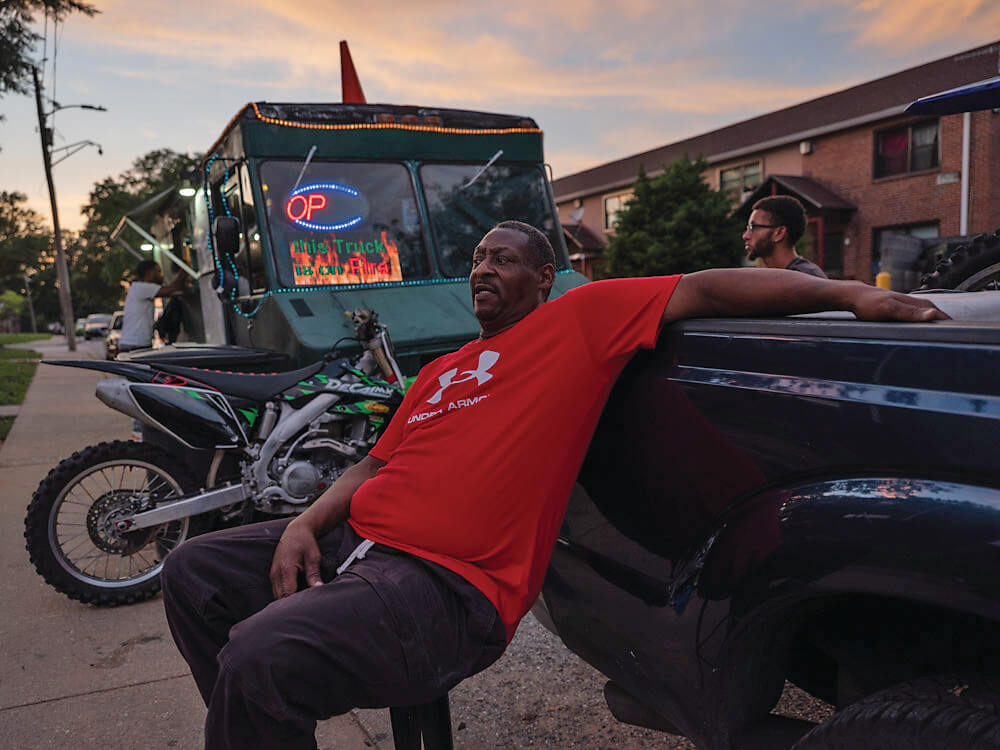 From the converted bakery truck's makeshift sound system, 92Q kicks out a steady stream of Rihanna, Drake, Lil Baby, and Lizzo. The music is just loud enough to overcome the low roar of the twin electric generators powering the slightly battered green vehicle, a kind of mobile corner store known as a "candy bus" in Baltimore parlance.
It's late afternoon, and the bus has just pulled up to this Cherry Hill street curb and plugged in. Almost immediately, a couple of teenagers walk over to the window on the side of the truck and ask the woman inside for a Snickers bar and a bag of chips. One of the young guys then turns toward the familiar man leaning against a big Chevy pickup, which carries extra supplies, in front of the candy bus. Its bed is stacked with two dirt bikes—and two massive plastic coolers filled with bottles of iced tea, soda, and water.
"Yo, Uncle Frank, you got any tea?"
Cherry Hill, unlike most neighborhoods in this city, does not have any corner stores. Or walkable convenience or grocery stores. Filling that void are a handful of candy buses, like this one owned and operated by Frank Hudson, also known as Uncle Frank, also known as World Famous Fat Frank. "Sure," Hudson says, digging out bottles of sweet tea and lemon tea. "Which one you want?"
Hudson has been doing this off and on, but mostly on, for the past 30 years. The 54-year-old is among a long line of entrepreneurs that have catered to the snack and beverage needs of Cherry Hill residents, who have always been geographically isolated—by design—from the rest of Baltimore. When it was built in 1945 to serve the influx of Black World War II workers and servicemen and their families, Cherry Hill became the first segregated public housing community for African-Americans in the U.S. Almost immediately after those first families moved in, Jacob Logan, a shipyard worker who also owned a corner store in South Baltimore, outfitted a bus and began making runs here. "Daddy" Logan later founded a popular citywide bread and delivery business.
"That's who I learned from, Daddy Logan," says Hudson, who reminds the younger kids who inevitably race up when they see him to wait their turn and remember to say please and thank you. "I was a Cherry Hill kid when one of his buses was still coming around."
Hudson's parents later moved to West Baltimore. Despite the best efforts of his mother and father, who imparted his trade skills to his naturally good-with-his-hands son, Hudson got locked up several times on drug charges. It was in prison where he figured out how to be his own boss. Today, Hudson, who retrofitted the former bakery truck into a corner store on wheels himself, has a second "candy bus" almost ready to hit the road. He's also in the planning stages of opening a brick and mortar corner store on the outskirts of Cherry Hill. Meanwhile, in between serving his customers, Hudson—always a gifted mechanic—helps local kids repair their bicycles and dirt bikes.
"Frank gives back," says Todd Cornish, 46, a longtime friend who volunteers with a West Baltimore arabber stable. "He doesn't just fix kids' bicycles and dirt bikes, he shows them how to fix their own bikes. He gives out backpacks. If it's Halloween, he decorates the bus and gives out his candy."
For his part, Hudson credits his longtime girlfriend, Joy, with whom he shares a daughter, with turning his life around and softening his rough edges. Those who've known him for a while say Hudson's always been engaging and likeable, but recognize a physical, perhaps spiritual, transformation in recent years.
Almost five years ago, after a diabetes diagnosis, Hudson, who once weighed more than 400 pounds—thus the colorful nickname World Famous Fat Frank—drastically changed his diet. "I had high blood pressure, diabetes, bad cholesterol, all of it. I got prescribed blood pressure medicine, but it gave me nightmares. Frightening stuff. I killed someone in one dream. I stopped taking it and went on a fast. Just water. Then, I added juice. It cleansed me and it occurred to me, 'How is something dead going to feed me?' I started eating vegetables and oatmeal, but no fried chicken or meat. The doctors can't believe it. No more high blood pressure, no diabetes, and no heart issues.
"I've lost 220 pounds," Hudson continues. "And you know what everyone tells me? The more weight I lost, the nicer I got. I credit my daughter's mother with transforming me, but they could be onto something, too."