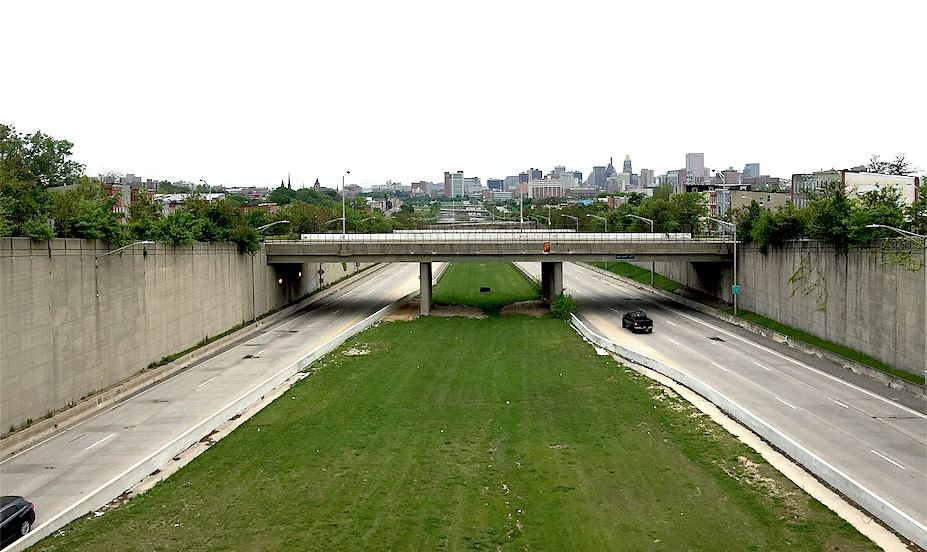 —Wikipedia Commons
U.S. Senators Chris Van Hollen and Ben Cardin, with Maryland Congressmen Kweisi Mfume, John Sarbanes, and Anthony Brown, joined Mayor Brandon Scott on Monday to make the case for infrastructure funding to redress West Baltimore's infamous "Highway to Nowhere."
Built in the late 1960s, the long-since scrapped urban highway was once intended to connect I-70 to downtown and link it to I-95 and I-83. Completion of the project was finally halted amid community opposition—in part led by then-community organizer Barbara Mikulski—from threatened neighborhoods along the proposed route. By that point, however, the damage had been done in West Baltimore where more than 970 homes, 60 businesses, and 1,500 local residents were displaced.
In April, Van Hollen and Cardin introduced the Reconnecting Communities Act to reconnect and revitalize areas like the West Mulberry Street and West Franklin Street corridor that were harmed by the construction of the Interstate Highway System. That legislation, if passed by Congress, would establish a U.S. Department of Transportation grant program as part of President Joe Biden's $2.25 trillion American Jobs Plan and assist communities in removing or retrofitting highway infrastructure that became an obstacle to mobility and economic opportunity.
Biden's plan, according to the White House, includes $20 billion explicitly to "reconnect neighborhoods cut off by historic investments," with a targeted "40 percent of the benefits of climate and clean infrastructure investments to disadvantaged communities."
"For decades, Baltimore's 'Highway to Nowhere' has scarred the city, dividing Black neighborhoods and serving as a stark example of the long history of inequity in infrastructure," said Van Hollen, who gathered with city and state elected officials at the West Baltimore MARC station parking lot, situated in an otherwise desolate western terminus of the 1.4-mile road. "We must end this division by creating infrastructure that unites and connects communities. That's why I was glad to help introduce this legislation to broaden our investments so our cities can transform divisive and harmful projects into ones that promote economic opportunity. From Baltimore to cities across America, this is a key infrastructure priority, and I'm committed to getting it done."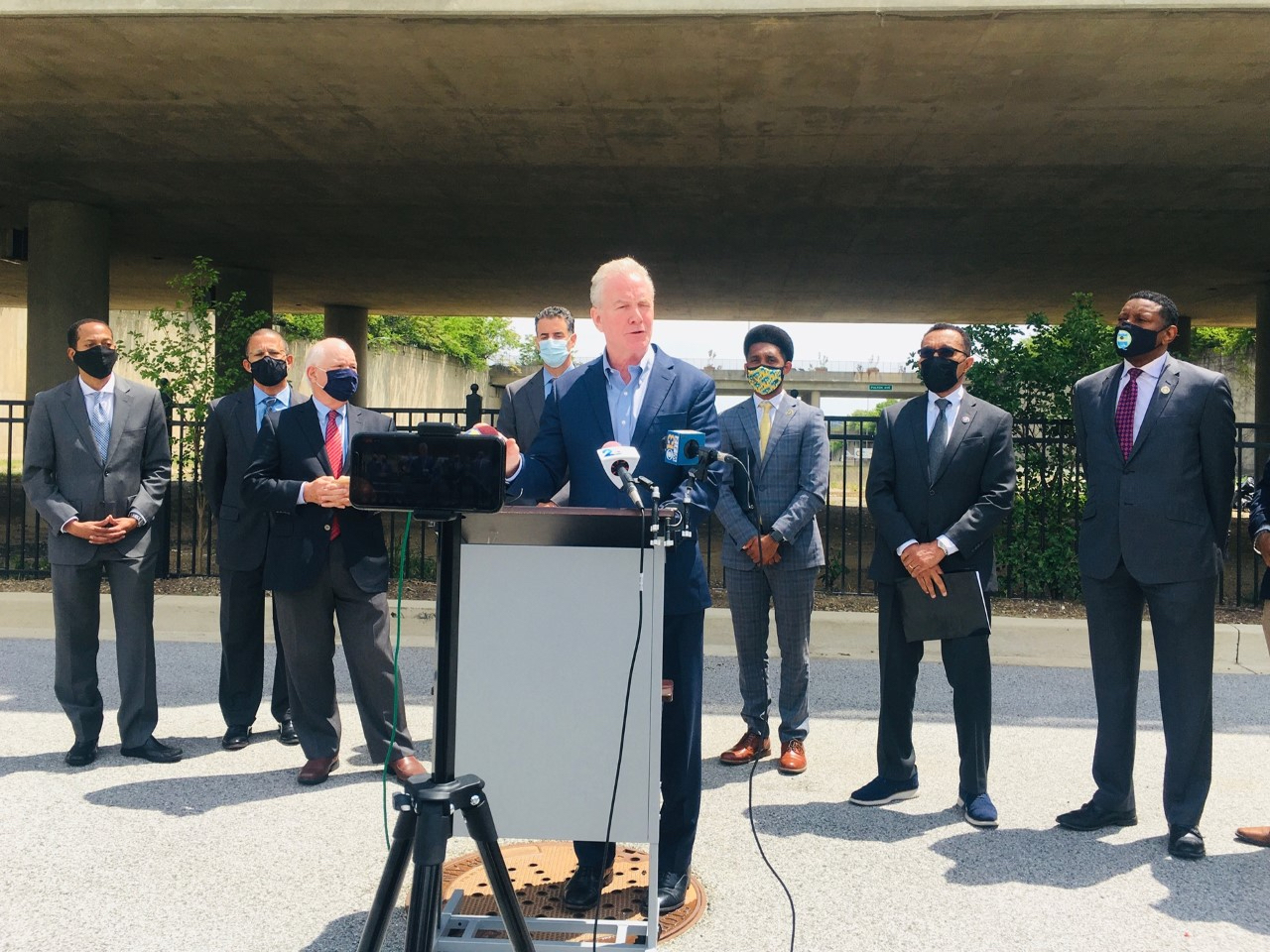 Other cities where urban freeways decimated predominately Black neighborhoods include Miami, Detroit, New Orleans, Oakland, California, and Richmond, Virginia.
"Building one America starts at home," Mayor Brandon Scott said, "by building a better Baltimore that eliminates concrete barriers to economic mobility and opportunity."
"I remember growing up here in Baltimore and the once vibrant and connected communities that existed before the 'Highway to Nowhere,'" Mfume said. "We seek to empower and reconnect communities to one another with this legislation, but we also seek to connect those same communities to economic opportunities, more academic possibilities, arts and entertainment, healthy food options, safe and inviting open-space options, and so much more. It's never too late to undo the wrongs of the past if we have a clear and renewed vision for the future."
Van Hollen noted that a similar pilot initiative he authored in 2019 passed in committee with bi-partisan support, but did not make it out to the floor for a full vote with the then-Republican majority Senate.
He doesn't believe the Reconnecting Communities Act will ultimately draw Republican support. However, with the current Democratic Senate majority, he said he expects the Senate will approve some form of highway-removal funding by August. After that, the hope is that the legislation will be reconciled with a similar House measure.
The last effort to redress the failed highway strip was the decade-in-the-making Red Line, which Republican Gov. Larry Hogan cancelled shortly after taking office in 2015. That project would have built a light rail line down the "Highway to Nowhere" median, and was projected to spark further investment in the long-desolate corridor. Studies show long mass-transit commute times are linked to unemployment in low-income neighborhoods.
Since then, the Urban Land Institute—on behalf of the Baltimore Development Corporation—put together a report that suggested increased pedestrian infrastructure, more accessible green spaces and parks, and a retail hub and grocery store for the area could bridge the neighborhoods on each side of the highway. That study also suggested maintaining a 20-foot corridor in case the Red Line, or another mass transit project, is revived.
"The Road to Nowhere broke up West Baltimore communities that are still trying to recover two generations later," Glenn Smith, 71, vice president of the Baltimore Equity Transit Coalition told Baltimore four years ago. "My family was one of those displaced."