WBALTV.com
In The Air
On Wednesday, Governor Larry Hogan directed Maryland Attorney General Brian Frosh to sue the federal Environmental Protection Agency for allowing coal plants in five upwind states to emit harmful chemical compounds that pollute Maryland's air. The move is the culmination of a nearly yearlong standoff between the EPA and Maryland over a part of the Clean Air Act known as the "Good Neighbor Provision" that "requires EPA and states to address interstate transport of air pollution that affects downwind states' ability to attain and maintain [air quality standards]." Last November, Maryland filed a petition requesting that 19 coal plants in Indiana, Ohio, Kentucky, Pennsylvania, and West Virginia adopt stricter controls to prevent ozone-causing emissions. The EPA never responded to the petition, which asked that the plants employ already existing emission capture technologies every day during the summer months, when the released chemical compounds are more likely to react with heat and sunshine to form the ground-level ozone that triggers Code Red and Code Orange air quality alerts. 
"We know for a fact those power plants have the existing control technologies . . . but for whatever reason, they're not running them every day during the ozone season," Ben Grumbles, Maryland's Secretary of the Environment, told The Sun in 2016. 
Thanks to a 2015 regulation, Maryland's own power plants must use emission capture technologies every day during the summer. Maryland is also part of the Regional Greenhouse Gas Initiative, a coalition of nine northeastern states that have taken action to curb emissions from power plants through cap-and-trade programs. But rules and attitudes differ from state to state, and the lawsuit aims to bring upwind states in line with Maryland's practices. 
"We're not asking for anything that we're not already doing in Maryland," Grumbles said. 
Bay Watch
Speaking of the EPA, the agency and some of its landmark initiatives remain under assault from the Trump administration and some Congressional Republicans. As was widely reported earlier this year, President Donald Trump's proposed 2018 federal budget would slash funding for the EPA by about a third and eliminate the Chesapeake Bay Program, a regional effort to rehabilitate the bay that dates back to 1983. Though it is unlikely that the final budget that emerges from Congress will feature such drastic cuts, the administration has already demonstrated a willingness to back up its rhetoric, announcing last month the cancelation of an annual EPA grant to the Bay Journal, a nonprofit news outfit that has covered the Chesapeake Bay since 1991. The administration is also challenging an Obama-era interpretation of the Clean Water Act that expanded the types of waterways protected under the legislation.  
This month, House Republicans passed an amendment introduced by Virginia Republican Bob Goodlatte that would keep the Chesapeake Bay Program nominally in tact but hobble its reach by striping the EPA of its ability to penalize states that did not meet cleanup goals. 
Though the Chesapeake Bay Program began under the Reagan Administration, its initial progress was uneven because the seven jurisdictions that make up the bay's watershed (Delaware, Maryland, New York, Pennsylvania, Virginia, West Virginia, and the District of Columbia) were allowed to create and enforce their own disparate compliance standards. Then in 2010, the Obama Administration brokered an enhanced agreement—often referred to as a "pollution diet"—that stipulated how much pollution each jurisdiction could discharge into the bay each day. Under the new agreement, the EPA could penalize states that failed to meet their pollution reduction benchmarks. Since then, bay advocates have reported modest but steady signs of improvement, such as an increase in aquatic grasses and smaller than expected dead zones each summer.     
According to The Sun, however, Goodlatte called the initiative an effort to "micromanage" and "hijack states' water quality strategies." 
The measure, attached to a larger funding bill that would fund the federal government from December through September 2018, passed largely along party lines, though some bay state Republicans, including Rep. Andy Harris of Maryland's 1st Congressional District, joined Democrats in rejecting the amendment.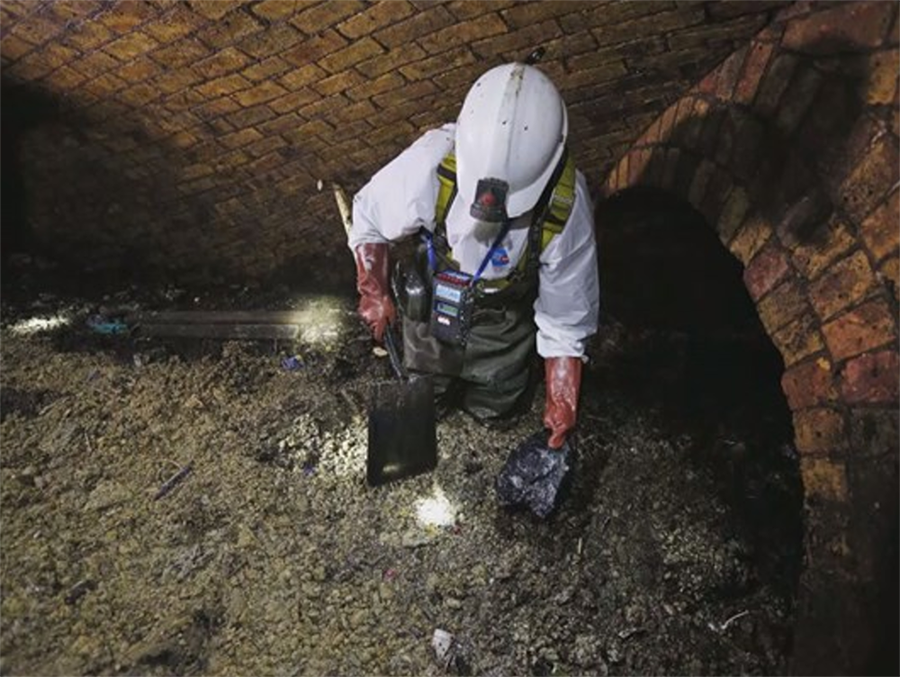 Fatberg Ahead! 
This week in ew: Baltimore City's Department of Public Works announced it had discovered a giant mass of congealed fat, antibacterial wipes, and other materials lodged in a sewer main underneath North Charles Street near Penn Station. The accumulation—dubbed the "fatberg"—caused a sewer overflow on September 21 that spewed about 1.2 million gallons of sewage into the Jones Falls. Since then, most of the fatberg—which was blocking approximately 85 percent of the 24-inch pipe—has been scrapped off and disposed of in a city landfill. The Department of Public Works is using the occasion to remind residents not to pour fats, oils, and grease down the drain or flush disposable wipes.
Pipe Dreams
Even without fatbergs, Baltimore's sewers have enough problems. Most of the sewage pipes that run underneath the city are over a century old, and they regularly fail causing backups in homes and spills in local waterways. It's a long-acknowledged problem, and in 2002 Baltimore City entered into a consent decree with the EPA to upgrade its wastewater system by 2016. That deadline came and went with little progress made. State and federal agencies then agreed to modify the original agreement, and, last month, Baltimore officials announced a $1.6 billion plan to repair the aging wastewater infrastructure by 2030. The pact would require the city to finish upgrading its Back River Wastewater Treatment Plant by 2021 and implement a program that compensates residents for sewage backups in their home, among other items. 
But Blue Water Baltimore, a local water quality watchdog nonprofit granted third-party status in the consent decree last year, said the new version "lacks full accountability standards," and has asked a federal judge to reject the agreement. Specifically, the group wants the agreement to allow for additional repair projects should water quality monitoring indicate a need.
"Blue Water Baltimore's top concern is that the consent decree be an enforceable, science-based plan to eliminate sewage overflows and improve water quality, as required by the Clean Water Act, not just a static list of projects," said Angela Haren, the nonprofit's Baltimore Harbor Waterkeeper and Director of Advocacy. The city contends that Blue Water Baltimore's demand is beyond the scope of the consent decree's narrow purview.  
Park Places
Here's an update on recent developments at green spaces near and far. 
A $750,000 grant from the U.S. Department of the Interior, will breath new life into a circa 1930 campground in Gwynns Falls Park. The campground—an old Girl Scout facility—will see renovations to its existing pavilion and stone amphitheater and the addition of water and electrical service, lighting, kitchen and storage areas, composting toilets and showers, and extra camping pads. Gwynns Falls Park is also getting a new visitor center and a renovated Cahill Recreation Center, which is adjacent to the campground. Both of those projects are funded by the state.   
As of June, the drained fountain and cold concrete blocks of the old McKeldin Square are gone, replaced by an expanded lawn and young trees. The $4 million overhaul of the plaza at the corner of Pratt and Light streets is just phase I. Phase II will add a water feature, as well as signs and a memorial honoring Theodore R. McKeldin, the former Baltimore mayor and Maryland governor, for whom the park is named.    
Earlier this month, the state Board of Public Works approved the Maryland Department of Natural Resources' acquisition of land for a new state park. The newly secured 2,009 acres in Garrett County are spread over three parcels near the town of Kitzmiller, and two of the parcels border Potomac State Forest. The tracts include a riparian forest, three brook trout streams, approximately 1,700 acres of mixed forest, and critical wetlands and bird habitat. The property will be open for biking, camping, fishing, hiking, and hunting. 
Animal Collective
The past few months have brought a raft of odd animal news. Here's a rundown of our favorite stories about local creatures, great and small. 
Fall Foliage
As October approaches, so too does leaf-peeping season across the region. The Maryland Department of Natural Resources releases weekly fall foliage status reports that can help you locate peak color across the state. This week, change is just beginning in the mountains of western Maryland, which the DNR says are still 75 percent green. If you're heading out that way to leaf-peep, we recommend you check out our guide to 10 great nearby mountain getaways for tips on where to stay, eat, and play. Happy peeping!