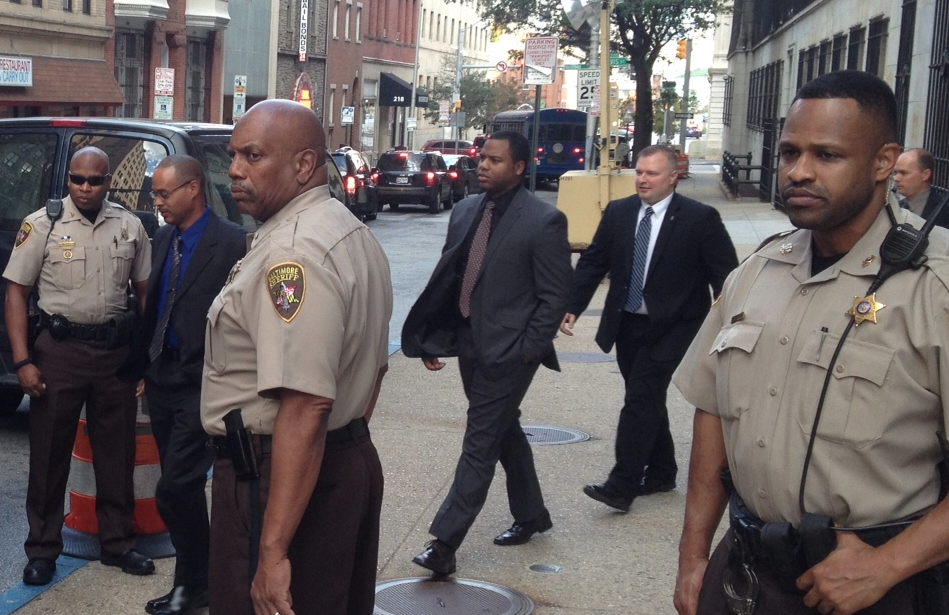 Photography by Ron Cassie
The first of the six trials of the Baltimore police officers facing charges related to the death of 25-year-old Freddie Gray from injuries suffered while in custody begins Monday. Here's the rundown:
Who is facing trial? Officer William G. Porter, 26, charged with involuntary manslaughter, second-degree negligent assault, misconduct in office and reckless endangerment. Porter has been free on $350,000 bail since charges were filed in May. He was born and raised in West Baltimore, in fact, not far from Freddie Gray grew up, and spoke about his life (but not this case) to The Washington Post in a September profile.
Porter, who joined the BPD in 2012, was not on the scene when Gray was arrested, but checked on Gray while he was being transported to Central Booking and allegedly disregarded a Gray request for medical assistance. It's also alleged that he was negligent in not properly securing Gray in the police van with a seat belt where Gray is said to have suffered a spinal injury.
What happens today? The selection process for 12 jurors begins Monday morning at Clarence M. Mitchell, Jr., Courthouse, at 100 N. Calvert Street. Last week, Baltimore Circuit Court Judge Barry G. Williams denied a proposal to sequester selected jurors, but did grant a defense request to keep the jurors' identities anonymous. He's also placed a gag order on attorneys involved with the case. It's hard to predict how long jury selection will take, but it likely will be a day or couple of days—not a week or multiple weeks as has been happened in a few states involving high profile cases. The Maryland process employs a system known as "limited" voir dire—as the examination of prospective jurors is known— controlled by the judge, not the attorneys involved in the case.
The basic questionnaire for jurors can be found here. Judge Williams, however, is likely to allow a good deal of follow-up questions by prosecutors and defense attorneys given the publicity preceding the case, said longtime Maryland-based attorney Robert C. Bonsib. "In Maryland, what has to be asked is limited; what can be asked is more expansive," Bonsib said. "Most judges are reasonable and responsive [to attorney's inquiries of jurors] in a case like this."
Who is the judge? The Hon. Barry G. Williams. Born in Neptune, NJ, Williams, 53, earned a B.A. in history from the University of Virginia, and his law degree from the University of Maryland School of Law in Baltimore. He's served as a member of the Baltimore City Circuit Court since 2005. Prior to that, he served as special litigation counsel to the Civil Rights Division of U.S. Department of Justice from 2002-2005, and as a DOJ trial attorney from 1997-2002. While working for the Department of Justice, Williams gained experience prosecuting police brutality cases, as highlighted by Sun reporter Justin Fenton in a recent profile. Williams also served as an assistant state's attorney for Baltimore City from 1989-97.
Prominent Baltimore defense lawyer William H. "Billy" Murphy, a former judge who has represented Gray's family, described Williams on MSNBC Sunday as "an extraordinary fair human being." He said Williams is a "no-nonsense judge," who "won't tolerate grandstanding" and "keep the trains running on time."
Will there be demonstrations and street closures? While Baltimore police and the Baltimore City Sheriff's Office expect demonstrations outside the courthouse Monday morning, no streets closures have yet been planned—although that could change as events dictate, said Maj. Sabrina Tapp-Harper, spokeswoman for the Sheriff's Office. "We have security measures in place," said Tapp-Harper, referring to potential disruptions downtown. "We don't share that specific information publicly."
However, during jury selection, parking will be prohibited, and strictly enforced, around both the Mitchell Courthouse and Courthouse East.